Betting pools are a fun way to share news and follow events with your online community. You can use the buzz around sports tournaments, award ceremonies and more to increase your online presence. And in return for prizes, you can get more customer loyalty, more social media engagement, and even more customer data. In this post, we've collected some creative ideas for your sweepstakes, betting pools, or prize draws. Take a look, and then try it for yourself!
Betting pool for movie awards
There's always a lot of chatter on social media before big movie releases or award ceremonies. Think of the excitement that leads up to the Oscars, Teen Choice Awards, Emmys and other competitions. You can use these events to connect with your customers and offer relevant promotions. Let your imagination run wild! Ask your followers to pick award winners, guess what will happen in a new movie, or predict the fate of different characters.
In the example below, the brand created a betting pool using the Predictions quiz when the 2018 Emmys nominations were released. They created a Promotion Group, with one promotion for each award category. The participant who guesses all the winners correctly would win the final prize. And in the meantime, the brand gets to share thoughts, chats and even real-time reactions to the awards with their followers.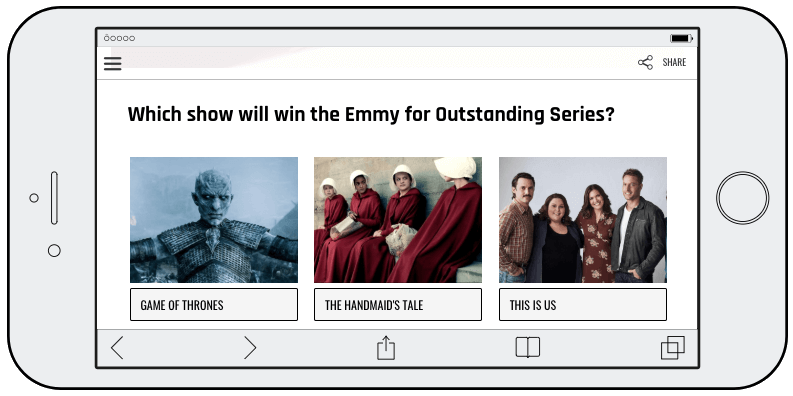 This type of betting pool is also a great choice because it can be adapted for nearly any brand. We've put together a list of seven star suggestions to run an Emmys-related contest, whatever your business.
Cheer on your sports team with a betting pool to target a wider audience
Do your followers love football? Is there a national sport in your country that everyone turns out to watch? The World Cup only comes once every four years, but the Premier League and the Champions League are already underway! Maybe you offer products linked to sportswear, nutrition or equipment. Even if your brand doesn't seem all that sporty, remember that everybody loves the Olympics!
Running a sports betting pool is a fantastic way to engage with a wide cross-section of your customers, share the thrill of the contest, and use the excitement to boost your own brand. There's nothing like sports to bring everyone together.
And there are a million different ways to run a sports sweepstakes or lottery. In the example below, Niederegger asked their Twitter followers to guess the score of England's first World Cup 2018 game. The winner won a big box of sweets.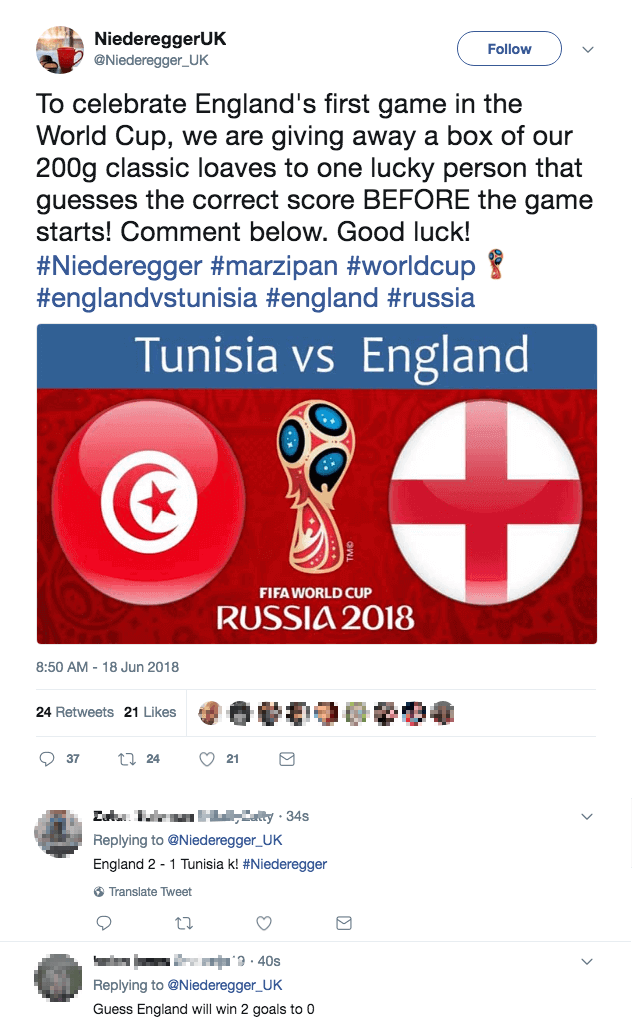 You'll notice that in this case, the brand chose a prize that reflected their product, more than the contest. They could rely on the popularity of the World Cup to support their promotion anyway. You can decide whether to prioritize the event or your product in a promotion – but of course, the ideal is always to combine the two.
In the example below, the brand achieved a perfect balance between relating to the event and highlighting their product. Followers had to predict the winner of the Tour de France, using hashtags chosen by the brand. The hashtags helped make the competition go viral on Facebook. Then, there was a prize draw between followers who guessed correctly, with one lucky winner receiving a mountain bike.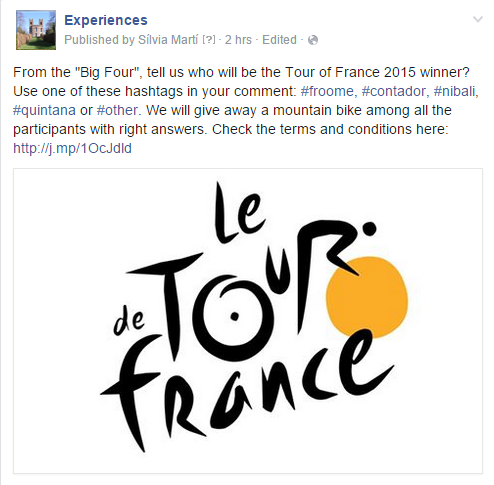 Share a TV series betting pool to increase engagement
In the sections above, we've discussed running promotions for big, annual events or one-off movie releases. But what about setting up a regular betting pool? You can build a relationship with your followers over time, and highlight a range of products and services from your brand.
In the example below, a fashion brand decided to run a "fantasy fashion" betting pool to accompany each new episode of Real Housewives of New York. So their followers had a chance to chat, gossip and share their thoughts in a weekly virtual viewing party! And in return, the brand raised their social media profile and featured a different product as each week's prize.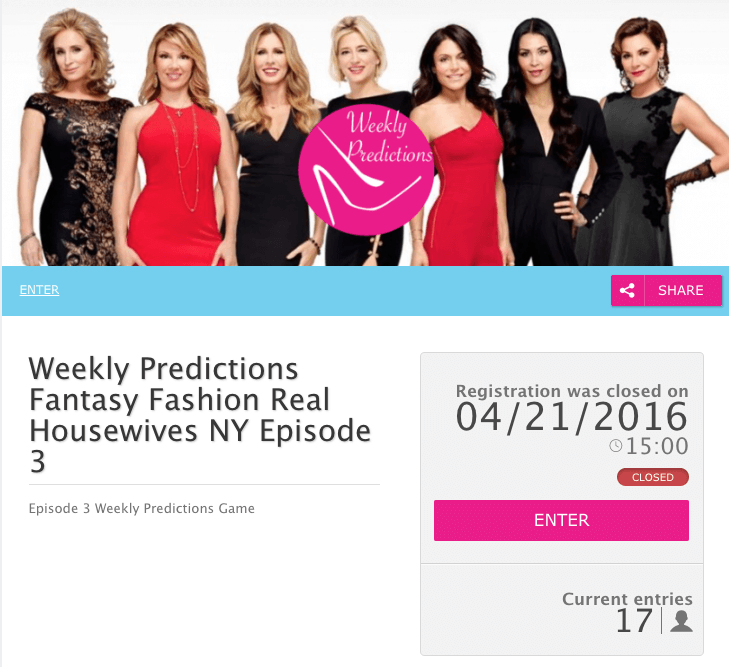 For a regular betting pool like this, it's important to choose products and services from your brand. Make sure that you're getting a lot of value in return for your promotions. Check out this infographic on why choosing the right prize is so important.
Get industry insider tips
Here's an unusual option – a chance to share your expertise with followers, and learn from them in return. In the example below, an investment news service asked their readers to predict market movements. The participant with the most correct answers was chosen as their "Smart Investor" of the day. This was a great strategy to make the brand's followers feel valued as part of a community of experts.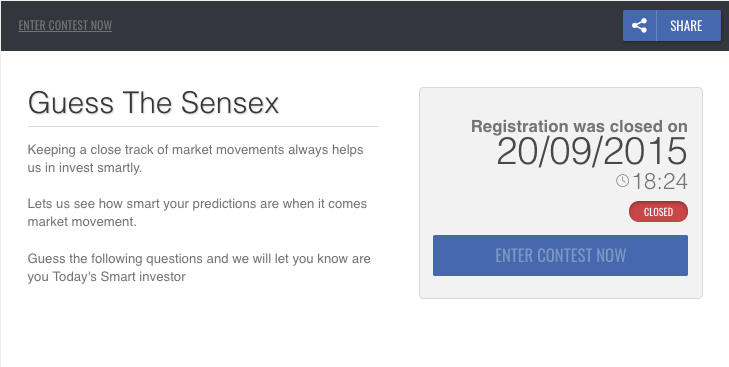 Quizzes like this are a great way to learn more about your followers and inform them about your brand. Remember to offer a prize that's closely related to your brand, product, or topic of the Predictions quiz.
And… lift-off!
Finally, here's one more quirky example that we love. This could be a great choice if your brand is linked to technology, business or education… but we're sure the possibilities are endless! Ask your followers to predict their own future, or share how they imagine the world will look years from now.
In the example below, the brand wanted to encourage its customers' "vision and strategic thinking". They asked for predictions for the year 2040. Of course, it's difficult to fill in the answers for a betting pool when we're still years away. But the brand was able to award coupons and small prizes in exchange for their followers' interest and engagement.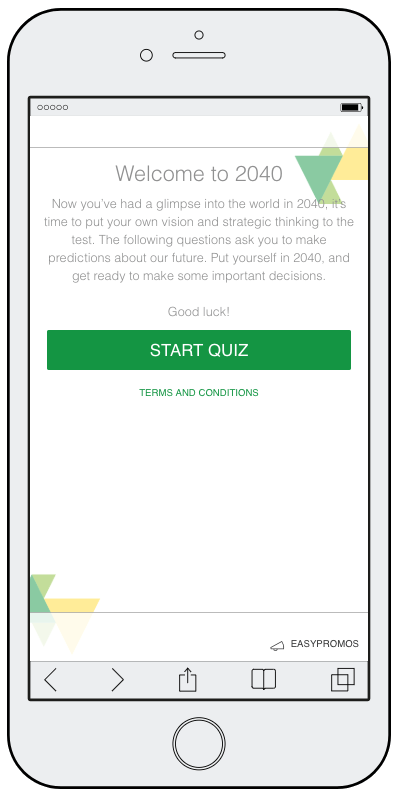 Organize a betting pool for your marketing campaign
You can create your Easypromos account and set up a betting pool for free. You don't have to pay until your contest is activated! And you'll always have access to our tutorials and Online Chat, to help make your betting pool promotion a viral success.