Twitter is one of the most popular social media networks, currently with 330 million monthly active users. Chances are that many of your customers are actively using Twitter to catch up on the latest news, discover recent products from their favorite brands or engage in conversations with other users. You can just say that Twitter users like to interact with high-quality content. And this is where Twitter giveaways come into play. So keep on reading and discover the secrets on how to do a Twitter giveaway.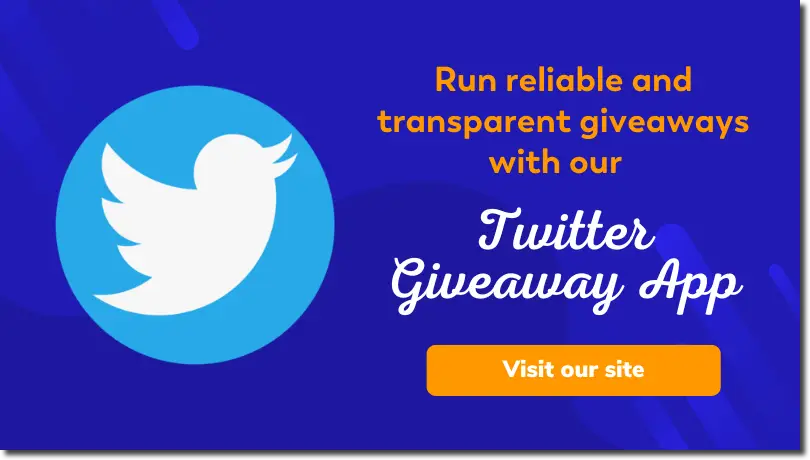 Social media giveaways drive engagement, boost brand awareness and online visibility, with the ultimate goal of staying top of mind with their existing and potential customers. But how does that happen? Well-organized sweepstakes leave a positive impression simply because the organizers come across as more trustworthy, reliable, and "human" – you must admit strictly promotional posts often come across as unnatural and little engaging. Let's take a quick look at a list of…
Reasons to do a Twitter giveaway:
Boost engagement
Grow your audience
Improve brand and product awareness
Improve online presence and visibility
Drive traffic to your Twitter account
Strengthen customer relationships
Increase ROI and conversion rates
Types of Twitter giveaways you can do
Twitter is a flexible social media network when it comes to running giveaways – it allows us to use four different dynamics for your Twitter contests:
Retweet giveaways: a random prize draw for all the users that retweet your promotional post. You can also suggest users to become a followers before the draw.
Reply giveaways: reward all those that reply to your giveaway tweet by entering them into a random prize draw.
Mention + Hashtag giveaways: a giveaway for all the users that mention your profile and use your branded hashtag in their tweet.
Some of these dynamics can be combined! For example, one of the most popular entry requirements on Twitter is to reply or retweet the post of the organizing account. Another commonly used requirement is mentioning the organizing brand in the replies.  
How to do a Twitter giveaway
The great news on how to do a Twitter giveaway is that doing it is easy as participating in it. Make sure you follow the next 4 steps when launching your Twitter promotion and you'll create an engaging and effective giveaway, according to best practices. 
How to do a Twitter Giveaway: Prepare your tweet
The most crucial part of creating your promotional tweet is to come up with a captivating description and visually appealing picture. We recommend using words like "win" and "giveaway" to attract more attention! Remember that you have 280 characters for your giveaway post and it's your job to make the most out of it!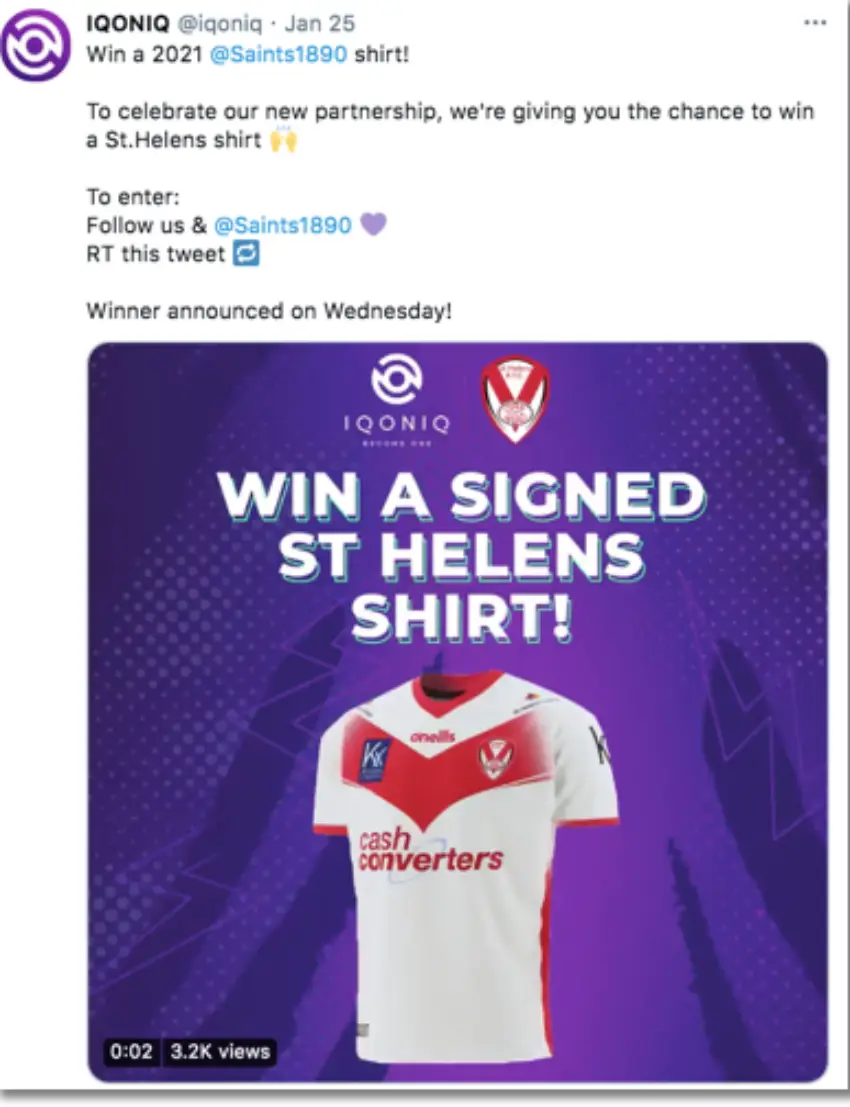 Take a look at the above example on how to do a Twitter giveaway to see how great the giveaway image works in attracting the attention of potential participants. Follow the same steps! Showcase the prize to create buzz around your post. 
How to do a Twitter Giveaway: Share the terms and conditions
When it comes to running successful Twitter giveaways, the best advice we can give you is to follow the Twitter contest rules. However, it is also important to protect yourself from any unpleasant situations, and your own terms and conditions can do it just right.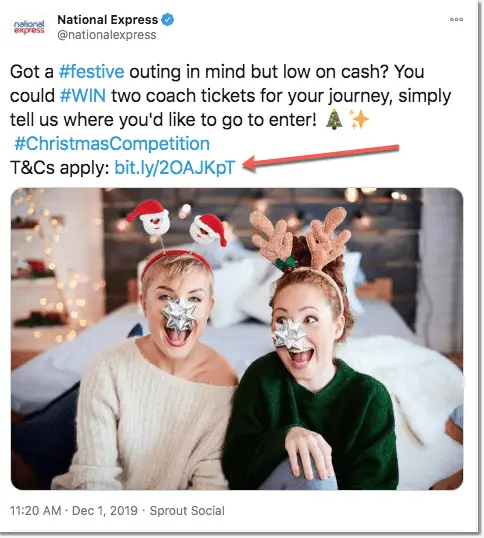 We realize coming up with your own giveaway terms and conditions might seem quite tricky, but we have your back! You can use our free terms and conditions template. All you have to do is edit the indicated fields and you're ready to go. The template covers all the aspects that must be mentioned in promotion T&Cs.
As you know the Twitter character limit is 280 – the Easypromos terms and conditions tool generates a short link that you can share in your promotional tweet, just like the brand in the above example did!
Drive traffic to your Twitter giveaways
Once your Twitter sweepstakes is up and running it's time to attract as many participants as possible! The more entrants you get the more engagement, buzz, and visibility you generate. And that means more chances of converting your followers into paying customers or simply staying top of mind with a bigger group of people.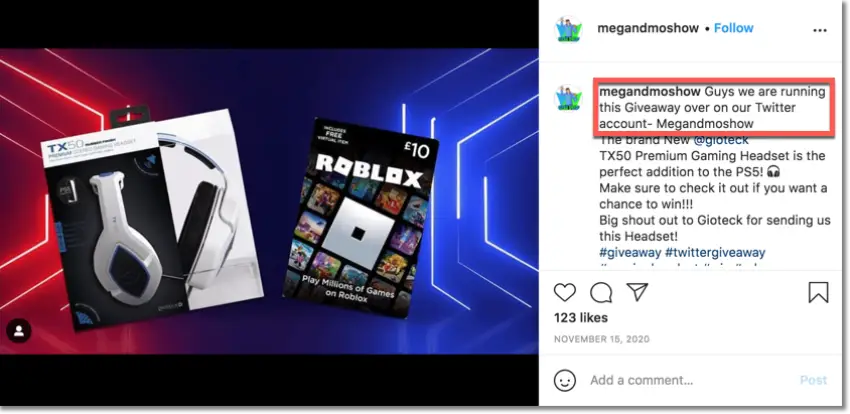 Do you have a big following on Instagram or Facebook? Or maybe you have thousands of YouTube subscribers? Make sure you let them know that you're running a Twitter giveaway! You can also promote your Twitter contest on your website or with your newsletter subscribers.
Interested in finding out more about creating a Twitter giveaway? Make sure to check out our Twitter giveaway tutorial: full of technical tips and advice.
How to do a Twitter Giveaway: Choose the winner of and let your audience know
The most important moment of any online promotion is the winner selection. Luckily for you, the Easypromos Twitter Giveaway application is an easy-to-use and intuitive tool. Use it to choose a random winner (or winners) of your giveaway and don't forget the most important thing: inform your audience about who the lucky winner is – it will boost customer trust and loyalty. Participants often react negatively to brands that don't publish contest winners. So save yourself some trouble by sharing the Certificate of Validity and publicly naming the winner.
How to do a Twitter giveaway: get inspired by real examples
Ready for some inspiration? Let's take a look at how brands grow their Twitter following, boost awareness and visibility with the help of Twitter giveaways.
Skinny Sprinkles – a weight management drink – organized a Valentine's Day giveaway for their Twitter followers. They shared an attractive image showcasing the prize and explaining the participation requirements, along with a short text inviting users to participate in the promotion.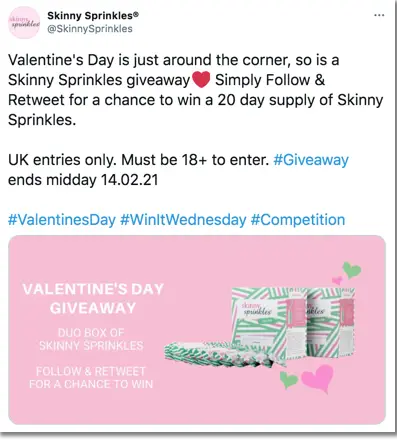 Users followed the organizing brand and retweeted the promotional post for a chance to win a 20 day supply of Skinny Sprinkles products.
Funko produces pop culture collectibles. Their Twitter audience is full of music, movie, and series fans. They recently organized a quick and easy giveaway for their audience. Everyone who followed the organizing account and retweeted the promotional tweet had a chance to win an exclusive Death Metal Wonder Woman Pop.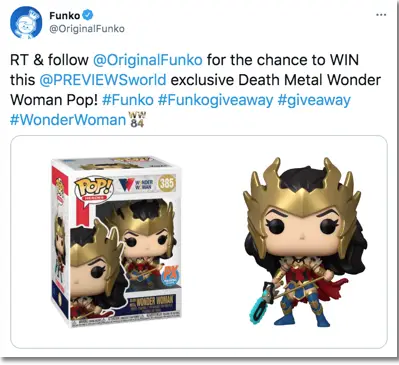 Have we mentioned that any brand can run a Twitter promotion for their audience? Here's an example from Falken Tire.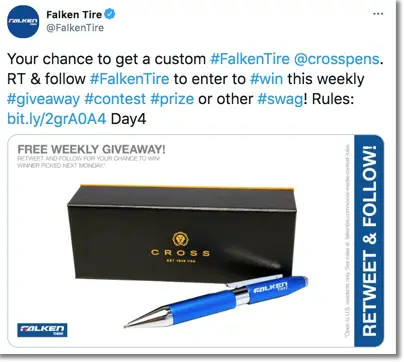 They collaborated with Cross Pens and rewarded one of their followers with a custom pen. As in the previous examples, interested participants followed the organizing account and retweeted the promotional post.
Are you ready to run a Twitter Giveaway for your audience? As you can see, it's easier than you think! Don't worry if you have further questions – just chat with us!