If you were asked, "how would you promote your Instagram Stories giveaway? Most likely your answer would be to create a Facebook AD in story format, or by promoting the stories themselves with ADS. As logical as that may seem, it is in fact, a mistake! Paid promotion of Story-format posts is not as simple as it may seem. Therefore, keep in mind the following advice when deciding on the promotion strategy of your Instagram Stories Giveaway and see how well it works.
The giveaway dynamic will determine the best way to promote it
Easypromos offers two kinds of Instagram Stories giveaway and the best strategy to achieve a high participation level is different for each one.
Story Mention Giveaway dynamic:
Winners are selected from among users that mention the organizing brand in their stories.
Allows gathering all the mentions to the brand made by users with public profiles. Improves brand awareness, visibility, and collects UGC related to the brand.
Ideal to engage event attendees and to get them to share their experience online.
Replies to the brand stories' dynamic.
Winners are selected from among the users that reply to the brand's stories.
Enables interaction between the brand and users.
Increases engagement with the brand's profile and pushes the brand's stories on the users' feeds.
Why is it important to choose the right dynamic? Because the way to communicate the participation requirements changes considerably. So keep reading to learn more about this.
Effective ways to communicate a Story Mentions giveaway
The Story Mention Giveaway is proving to be an effective way to boost brand visibility through brand lovers. The objective is to get customers and followers to publicly share their link to the brand. Consequently, a giveaway is likely to nudge users to share and participate. This has shown to be a very efficient strategy. Furthermore, it brings down participation barriers, as users are more willing to participate and post a story due to the fact that stories are only visible for 24 hours.
Clear instructions are fundamental when communicating this kind of giveaway. In this example from Kinder Bueno's Instagram profile, the giveaway is communicated with posts in their feed as well as with stories and reels. It is also important to repost stories as much as possible. E.g, if someone mentions your brand, it's a good idea to repost that mention in your Stories, giving the giveaway a wider reach and in turn, bringing in more participants.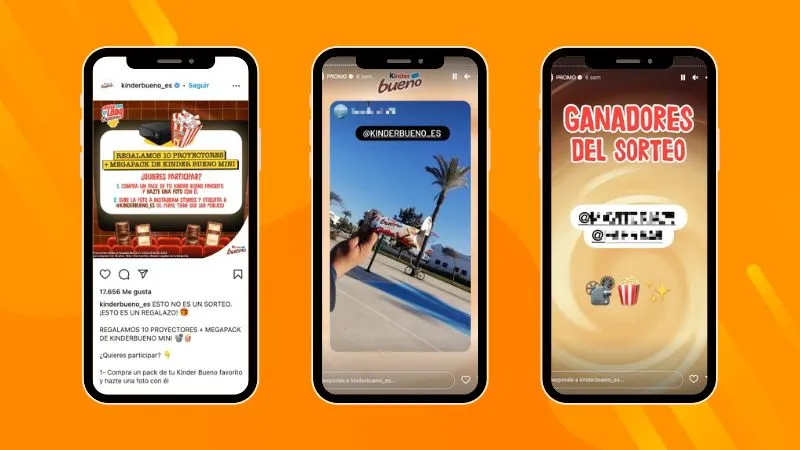 It's of paramount importance to promote the giveaway with daily stories for as long as the giveaway is active. This can be done either by sharing the story with the participation requirements or with a new story every day. Also, remember to clearly state what the prize is as well as the participation requirements. Finally, highlight these stories to make it easy for users to find the giveaway information.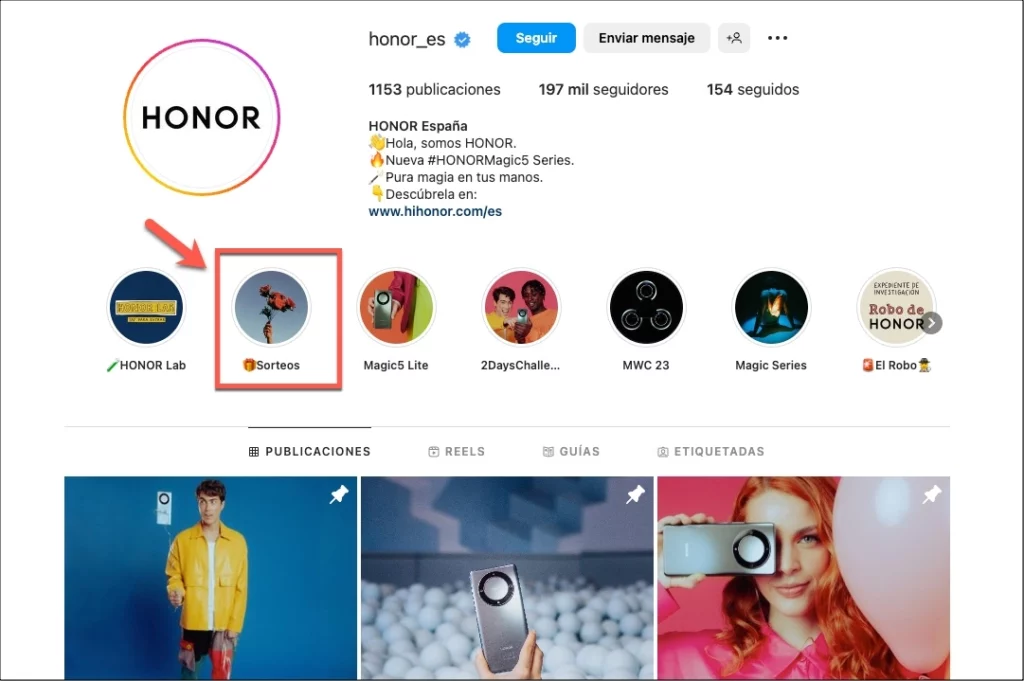 The recommended steps for this giveaway are:
Post a story on a public profile
Mention the organizing brand
Remember to make it perfectly clear that the participants' profiles must be set to public. Otherwise, the organizer won't be able to collect the participating stories. Additionally, it's important to clearly state the story's theme. Many brands choose to ask for photos that show their product. Other brands ask for images that are easy to produce, either taking them directly from their gallery or with a screenshot. You can find more examples of Instagram Stories Mentions giveaways here. In the following example, an Ice-Cream brand launched and new products and asked its customers to post a photo in their shop to enter the giveaway.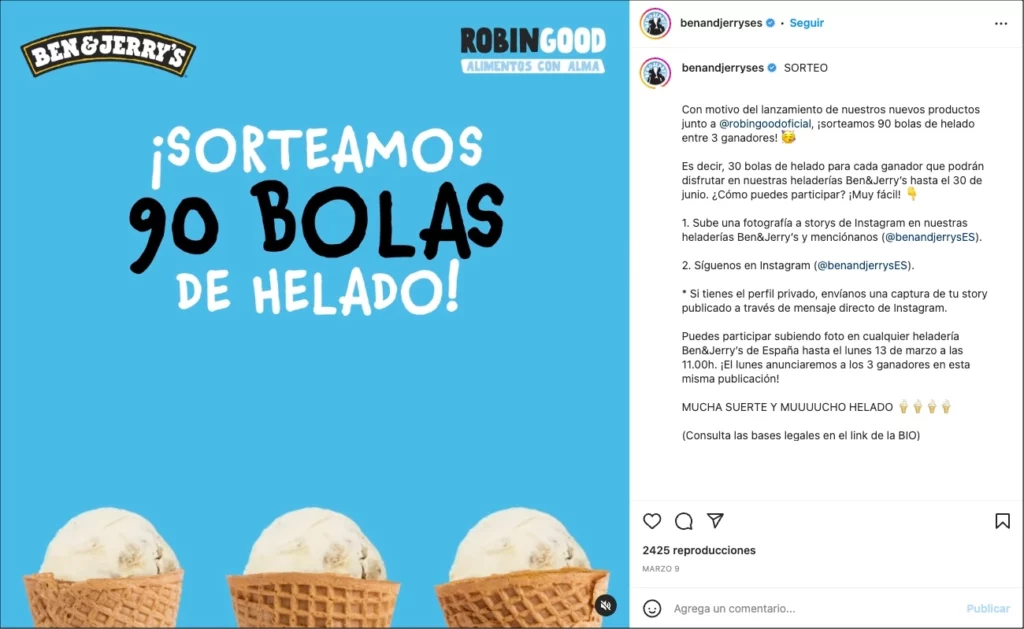 This kind of giveaway calls for good planning prior to launch. It is necessary to determine the timing and channels that you will use to communicate it.
Make a post on the brand's Instagram feed with the most relevant information about the giveaway.
Advertise the giveaway with posters in the brick-and-mortar shops in case you require participants to take a picture of themselves with your product.
Advertise on all your social media accounts to give your giveaway the highest possible reach.
Use your newsletter to communicate the promotion to all your subscribers and/or post a banner on your website.
The Story Mention Giveaway dynamic is also a good tool for offline events, as it creates engagement with the attendees and motivates them to share their experience on Instagram. In the following example, the Worten's TecnoCon congress gave away a PlayStation 5 among the attendees. The organizers created an Instagram Story filter and anyone who used it and posted a Story mentioning the brand entered the giveaway. In a case like this one, communicating the giveaway on social media is as important as communicating it at the venue itself with roll-ups, brochures in the welcome pack, and having the event's host informing attendees of the giveaway and how to participate.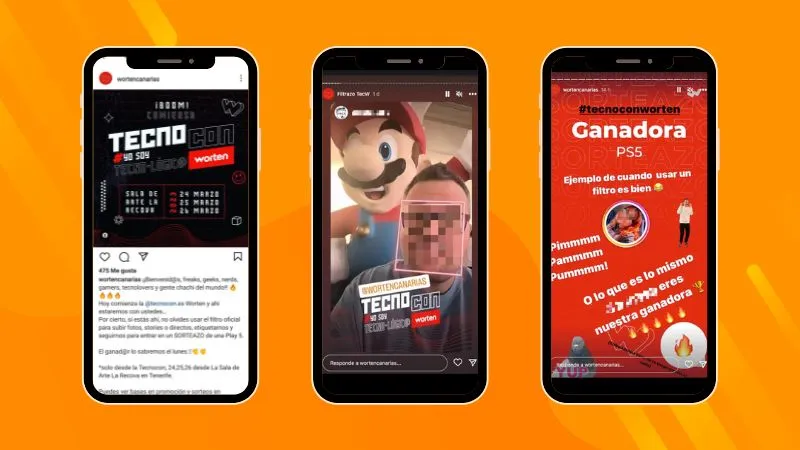 Make the most of one of the benefits of the Story Mention Giveaway mode: gathering UCG, make sure you repost the stories that mention your brand!
The Story Mention giveaway is also a very good option for parties and popular events like the one in the following example. This dynamic took place among the visitors to the Valencia Fallas, a hugely popular and spectacular tradition in the Spanish city of Valencia. El Manisero is a local nuts and snacks brand that decided to participate in the party by giving away an electric scooter among the people that posted a story showing their product and mentioning the brand during the celebration.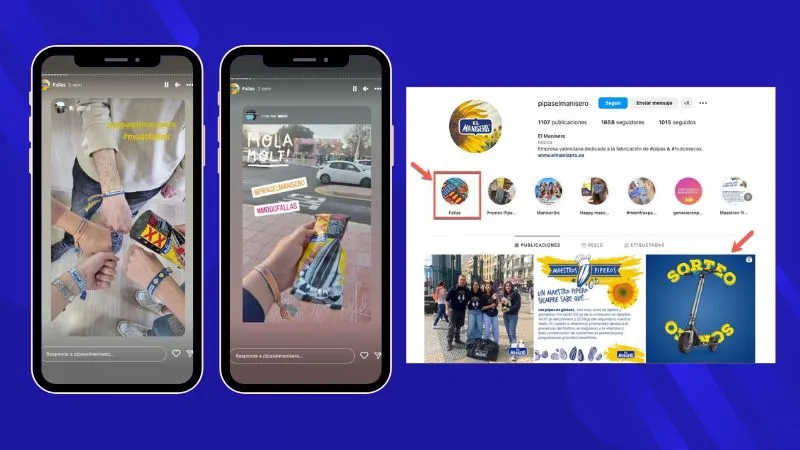 How to promote a "Reply to a Story" giveaway
The promotion of a giveaway in which participants hate to reply to a Story of the brand is quite different from the Story Mention Giveaway dynamic. The main objective is to direct users toward the stories of your brand.
In case you haven't noticed, when you promote a Story with Facebook Ads, the "reply" dialogue box at the bottom disappears. Even if the option to reply to your stories is activated in your brand's Instagram account settings, if you promote it with Ads, this option becomes unavailable.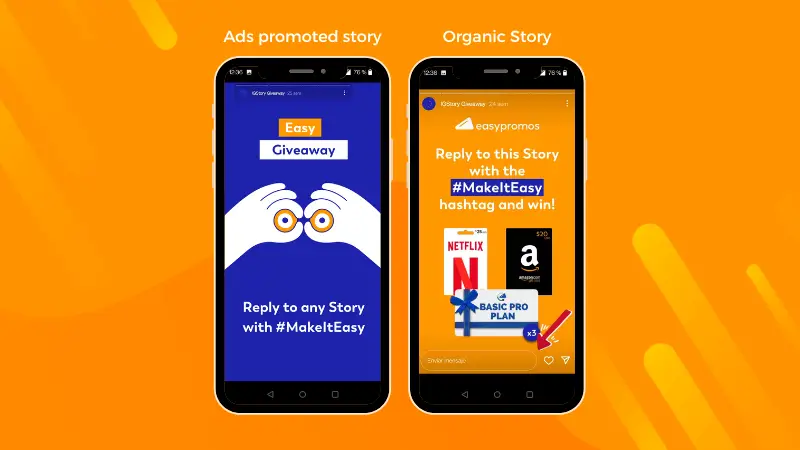 Ads on Stories do not allow users to reply to the brand. Hence, you need to find alternative and easy ways to channel potential participants to your brand's Stories.
This means that if you choose this dynamic, there is a limitation on how you can get participants. Instead of using Stories promoted with Ads, take advantage of other available channels to funnel participants to your Stories.
Make a post on your feed explaining how to participate and promote it with Ads.
Share it on other social networks and redirect users to your Instagram account.
Send a newsletter to turn your subscribers into followers and increase engagement.
As you will see in the following example, these two brands launched reply-based Instagram Stories giveaways, but they based the promotion of the giveaway on a post on their feed. This makes it much easier to promote and it's clear to users where they have to participate.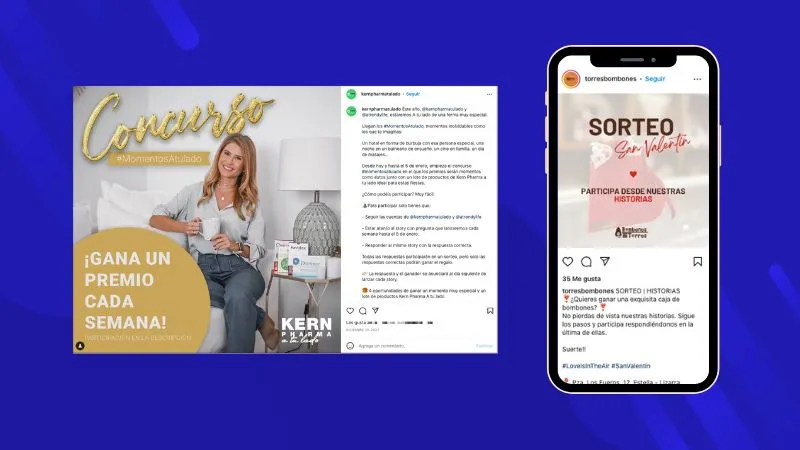 However, don't neglect communication via Stories. It's fundamental to have active Stories in your profile while the giveaway is active. Post several different Stories to show the prize, explain the giveaway, and highlight where participants have to reply.
This is exactly how we did it at Easypromos when this product was launched. The best way to efficiently communicate this kind of giveaway is to post several stories a day that include giveaway-related content. It's always a good idea that users can participate in any of the Stories' reply boxes. Additionally, ask users to include the campaign's hashtag to make sure that their intention is to participate. Finally, to ensure that your giveaway has the widest possible reach, you should:
Promote a post on your feed explaining the giveaway on Ads.
Post short videos explaining the participation requirements and mechanics.
Overall, it is very important to channel the audience to your profile's Stories. Once they are there, you can easily deliver the participation requirements to the users.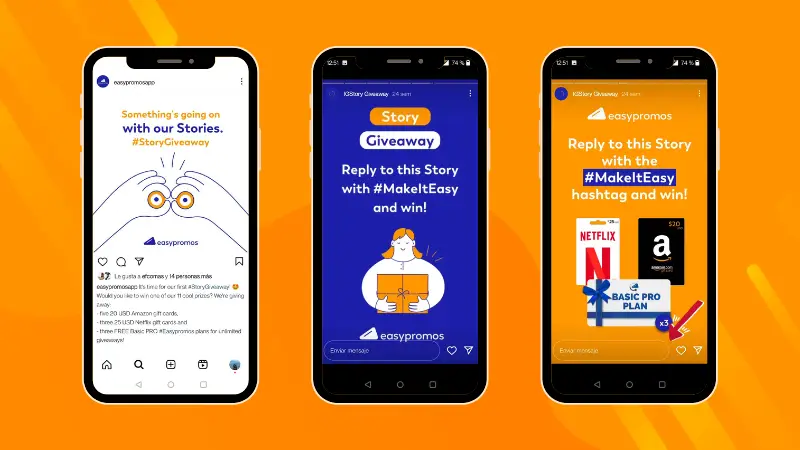 Key content that should be communicated for Instagram Stories Giveaways
Let's summarize the key information that should be communicated for this kind of giveaway, which is characterized by its ephemeral nature.
A step-by-step explanation of the participation requirements.
The prize or prizes available.
Terms & Conditions of the giveaway.
Participation dates. Keep in mind that these giveaways are typically short, from one to four days. The tool allows you to gather stories and replies for up to seven days, but no longer than that.
The date and way that winners will be communicated.
Independently of these considerations, the graphic image of the giveaway is fundamental to make sure users see it and understand the participation requirements.
So, what are you waiting for to launch an Instagram Stories Giveaway? It might seem that you have to put in a little more work than in a traditional comment giveaway the first time but bear in mind that it allows you to achieve other marketing objectives. Namely, increased levels of engagement and interaction with your community. If you have any questions or would like to know more about it, get in touch with our customer support team via live chat or by opening a ticket. We will be happy to help!