According to the Global Consumer Insights 2023 survey, consumers still favor purchasing in physical stores as their primary channel (43%), followed by mobile phones and smartphones (34%), and computers (23%). According to PWC, these consumer preference trends point towards a hybrid purchasing strategy where manufacturers and distributors converge. "consumers aren't approaching where to shop, regardless of what's on their list, as an either-or proposition but as a this-and-that set of options. Rather, they're choosing one or the other—or both—based on preferred attributes of each, such as in-store technology or improving delivery times and costs for online orders."
Use Social Networks to distribute direct prizes
One way to convince customers to favor brick-and-mortar stores is by allowing them to redeem the prizes they have won online at the store. Taking consumer trends into account, brands should leverage the attraction of social media and digital channels to attract new users and customers and convert them into store visits. Games, interactive activities, and giveaways are actions that online audiences positively value. That's why offering direct prizes when participating in digital promotions launched by the brand, and establishing that these gifts must be redeemed in physical stores within a limited time frame is an interesting proposition.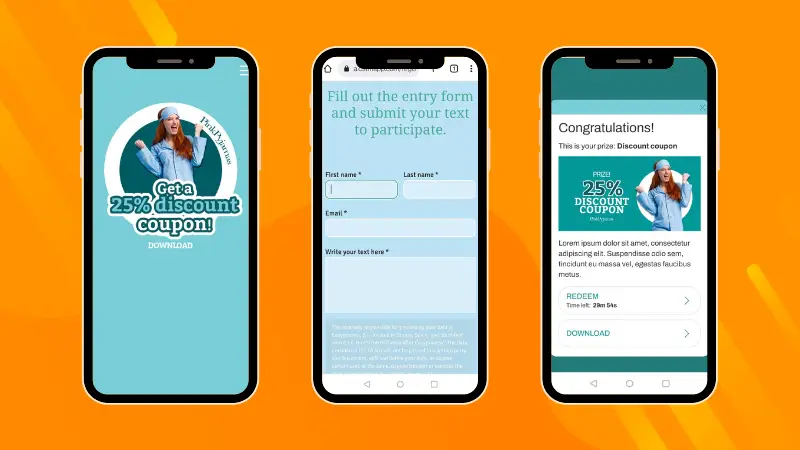 Take a look at this example of coupon distribution online. This kind of promotion helps brands reach new audiences through digital channels and social media. In exchange for offering a discount coupon, the brand can identify the users, enabling it to target users in future campaigns. Additionally, by including a countdown for redeeming the coupon, the brand creates a sense of urgency. Hence, the promotional action is limited in time, making conversion into purchases easier to follow up and measure.
Many brands do use social media to announce a game with prizes available in their physical stores, and this is indeed a good practice. However, if customers can already obtain a prize or discount to redeem in-store when they see the promotion on platforms like Instagram or Facebook like in the example below, the conversion rate is likely to be higher. It's not just a promise but a reality: they already have a prize, discount, or advantage to redeem.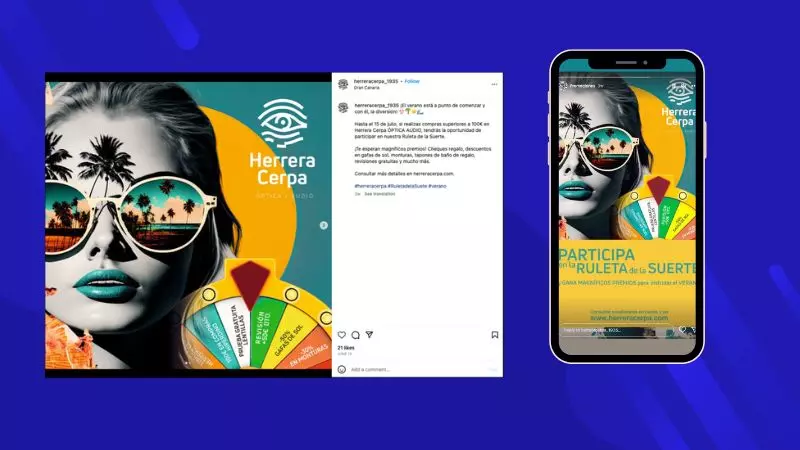 Promote purchases by giving away quick-redeem prizes
Prize redemption can be used in any promotion and not only when you're looking into distributing discounts. Picture a shopping mall where you want to nudge visitors into making a purchase. You can promote a direct prize promotion and set the redemption deadline within the next hour. Hence, increasing purchases within a short period.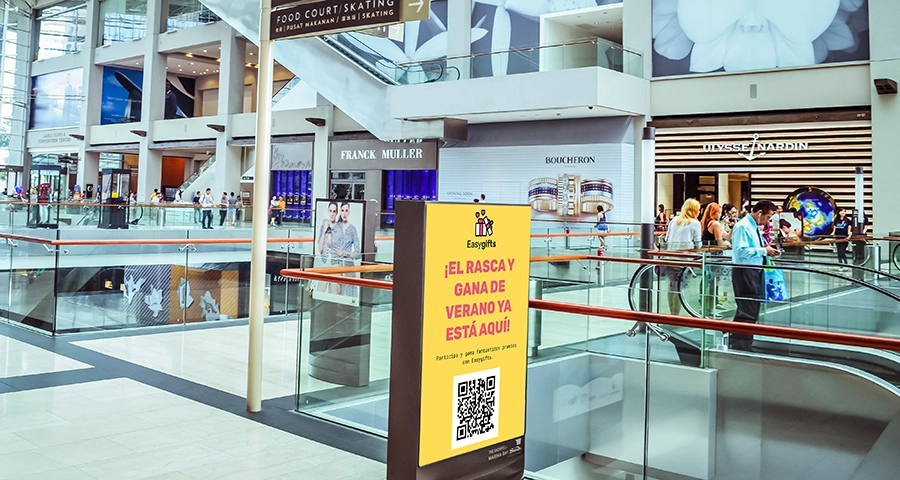 In the example above, a "Virtual Scratch and Win" game offers summer-related, random direct prizes such as sunshades, pool inflatables, sunglasses, snorkeling kits, and more. Mall visitors scan the QR code displayed on the MUPI (Mobilier Urbain pour l'information) or information screen, access the promotion through their mobile device, and participate. Participants then scrathc the virtual panel to find out if they have won a prize. If so, the screen displays instructions on how to redeem it and the time left to do so.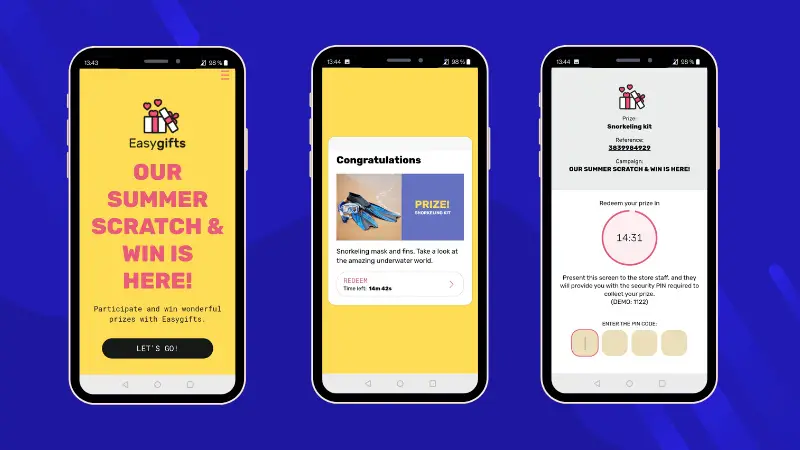 As you can see in the image above, the prize doesn't necessarily have to include a unique identification code. However, if you want to add an extra security layer, you can set up a PIN that will be provided by the store's staff to users for them to introduce on their phones once in the store. What's more, this four-digit code can be used to identify the location where the prize was validated.
Social media can certainly be used to inform the audience that interactive promotions will be available at the shopping mall during specific dates. This will nudge sers into taking the first step, which is to visit the place, later engaging visitors with games and dynamics such as a Prize Wheel, Scratch and Win, Discover and Win, or Instant Win. These interactive elements create excitement and encourage participation, increasing the chances of conversion and generating a positive shopping experience for visitors.
The prize redemption tool at the point of sale allows for two systems to verify and redeem: using a digital voucher through the user's mobile device or by entering the prize's reference number on the Validation Portal.
In this video, you will quickly see how this tool works to redeem prizes in your physical stores with an optimal experience for both the customer and the store.
Draw foot traffic to your brick-and-mortar shop and reward customers with redeemable prizes
Distributing direct prizes that can be redeemed in physical stores can also build customer loyalty after a purchase or trigger repeat purchases. Picture running a "Back to School" promotion with instant wins and raffle discounts, school supplies, and clothing for children. Then ask customers to upload a purchase receipt to enter the draw, therefore turning it into a customer-exclusive. Once the prize is awarded, limit the redemption time frame, thereby increasing visits and purchases at your physical locations.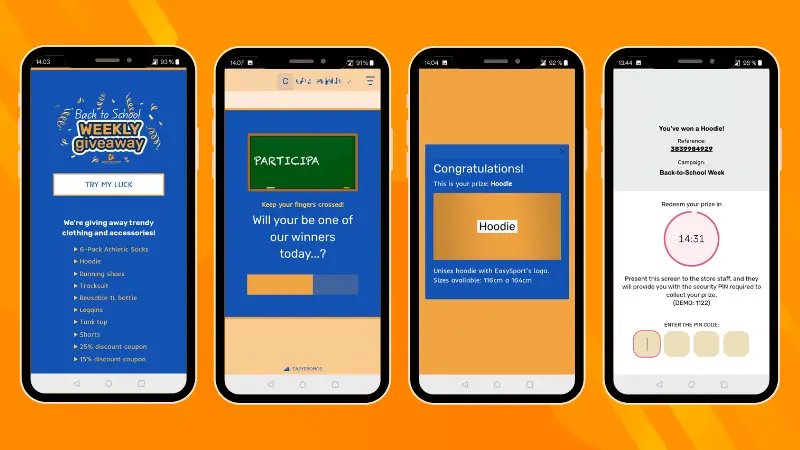 This sort of prize distribution can be carried out anonymously or by capturing participants' data. If you're interested in learning more about your customers, it's best to promote the action among those already at your store, venue, or restaurant. In the following example, you can see a Scratch and Win DEMO that is particularly useful for rewarding those who have made a purchase or intend to make one at your shop. Once the user receives the prize screen, they will show it to the store staff to redeem it.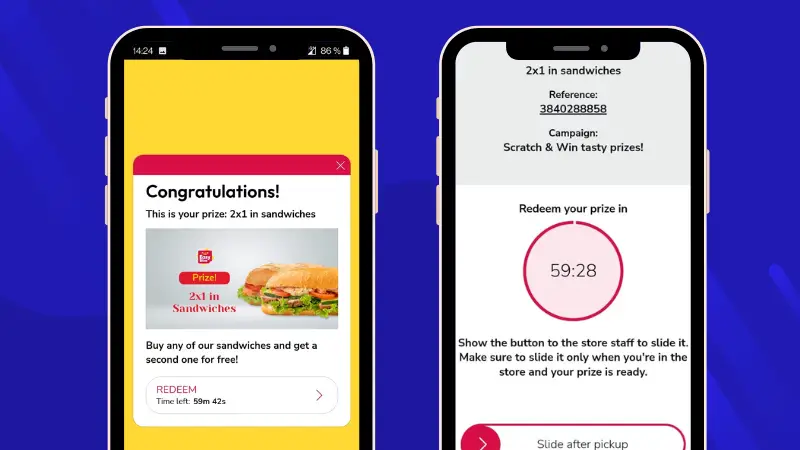 Make sure the prize is always accessible on the user's phone
It might be the case that the prize has an expiration date and the user closes the browser window where it was presented. You can make sure that the participant has access to it when needed if you have collected their contact information in the form. You can activate an email from within the promotion that will be sent to them right after they have won the prize. This email will include a link to the prize redemption screen, making it easier for them to retrieve it when they visit the physical store. This way, the participant will have the necessary information readily available in their email inbox, ensuring a smooth redemption process.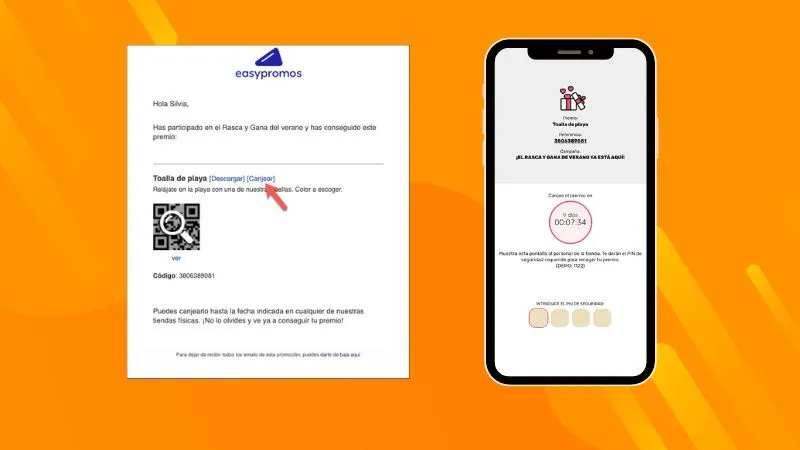 Follow-up statistics
With the prize redemption option, you can collect valuable data from the participants, such as the number of prize validations, which validation point or store has been the most successful, which prize has been redeemed the most, and more. Additionally, you can add fields to the registration form to gather more information about the users, such as their city, age, or if they are regular customers.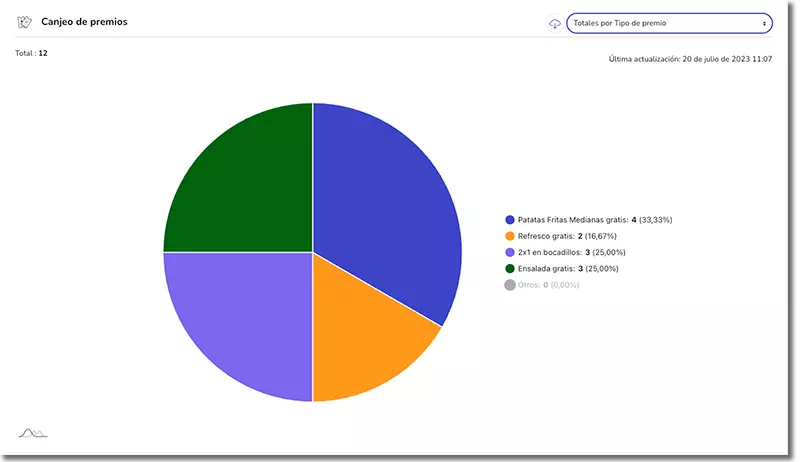 Don't forget to follow up and analyze the statistics of your promotions to draw conclusions. This will allow you to improve your next campaigns results.
We hope you find this prize redemption system useful. If you like it but need further information or clarification, contact our support team via live chat or request a DEMO from our commercial team. We will be happy to help!