Organizing online knockout tournaments with Easypromos is very simple and the time spent on setting up the app will be worth the little effort; the application is a great engagement generator for brands looking to reconnect with their audiences. Participating users will be exposed to your brand while they vote for their favorite candidates, predict winners of new rounds or check the public ranking.
The main purpose of launching a Tournament Bracket promotion is to attract users with multiple participation stages – following new rounds in sports events or choosing their favorites from among candidates that make it to the next round.
The application allows you to publish an overall ranking page with all participants and their accumulated points. Have we mentioned that you can fully customize it with your corporate image?
Let's now take a look at the Tournament Bracket app in more detail:
What marketing objectives can I accomplish with online tournaments?
Online knockout tournaments have three characteristics of games: rivalry, skill, and chance. These three allow brands to achieve a variety of marketing objectives:
Increased engagement and repeat participation
Brand awareness and visibility
Increased customer trust and loyalty (incentives)
Original content for your social media networks
New contact details from social media users and website visitors converted into leads
Visibility for specific events, products or services
How does the Tournament Bracket app work?
The Tournament Bracket application by Easypromos allows you to organize online tournaments with multiple rounds. There are two ways to organize your tournament, based on:
Real sports and cultural events. You can visually present teams, athletes, and candidates of important events and invite your audience to predict the winners. As you learn the official results, you can update them in the app and assign points to participants, based on their answers. They will be then displayed in the ranking.
Online competitions, fully invented and organized by your brand. These competitions can be based on ANY topic. Ask users to choose their favorite products, books, series characters or food. Once the voting of each round is finalized you can assign points to the users that voted for the winning candidates.
And now let's take a look at some of the most important features of the Easypromos brackets app:
The Tournament Bracket app is created with a default template. All you have to do is configure the first round of the tournament and adjust the participation dates.
You can add up to 64 candidates in each round and you can display them randomly or by manually matching up the rivals for each round.
It's possible to activate multiple tournaments at the same time. It's a great option for anyone looking to display more than 64 candidates or those launching different categories in your brackets competition.
A single registration for easy participation. Users register when they first access the promotion. The application then saves the user information and they don't have to register again next time they want to participate in the competition.
Full customization of all texts and images.
Participants accumulate points for each round. They can also check their score and find out how many points they scored in each round.
Different rounds are visually presented on the welcome page that is adapted to all devices, including mobiles and tablets.
The application allows you to run random prize draws for all participants or reward those with the highest scores.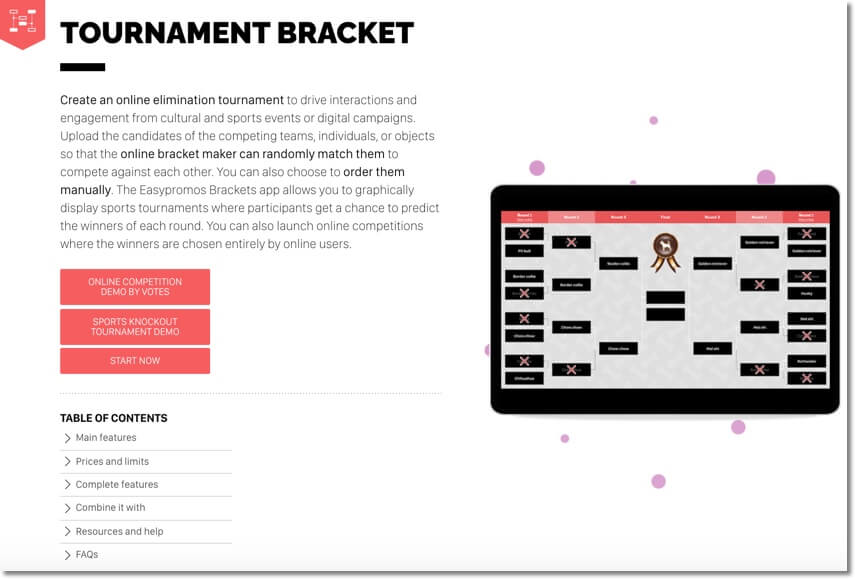 Now that we know all the characteristics of the app, it's time to see some examples!
Templates and examples of Brackets with multiple rounds
Now is the time to see some examples of online knockout tournaments. So… Are you planning to launch a tournament for a football league? Would you like to discover the favorite series of your audience? Or maybe you work for the tourism sector and you're interested in showing the sights of your city and find out which one is the one that your followers like the most? You can even organize a competition between popular book titles and even dog breeds! Take a look at the following examples and download our pre-configured templates to launch your promotion.
Knockout brackets for UEFA Women's Champions League 2021
UEFA Women's Champions League is a great example of an online tournament. The brackets competition has been divided into different rounds, based on matches happening on different days. As the teams progress through rounds, new participation stages are open. In this case, the organizer must closely follow the matches so that they're able to correctly update the scores and open new stages.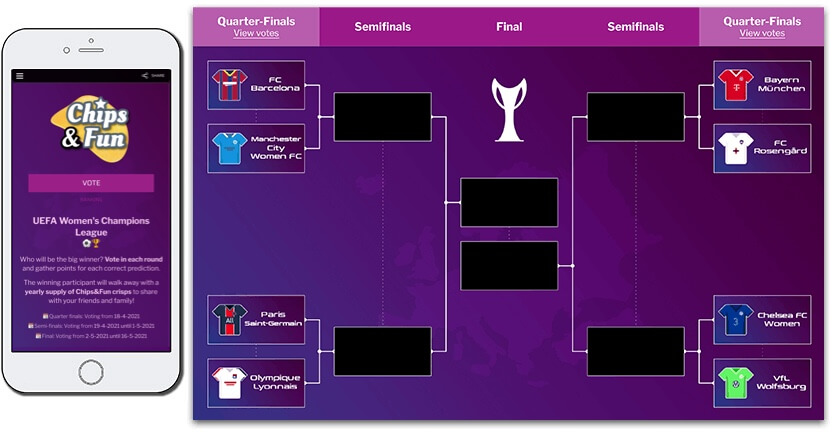 Do you like the above idea? Try our UEFA Women's Champions League Brackets to discover the real user experience. You can then download our pre-configured template to launch your own tournament.
Monuments knockout tournament
In this example, you can see a tournament between some of the most famous monuments in the world. The main objective of this Bracket promotion is to discover the monument most liked by online users. At the end of the promotion, the 10 best participants will enter a random prize draw – they'll be the users that voted for the candidates that made it to the next rounds.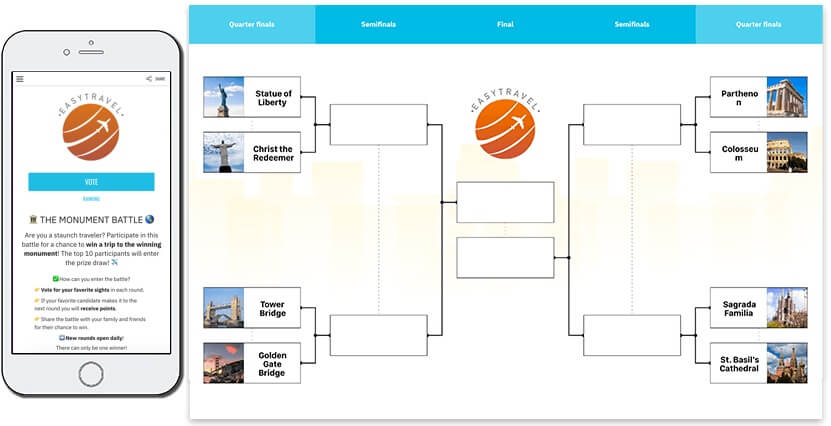 Do you want to try this promotion? Vote for your favorite monuments and learn how this fun competition can engage your audience. You can even download our pre-configured template for your promotion.
Tournament Bracket: novels
The final example is a great option for your brand if your audience is full of bookworms. In this tournament, there are two categories, best crime fiction, and best historical novel. Participants have the task of deciding which book is the best in each category.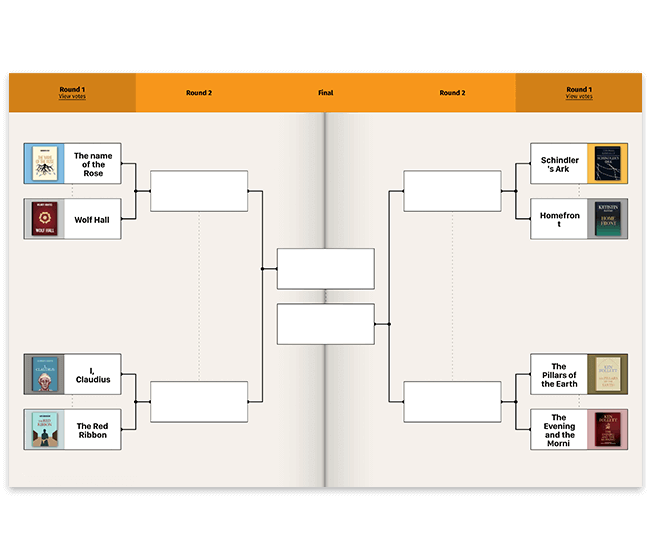 You can try the book tournament promotion and use our ready-made template for your own competition.
How to distribute prizes in online tournament bracket promotions?
If you use the Easypromos app for organizing your knockout tournament, you will be the one deciding how many prizes you want to distribute and in what way. Here are the most popular options for rewarding your promotion participants:
Reward the best participants. You can reward the user with the highest number of points, or organize a random prize draw for the top 10 or 20 players.
Give prizes to the winner of each round. Just like in the previous point, you can reward the best participants, but this time of each round.
Run a random prize draw for all participants of a specific round.
Organize a random prize draw for users that participated in all rounds.
Direct prizes on participating – they can be different for each round. You can give away discount codes, invitations to events, free subscriptions, or product samples.
What's the best way to create online tournaments?
Creating a knockout tournament in draft mode is completely free of charge. Just log in to your Easypromos account and choose the product you want to test. You can clearly see how the tournament rounds are configured. The application is available in White Label and Corporate plans. If you currently don't have an active plan, you will be asked for a payment when and only if you decide to activate the promotion.
And so far our introduction to the new Tournament Bracket application. Here is a short summary of why Easypromos is the best solution for your promotion:
You will be able to fully configure and customize your tournament without programming, coding, or advanced IT experience.
The tool is very intuitive and guides you through the entire process with buttons and additional information.
Your promotion will be published on a microsite – with a registration form, public ranking, and voting system.
Users can access the competition from any device and browser.
The application has an integrated voting system with anti-fraud control.
At the end of the tournament, you will be able to reward participants based on their position in the ranking or by running a random prize draw.
So what do you think about our Brackets application? Do you have more questions or doubts? Contact our customer support team – they're always ready to assist and inspire!