Because Ramadan is celebrated all over the world, we've been able to follow Ramadan giveaways from almost every country. And there are some clear trends: Twitter is especially popular in the UK, while giveaways from the UAE tend to focus on Instagram.
Fortunately, it's easy to run giveaways on social networks these days. Whether you choose Facebook, Instagram, or Twitter, you can simply use an app to count comments and choose a random winner. You can even unite all those networks in a single Ramadan giveaway.
But why run a giveaway? Well, apart from keeping your social media active, it's also a great opportunity to spread the message of Ramadan and improve your brand's social media presence. It's also a great opportunity to grow your following and establish strong relationships with your followers. In this blog post, we go through examples of successful Ramadan giveaways and social media contests.
Are you looking to launch a quick Ramadan giveaway on Instagram or Facebook? Use our ready-made templates for your Ramadan social media giveaways! All texts and images are free to use and edit!
We've organized all this information based on the type of prize on offer. So without further ado, here are the best 3 Ramadan giveaway ideas and prizes we've seen on Instagram, Facebook, and Twitter.
Give back to community with a Ramadan giveaway
Let's start with a giveaway that's in the true spirit of Ramadan. My Ten Nights is an app that helps you complete your Laylatul Qadr giving, by setting up automatic donations.
So they decided to make donations on behalf of 10 people, as a twist on the classic giveaway. It's a great example of a simple Twitter giveaway: just follow or retweet to take part.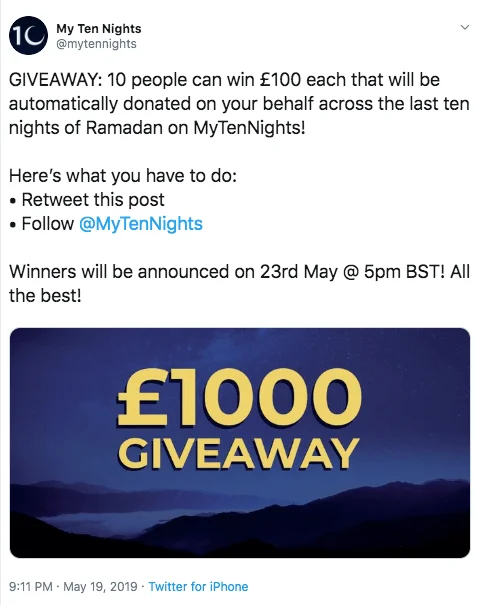 There are other ways to represent the spirit of Ramadan, too. Take a look at this Ramadan Facebook competition from Mumzworld. They still wanted to give prizes to their users – but they used the comment contest to start a conversation about Ramadan. In order to join the prize draw, people had to answer the question: "What can you do to show kindness this Ramadan?".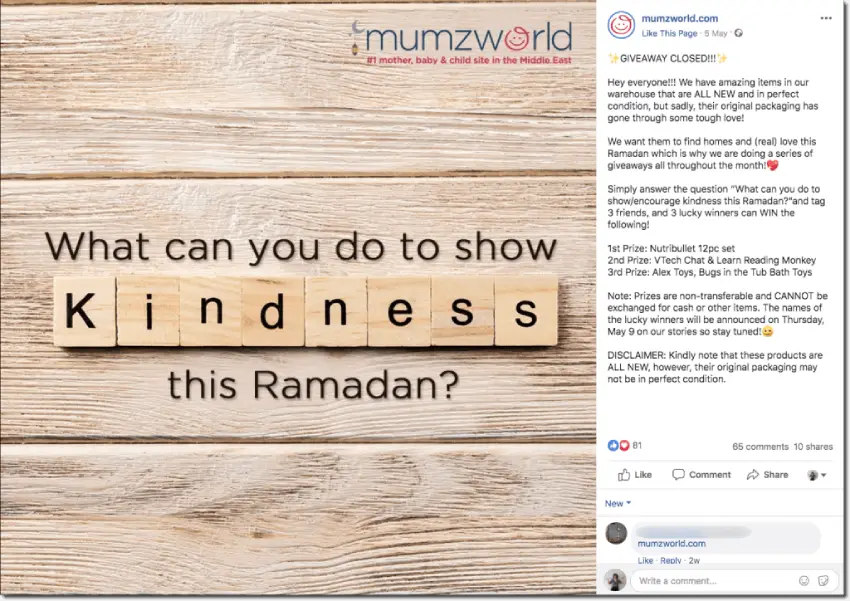 Open questions are great conversation boosters, which means that you can easily connect with your audience over this special season.
Treats for iftar
Sharing food and treats for iftar is also a very popular prize for a Ramadan giveaway. After all, sharing the evening meal has always been an important tradition in Ramadan. Now people are just continuing the habit on social media!
Take this giveaway from a specialist gift basket store. They joined the celebrations by giving away a basket full of snacks and sweets on Instagram.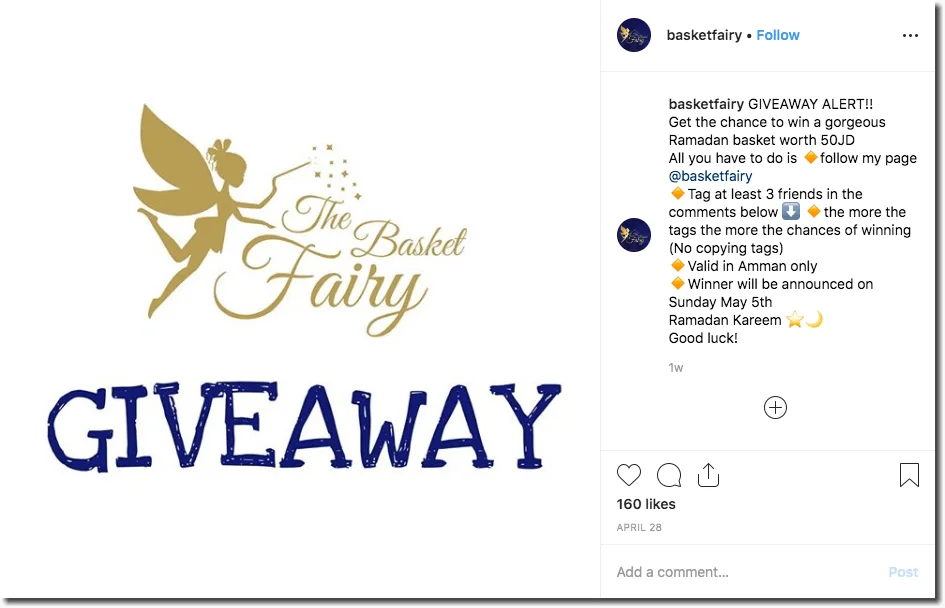 And here's a similar Ramadan giveaway, this time on Twitter. Two brands teamed up to offer a gift set of delicious fudge. Working with another brand like this is a great way to expand your audience and keep your prize budget under control.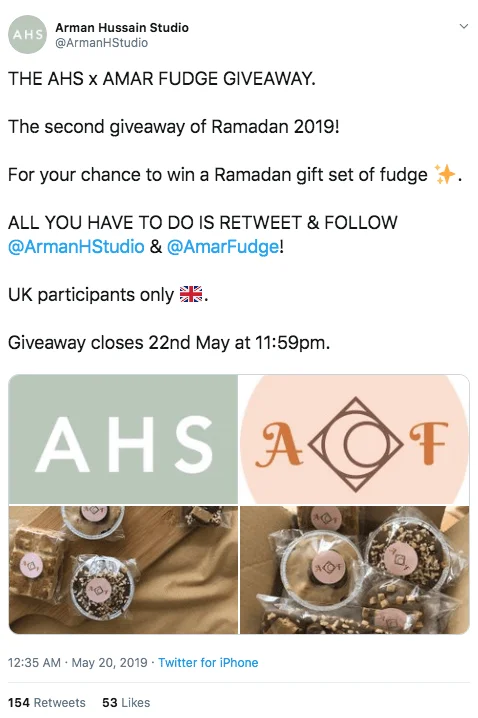 Ramadan giveaway idea: raffle self-care bundles
OK, so we know that Ramadan is a time to think of others. But the fasting routine can also be tough, especially if your followers are working hard or raising children while they fast.
So we love this Ramadan giveaway idea: a basket full of self-care goodies to help one lucky winner through it.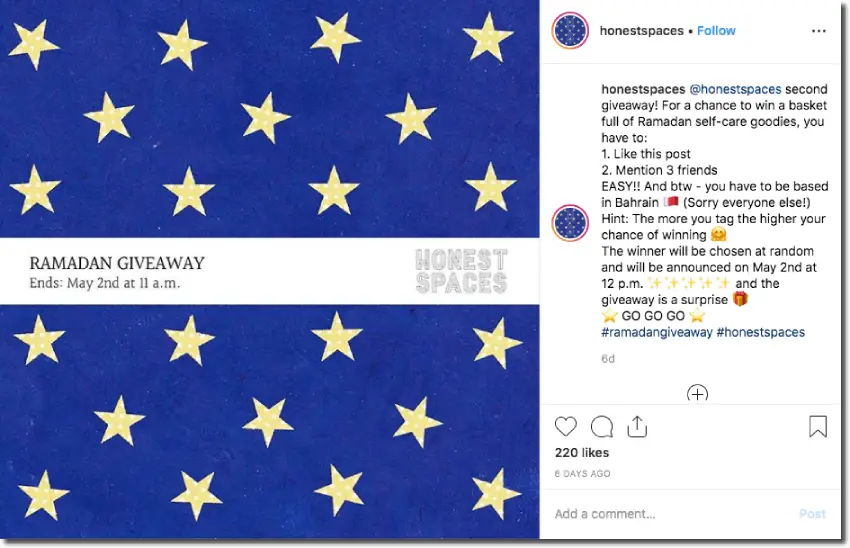 We also like this giveaway because it was very well-organized. First off, the brand advertised the giveaway with a sequence of fun, interactive Stories on the Ramadan theme: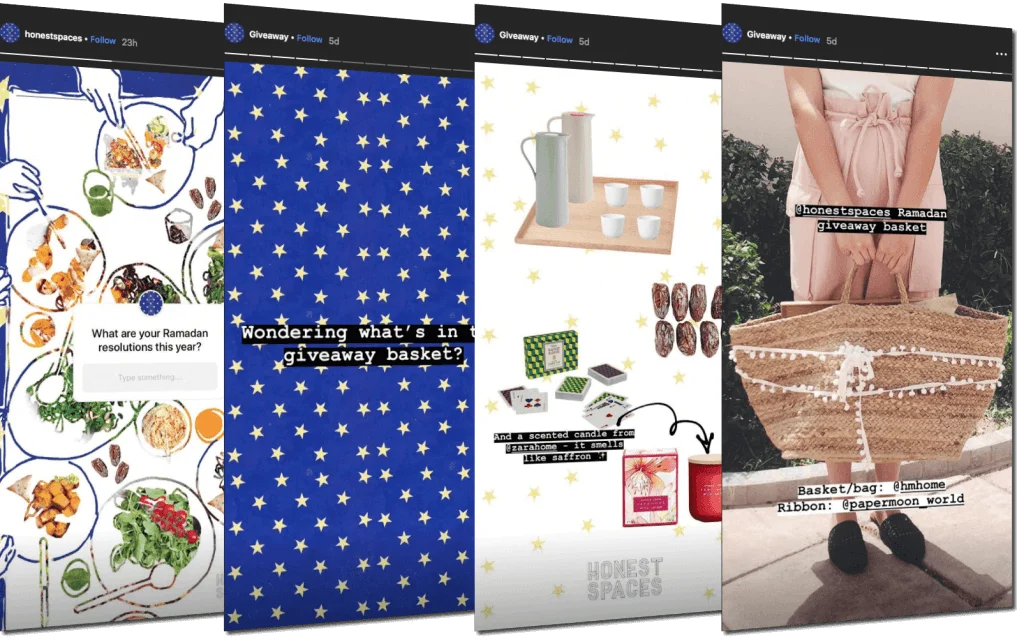 Then, once the prize draw was over, they used Instagram Stories to follow up and announce the winner: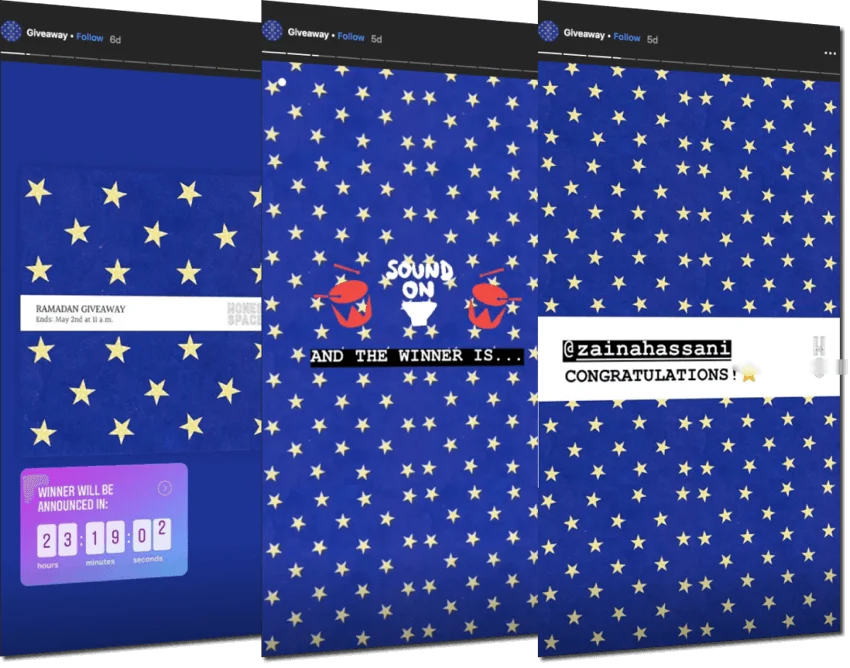 Raffle decorations in your Ramadan giveaways
Whether you invite guests around or just celebrate iftar with your family, some gorgeous Ramadan decorations are definitely in order. This arts and crafts brand ran a giveaway on Instagram for some beautiful, seasonal paper fans: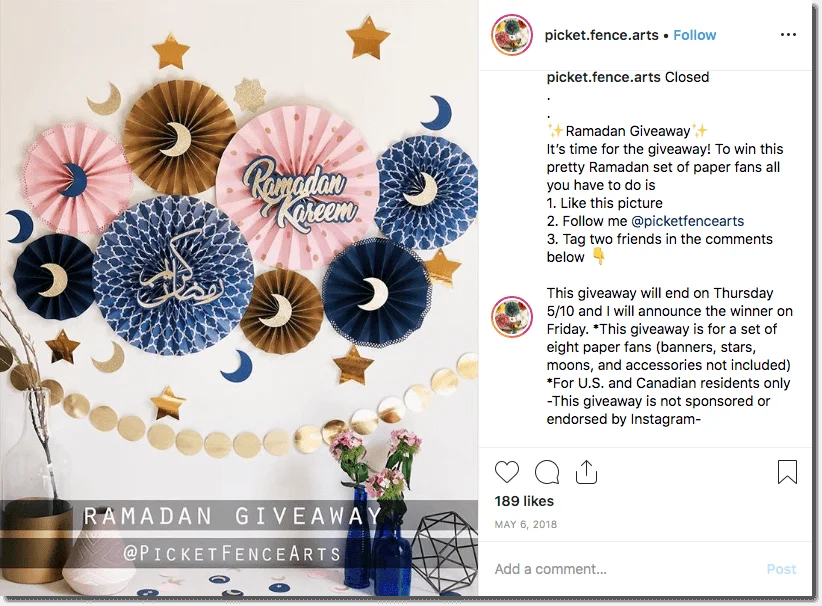 Other traditional decorations and artworks are popular, too. We're thinking lanterns, cushions, plates… and what about this calligraphy canvas?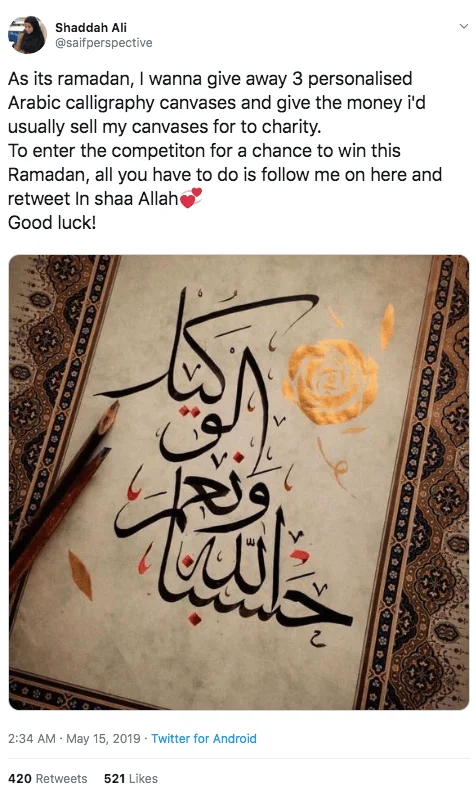 Ramadan giveaways for parents and children
Even though children are too young to fast, Ramadan is still an exciting time for them. And with the right guidance, it's a wonderful opportunity to bring families closer together and learn more about the season.
Here's one example. This giveaway on Twitter shared a selection of children's books, curated especially for Ramadan: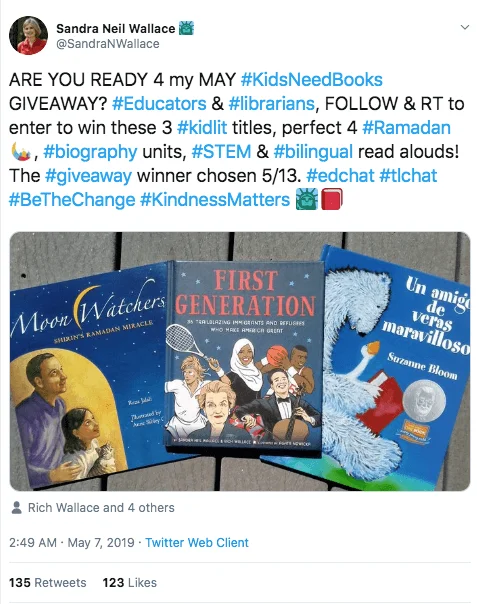 We might make it look like books are popular prizes for Ramadan giveaways… Here's another fun example from an art and wellness account. Users participated in this international giveaway for a chance to win a popular book for their kids, about Ramadan around the world. It was a perfect Ramadan giveaway prize for family-oriented users and those looking to spend quality time with their kids.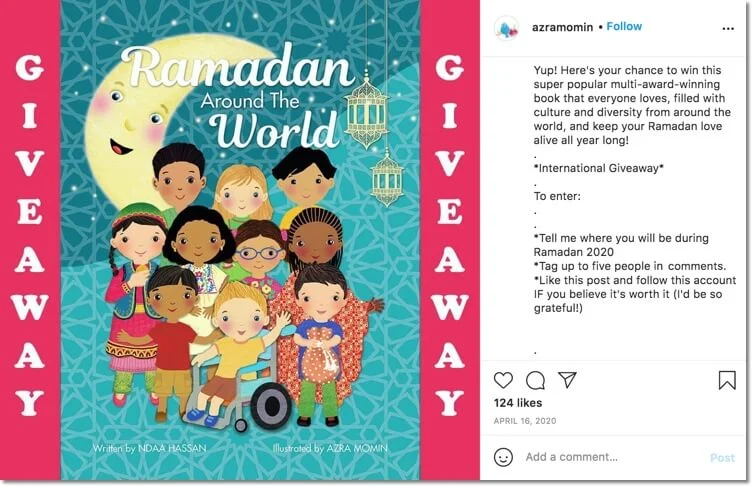 The participation requirements were quite straightforward. Users explained how they'd be spending Ramadan and mentioned up to five friends in the comments. They were also encouraged to like the picture and follow the organizing account.
Fashion and beauty giveaways for Eid
And finally… we couldn't resist including a few ideas for Eid. After all, the Ramadan month passes faster than you think!
This Instagram influencer teamed up with a clothing brand to give away some gorgeous Eid gifts: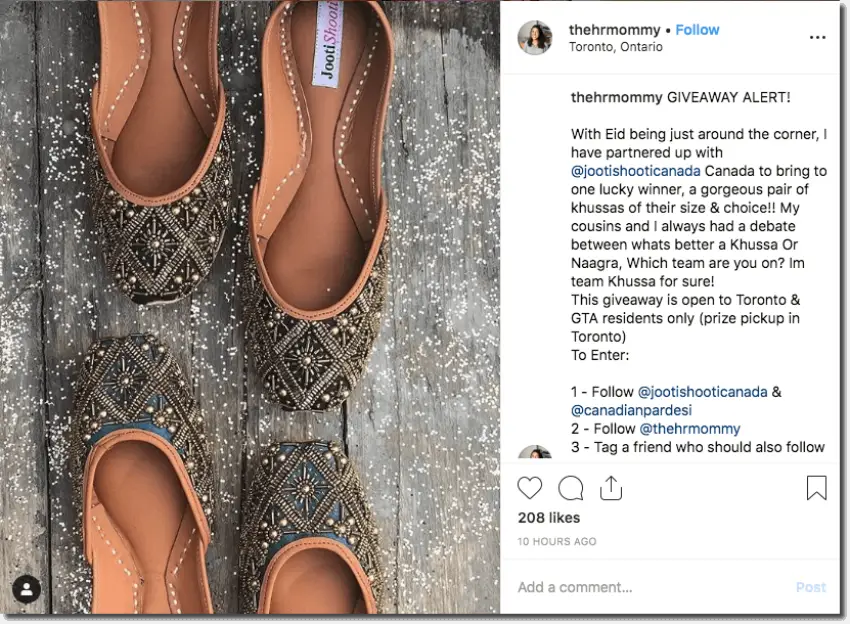 And what if none of these prizes inspired you? Well, you can always give away a gift card, and let people choose their own reward from your Ramadan giveaway. We like this example from a popular beauty Instagrammer. She organized a fun comment Instagram giveaway in collaboration with a perfume brand. Users participated for a chance to win a brand new fragrance while both organized reached a new audience on social media.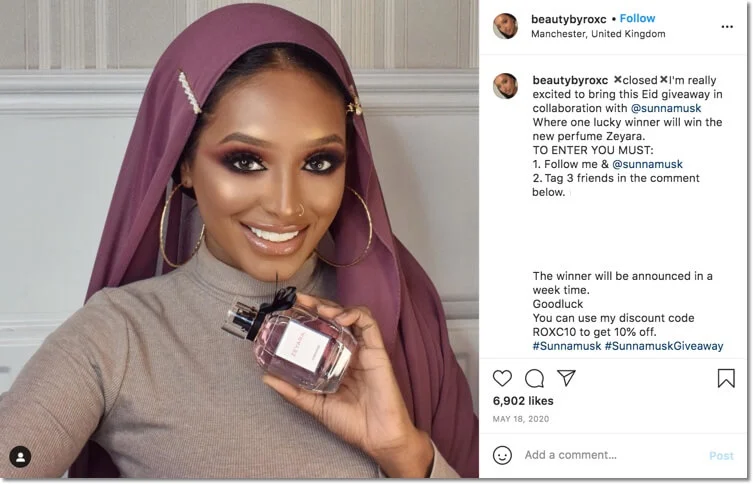 Ready to run your own Ramadan giveaway? Just create a post on your social media – then connect to Easypromos to manage the contest and pick a winner. If you need help or advice, you can also contact our customer support team vial live-chat. We will be happy to help!