Everyone has heard about St. Patrick's Day. And even if you don't know the whole story behind this holiday, you can connotate St. Patrick's Day with green decorations, tons of beer, and four-leaf cloves. So just like every year, the 17th of March is the day to celebrate and party. And we suggest you do it not only in a local Irish pub but also with your online community! So here are some St. Patrick's Day giveaway ideas and examples…
Continue reading to discover how to organize a St. Patrick's Day giveaway on social media to engage your audience and boost social media engagement!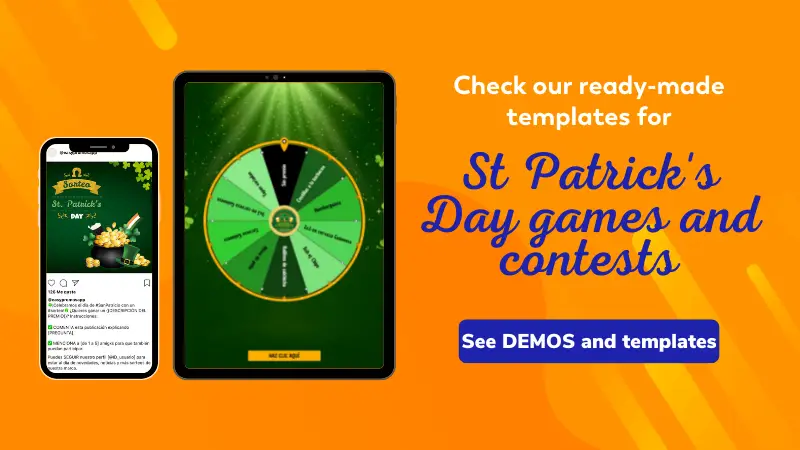 Pick an adequate prize for your St. Patrick's Day giveaway
The most important element of your giveaway is the prize. St. Patrick's Day is a golden opportunity because it offers many themes and symbols for you to play with. Shamrocks, Leprechauns, Celtic crosses, and green. Lots of green!
Remember, you organize a giveaway to delight and excite your followers, but you should still focus on promoting your brand. Social media sweepstakes are a fantastic tool to showcase your products, no matter if they're your new releases or bestsellers. The incentive is the main motivator to participate in your promotion, so make sure you choose an adequate prize!
Offer participants a chance to win a sample of your new collection, your bestselling product, a gift box, or a discount voucher. Beauty shops can offer free treatments, while coffee shops can give away free coffees and St. Patrick's Day-themed cupcakes!
If your product is very specialized you can still create a St. Patrick's Day promotion to create excitement and increase social media engagement. All you have to do is put together a bundle of gifts from brands you like.
Take this example of a St. Patrick's Day giveaway on Instagram by a small business owner. The giveaway post talks about his Irish roots, which is a great starting point. And the prize is just right for St. Patrick's Day: two green shot glasses decorated with shamrocks, designed with Irish whiskey in mind.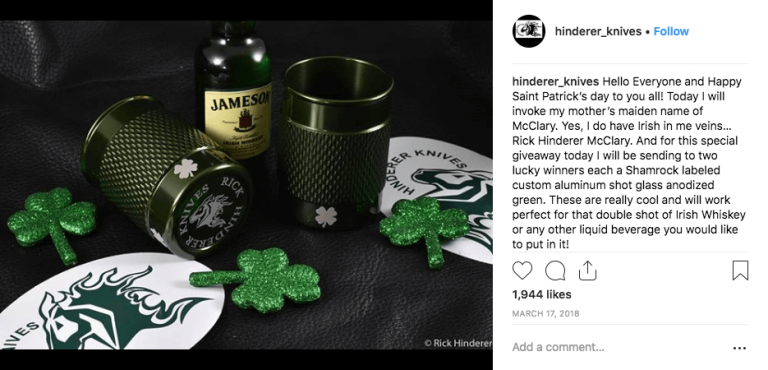 In this Twitter giveaway, a makeup brand has used the traditional green and gold colors to match the St. Patrick's Day theme. Remember, your brand doesn't have to have an obvious connection to Ireland or St. Patrick's Day. With a clever selection of prizes and publicity, any brand can get involved.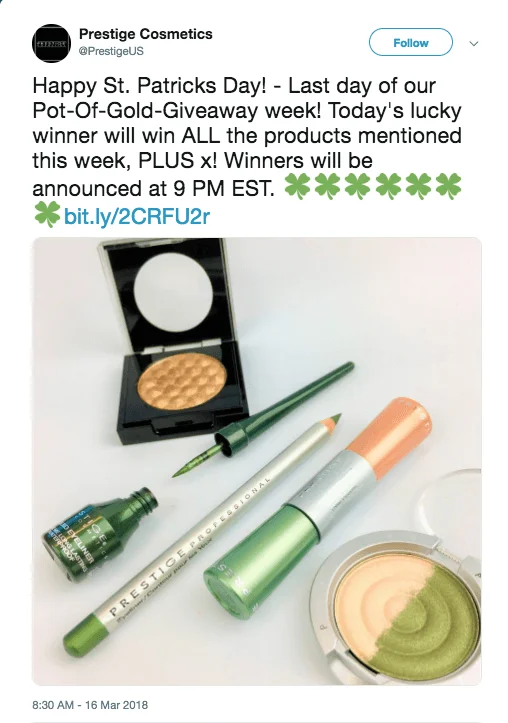 Another example comes from a home building company that simply wanted to join in the fun. They raffled a $100 Visa gift card among those that followed them, liked the post, and tagged three friends in the comments.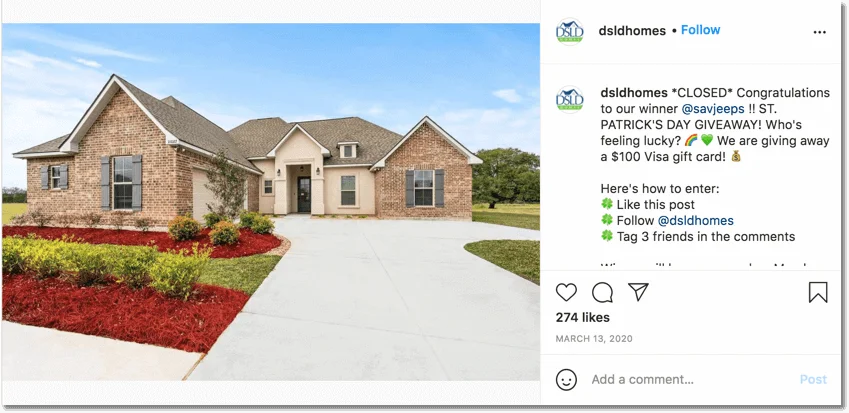 Design your St. Patrick's Day giveaway
Once you've chosen a prize, you need to set up the contest. Creating a St. Patrick's Day giveaway is as simple as posting on social media!
Remember to include the competition dates, rules, and terms and conditions. If you run a giveaway on Facebook or Instagram, you must include a disclaimer that the giveaway is not officially endorsed by the social network.
But now the fun part: how do you want users to take part? To enter the contest, ask them to comment on your post. Comment-based social media giveaways are the best to increase social media engagement, and they encourage real conversations between your brand and your audience, which is something that social media algorithms like.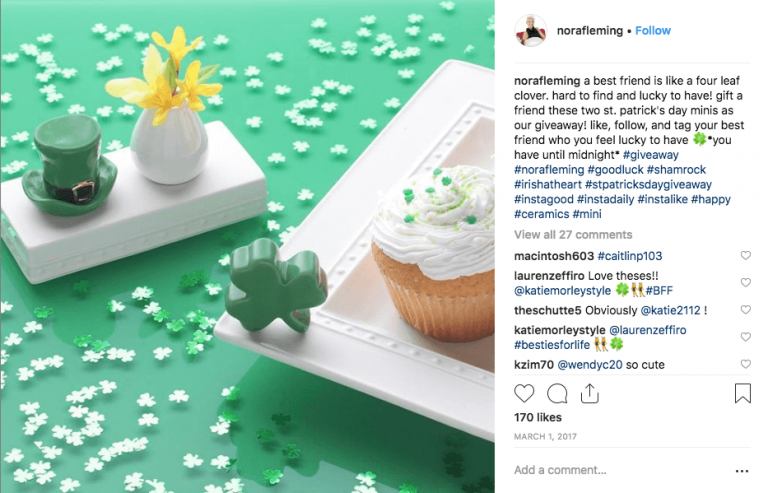 Open questions tend to create more engagement, and you can get creative. You could ask any question related to the holiday, such as people's favorite St. Patrick's Day tradition, or experiences of Ireland. You can even be more personal and ask for your audience's childhood memories with St. Patrick's Day. This way you will create an emotional connection that will turn into a stronger relationship with the brand.
In the example above, a cake decorating brand asked followers who they feel "lucky" for. Remember that mentioning friends can be one of your entry requirements. It will automatically disseminate the promotion, promote your brand and giveaway, and also increase the number of potential participants.
Or you could create a challenge. In our next example, followers had to guess how many four-leaf clovers were in the picture. The closest guess would win a bottle of Shamrock Green tattoo ink.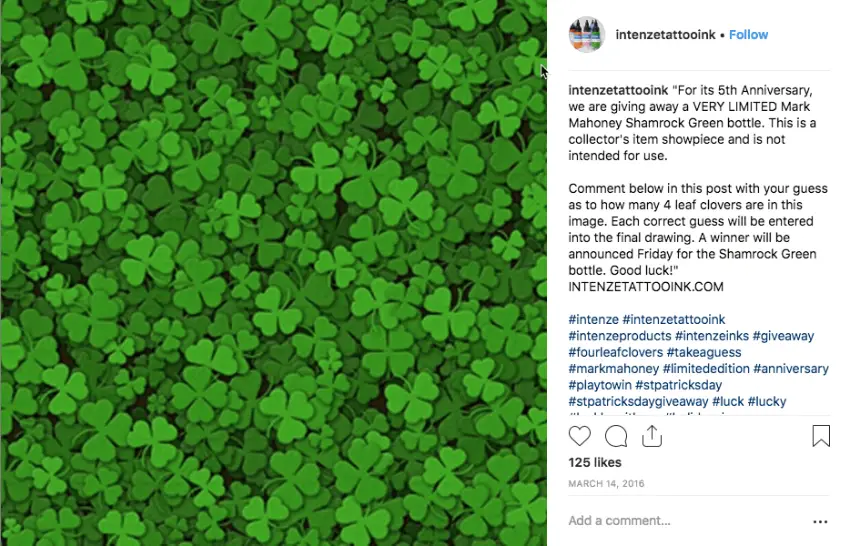 Another popular entry requirement on Instagram is to tag a friend in the comments. It's the best way to ensure your St. Patrick's Day giveaway reaches as many people as possible. In the following example, you can see how a Californian spa engaged its followers and celebrated St. Paddy's Day.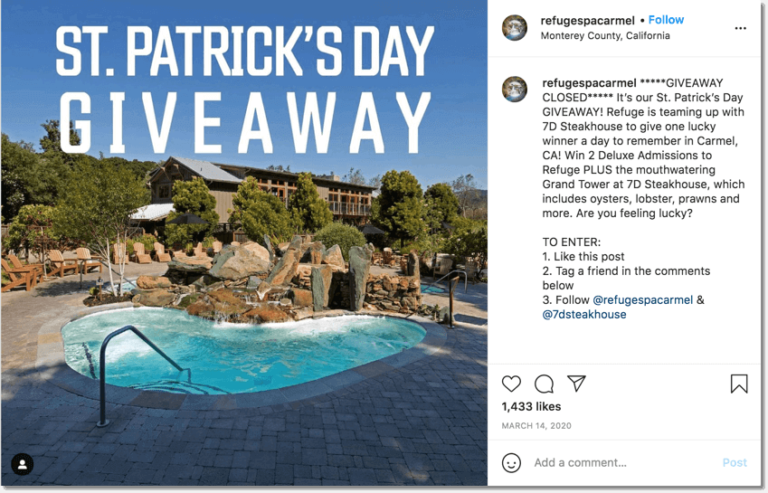 Are you looking for something more complex? Find out how to create engaging digital promotions for St. Patrick's Day!
Launch aSt. Patrick's Day Instagram Stories Giveaway
Instagram Stories 24-hour format fits just perfectly for holidays like St. Patricks Day, when celebrations take place for a single day. With Easypromos you can now organize fully automated and reliable giveaways on Stories. Ask your followers to post a story of their St. Patricks Day celebration on their profiles mentioning your brand as a requirement to participate in your giveaway. This dynamic will help you give you reach a wider audience on Instagram and boost brand awareness!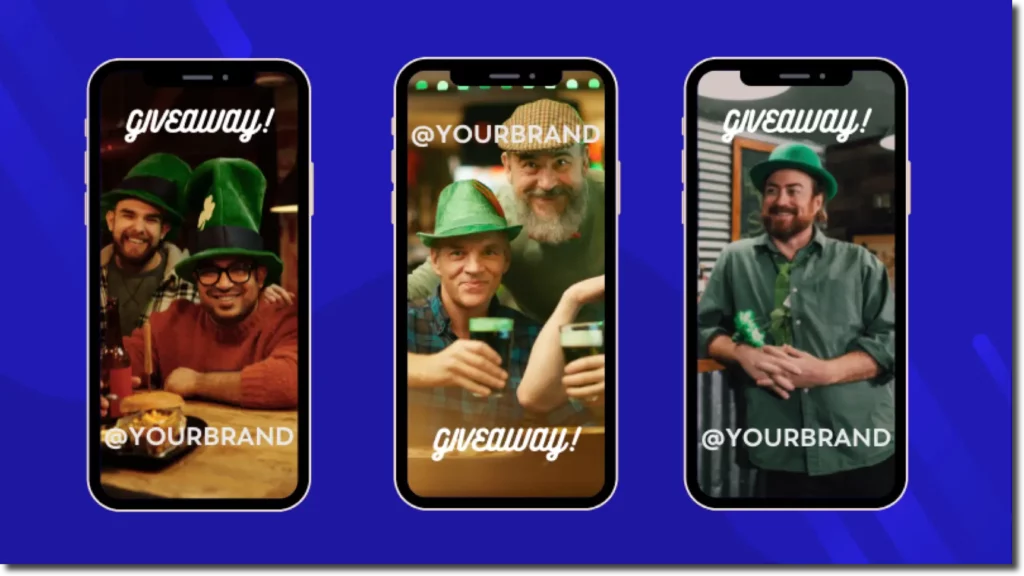 Disseminate your St. Patrick's Day promotion
So your St. Patrick's Day giveaway is published, and the comments are rolling in. But your work isn't done yet!
Make sure you maintain the excitement with regular updates on your social media feed. Add posts or create Stories to thank the participants, count down to the prize draw, and remind your followers of the prize on offer.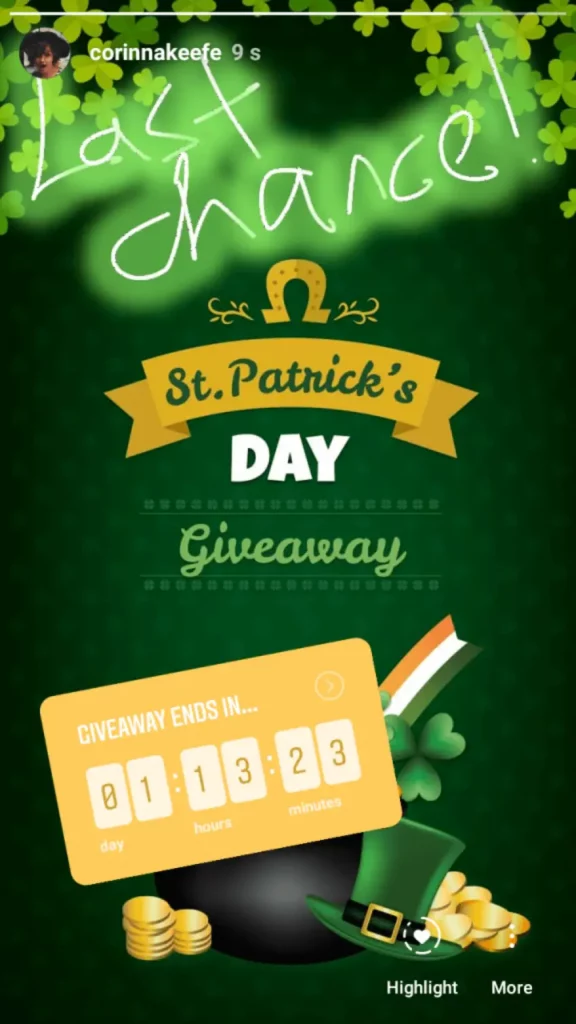 Share the giveaway information on your other social media accounts to send more traffic to your promotion.
Announce the winners of your giveaway
When your St. Patrick's Day promotion is over, you just need to carry out the prize draw and notify the winners. To choose a random winner of your St. Patrick's Day sweepstakes you can use one of our apps: Instagram, Twitter, or Facebook Giveaway app. It's very easy, completely fair – and your first social media giveaway is free!
To generate more excitement around your St. Patrick's Day social media giveaway you can make use of our new Show Mode 2.0. It allows you to fully personalize an interactive video with visual and sound effects to announce prizewinners. All you have to do is add your logos and upload corporate images to further expose the brand.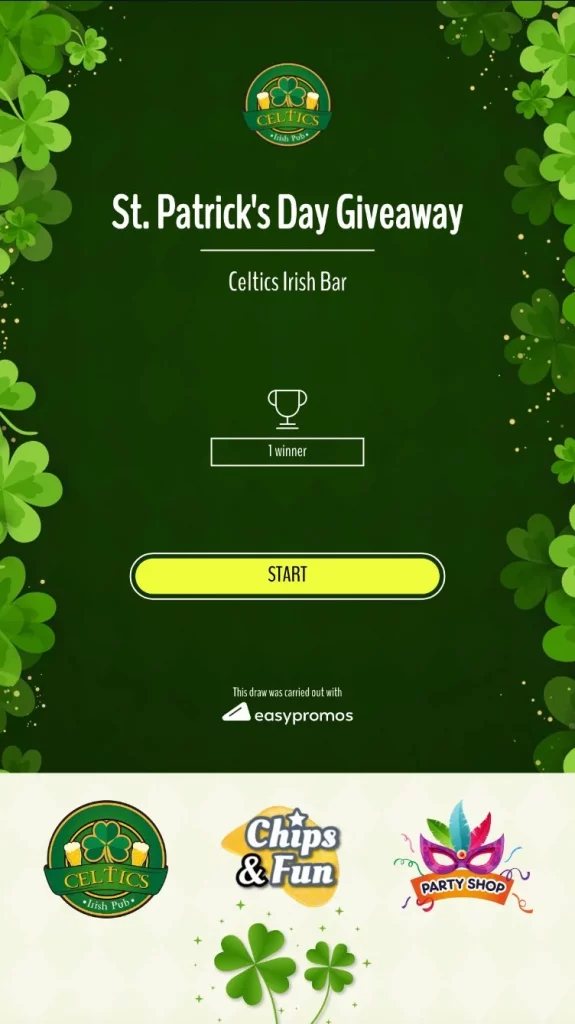 Here's an example of how you could personalize your winner-announcing video. As you can see, you can add a background image and your logo. There's also dedicated space to give visibility to giveaway sponsors or collaborators. And if that wasn't enough… You can edit all the texts! All you have to do now is download the video and share it on Instagram Stories.
You can download the video in a horizontal format too if you're planning to share it on Twitter or Facebook. Another way to announce your giveaway winners is to download and share a Certificate of Validity. It proves that the winners were chosen in a transparent and automatic way – this is a great way to tap into customer trust.
Ready to organize your St. Patrick's Day giveaway on social media? Don't hesitate to contact our Support Team via Live Chat in case of doubts or questions.