About The Great Canadian Sales Competition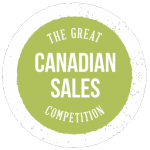 For Canadian university and college students, this event has been coined the Olympics of sales, where the judging panel is comprised of potential employers. The competition, which runs from September 4th 2017 to May 3rd 2018, attracted more than 3600 student participants in this most recent season motivated to compete for prize money, the attention of judges and the opportunity to showcase their sales skills in front of heavyweight employers such as Air Canada, IBM, Shopify, Cisco, TELUS and many more.
The Campaign
Under the title "Great Canadian Sales Competition" (GCSC), founding partner Sales Talent Agency launched an annual talent contest offering students the opportunity to submit their sales pitch for the chance to win $7,500. Simply put, students flock to the contest to benefit from:

The contest is comprised of 3 rounds: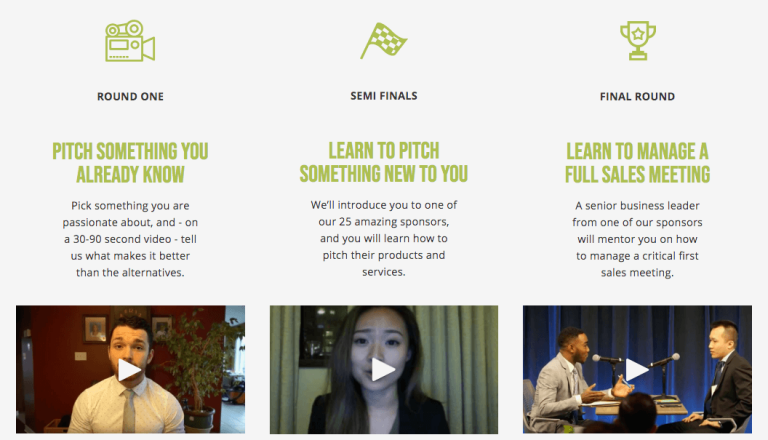 The Challenge
The main purpose of the contest is to connect job seekers with the in-demand field of sales. It turns out many of Canada's top companies face a lack of sales talent and this competition helps fill that gap. The GCSC educates students about the exciting and rewarding sales careers and provides them with a competitive venue to best present their skills. The annual competition also serves a critical educational function: many of Canada's talented students are not typically presented with sales as a career option and would otherwise miss out on the fantastic opportunities it provides. With the youth unemployment rate at almost twice the national average, the GCSC competition challenges students to "rethink sales" as a career and make a positive difference for themselves and the country's economy. To pull this off Sales Talent Agency must get the word out to 80 universities and colleges to enlist the students with the help of regional ambassadors, establish coaching and judging panels and marry all of these with 30 + of Canada's most exciting employers as sponsors.
Providing a means for students to easily create and submit content that is manageable in the hands the GCSC and their judges as well as share this content with their highly coveted Career Hub is mission critical to the success of the campaign.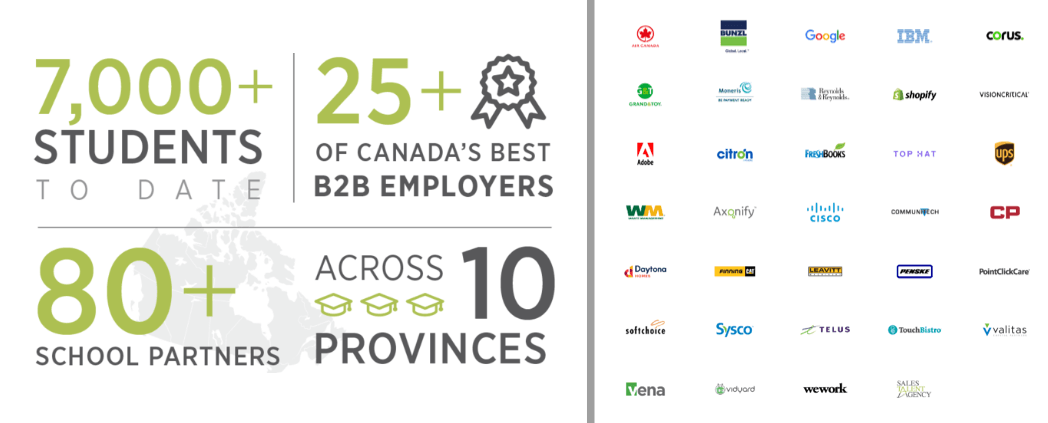 The Solution
After GCSC's first season they quickly realized they would outgrow their solution, they set out in search of a new provider and found Easypromos. After some discussions and tests The Great Canadian Sales Competition deployed the most complete version of the platform: white label solution. Soon after the entry form and gallery component of the contest was embedded into their competition microsite found here: www.greatcanadiansalescompetition.com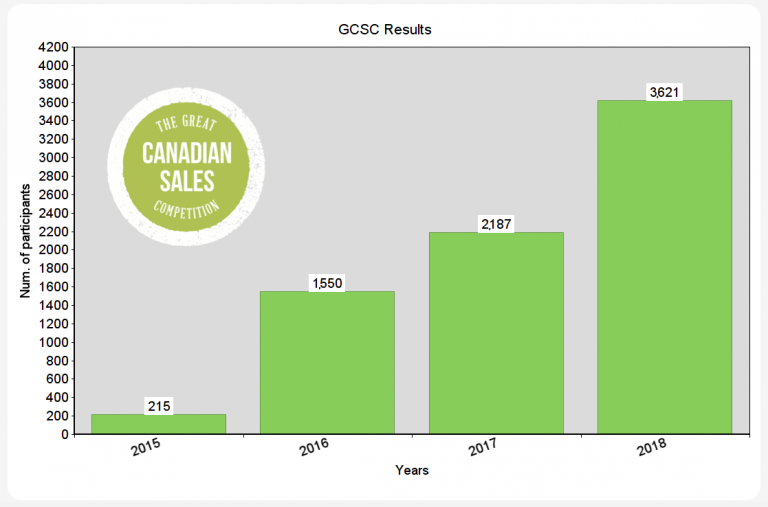 One key component to the campaigns growth is the GCSC's Ambassador program, where students represent the competition and its partners on their respective campus. The ambassadors' setup up entry booths on campuses to video tape student pitches and submit entries. Obtaining these entries is critical to the campaign and these activities represent a significant financial commitment to coordinate and execute. Typically, high numbers of students are videotaped one after another by the ambassadors' mobile devices such that any technical issues can spell disaster. In the early years of the competition Easypromos and GCSC went through some growing pains to ensure the platform could meet the unique demands of the ambassadors. Working together to gain full understanding, these issues have been resolved with key adjustments to the platform such as allowing ambassadors to easily clear cache between entries.
We should note in addition to this, many students chose to enter via their own tablet or phone at their own location. In both cases a huge key to success is hidden in the complexity of device and browser technology being they are different, behave different and in many cases are not natively built to do what the students are requiring of them, ie taking a video, opening a browser, filling in data and then uploading the video. While it seems straightforward, in reality is far from that. With an innovative command of technology, Easypromos has been able to solve these browser inconsistencies to provide secure, scalable, robust and reliable experiences across all devices.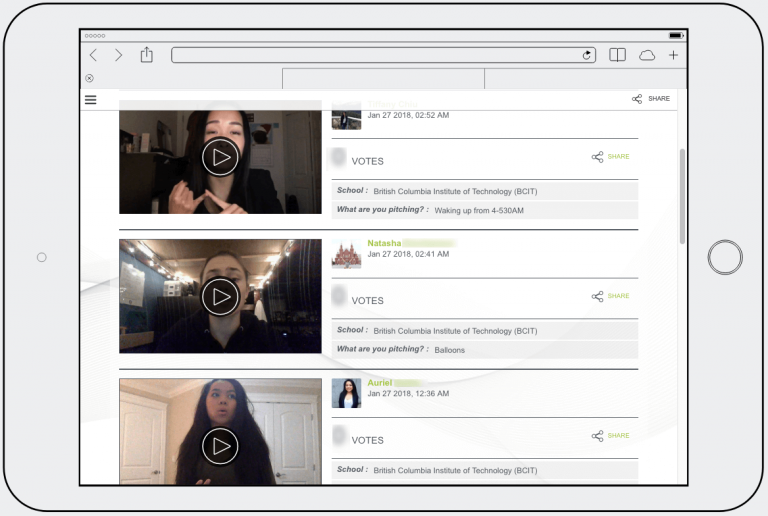 Several questions are asked on the entry form with special requirements such as dropdown selection of 80 institutions. Auto complete answers, open answers, terms and conditions and can/spam compliance measures. All of these are nicely supported by the platform. Each student video is uploaded into a video gallery for which hosting is provided by Easypromos where the admin determines which student information to display as public and which to maintain as private. Students are encouraged to gather votes from friends and family to increase exposure and buzz. Of further importance is robust API to allow both video content and student registration form data to pass to an external CRM.
Data flowing via the API is in real time and supports judging efforts as well as their database designed to allow Sponsor Companies and Students engage in career discussions. Easypromos allows this data to pass automatically so the admin team can focus on managing the relationships and not the heaps of data.
Speedy upload of videos is a crucial part of the contests success as well as the ability for the GCSC team to access data in the backend as needed. Leading up to each season the GCSC admin team rigorously tests the platform even though actual configuration takes less than an hour. At the end of the contest their data is safe in the Easypromos platform and they can access and extract data anytime they wish during and beyond the promotions end date.
Over the course of the 3 years, Easypromos has been able to respond quickly and effectively to solve and resolve issues.
GCSC benefits from the best of bread capabilities normally afforded at significant higher price points and doesn't have to consider a custom build which would be cost prohibitive apart from the spiraling cost associated with testing and maintaining it as reliable.
The Benefits
The Easypromos platform proves to grow with the contest eliminating the need for future stressful changes. Easypromos constantly upgrades existing capabilities and adds new features to ensure it remains current for customers like GCSC.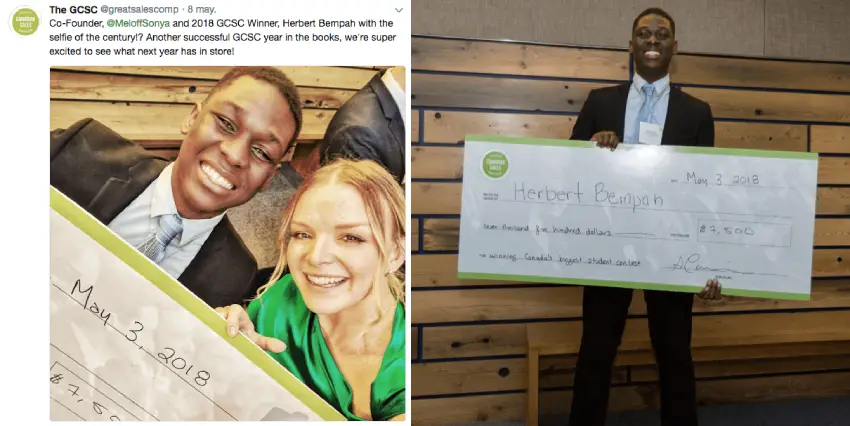 Partnering with Easypromos has helped enable GCSC grow their contest year over year in confidence. Maintaining key sponsors throughout this time has certainly helped catapult their success, in part thanks to the integrity of the platform and thorough support. Using Easypromos means GCSC benefits from the best capabilities normally afforded at significant higher price points and GCSC doesn't have to consider a custom build which would be cost prohibitive apart from the spiraling cost associated with testing and maintaining it as reliable.

Testimonial
The Great Canadian Sales Competition has used Easypromos for the past 3 years. This year our competition garnered 3,621 video submissions from 80 different college/universities from across Canada. Without a glitch, the Easypromos platform allowed us to effectively and efficiently garner this much participation – which made a significant difference in running the competition this year."

– Katherine Perrin –

Manager of Campus Recruitment

The Great Canadian Sales Competition