Before delving into sweepstakes examples for your brand, let's take a look at some underlying considerations to bear in mind if you are thinking of organizing online sweepstakes as part of your marketing campaign. Let's start with a simple, yet often overlooked notion. A sweepstake is a "business deal" between the organizer and the participant. A classic old-time example is a simple lottery, participants pay for a ticket in exchange for the chance, as small as it may be, to hit the jackpot. It is in essence, a commercial exchange. And as in any deal, both parties look for value in their investment. The same goes for online sweepstakes, even if there is no monetary exchange, participants are buying their way into the promotion, not with money but with personal information. Consequently, for sweepstakes to be successful, the participant has to consider that the "asset" they are investing is worth the chance of winning the prize.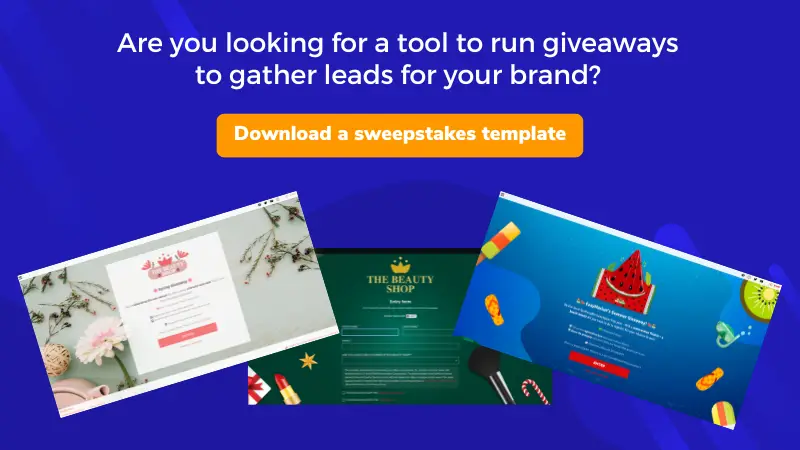 What to consider when organizing sweepstakes
Deciding to include sweepstakes in your marketing strategy is but the first step. Next you will have to decide how, when, and where. What will the mechanic and format of the sweepstakes be? What's its timing? Where and how will the participants access it? The answers to all of these questions depend on what your marketing objectives are, the characteristics of your target audience, and the nature of your business and the prize.
Whether you are looking into generating leads, gathering information on user segmentation, collecting User-Generated Content (UGC), creating engagement, boosting brand awareness, or simply generating a buzz around your brand, your objectives will determine the most appropriate sweepstakes format for your marketing action. Having a clear answer to these questions, sharing the sweepstake efficiently, and offering a prize that will make potential participants decide that the exchange is worth their investment, will determine the level of success of any sweepstakes.
How to organize online sweepstakes
Broadly speaking, there are three distinctive stages when setting up online sweepstakes.
Stage 1 User Registration
To participate, users need to register, and it's the organizer's job to provide a method to do it. The most straightforward way of doing it is to ask participants to fill out a registration form. The importance of a well-thought-out registration form cannot be understated. We can divide the registration into two well-defined groups:
The information you provide about the sweepstakes: Clearly state who is eligible to enter the sweepstakes and the start and finish dates, prize details, terms and conditions, and privacy policy.
The information you want to collect from participants: This is directly linked with your marketing objectives and will allow you to segment your audience, nurture your email marketing database, collect UCG, etc.
Both of these areas can be seamlessly integrated into one single registration form by using a tool that allows for the customization of the registry form. With the Easypromos Entry Form Giveaway App, you can customize all the fields in the form, add opt-in or opt-out boxes, and include links to your terms and conditions and privacy policy in full compliance with data privacy protection rules and regulations.
Stage 2 Participation Flow
Given the possibilities of the digital world, this is where things can really get interesting and where the decisions you make will determine how appealing or engaging your sweepstakes can be. Sweepstakes can be as simple as filling out a registry form and just waiting to see if you have won, but they can be so much more than that. You can gamify your promotion by including a digital game or challenge that users must complete to be eligible for the final prize draw or distribute coupon codes or discounts to drive traffic to your website or shop. We'll delve into that later.
Stage 3 Picking a winner
This stage can make or break not only your sweepstakes but also your entire brand's reputation. This is why we cannot understate the importance of picking a winner in a completely reliable and transparent way AND making sure that ALL participants know that you are doing so. The best, and we'd say the only, way of doing this, is using a reputable and certified platform that offers a tool to pick winners randomly. Easypromos provides both a random winner picker and a notarized certificate of validity to insure the reliability and fairness of your sweepstakes. Last but not least, make sure you communicate the winners and that you have enough alternates.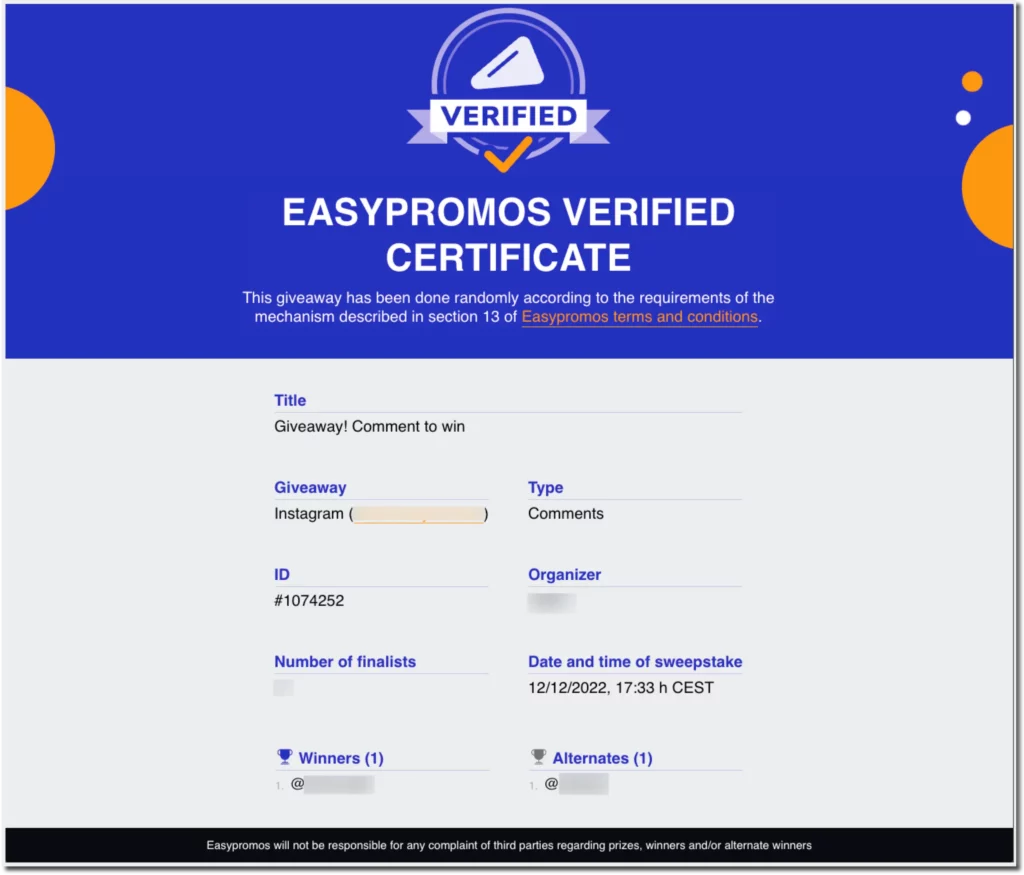 The Easypromos Sweepstakes app allows you to manage prizes and winners easily and reliably. Assign alternates, notify winners individually, and provide them with an option to claim their prize automatically.
How to share your online sweepstakes
This might seem a bit too obvious but, the more people know about your sweepstakes, the more participants it will have and the more successful it will be. That's why choosing the right channel to promote your sweepstakes is essential to achieve the reach you're aiming for.
When creating a sweepstakes promotion with Easypromos, a microsite will be created to host it with a URL of its own that you can then share on your social media profiles. This will provide your audience with the sweepstakes information and a gateway to access it by clicking on the link.
Create some buzz and anticipation by sharing posts announcing the sweepstakes on your social media accounts. Don't forget to show the prize attractively and if you want to make sure that it reaches a certain demographic you can use Facebook ads to promote it on Facebook and Instagram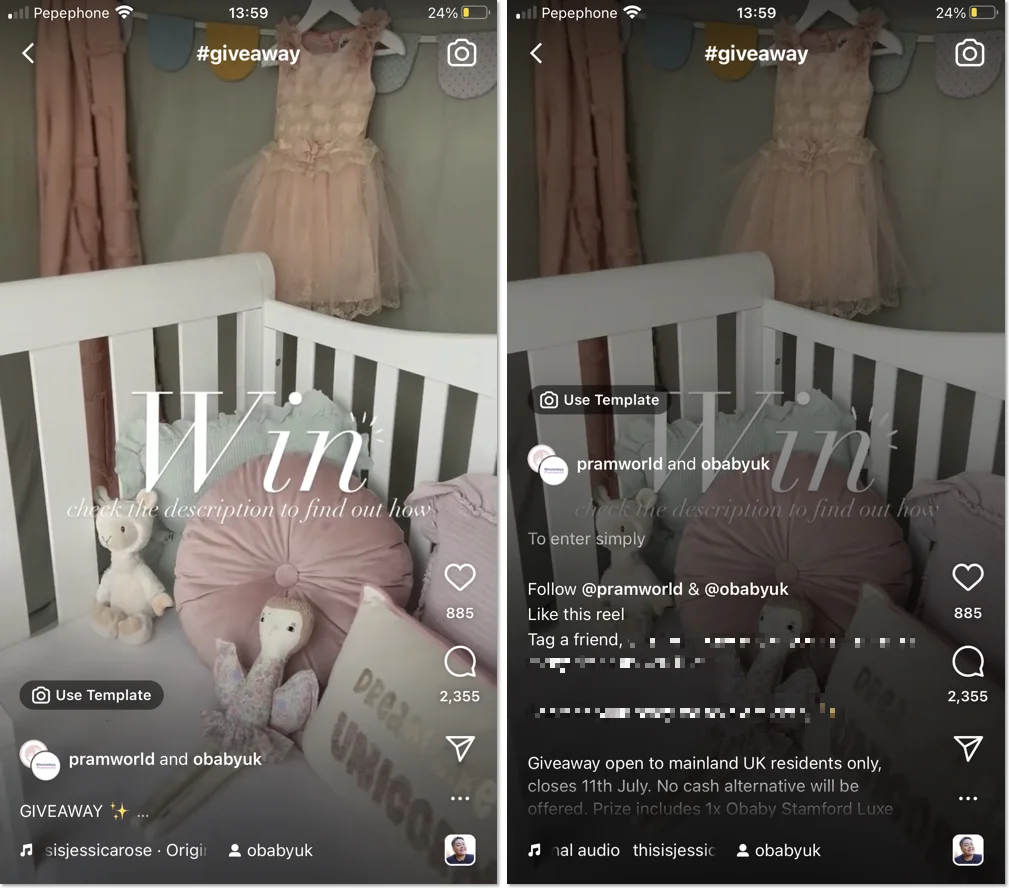 If you already have an email database for your email marketing campaigns, a newsletter is a good way to communicate the promotion with your subscribers. Easypromos also provides a widget so you can embed the sweepstakes microsite directly into your website for easy access. And if you are looking to promote your sweepstakes directly in your brick-and-mortar shop, simply print out a QR code and display it somewhere visible so potential participants can scan it and access the registration form. Lastly, encourage participants to share the sweepstakes with their friends and family using the "share" feature of the Easypromos platform
Choose the right platform to manage your sweepstakes
The days when picking sweepstakes winners consisted of "blindly" picking a ball or piece of paper from a basket or bowl are long gone. In this day and age using a third-party service provider that ensures the safe management of user data and a reliable and transparent tool to pick winners is a must. This not only reassures participants of the fairness and legality of your giveaway but also protects you from blunders that could put your brand at risk.
Some of the most important features that a giveaway app should provide include:
Automated and secure collection of participants and their information
User management capabilities i.e, exclude blacklisted users, repeat participants, and former winners, or filter users
Allow participants to register using their social media accounts
Random winner-picking tool
A certificate of validity for every sweepstake
Terms and conditions and privacy policy generator or templates
ISO certification for information security and full compliance with GDPR
Now that we've covered the technical side of online sweepstakes, let's take a look at some real-life examples. Here are some successful and well-planned, and executed sweepstakes to help let your creative juices flow!
Creating your Easypomos account is free and requires no payment information. Create and test your promotion for free, payment is only necessary when you activate your promotion.
Sweepstakes Examples: Online Giveaway to boost brand awareness
If what you're looking for is to position your brand top-of-mind among your audience, a simple giveaway with attractive prizes will do the trick. In this example, Nine West Australia organized a sweepstake for its Easter campaign and shared it on its social media accounts. The post included a link to the sweepstakes microsite where participants registered for the chance to win gift cards to spend in the brand's shops.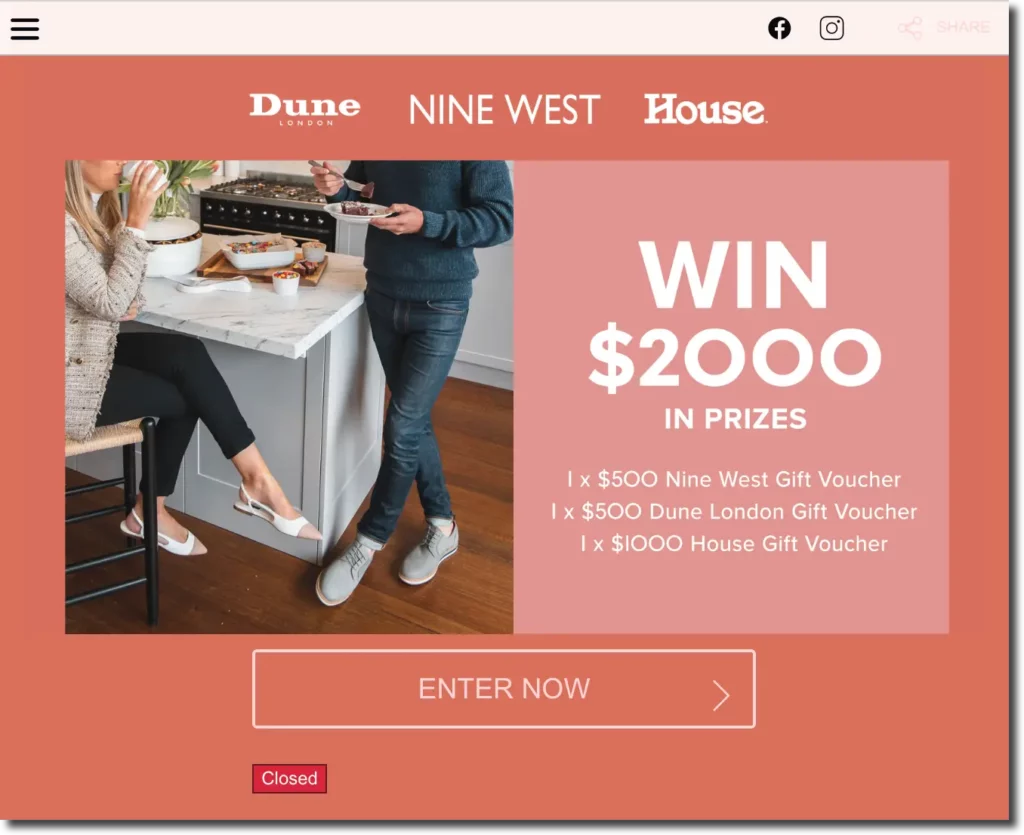 Over 2,500 participants signed up for the promotion with over 5,500 visits to the microsite and more than 300 shares through instant messaging apps. Registration was kept simple allowing users to register using their Facebook or Google accounts.
Sweepstakes Examples: to promoting a product and gathering user segmentation data
The baby formula Capricare wanted to promote its product and gather user segmentation data to get to know its customers better. To do so, they launched a promotion to reach parents with babies who were transitioning to baby formula. The brand included a questionnaire in the registration form consisting of multiple option questions that provided the brand with valuable information on their target audience's habits and preferences.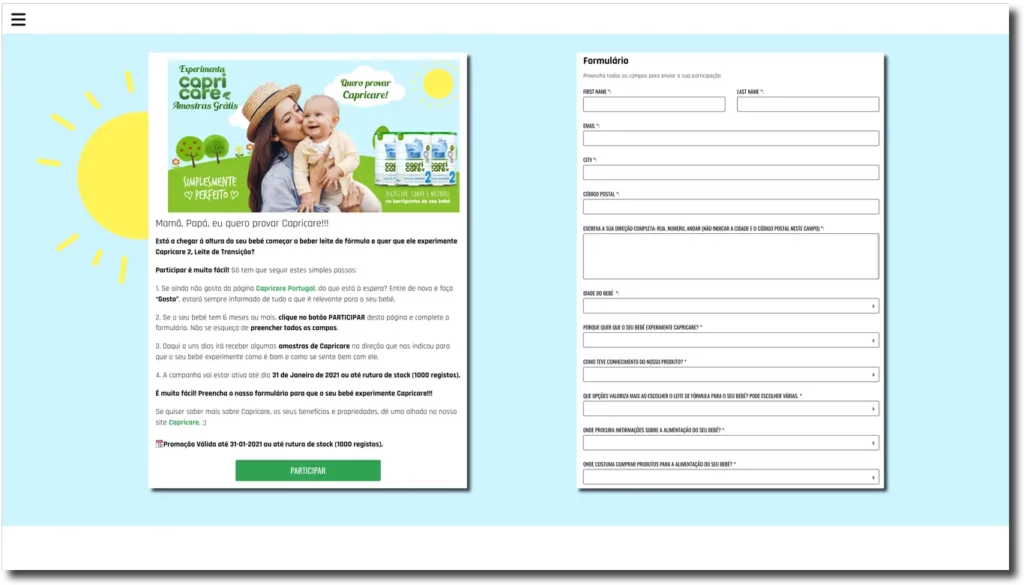 Upon completion of the registration process users would receive a sample of the brand's products in line with their answers to the questionnaire. The promotion had over 1,500 visits mostly originating from Facebook and a partner website.
Sweepstakes Examples: Gamified promotion to build customer loyalty
As marketers we are always eager to attract new customers. But we often forget the "Pareto Principle" which states that 80% of our marketing efforts should go to retain existing customers and build loyalty. This is what Malaysian developer Seri Pajam did with a gamified online promotion. The organizers shared with its customers as part of their email marketing campaign. The promotion consisted of a Word Search game that once completed, would allow participants to claim a prize.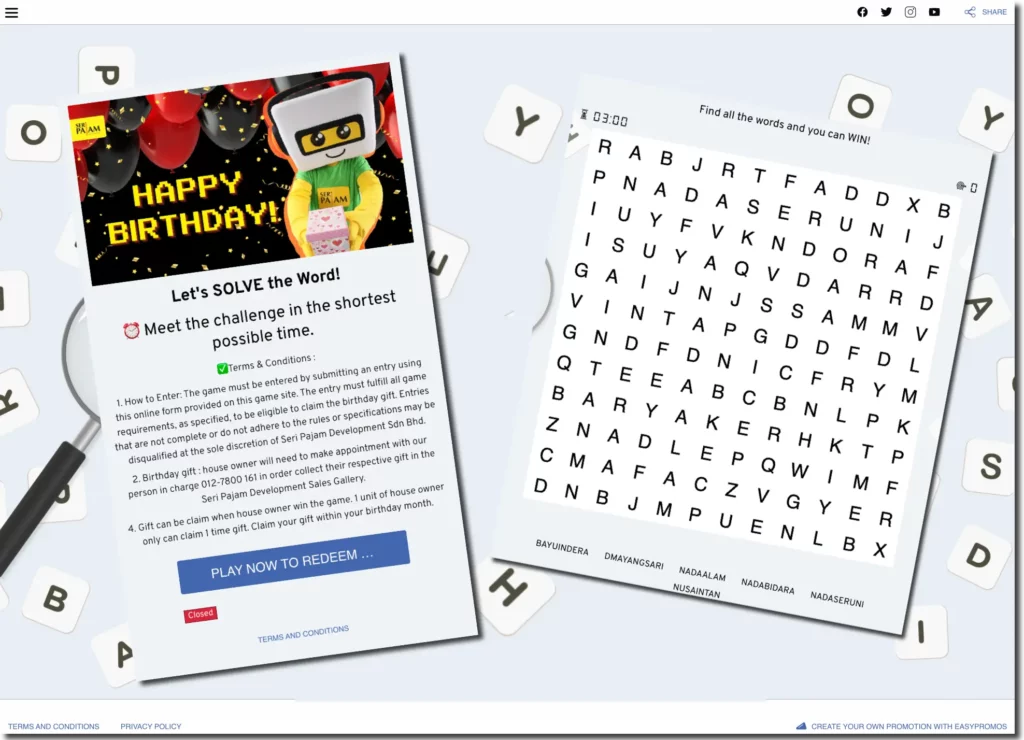 Sweepstakes Examples: Show your customers you care for them
When it comes to showing your customers, existing and potential, how much you care for them, nothing beats a giveaway with great prizes. Eastwood is an American hardware shop that specializes in car restoration. Every year the brand launches its Customer Appreciation Day Giveaway. Participants who register for the promotion stand the chance to win one of several high-value prizes that appeal to their target audience.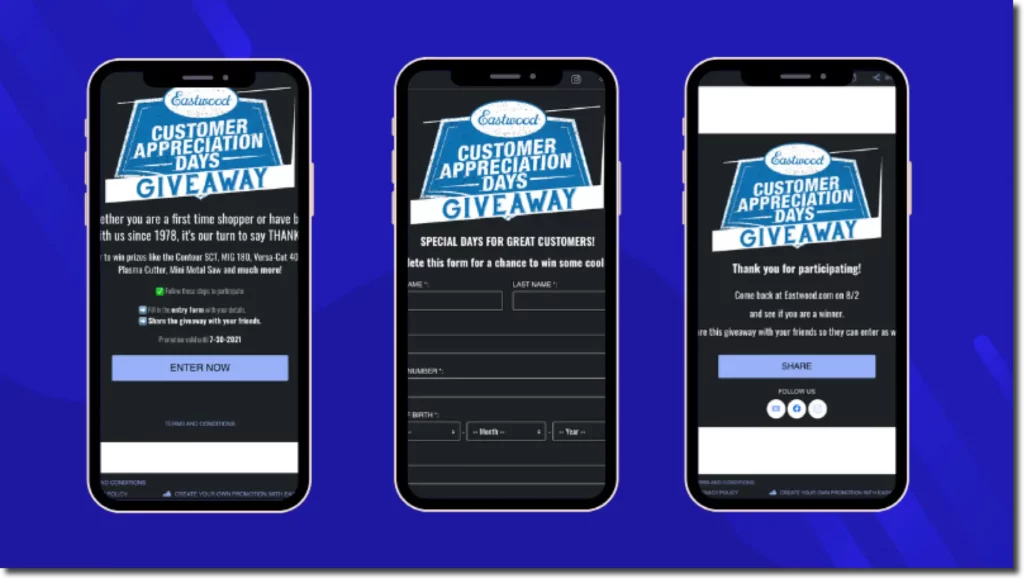 Sweepstakes Examples: Promoting a tourist destination
Since we've mentioned the value of high-value prizes, take a look at these sweepstakes organized by the Anguilla tourism board to promote the island as a tourist destination. The Anguilla Ultimate Getaway Luxury Giveaway gave participants the chance to win a luxury weekend escapade for two.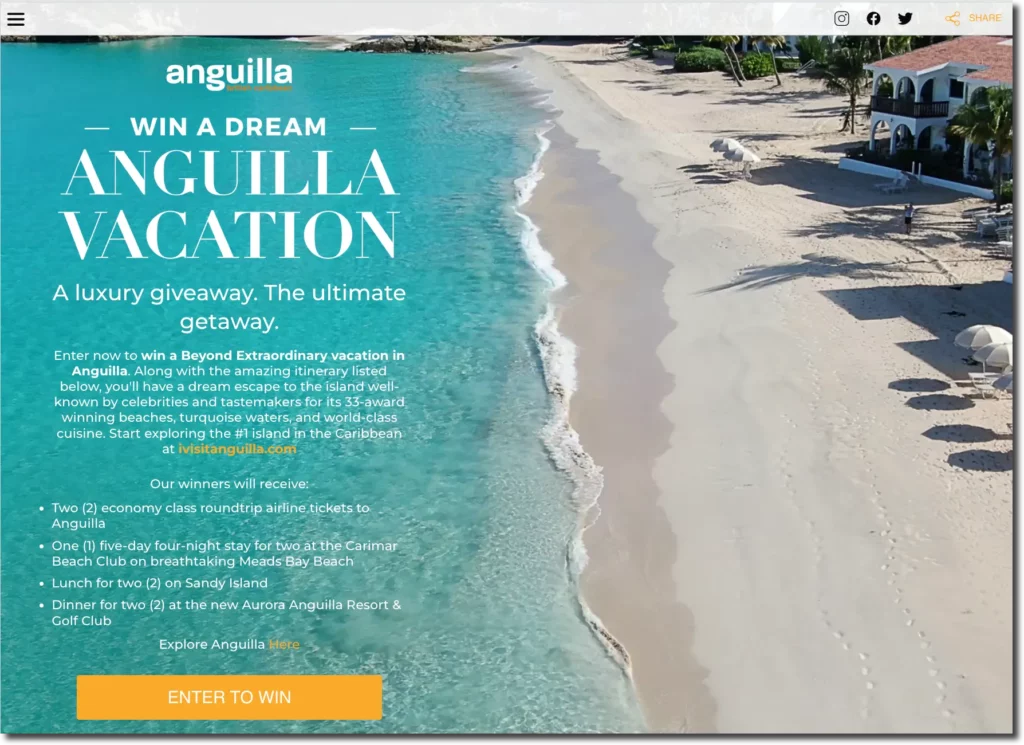 With such an attractive prize, it's no surprise that the promotion drew over 8,000 participants and was shared over 600 times.
We hope you find these tips and ideas useful for your next promotion. If you need more information, don't hesitate to contact our customer support team via live chat. We will be happy to help.