First things first: make sure you understand the difference between Veterans Day, Memorial Day, and Armistice Day. Memorial Day honors fallen soldiers, but Veterans Day is for all veterans – living and dead. So it's an important moment to show your support for veterans and the challenges they face after their time of service.
Meanwhile, Armistice Day is celebrated in Europe on November 11th. Armistice Day focuses especially on the First World War, with memorials, processions, wearing poppies and laying wreaths. Most brands do not get involved with Armistice Day at all, out of respect for history.
Mark Veterans Day on social media
Want to share a message for Veterans Day? Social media is the place to start. Post a quick tribute or patriotic image on Facebook, Instagram or Twitter, and show your followers that you care about the holiday.
It's important to be sensitive when you share a Veterans Day message. Don't use the #VeteransDay hashtag to spam people with product sales, and try to post a genuine, heartfelt message.
Some brands do choose to run Veterans Day promotions and giveaways. The most popular – and respectful – ideas focus on supporting veteran-owned businesses, veterans' organizations, or offering special deals as a way to thank veterans.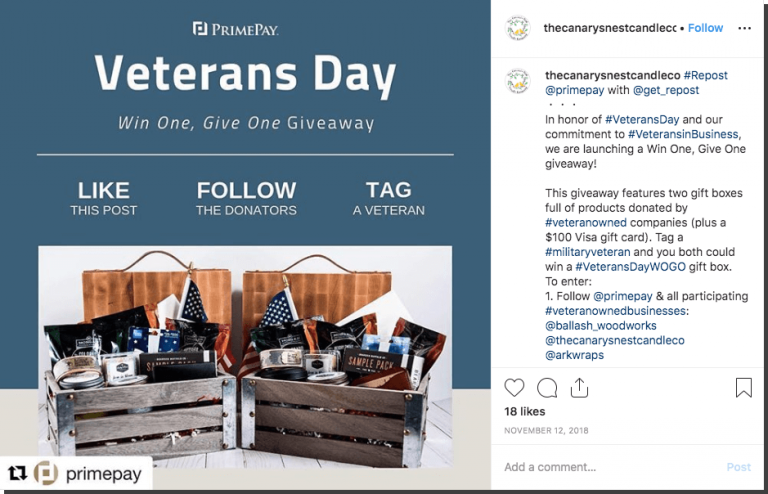 Take the example above, of a Veterans Day giveaway on Instagram. The brand set out to support veteran-owned businesses by making a bundle of gifts from veteran-owned companies. Then they doubled down: when people commented and tagged a veteran friend, both they and their friend would win the prize.
Because Veterans Day is about recognizing the sacrifice and service of others, you can ask people to be altruistic. We loved this Veterans Day giveaway on Twitter from Buck City Breaks. People were asked to thank veterans – so that the veterans could win a prize.
The brand collected over 60 retweets, likes, and even more replies. People were joining the contest, not for themselves, but as a way to honor the armed forces on Veterans Day.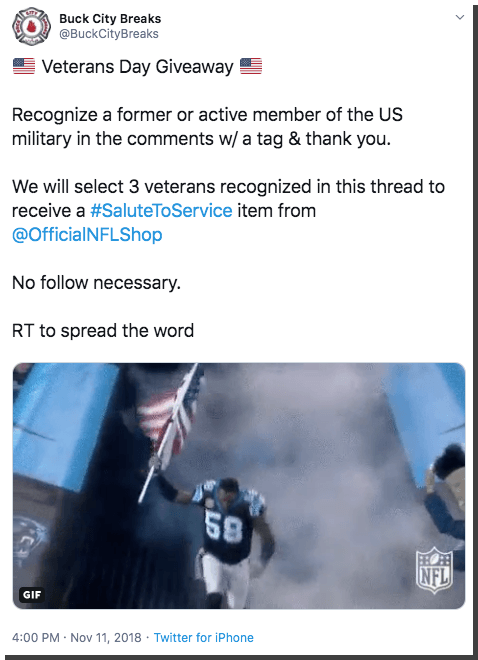 Sponsor a Veterans Day fundraiser or event
Veterans Day is also an opportunity to be a part of your community. This is particularly important for small retailers and local businesses.
Get involved with local Veterans Day celebrations, events and ceremonies. You could offer to sponsor a fundraiser by donating prizes, refreshments, or event space. Or you could offer acts of service – such as offering free rides for veterans, or encouraging your team to volunteer at a relevant charity.
Share a Veterans Day trivia quiz
Finally, Veterans Day is a chance to remember history. Veterans Day quizzes and trivia contests are popular school activities – but you can share them with your followers and customers, too!
Try creating a Veterans Day quiz about United States history. Or, if you want to focus on modern concerns, run a quiz to raise awareness about veterans' issues such as mental health, building a career outside the armed forces, and supporting veteran families.