Posted in: Ideas for your websiteLast update: 18/08/22
Labor Day: the long weekend, the parades, festivals, picnics, fireworks displays and retail sales. It's a day to recognize hard-working people in the United States and Canada. So why not reward your loyal followers with a giveaway, and tap into the buzz with a Labor Day giveaway or promotion?

Labor Day is celebrated each year on the first Monday of September in the USA and Canada. Most schools begin the new academic year around Labor Day, and most sports leagues start up again, too. And the lucky few who are free from the school run take the chance for one last summer holiday!
In the United Kingdom, Labour Day is celebrated on the first Monday in May, marking the unofficial beginning of summer.
So there are lots of opportunities for fun, relevant promotions, whatever your brand. Here are a few simple online campaign ideas for a Labor Day promotion to build your audience, strengthen loyalty, and drive sales.
1. Labor Day giveaway idea for social media: boost engagement and grow your following with giveaways
Labor Day is a great opportunity to boost social media engagement and reactivate your followers. Social media users are more likely to interact with your posts if they're offered something in return. And this is where Labor Day giveaways come into play. You can increase followers, drive traffic, and raise brand awareness by running a simple social media giveaway. A classic Facebook giveaway, Instagram comment-based contest, or Twitter giveaway can be surprisingly effective.
Share creative pictures presenting the prizes that are up for grabs, write a short description with entry requirements, and watch your Labor Day giveaway go viral! You can even add multiple posts to the contest, including posts made with Facebook Ads. Just use the Easypromos giveaway apps to collect comments, run a random prize draw, and announce the winners with a flourish. Here are just a few examples of successful Labor Day social media promotions:
Labor Day giveaways on Instagram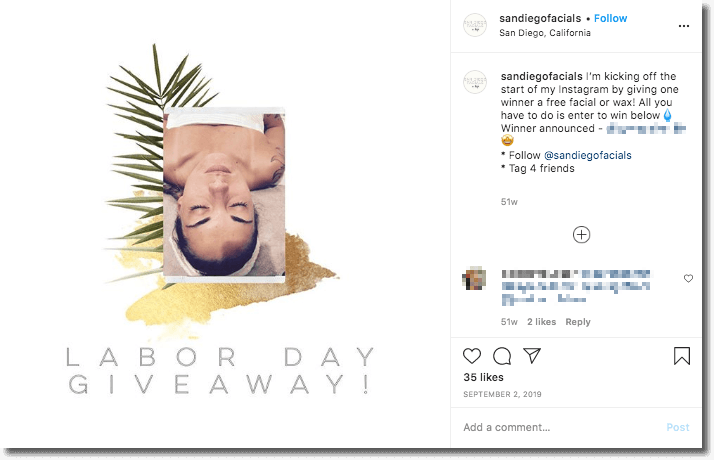 Let's start by pointing out a very important fact: any brand can organize a Labor Day giveaway! And in the above example, you can clearly see how a beauty studio celebrated Labor Day with its audience. They launched a quick and easy comment-to-win Labor Day giveaway in which participants had a chance to win a free facial or wax. Instagram users followed the organizing account and tagged four friends to enter this giveaway. We love this simple Labor Day marketing idea!
Are you planning to launch a Labor Day (or Labour Day) giveaway on Instagram or Facebook? Make sure to use our customizable ready-made templates for Labor Day giveaways to save some time!
By asking users to follow your Instagram account you grow your audience, which is an important marketing objective for many brands. You can also ask users to mention their friends in comments; it's a great tactic to attract potential participants, and also improve brand and product awareness.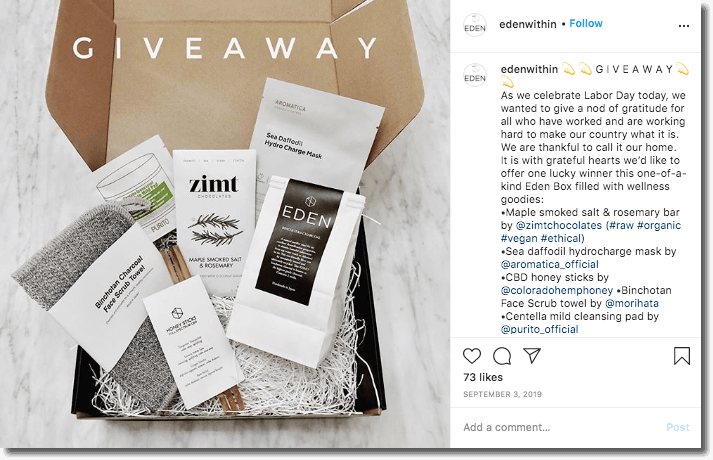 Another Labor Day giveaway example comes from a popular bikini brand that can be proud of a large Instagram community. The brand took the opportunity to generate engagement and foster customer loyalty with Labor Day right around the corner. They invited followers to tag a friend in the comments and in return, they gave all participants a chance to win their best-selling bikini.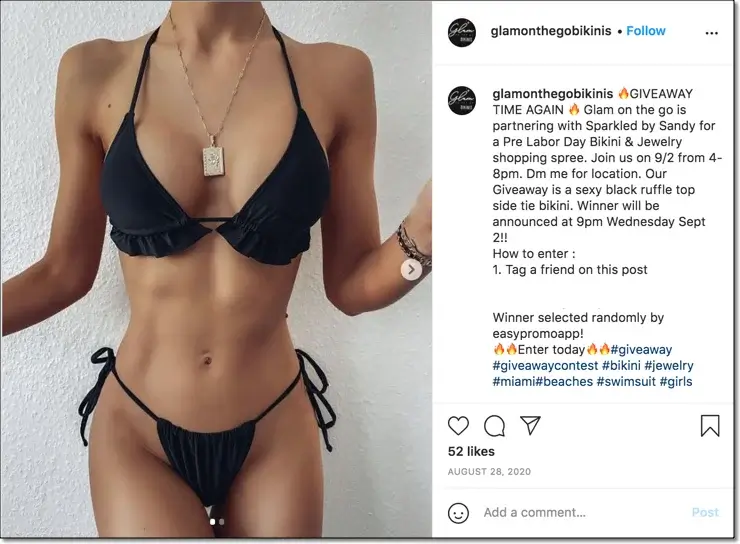 Labor Day is all about celebrating all the workers and their achievements. This is why EverBrite Lighting decided to give away fun gadgets to their followers through a Labor Day giveaway on Instagram. All the participants had to do was follow the brand, like the giveaway post, and tag four friends in the comment section.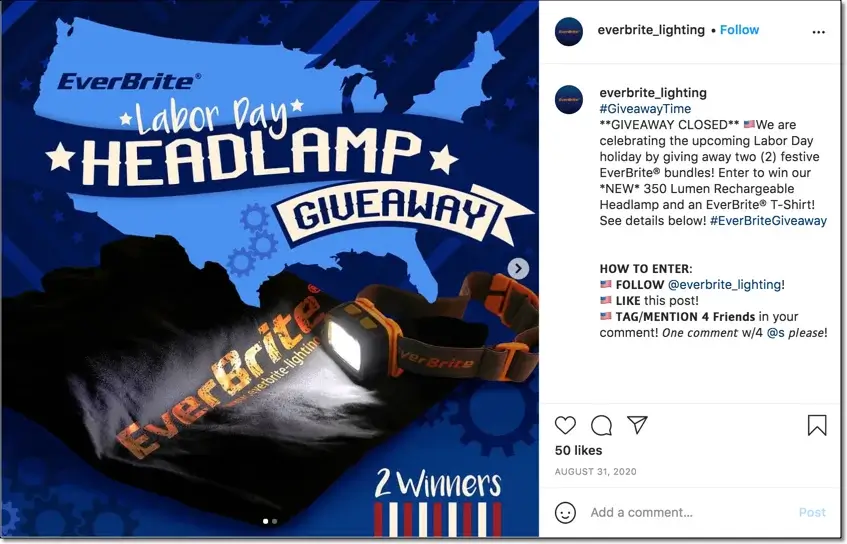 Labor Day Facebook giveaways
Facebook is another social media network that is often used to organize Labor Day promotions. The one major difference between Facebook and Instagram is that the Facebook audience is much more mature than the audience on Instagram. So if your target audience is adults with the disposable income you might want to run your Labor Day promotion on Facebook.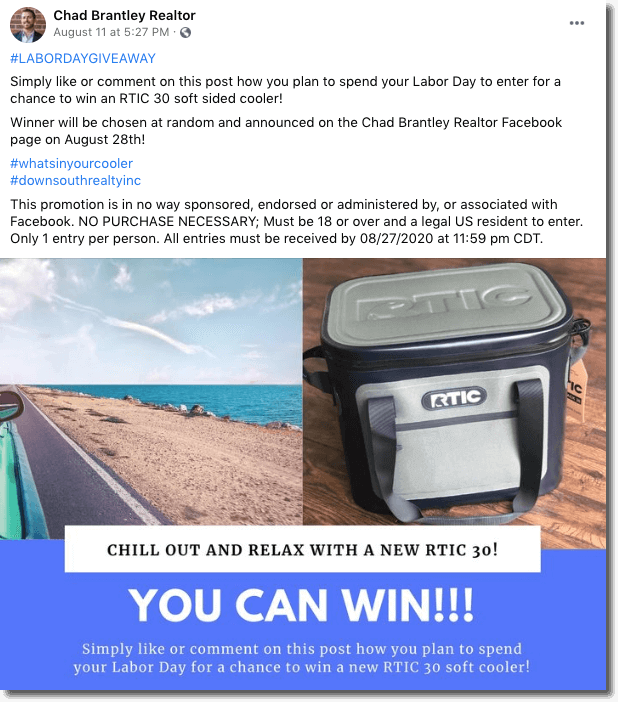 Labor Day is all about fun, therefore a soft cooler would be a perfect prize for any Labor Day promotion. Chad Brantley Realtor ran a comment-based giveaway for his Facebook audience, in which participants commented on the post to explain how they were planning to spend their Labor Day. It boosted engagement and improved the brand's social media visibility.
2. Collect user-generated content with video contests
The long Labor Day weekend is packed with parades, picnics, music festivals, and more. So Photo Contests are a great way to connect with your followers and enjoy these events to the full. Ask your brand's community to share photos and selfies of their Labor Day celebrations. You can stick to a specific theme, such as "best parade" or "family cookout", or just run a general contest.
Remember to keep things simple. Everyone should be able to take part easily and spontaneously, from mobile phones or tablets. You can publish all the entries in an online gallery, and give your followers a competitive thrill by asking them to vote for their favorites. Then you can award a grand prize for the best entries. Consider offering smaller participation prizes, too, such as discount coupons.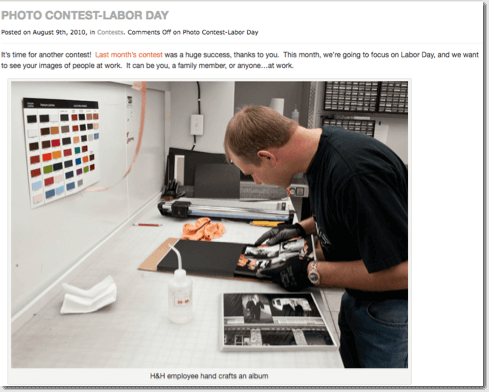 Here's a great example of a fun Labor Day promotion idea. The brand picked a theme that was clearly related to Labor Day: "people at work". They started the competition by posting a photo of their own employees at work. This had the added benefit of showcasing their team and products, too!
Photo and Video Contests work extremely well if you're looking to collect user-generated content.
3. Reward American and Canadian Workers with a Labor Day contest
Labor Day celebrates the hard work and commitment of ordinary people throughout the year. So it's a good time to offer rewards and show your customers that you value them. You can also use the opportunity to get contact details and useful information about sales leads.
One popular option is to offer a free gift or discount to customers who register online and visit your store during Labor Day weekend. With the Easypromos Distribute Coupon Codes app, you can share codes on your website, blog, via email, or on Twitter, Instagram, and Facebook. It's quick and easy to validate the code online or in-store.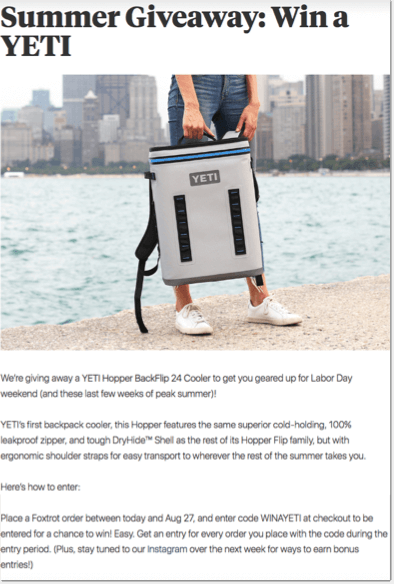 In the example above, a homewares brand picked out an attractive prize for the Labor Day contest. A cooler is the perfect accessory for Labor Day picnics, festivals, and parades! Anyone could enter the Labor Day promotion, simply by making an online purchase in the weeks leading up to Labor Day. The brand added even more excitement – and social media followers! – by offering regular, smaller giveaways on their Instagram page.
Are you looking for an idea that will help you entertain and engage your audience like never before? Take a look at our customizable branded games – and launch your own Labor Day game!
If you're ready for a Labor Day promotion, then create your Easypromos account! It's free to create your account and start drafting promotions! If you have questions about Labor Day contests and promotion ideas you can always contact our Support Team. And from everyone at Easypromos… happy Labor Day, and congratulations on all your hard work.

Publication date: 2015-08-14