We're always talking about the importance of listening to your followers. What interests them? What do they want and what do they need?
Let's take Easypromos as an example. We have followers all over the globe, and their goal is to increase sales and engagement with online promotions. So we use social listening and research to keep track of holidays, festivals, and celebrations in every country where we have followers.
And Halloween is one of those special events!
Halloween quiz promotions are a great opportunity to learn more about your audience, whether you focus on existing customers or new leads. You can offer your followers some seasonal entertainment, and collect market research for your brand – all with a single app.
In this blog post, we take a look at Halloween quiz ideas and examples. We'll also share some Halloween quiz templates!
Halloween quiz ideas: Why organize halloween trivia games online
Quizzes are some of the most popular Internet content of all time. They're quick and entertaining – and they have a completion rate of up to 96%. With the Easypromos applications, you can launch a variety of different Halloween quizzes, such as Personality and Knowledge Quizzes, Product Recommenders, or even Surveys.
Possibly you're not 100% sure about the reasons for launching a Halloween quiz. Here are our top four:
Expand the database. The best thing about running a Halloween quiz is that it allows you to collect new contact details, as participants share their information in order to enter prize draws and see personalized messages.
Segment and classify your leads. Apart from growing your mailing list you also learn more about your target audience. You can target your audience better, as you get to know their likes and preferences.
Market research. Are you planning to launch a new product? Launch a Halloween quiz to collect market insights.
Boost engagement. Users that enter your branded Halloween quiz automatically interact with your brand, boosting engagement and concurrently improving brand and product awareness.
Halloween trivia questions: test your followers' knowledge and expertise
Let's start with a Halloween Knowledge Quiz! You can launch it for your social media followers to convert them into leads, newsletter subscribers to reconnect with them, or existing customers to thank them for their loyalty.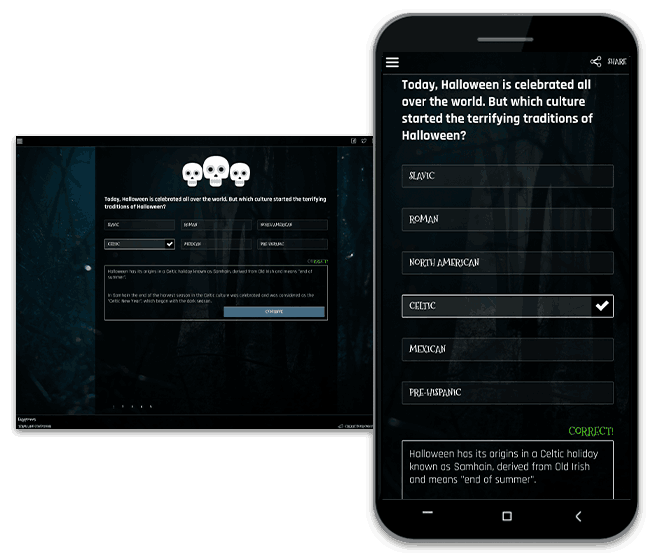 Try our Halloween Knowledge Quiz to replicate the user experience, and then customize a ready-made Halloween quiz template. Change the logo to yours, edit the text, and participation dates, and once you configure the questions you're ready to launch! Ask questions about Halloween traditions and your brand and products – it's the best way to stay in the Halloween theme but also identify loyal customers of your brand.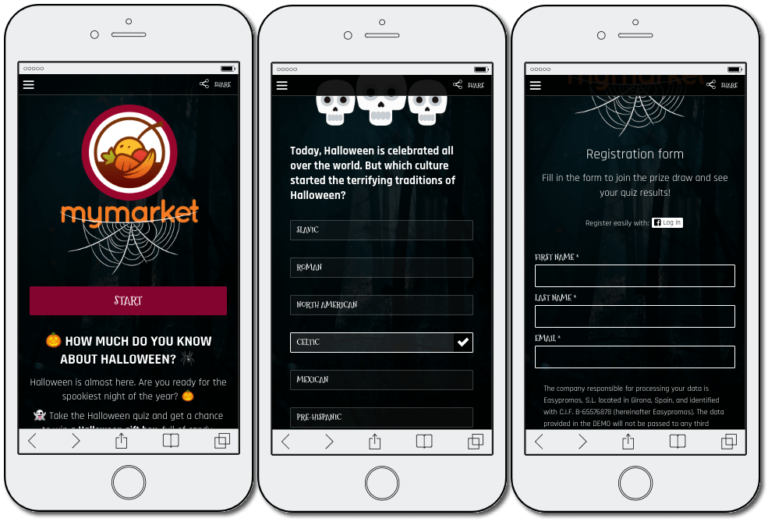 You probably want to know how to attract more participants to your Halloween quiz… It's important to incentivize participation! Throw in an attractive prize that you will raffle among all participants of your Halloween quiz, or simply distribute discount codes or vouchers to all registered participants. Remember, the better the prize, the more participants you attract.

Would you like to test more Halloween app examples? No problem! We have many different DEMOs and customizable ready-made Halloween promotion templates!
More Halloween quiz app examples and ideas
We always want to inspire you! So here are just a few different examples of Halloween quizzes that were launched by a variety of different brands.
Here's an example of a Halloween quiz promotion from Simply. The brand wanted to know if its audience would be able to survive a zombie apocalypse! The brand asked some simple questions and collected new contact details for their database.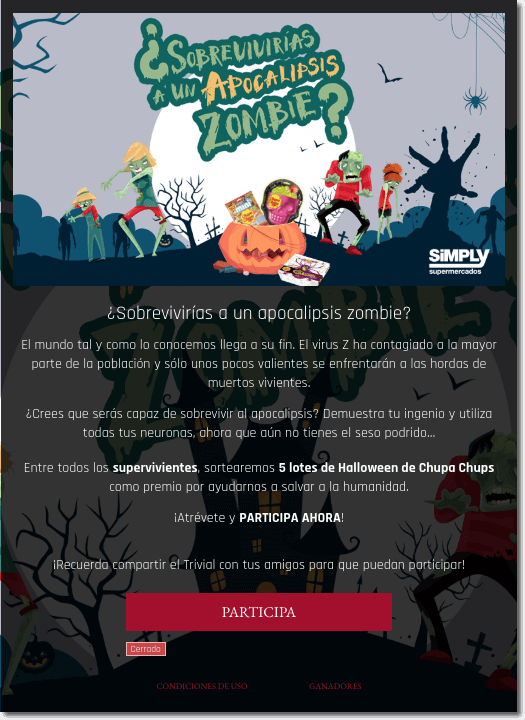 The next example is from a brand associated with Halloween, as Snazaroo is a producer of skin-friendly face and body paint. The organizers wanted to convert social media followers, so they shared a direct link to their Halloween quiz on social media. Interested followers answered questions about Halloween and magic-themed movies for a chance to win some paint right in time for Halloween.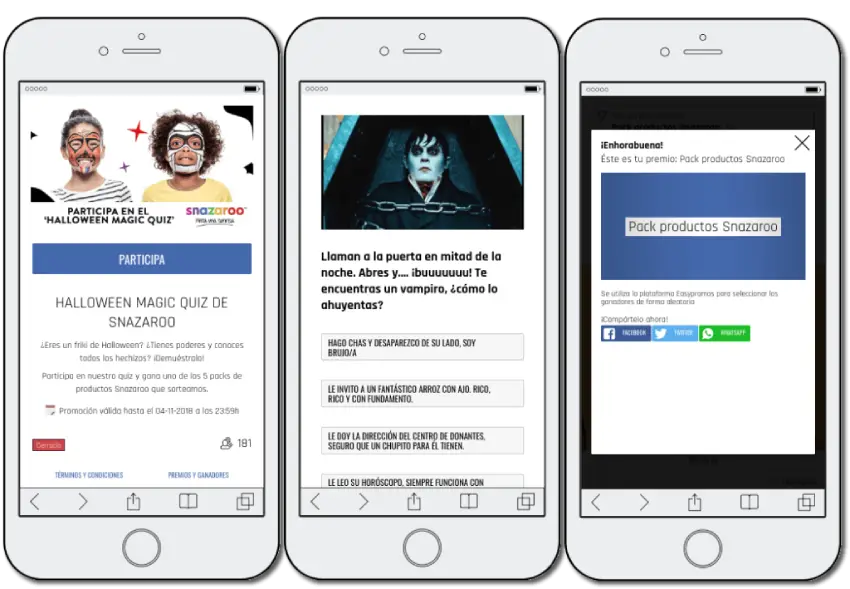 How to create Halloween survey questions
A Halloween survey works in a similar way to Halloween quiz promotions. People go through a quick set of questions, leave their contact details, and have the opportunity to share the promotion with their friends.
But of course, there's one key difference: there are no right or wrong answers to Halloween survey questions. You're just trying to find out what people think, feel, and want. You can ask more questions, and in more depth, than with a standard registration form.
Get even more ideas for your Halloween promotions by visiting our Halloween campaign hub, full of ideas, resources, and useful tips!
Do you have more questions? Or maybe you want to share with us some Halloween quiz app examples? Our customer support team is always ready to assist and inspire!