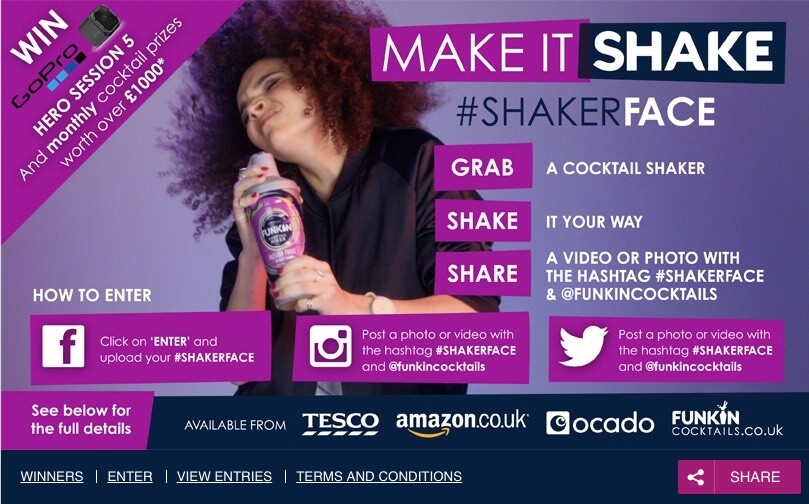 The Client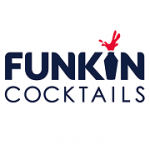 Since 1999, British brand Funkin Cocktails has supplied some of the best bars and mixologists with award-winning purees, pre-batched cocktail mixers, and syrups, working with them to constantly drive innovation in the bar industry. They also sell retail through several offline and online stores.
The Campaign
The campaign introduced the new Funkin Cocktails Shaker that contains everything you need to create and enjoy delicious bar quality cocktails, no matter where you are or what your skill level is.
The goal of the #SHAKERFACE promotion was to increase awareness and promote the new Funkin Shaker, by encouraging consumers to demonstrate their best #shakerface. The brand also collected user-generated content to reshare on their social media channels.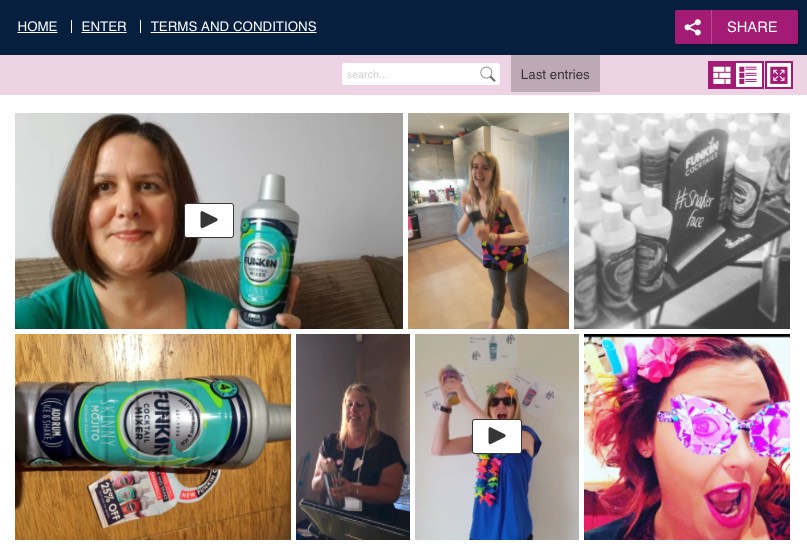 The Solution
Funkin Cocktails used the Mention + Hashtag Contest app to create their #Shakerface contest where they allow participation with photo or video through Facebook using the entry form and through Instagram and Twitter using the hashtag #SHAKERFACE and tagging @funkincocktails.
The promotion running for 8 months and ending in January 2018 will have a monthly winner picked by a panel of judges to win a complete range of the Funkin Cocktail Mixers and a choice of a 70cl Bottle of Captain Morgan White Rum or ABSOLUT Vodka. Also 10 Runners up each month were chosen via prize draw to receive a Funkin Cocktail Shaker of their choice. The 8 monthly winners were automatically entered to win the grand prize where the panel of judges would pick their overall favorite #SHAKERFACE who will win a GoPro Hero5 Session, GoPro Accessories Kit and a Funkin Cocktail gift hamper.
Since the winners were chosen by jury, voting was not activated but recruiting was.
The campaign was promoted through a range of online and offline communication channels, including sampling with printed promotional neck hangers as well as paid social advertising and email communications.
The mechanic of the competition also encourages organic reach through participants sharing and tagging Funkin Cocktails account and using the competition's hashtag.
The user generated content has been used to re-promote the competition and demonstrate the ease of entry. Funkin Cocktails will also be using the UGC at events to bring to life their product.
The Outcome
As of September 2017, the contest site had had 693 unique site visits and 100 entries, with campaign social posts achieving a combined reach of over 50,000.
While seeing the reach levels reach expectations, conversion to participation has not quite met expectations, and may be a case of refining the mechanic and understanding what users are willing to share and the value of the prize.
Those that have participated have responded positively to the campaign and taken it for the light hearted fun intended with the campaign.
Testimonial
The Easypromos tool is so straightforward to use and allowed us to bring to life a piece of activity that otherwise would have been extremely expensive to activate through our own online channels and allowed us to integrate activity across our owned channels. We were able to create something fun and engaging at pace.

– Tom Parker –
Digital Marketing Manager, Funkin Cocktails