Wanting to reward your Instagram followers is a no-brainer. Users that willingly choose to follow your brand are important for your reach, visibility, and most importantly sales. Also, the more followers you have the more opportunities for interactions you get. And you might know by now that algorithms like interactions; they're vital for your posts' visibility and reach.
This is why it's so important to create and share inviting content that keeps followers engaged with your brand. Social media giveaways drive engagement and increase brand awareness but they also reward your followers. But how do you choose a winner from Instagram followers?
Instagram giveaways: how to choose a winner from followers?
Currently, Instagram doesn't allow any third-party tools or applications to access the list of your followers and automatically choose a winner from among your followers. Therefore, it's impossible to run a giveaway among all the users that follow you. Besides, if it were possible, inactive followers could end up winning your giveaways and the whole point of running social media promotions is to reward active followers.
However, there is a different and better way to grow your account and reward your followers.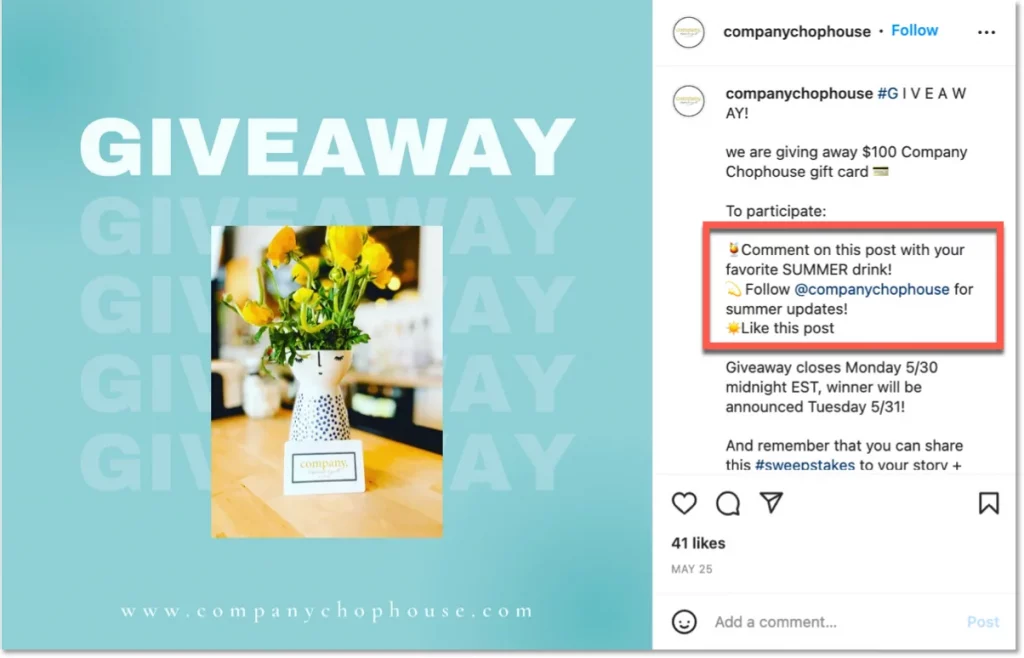 Take a look at the above example from Company Chophouse. The restaurant wanted to give back to its community by giving away a $100 gift card. The brand asked users to follow them, comment on the post with their favorite summer drink, and like the publication. Can you see the trick here?
Apart from gaining followers, the Company Chophouse boosted engagement by driving interactions. Additionally, they asked users to answer an open question, which further generates engagement, as open-ended questions encourage real conversations. Once the brand was ready to choose a winner of the giveaway, they used the Easypromos Instagram Giveaway app to import all the comments left on the giveaway post. The application chose one random winner that interacted with the publication by commenting on their favorite drink. Then, the brand manually checked whether the winner is also a follower. You can also manually check if the random winner liked your post if that was one of the entry requirements. However, we don't recommend asking participants to like the publications, as Instagram is removing likes in certain countries.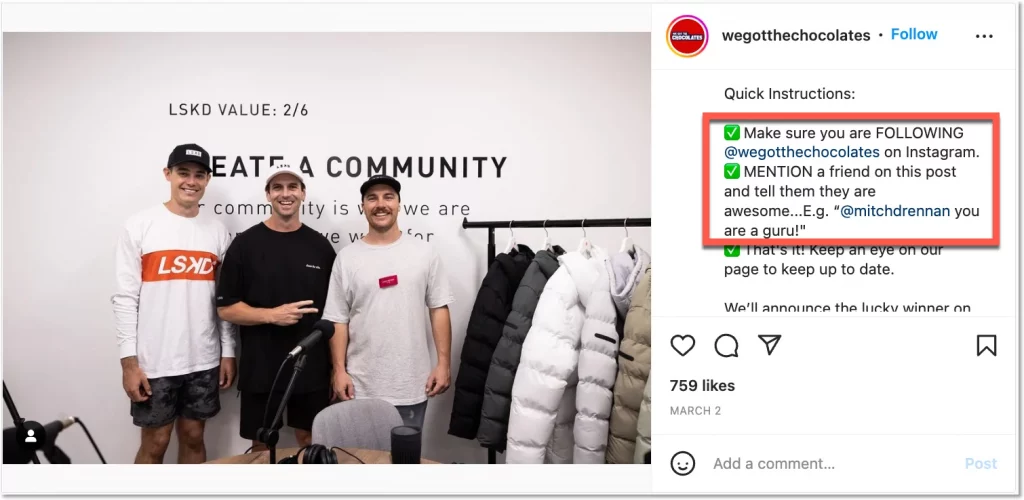 Here's another example of a fun giveaway organized by a popular podcast We Got the Chocolates. The organizers asked participants to follow their account and mention a friend in the comment section.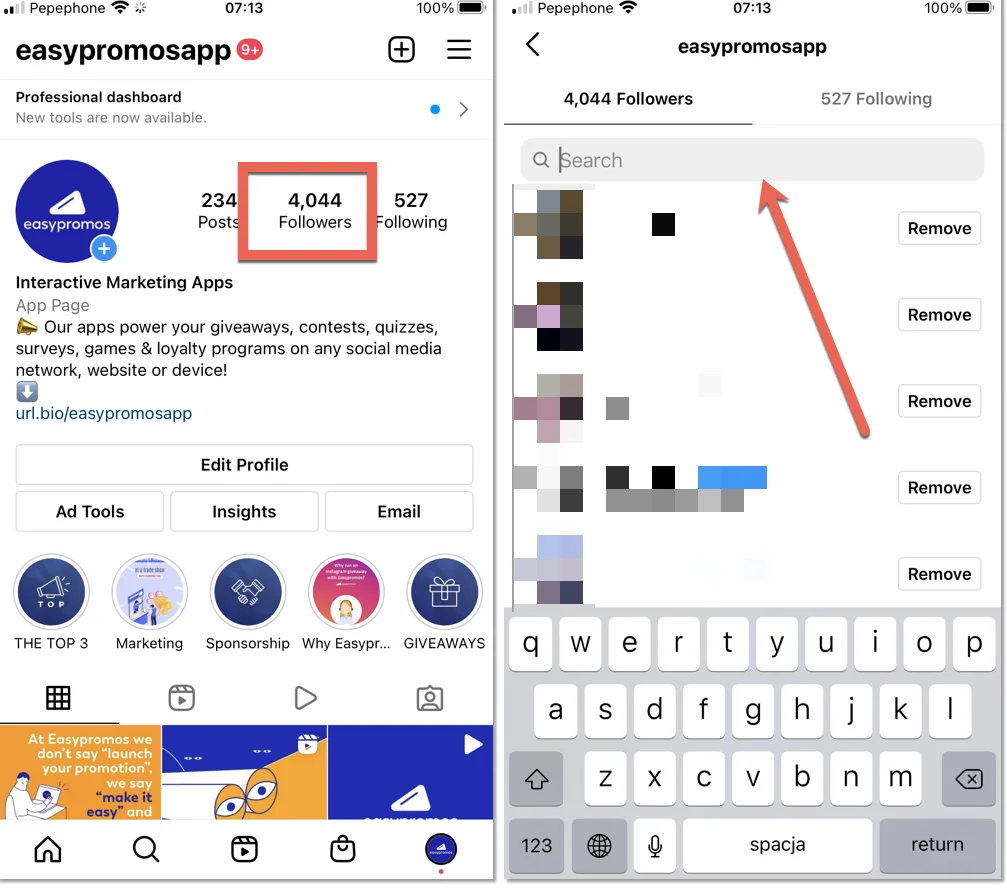 The above image shows you where to check whether your giveaway winner is also your follower.
What if a giveaway winner is not your follower?
Imagine that the giveaway application chooses a random winner but then, while conducting the manual check, you discover that they don't follow your account. If following your brand was one of the entry requirements, you can discard the winner who didn't comply with the rules and move on to the first alternate winner.
The Easypromos giveaway applications allow you to choose up to 1000 users as winners or alternate winners. 1000 winners will be too many in most cases, however, it's a good idea to always choose a minimum of ten alternate winners for your giveaway. It's one of the best ways to run a transparent and reliable promotion, in case the original winner didn't comply with the entry requirements or if you get in touch with them. Our giveaway applications generate a certificate of validity for each giveaway, outlining the winner and all the alternates so that nobody can accuse you of any wrongdoings.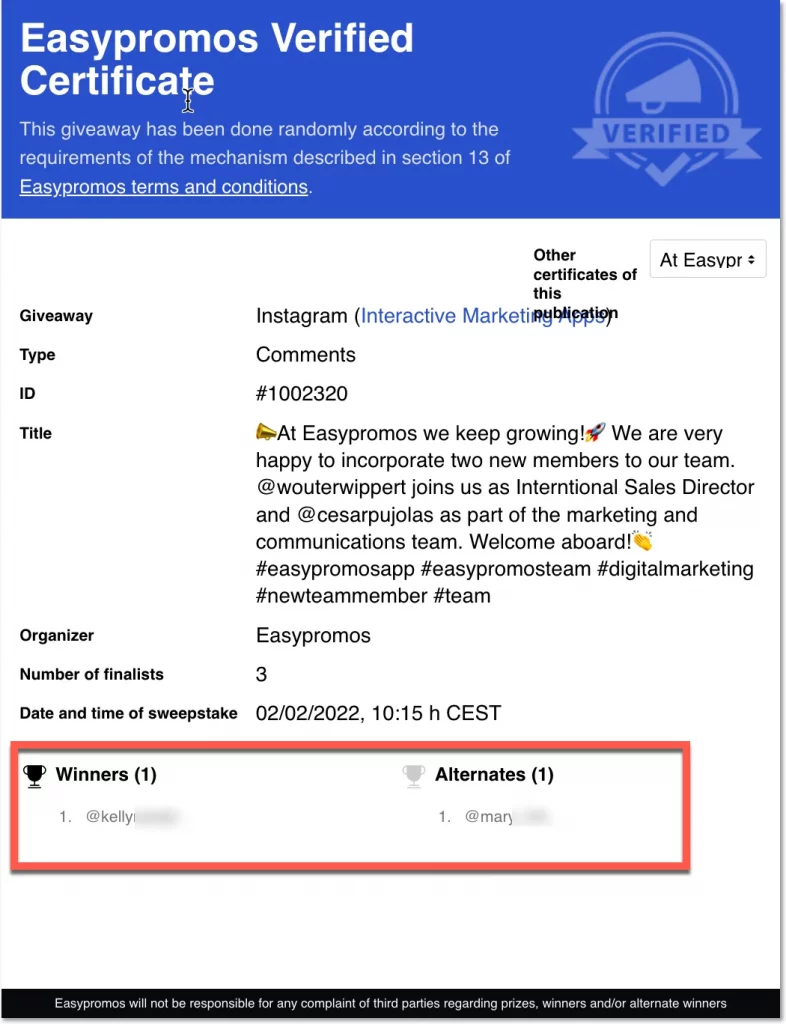 Note that you must choose at least one alternate winner when running giveaways with Easypromos.
So what happens if you can't contact the original winner or they don't comply with entry requirements? It's time to give the prize to the first alternate winner. The Easypromos giveaway apps allow you to manage winners. In this section, you can replace the winner with an alternate winner and provide a reason for doing so. Make sure to provide detailed information as this change will be visible on the certificate of validity for further transparency.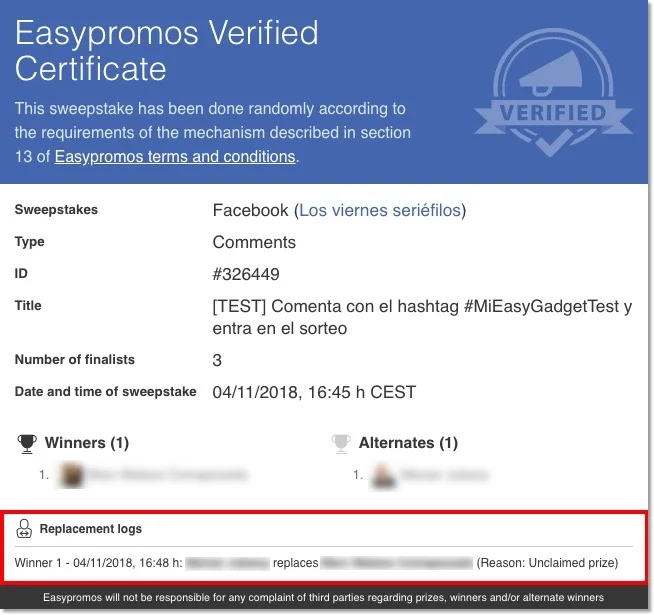 Find out more about replacing your giveaway winner with an alternate.
Running Instagram giveaways in collaboration with other brands
Have you been thinking to run a giveaway in collaboration with another brand? You can do that for your followers too! All you have to do is team up with another like-minded brand, offer an attractive prize, and come up with entry requirements. Here's an example of an Instagram giveaway organized by three different brands. Note that participants had to follow all three brands in order to participate in the promotion.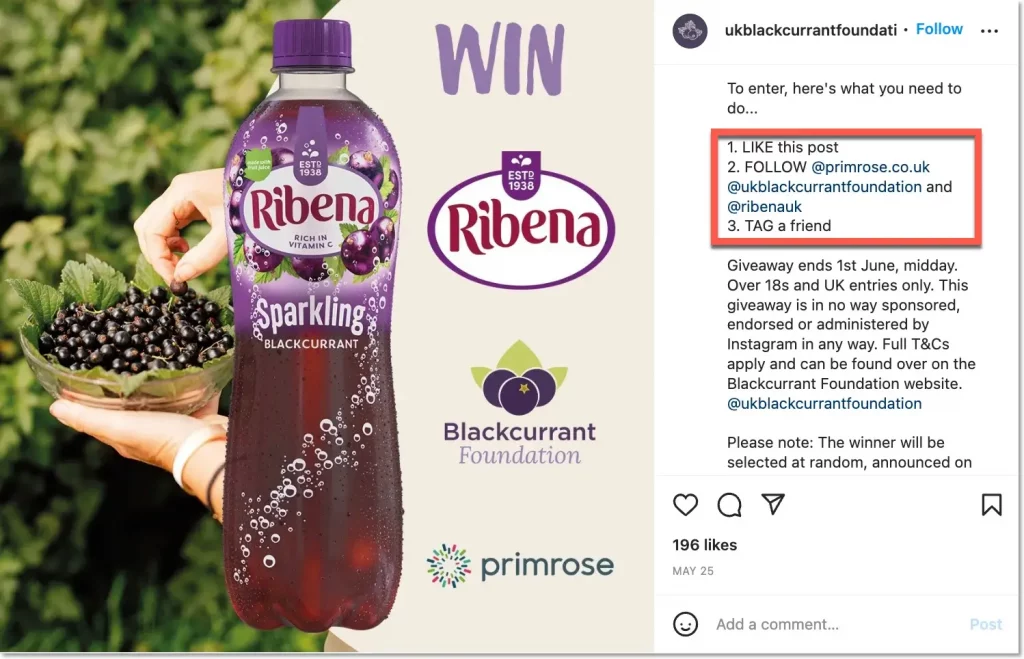 Remember that in such a case, the organizers must check if the winner follows all three accounts. In order to save time, decide between the brands who will be responsible for reviewing the following requirement. One of the administrators can visit all three organizing accounts, head to 'followers', and type in the username of the winner.
So… Are you now ready to run a giveaway for your followers? Make sure you ask them to leave a comment on your giveaway post too! You can even ask them to tag friends so that your giveaway gets more visibility, reach, and participants. And in case of questions, make sure to contact us!