Digital marketers put endless hours into creating, developing, and executing campaigns that generate engagement and bring about results. There are different ways to boost brand engagement and completely distinct techniques to maximize lead generation or boost online visibility. Wouldn't it be ideal to create just one single campaign that'd be capable of achieving all of these goals, and more, at the same time? Today, we're coming to share a solution that can do just that.
Gamification has become an inevitable part of digital marketing strategies and it's here to stay, and all that thanks to its catchy gameplaying characteristics. Another reason for gamified promotions being so popular is the fact that they don't come across as marketing techniques; they don't come with the outdated hard-sell approach, instead, they offer a challenge that helps the user get their mind off important things for a moment. They also provide entertainment that we all need once in a while. The Hidden Objects game by Easypromos is a great marketing tool that allows you to generate brand awareness and visibility, maximize lead generation, and stay top of mind with customers. However, if you want your gamified promotion to reach as many people as possible, you will need to make sure that you share the game with as many people as possible
Would you like to entertain your audience with a Hidden Objects fame challenge? Before you launch your promotion, take a look at how to promote your game once you activate it!
Is Facebook the most important social media channel for your brand? If so, this is exactly where you should start promoting your Hidden Objects game. Once you publish your game, the platform will generate a unique shareable link. Why not share it with your Facebook followers and fans? That's exactly how Carrefour Colentina invited their Facebook audience to join their Christmas Hidden Objects game in which users looked for five cookies on a Christmas table.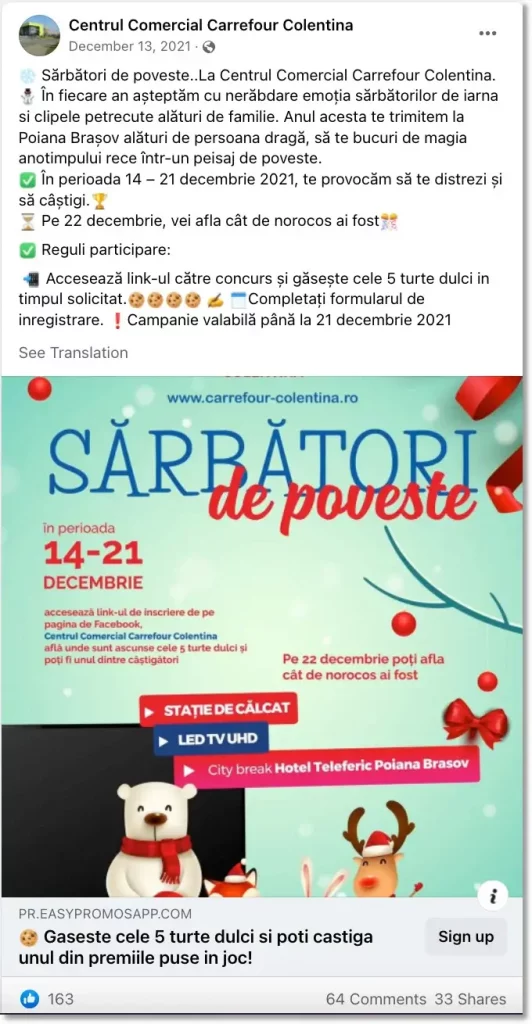 Carrefour is a popular supermarket, therefore, its audience is Millennials, Gen-X, and Baby Boomers who are more likely to use Facebook than any other social network. Promoting its Hidden Objects game on Facebook was a very smart move!
Would you like to launch your own game? We have pre-configured Hidden Objects game templates!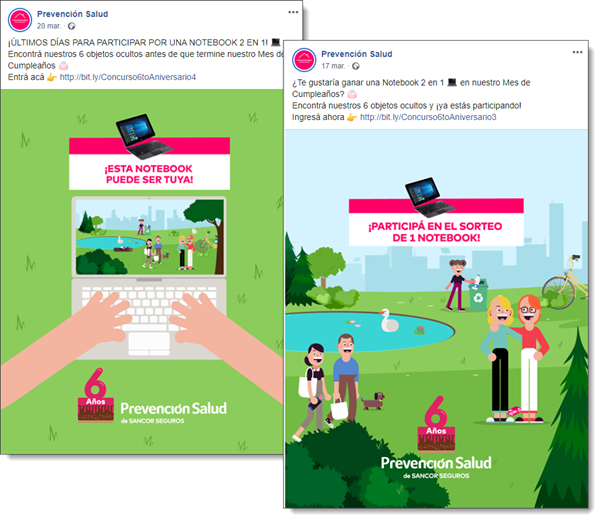 Here's an example of how a… brand celebrated its 6th anniversary. They launched a Hidden Objects game in which users looked for objects related to the brand, for example, a bottle of water. The game was promoted with organic Facebook posts, as well as ads. They also used Facebook Stories with a direct link to the promotion for further reach.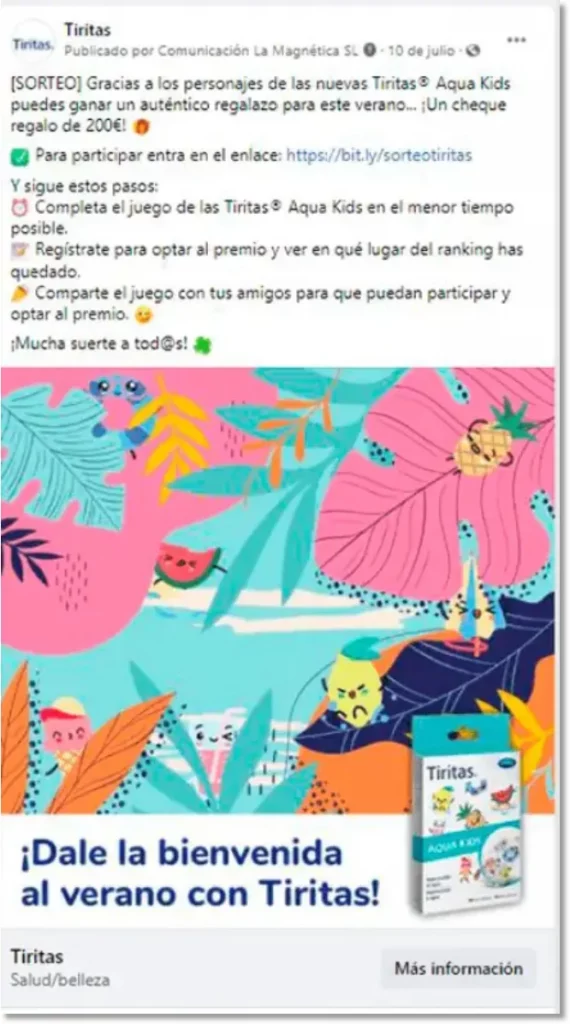 Tiritas also opted for Facebook ads to attract more users to its Hidden Objects game.
Twitter might not be as visual as Instagram but it's still the go-to platform whenever you look for news and quick updates. This is why promoting your Hidden Objects game on Twitter is also a great way to generate more visibility for your promotion and attract more participants. Schedule a few different tweets just the way Shop Mixup did!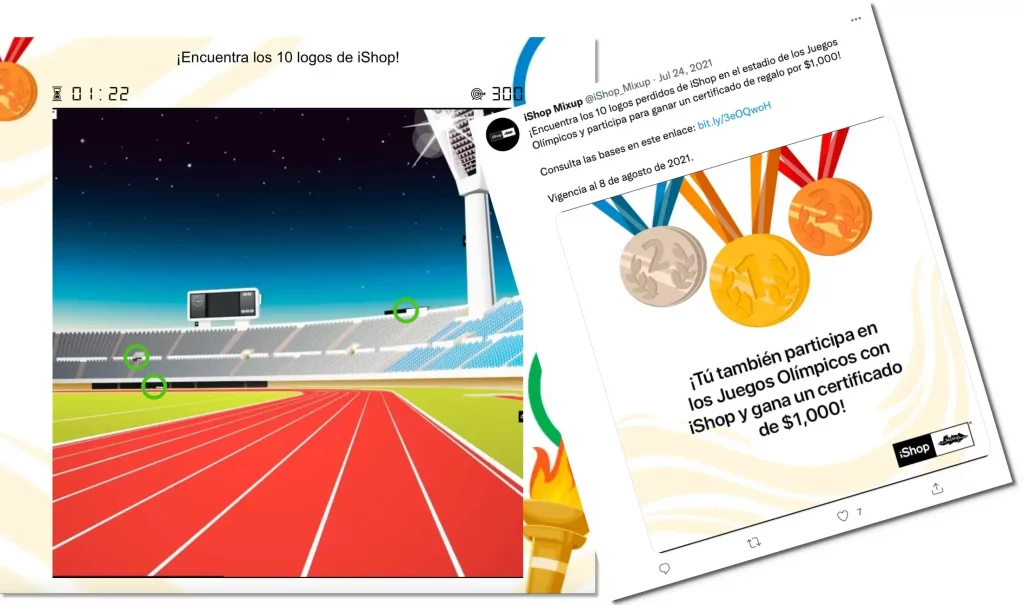 During Olympics 2020, the tech shop organized a Hidden Objects game in which users looked for ten Shop Mixup's logos hidden in the Olympic Stadium that you can see in the above image.
Hidden Objects games are great for celebrating other popular events, like Christmas or Halloween. All you have to do is design a creative image for your Hidden Objects game and upload it to the app, which then asks you to mark elements that users must identify in the image.
Not sure which network turned out to be the best for promoting your game? Check out the Statistics of your promotion to see where users came from!
Instagram is one of the most visual social media platforms, therefore, promoting your colorful and fun Hidden Objects game on Instagram is a no-brainer! Apart from sharing direct links to the game on Stories, and adding a link to your Link in Bio, make sure you also share a picture showing your game, like in the following example.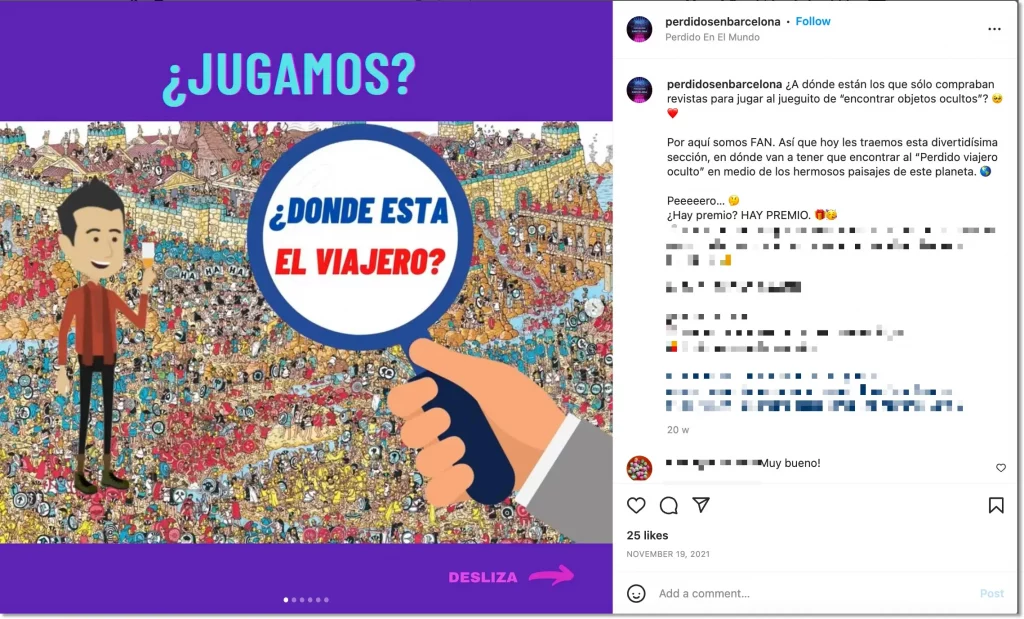 By sharing this attention-grabbing picture, the organizers generated immediate interest within their audience, especially among the users that love a bit of a challenge. Users tempted by the chance to try themselves headed straight for the game, which was the ultimate goal of this post!
Do you want to engage more users and convert them into leads? Share some tips! You could, for example, guide users towards certain elements on the image to help them complete the game.
If your Hidden Objects campaign is more about generating engagement rather than leads, invite your existing newsletter subscribers to participate in your challenge. It's a great way to reactivate users, as well as reward their loyalty. This is the newsletter Prevención Salud sent to their database of subscribers.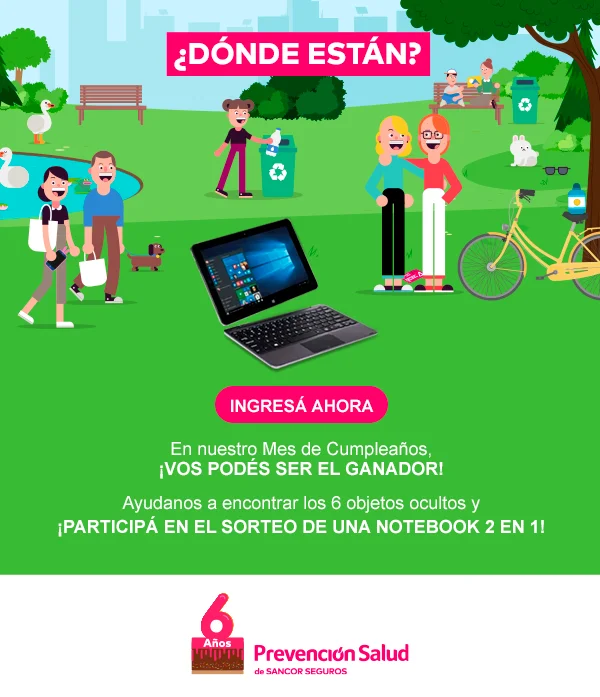 Use banners, popups, and widgets to attract website visitors
Think of the number of visitors your website or e-commerce site gets on a daily basis. And now think of how many of those visitors are anonymous… Wouldn't it be just great if you could obtain email addresses at least from some of them? There are three ways to do it!
Banners: attract the attention of your website visitors from the second they visit your site. The following example might not be of a Hidden Objects game but it shows how banners can help convert anonymous visitors into leads.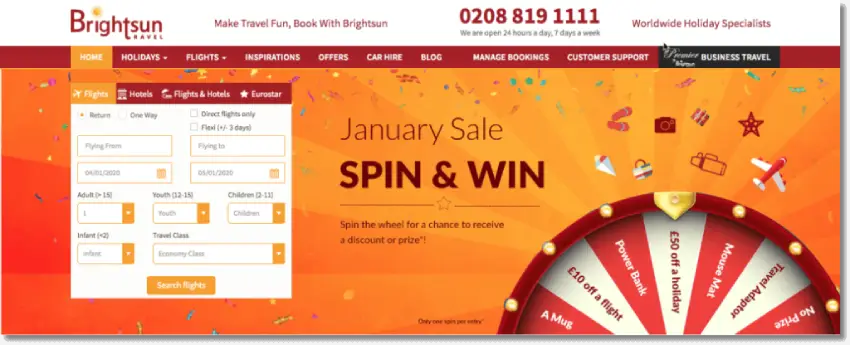 Popups: Similar to banners, popups are great conversion tools. Choose where you want to place them and promote your Hidden Objects game to all visitors.
Widgets: Create a positive user experience by embedding your Hidden Objects game on your website or e-commerce site. It's a great way to catch users' attention there and then.
Would you like to share with our readers how you promoted your Hidden Objects game? Or maybe you have questions about setting up your promotion? Make sure you contact our customer support team!