Who doesn't remember the fascinating puzzle books and hours spent on finding Wally and his friends? You can now use a digitalized version of the game to work towards accomplishing your marketing goals:
Boost brand awareness. As users engage with your branded game, they are willingly exposed to your logo and corporate image. The next time they see your products or adverts, they will automatically recognize your brand.
Set your business apart from the competition. Branded games are innovative and interactive, they're like no other promotion type. Incorporate gamification into your marketing strategy to differentiate your brand from the competitors.
Capture new contact details. Offer small incentives to all registered participants or raffle big prizes among all players. You'll obtain qualified leads, as users sharing their details are most likely interested in your brand and products.
Convert social media followers into leads. The game comes with a shareable link. Share it on social media channels to convert followers into sales leads.
Sounds very convincing, doesn't it? All these objectives can be achieved with any of the Easypromos game applications. But let's focus on the Hidden Objects app and designing a creative and engaging image for the game. Take a look and learn what to look out for!
Ready to gamify your marketing strategy? Use the Easypromos applications and find out how to attract the attention of your target audience. You can boost brand engagement with one simple game!
The Hidden Objects application is a fun dynamic game with which users get to test their visual skills. It doesn't generate as much repeat participation as Memory or Puzzle games, but it works its magic when it comes to boosting brand engagement. Thanks to a branded image that is the main aspect of the game, organizers get to work on increasing their brand awareness. Branded games are often accessed from mobile devices, so if you're thinking about launching a Hidden Objects promotion, keep in mind the following points to keep the game fully responsive and functional:
Image size: the image must always be square. We recommend designing an 800px x 800px image.
Format: you can upload .JPG, .PNG, and .GIF files. We don't recommend uploading .PNG images with a transparent background, as the platform applies a white background by default.
Instructions image: this image is optional. You can upload an image with game instructions, where you can, for example, present the objects hidden in the game. The size and format recommendations are the same as for the main game image.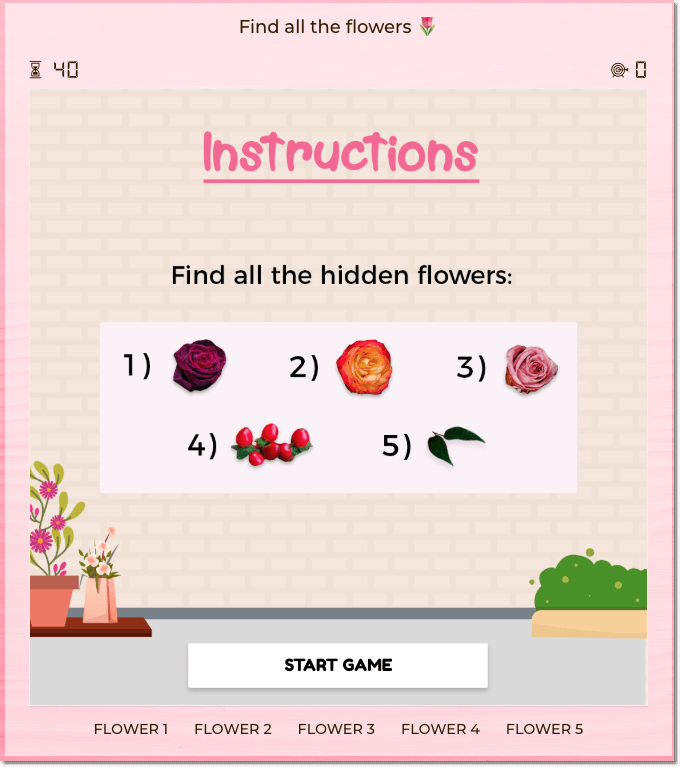 The image with hidden objects is the most important aspect of the game, as it's where participation unfolds. Now that you've seen all you need to know about image size and formats, it's time to focus on the design:
If you plan to work with photography, the best option is to stick to the same style. It means that the objects or characters that users must locate should also be photographs. On the other hand, if you decide to work with vectors, make sure you don't mix vectors with photography. If you mix both styles, the game won't be as attractive.
Work with rich images. The more items there are, the more difficult it will be to complete the game. Do you remember the "Where's Wally?" images and dozens of characters and items? The idea is the same! But be careful with the size of the hidden objects. Don't make them too small as most users participate via smartphones.
Take advantage of your graphic identity. Use corporate images and branding colors, so that the users can recognize your brand as they access the promotion.
Once your image is ready, upload it to the Easypromos editor. You don't need any programming skills to do it.
The last thing you need to do is mark the objects that the users must locate. Simply click on the image in the editor and mark the correct area. Bear in mind that users participate from mobile devices, therefore we recommend marking the area a little bit bigger than the object really is. You can create as many areas as you wish, and in addition, each area can have a different name, so that users know what they're looking for. For example "Green lamp" or "Red hat".
Reinforce brand recall with a playable promotion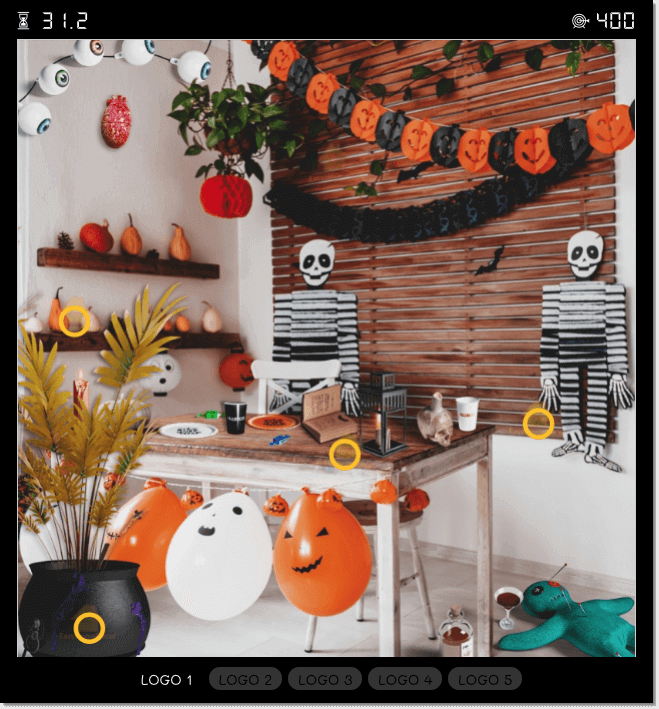 A good idea is to design an image presenting your newly launched products like in this example. In this case, the organizing brand hid various logos that users tried to locate as quickly as possible. As in the above example – which was part of a Halloween campaign – you can play with image opacity. The challenge will be more difficult, which means the players will be engaging with your brand for an increased amount of time.
Gamified campaign to showcase new products
The previous example showcased new products. So take a look at the following example, to understand how brands can hide new products in a Hidden Objects game.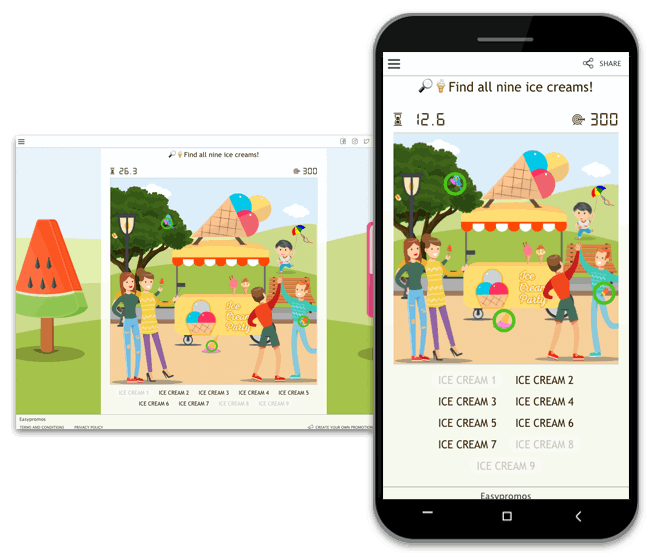 Here's how ice cream manufacturers can promote their products as part of a new summer campaign. Users looked for 10 ice creams hidden in the image. What a great example of creativity!
Is Christmas around the corner? Or maybe you want to celebrate Easter with your online community? Launch a creative Hidden Objects game and entertain your followers with an interactive promotion and a chance to win attractive prizes.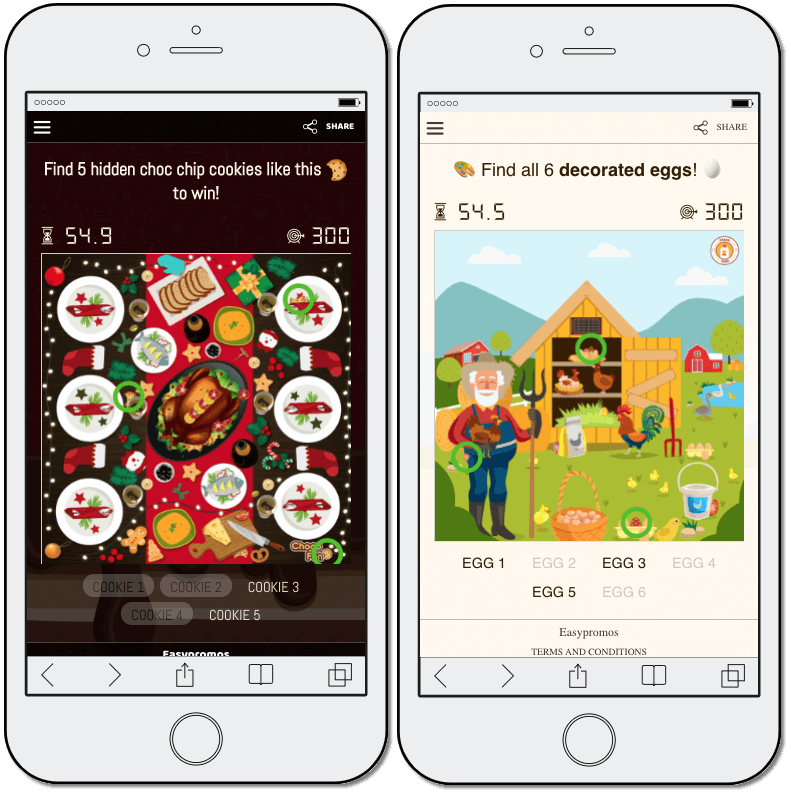 Don't forget to edit the text displayed above the game to remind your audience what objects they're looking for.
Challenge your audience and their visual skills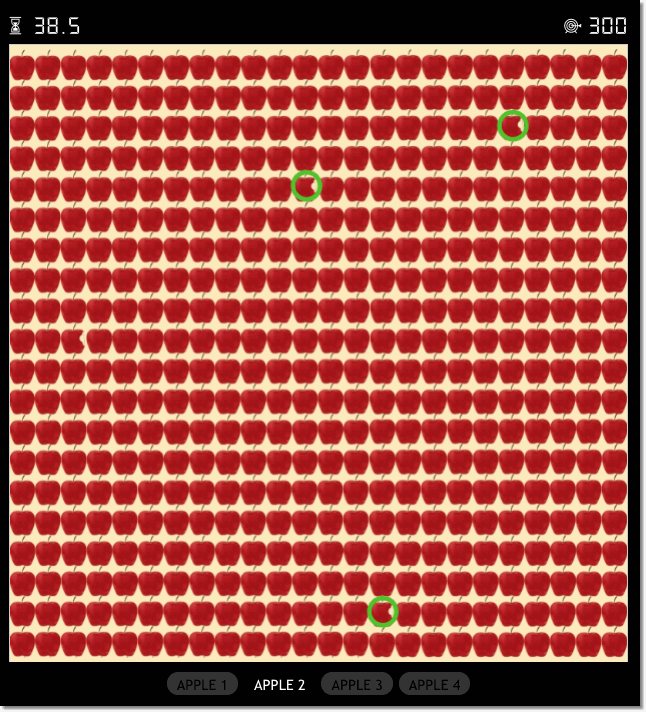 And last but not least is an example of how you can challenge your audience and their visual skills! Participants look for four bitten apples hidden among dozens of other apples. Design a similar game and offer an attractive prize to see how much rivalry will be generated among the participants.
Did you know that we have pre-configured Hidden Objects game templates? Download them and start editing to launch your own promotion in minutes!
Do you have questions about designing Hidden Objects game images? You can contact our Support Team, always ready to answer all your questions!