If you have previous experience with social media and digital marketing you know how difficult it is to cut through the noise. That's the reason why so many brands and professionals are constantly looking for new ways to stand out in the digital world. One of the most important aspects of social media marketing is authentic and easy to engage with content.
Did you know that 60% of customers say that content shared by their friends and family influences their purchasing decisions, while only 23% think that content from celebrities and social media influencers is impactful? The same study claims that customers are three times more likely to say that user-generated content is the most authentic content brands can share.
We cover social media and online Photo and Video Contests on a regular basis, but today we want to take you through a UGC solution that allows brands to obtain highly impressive and high-quality user-generated content. The Scenes app. How does the personalization app work?
The Scenes app is an easy to use application that allows users to personalize and decorate their image, according to their likes. Users get a choice of different backgrounds and stickers that can represent anything you want. Keep on reading to see the examples in more detail!
Prepare your favorite pizza with image personalization app
TravelUp and LATAM Airlines came across our Scenes app when looking for a creative way to promote flights to Brasil. The organizing brands decided to run a Scenes contest, in which participants decorated their favorite… pizzas (for those who don't know, pizza is the most eaten food in Sao Paolo!). The main prize – return tickets to Sao Paolo – attracted more than 1,000 entrants, ready to share their creative content pieces.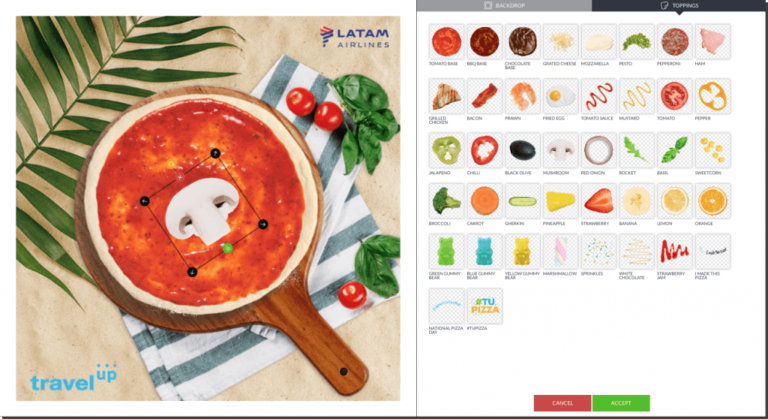 TravelUp's and LATAM logos added to the backgrounds made it incredibly easy to expose the users to their logos, furthermore, the participants didn't mind that at all! At the end of the day, they could fly to Brasil and back completely for free!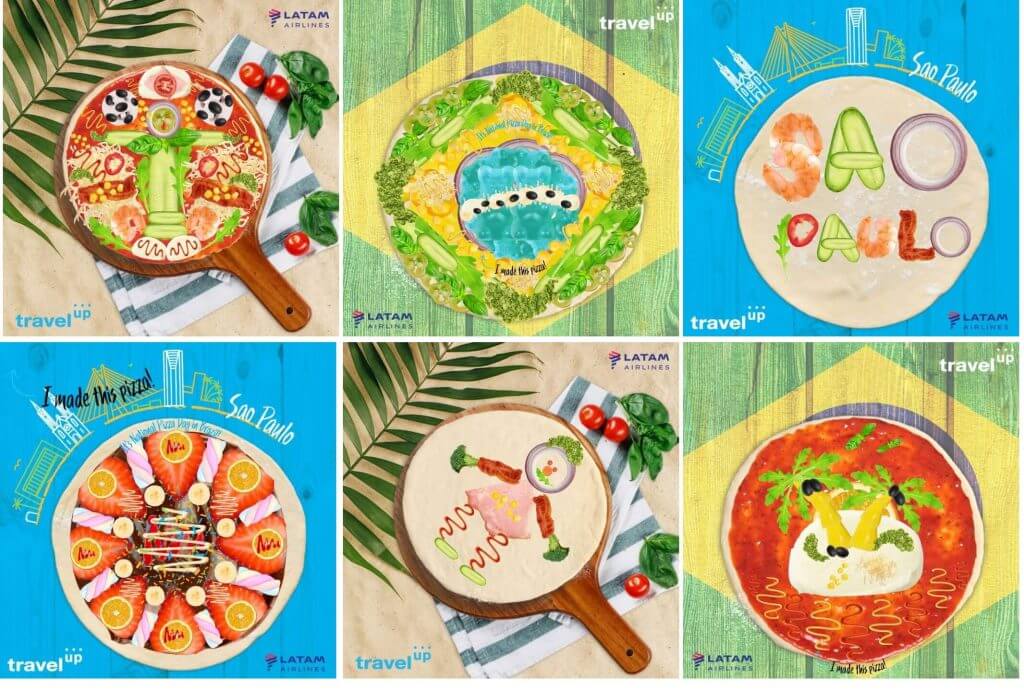 The prize is a very important part of any promotional campaign. In this case, the organizing brands asked participants for some extra effort. They had to awaken their creativity and spent a good few minutes planning and preparing their virtual pizza. The prize had to make the effort worthwhile! Also, the bigger the prize, the more entrants you attract. Just take a look at all the cool designs shared by TravelUp and LATAM's social media giveaways.
If you'd like to find out more about the promotion launched by TravelUp and LATAM, then head to the success case. You can learn more about the promotion, final results, and user feedback.
Decorate your Christmas tree for a chance to win a trip for two
Turns out that TravelUp loved Scenes promotions to the point that a few months later they launched another image personalization campaign. This time they asked their audience to decorate Christmas trees for a chance to win a trip for two to Iceland!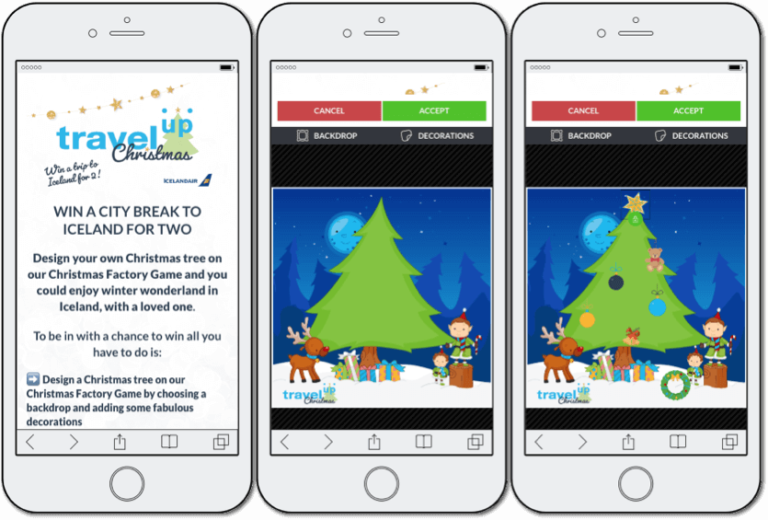 Once again, the travel agency had hundreds of high-quality UGC pieces that they could share with their followers. Obviously, prior to doing so, they shared the Scenes promotion on social media to convert followers into qualified leads.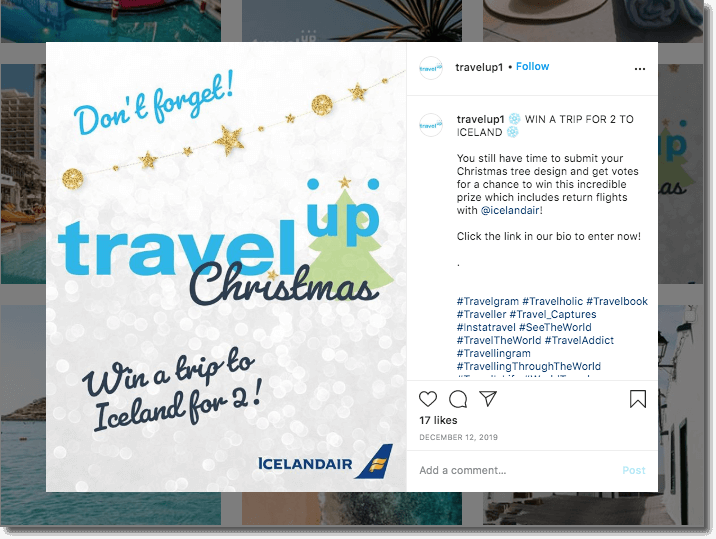 Interactive Easter egg decorating contest
Christmas is not the only important occasion that brings opportunities for organizing interactive Scenes promotions. Next up is an example of a promotion created by Local Community Challenge. Online users decorated their Easter eggs in an attempt to win a fantastic chocolate egg!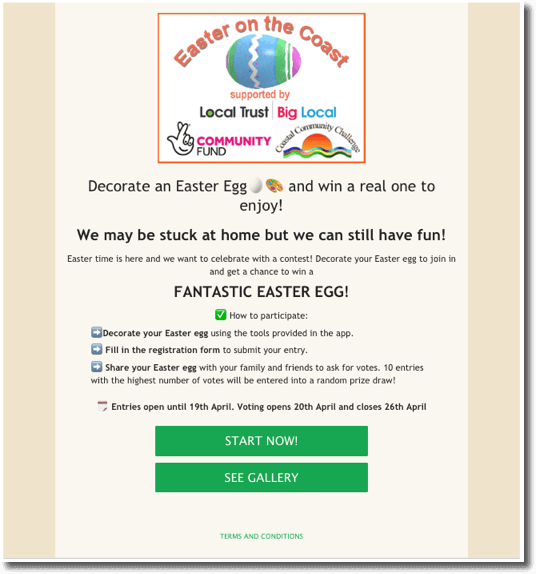 Local Community Challenge launched this Scenes promotion during the 2020 lockdowns. It was a successful alternative way to celebrate Easter, as well as entertain and engage the online community. Have a look at all these fun Easter eggs!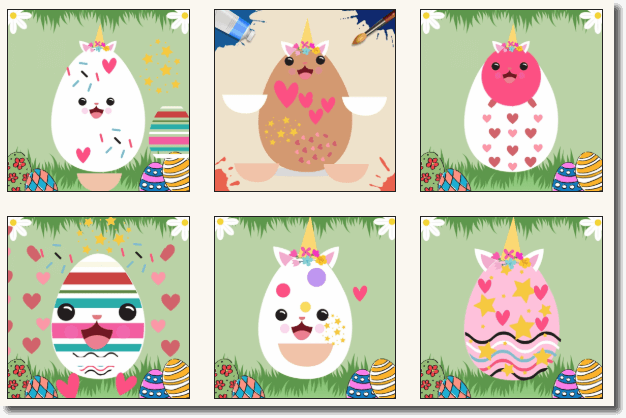 As you can see participants had a variety of backdrops and stickers to choose from.
Launch dress up games with the Scenes app to entertain the kids
We've all seen – or even played – online dress up games. What if we tell you that you can now launch your own branded dress up game?! Here's an example of a promotion launched solely to entertain the audience.

Users choose their characters and backgrounds and then dress them up! It's a fantastic game for families and kids, so if they're your target audience you're set for success!
Sounds interesting? Give it a go by trying our Scenes DEMO!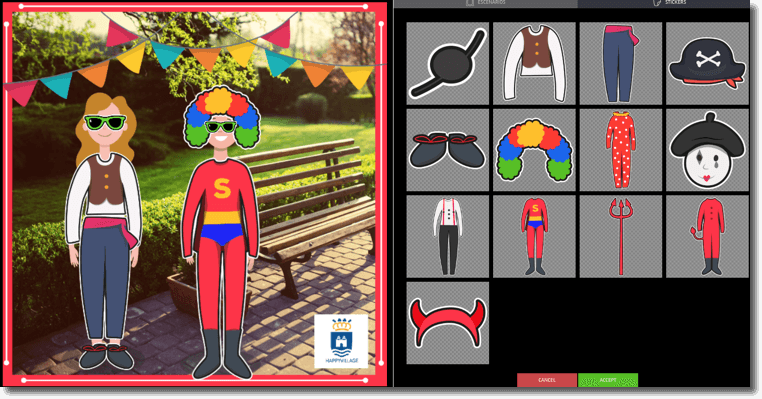 The Scenes application comes with an integrated entry form, therefore you still get to generate new leads for your database. Once the picture is decorated, encourage the user to share it on social media – you can increase your brand awareness and social media presence and visibility.
Product personalization with Easypromos' Scenes application
Everyone loves a personalized touch! Why don't you ask your online community to personalize their own products and in return, give them a chance to win it?
Los Fresnos – a shopping center – decided to awaken the creativity of their audience. To do so, they decided the launch a Scenes promotion, in which participants designed their own Carnival masks.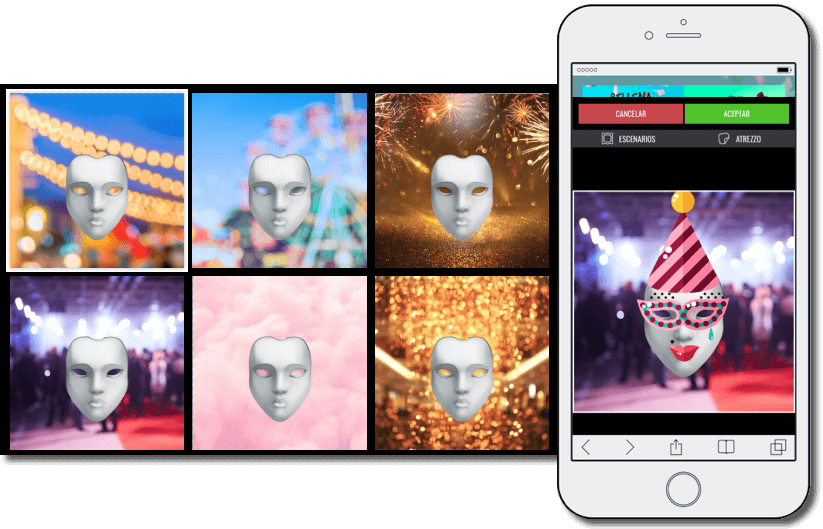 The creator of the most voted design won a $50 voucher to spend at the organizing shopping center.
Invite users to personalize messages and boost brand visibility
Here's another example of a promotional campaign that was launched during the 2020 COVID-19 lockdowns. Beronia – a wine manufacturer – created a campaign to promote their products. "I owe you wine". Beronia invited their audience to create personalized messages in which participants could thank their family and friends for being there for them in difficult times.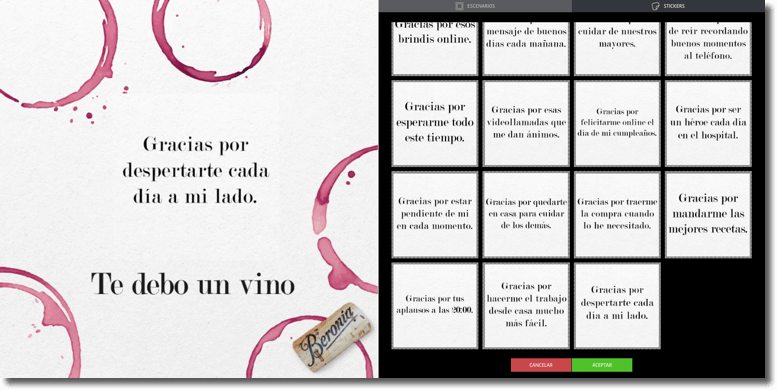 It was a fantastic idea, as it strengthened customer relationships and trust. The messages were highly shared on social media, therefore it also improved Beronia's social media presence and visibility.
Are you ready to launch your own Scenes promotion? Don't worry if you still have questions or doubts. Contact our Support Team!