Spring shopping tends to focus on a few key industries and trends. For example, spring is traditionally the boom season for weddings. Retail brands with an interest in health, beauty, and home decoration can expect to see a boost in sales, too. And travel agencies have learned to take advantage of the lull between winter holidays and the summer rush to the beach. In this post, we'll take a look at some quick spring giveaway ideas for social media. We've drawn these ideas from real brands that found success online. Let's dive in!
Did you know that accounts that organize social media giveaways can grow up to 70% faster than the ones that don't? Discover our giveaway apps and learn about all the characteristics and advantages that they can bring you.
Spring giveaway ideas for health and beauty brands
Spring is a big opportunity for health and beauty brands. Consumers are looking for new skincare routines as the weather starts to change – and they're moving away from cozy winter scents, designs, and pamper products.
Social media giveaways are an effective way to introduce spring products and show shoppers that you're ready to help. Take this Instagram giveaway from Carner Barcelona, a boutique perfumery in Barcelona.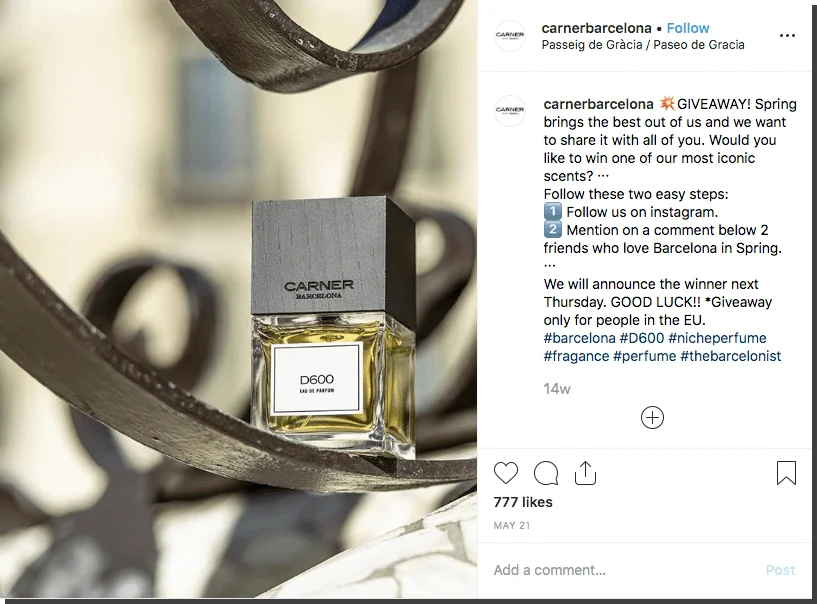 Notice how simple the giveaway is. All people have to do is follow the Carner Barcelona page and mention two friends who love the spring season.
Don't ask your participants for too much, too soon! Use a giveaway to gain new followers by asking the participants to follow your profile and mention their friends in the comments. These two simple requirements will attract more potential entrants, increase your social media following, and boost your posts. Then follow up gradually with sensitive, well-targeted campaigns.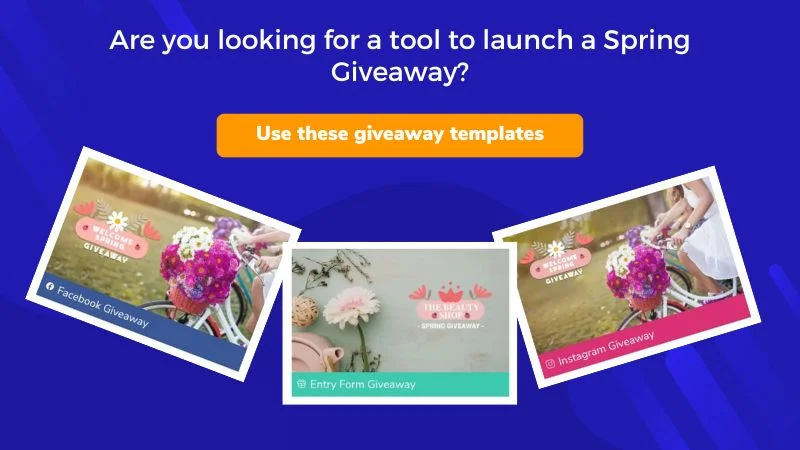 Spring giveaway ideas for home and garden retailers
Spring cleaning, spring décor, new construction projects as the winter weather ends… March, April, and May are also key months for home and garden brands.
In this section, we've got two very different spring giveaway ideas to share with you. Our first example, from Compactor Store, is a classic Instagram giveaway.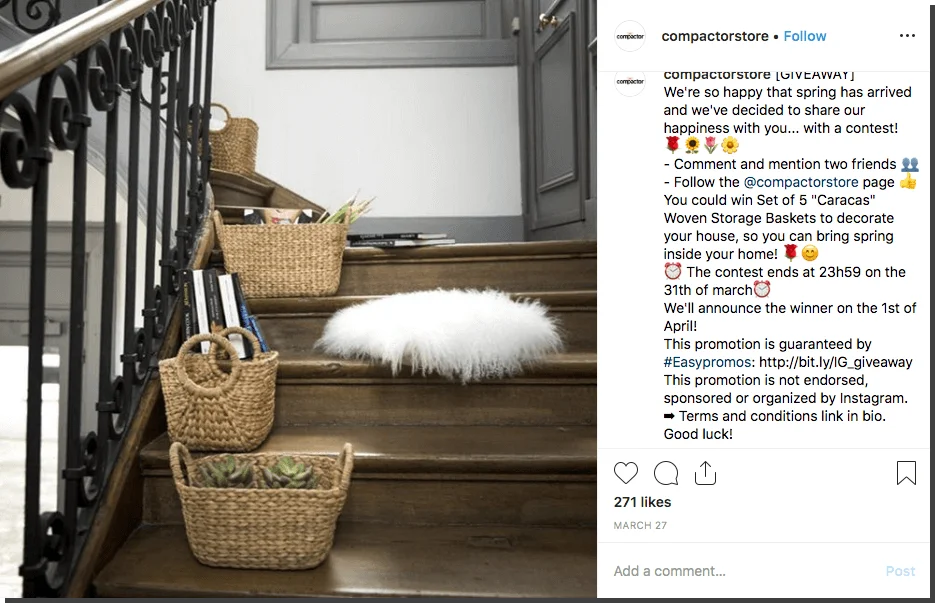 The brand offered up some handy woven storage baskets to help customers manage their spring cleaning. And, although the prize and the competition rules are simple, Compactor Store brought out the spring theme with some cheerful copy and plenty of emojis.
Remember that you should take advantage of every chance you get to promote your product. Spring giveaways on social media are great to showcase your newly offered goods and services, or to simply highlight your bestsellers. Make your products the main prizes of your social media sweepstakes to put emphasis on product promotion.
Whatever your brand sells, you can always create seasonal campaigns by picking the right giveaway design. Think florals, plenty of white space and soft pastel colors, and optimistic, upbeat copy.
Our next example is a bit of a contrast. Brintons focused on the spring theme with their choice of prize and Facebook giveaway rules.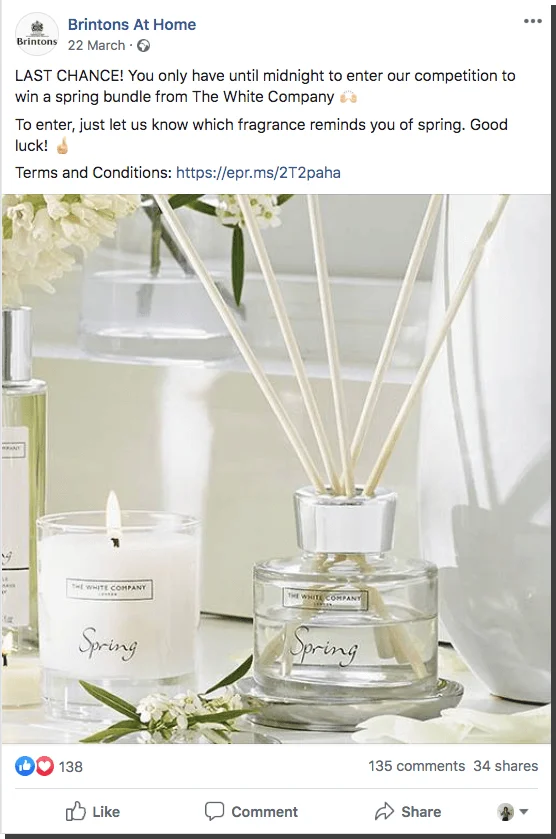 "Bundle" prizes like this are always popular with customers. And the beauty of an open question like "Which fragrance reminds you of spring?" is that it starts a real conversation with your followers. Real conversations influence the positioning of your posts in the news feed. The more engagement your post gets the better the exposure.
Top tip: With the right question, your giveaways can double as market research. Take Brintons – they can use all those comments to predict their most popular scents for the season, and for example run special offers for the most popular products.
Spring giveaway ideas for travel and tourism
Opportunities for travel and tourism marketing in spring cut across age boundaries. From spring break for students, to Easter family vacations, to bargain-hunters looking for a holiday deal between Christmas and summer… there's something for everyone.
And your spring giveaway ideas don't have to focus on expensive prizes like plane tickets or hotel stays, either. If you're looking for a quick, budget-friendly spring campaign, then think about holiday accessories.
Take this giveaway from Enchanting Excursions Travel Agency, for example: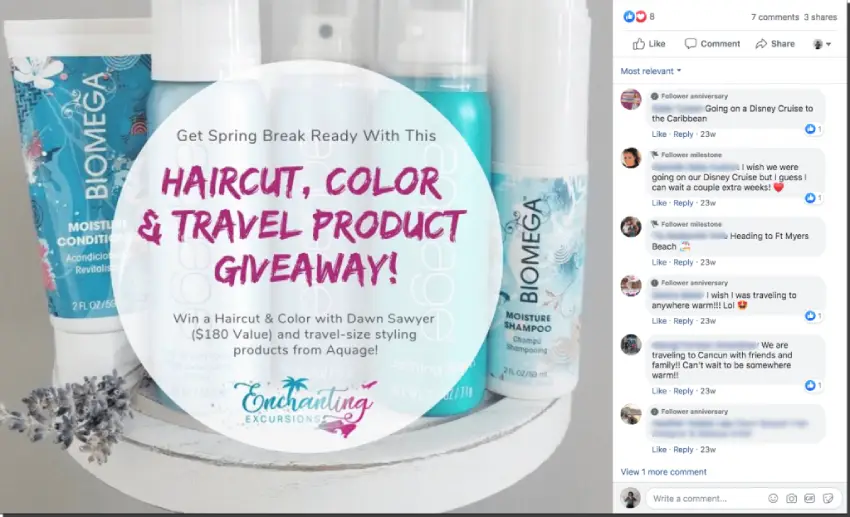 They focused on the spring break market. To help people get ready for the season, they offered a free hair styling session… plus a bundle of travel-sized products to stay looking good on your travels.
The travel agency also decided to reach a bigger audience by running a Multi-Network Giveaway that included both Facebook and Instagram followers. And, just like the Brintons example above, they got some valuable customer feedback in response to their giveaway question: "Where are you traveling for spring break?".
Multi-Network Giveaways are fantastic if you want to increase your brand visibility and build customer trust across all social media networks.
To offer the hairstyling session, Enchanting Excursions teamed up with a local hairstylist. Co-sponsoring a giveaway is a good way to spread the costs and reach a larger audience.
Spring giveaway ideas for local businesses
Last, of all, let's finish with some spring giveaway ideas to suit every business.
As the weather warms up, people start to spend more time outdoors. Evenings on the sofa are out; fun activities with friends are in. So it's the perfect time to run local events and get involved with the live community around your small business.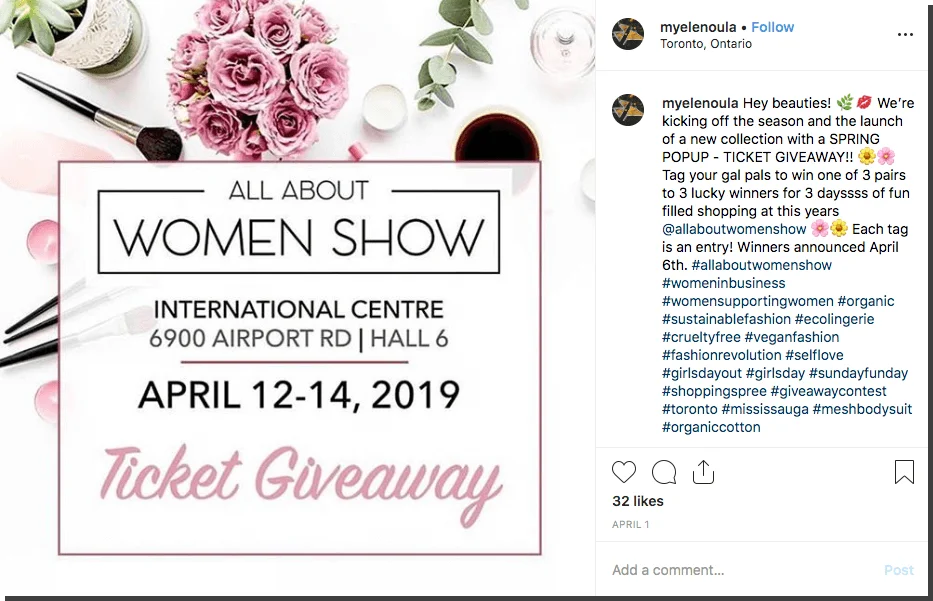 Take this giveaway from the lingerie brand My Elenoula. To celebrate the launch of their spring/summer collection, they opened a pop-up store at the All About Women Show. And to entice more shoppers, they offered 3 pairs of tickets to the three-day show.
Or take this example from Under Aurora, another perfume and skincare brand. They also ran a pop-up stall to celebrate spring. And to tempt more people along, they offered one free product of the winner's choice. To join the contest, followers had to confirm they'd be attending, and bring along their friends too.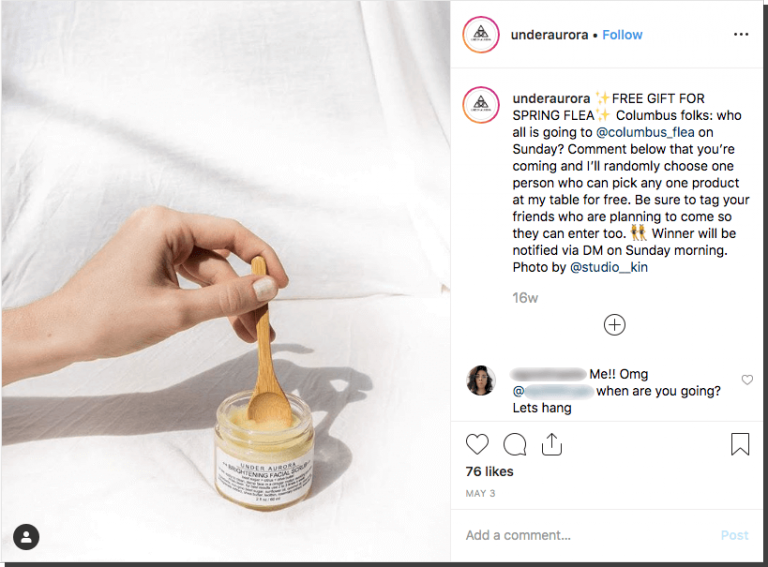 Still want more? Learn about our advanced apps for spring promotions – including photo contests, writing challenges, and rewards for referring friends!
Collect leads with Spring Entry Form Giveaways
Wouldn't it be great for your email marketing to know the email addresses of at least some of your social media followers? Now there's an easy way to do it. Organize a Spring Entry Form Giveaway and share its direct link on your social media channels to convert followers into qualified leads for your future marketing campaigns.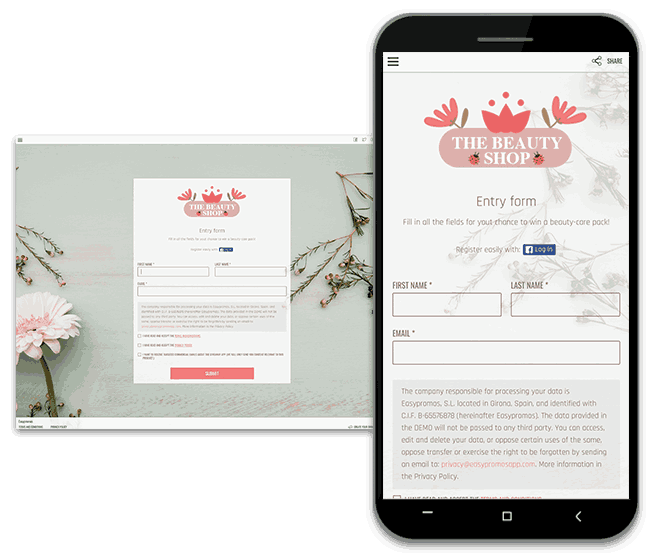 Sharing registration forms on channels like Facebook and Instagram is a great way to start relationships with potential customers. Welcome them to your database by sending our attractive deals and finding out more about their likes and preferences.
Do you have an idea for a spring giveaway but you're unsure whether it'll work? Or maybe you need more inspiration? Chat with our Support Team!