Video Contests might not be as viral as comment giveaways on Instagram, or retweet sweepstakes on Twitter. However, video competitions bring you something that social media giveaways don't… User-generated content. It should also be known as the most valuable content one can ever have! But how do you organize Video Contests that will tick off more marketing objectives? Is it possible to grow brand awareness and work on brand positioning with digital promotions? It is! And today we want to show you real examples of successful video competitions that will hopefully give you some inspiration and willingness to organize your own!
Motivate more participants with an adequate prize to join your Video Contests
Brand awareness is one of the marketing objectives always on top of the list of every brand. It needs constant work and effort, so your audience simply doesn't forget about you. Brand awareness can lead to other goals such as an increase in sales and customer loyalty.
Video Contests are a powerful digital marketing tool. But they also consume more time than sweepstakes and raffles for both, organizers and participants. If you decide to organize a video competition, you must remember that there will be fewer participants than in social media giveaways. This is simply because many people will not be willing to spend their time. However, you can still motivate a lot of Internet users to take part in your contest. How? With an adequate prize!
But what is an adequate prize for Video Contests?
While discount vouchers and coupons are great incentives for Instagram and Facebook Giveaways, they won't do the job here. Your audience needs something of greater value, ideally a product or service provided by your brand. If you just released a new electronic device make it the incentive of the promotion! Apart from rewarding the most creative video, you will also promote your product, and inform your audience about it!
Let's take a look at a video competition organized by Suunto. They asked the participants to share videos, explaining what activity they could spend doing 24 hours straight.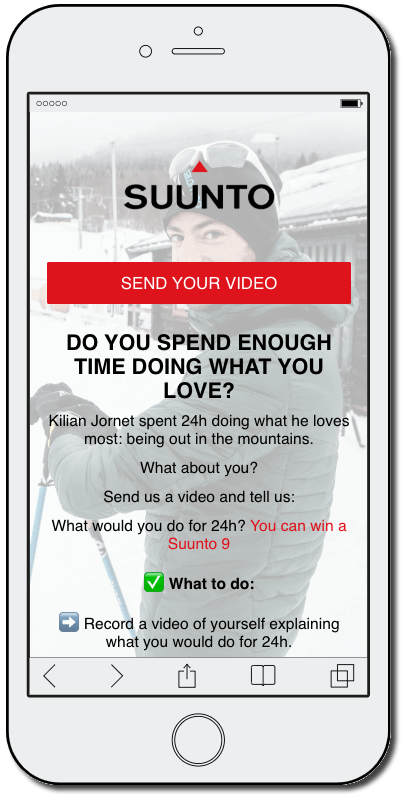 The brand had four objectives: to promote their athlete, to promote their brand, to promote their product, and to collect user-generated content. Obviously, the most adequate prize was Suunto's newest product – a watch. The target audience – active people that enjoy different kinds of sports – was highly motivated by the prize offered by the brand. This Video Contest was a great way to promote Suunto's new product and raise brand awareness. If you're looking for ways to market your product, consider organizing a video competition.
However, such contests can also be great to reward loyal customers. If you have a long-life product and you're looking for ways to promote it, you can organize a contest to show the user experience. Ask your existing customers to share their stories, experiences, and advice regarding your product, and offer a prize that will satisfy your buyer persona. For example, if it would be a video competition organized by Suunto they could offer sports clothes or experiences, as the audience already owns their watches.

Ask people to share creative videos, and reward the best ones!
Use video competitions to turn satisfied customers into loyal customers

Nowadays, customer loyalty is very important. With so many brands on the market and online shopping, the competition is higher than ever, and it's harder to keep customers coming back to your business. Your occasional clients become loyal customers as a result of positive customer experience and satisfaction. So why don't you look up to Quark Expeditions that organized a Video Contest as a customer retention idea, and target your previous clients?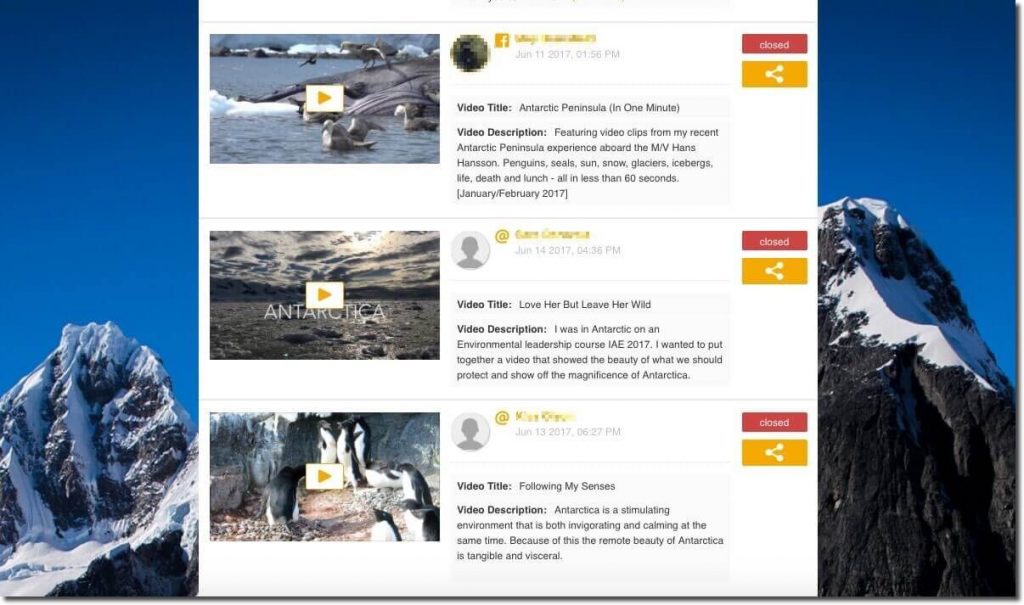 The company launched a promotion targeting past passengers of one of their expeditions to Antarctica. The participants were asked to share their footage from the trip for a chance to win another voyage for two… This time to East Greenland!
This is a fantastic technique to retain customers.
Remember, if you use the video competition app by Easypromos you can make use of the user-submitted videos, as upon submission, users grant you permission to use their footage for promotional purposes. And there's nothing better to prove customer satisfaction than user-generated content! Share it on your social media pages to increase brand loyalty.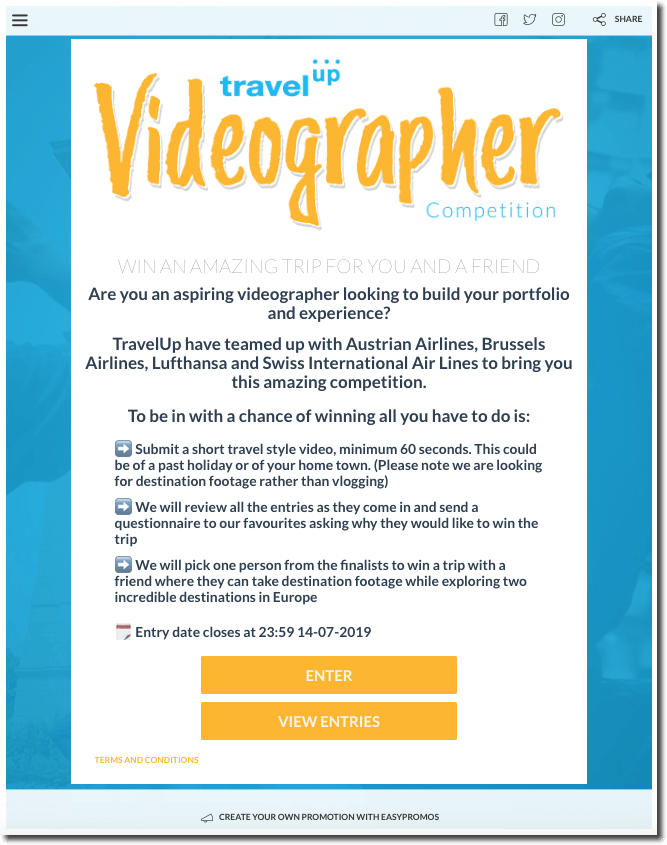 Here's an example of another great video competition organized by another travel agency. TravelUp was looking to award an inspiring videographer with a trip for two, to two European destinations. In return, the winning videographer was asked to create destination footage from both trips. The footage would then be used by the travel agency to promote both destinations. This is a great example of gaining customer loyalty.
Video competitions to turn customers into brand ambassadors and increase sales
To build brand awareness it might be helpful to also have brand ambassadors. So why don't you turn your customers into brand ambassadors? Do it by organizing a Video Contest targeting your customers. Ask them to share videos with… your product! Share the competition on your social media channels to convince more people to purchase your product and then participate in the promotion. Here's a great example by Woof & Brew. They wanted to promote their products… Herbal "champagnes and beers" for dogs, right in time for Christmas and New Year's Eve.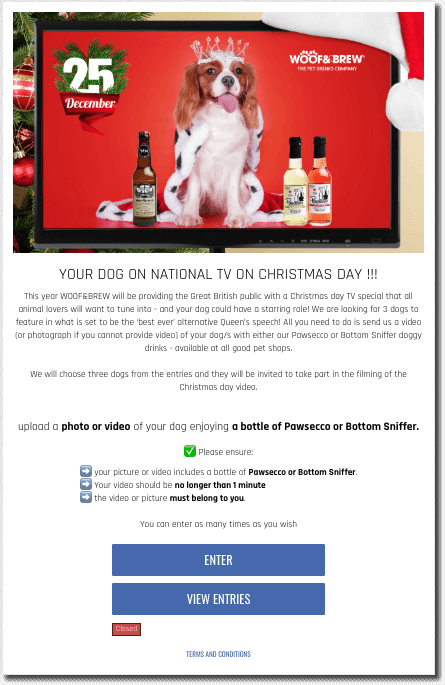 Interested participants were asked to purchase a product by Woof & Brew and record a video of their dog enjoying the drink. The videos had to follow the video competition guidelines stated by the brand and were uploaded directly through the video competition app, or by sharing a link to a YouTube or Vimeo video. The last two options allowed the participants to share the videos on their social media channels, concurrently promoting the brand's products, and becoming brand ambassadors, by sharing the content with their friends and family. Three dogs were then chosen to take part in the recording of a Christmas Day video for the national TV!

This is a great technique to also increase your sales. However, bear in mind that this action will bring you not as many participants, as a no-purchase promotion. Some people will be discouraged by having to buy your product.
No purchase necessary Video Contests

But here's another example of a video competition looking for dog footage to air on DOGTV. In this case, there was no purchase necessary to enter the contest. Interested dog owners uploaded videos of their puppies through the video competition app. There was also an option to upload the videos by sharing a link from YouTube or Vimeo. This also meant more brand exposure for the brand, as the participants could share the links on the social media pages.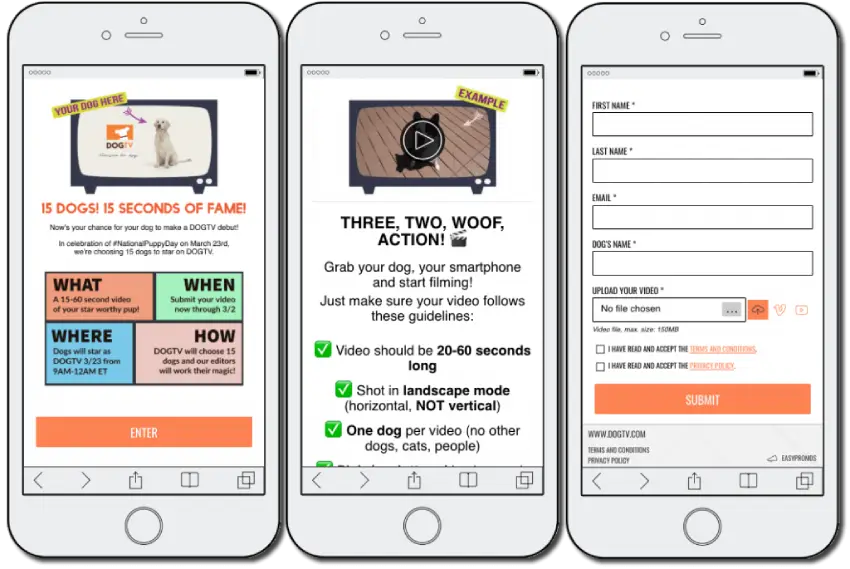 74% of millennials and 49% of Gen Z shop online more than once a month. Therefore, according to HubSpot, you need "content that quickly cuts to the chase and explains why your product will provide value" for Gen Z, while millennials will be happy with longer marketing videos. 

Your brand ambassadors will share their experience and views across their social media channels, informing their friends and family about your product and brand. Their family and friends will then be more likely to purchase from you, as people tend to believe influencers' and friends' recommendations.
Select winners of your Video Contest, and make it go viral with public voting
If you're wondering how to boost your promotion and make it go viral then here we have a great tip for you: use Easypromos voting system. 
Video competitions with voting systems have a lot of advantages. The most important one, of course, is user-generated content, that you can use on your social media for promotional purposes. However, if you enable the voting system, your participants will share their videos with their family and friends, asking them for votes. This will create extra engagement, more views, and brand awareness!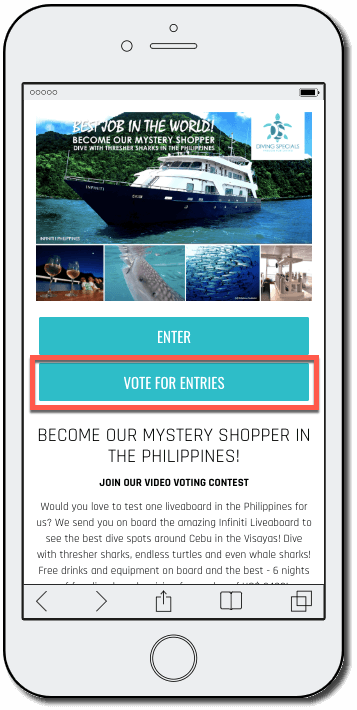 Bear in mind that we don't recommend using the voting system to use the final winner. It is quite likely that some participants will take fraudulent actions in order to get extra votes, therefore you cannot guarantee that the winner gained all the votes through honestly. Therefore, here at Easypromos, we always recommend asking for 5-10 votes in order to enter the final draw! That way you prevent any fraud. You will still generate buzz around your promotion, and attract the attention of online users.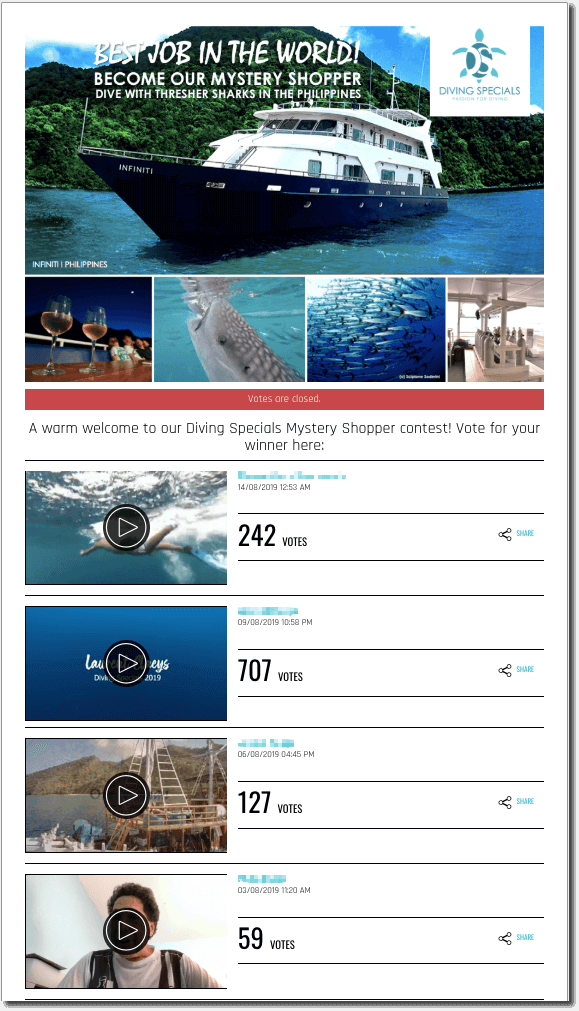 Don't forget to add the voters into a random prize draw. This will motivate many more people to vote, it will also grow your brand awareness! Offer a piece of merchandise, discount code or voucher to encourage more people to vote!
To enter the voters into a final draw, you will have to enable the option to vote with email, and the users will have to accept your terms and conditions. Remember that Easypromos platform comes with integrated tools to edit and enable your T&C, and other checkboxes, to ensure that in the future you can contact the voters for promotional purposes.
Boost participation with a photo booth video competition
Bear in mind that video competitions that ask for specific and edited videos will lose potential participants. Some people will not have time to do it, others will simply forget or decide to omit it. So if you're looking to organize Video Contests with high participation numbers go for a photo booth. A great spot to place it would be a shopping center, where people participate on the spot, without having to prepare and edit the video. You can ask the participants to upload the video to their social media pages and use a hashtag so you can locate it easily with a Mention + Hashtag Contest.

Are you looking for an even easier option? Record videos of your participants and upload them through the Pick your Favorite app. The entrants will only have to find their video on your app and share the link with their friends to get votes. Make sure your participants leave their name and email address. This way you can send them an automatic email with the link to their video, ready to share on social media.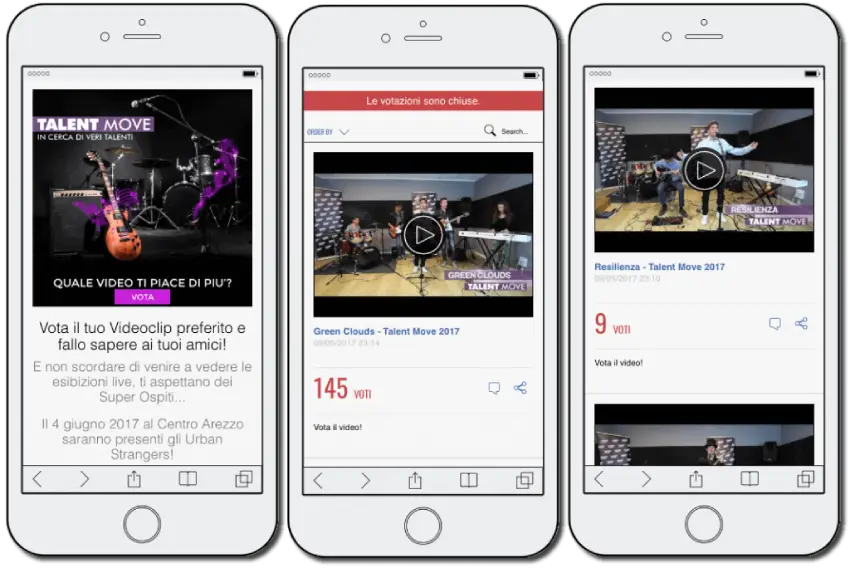 This type of video competition will need more effort from your site. However, you get to edit the video to add your logo, whenever you want. Each time someone will share their video, you will be ticking off new accomplishments from your marketing objectives list. There will be more brand exposure, brand awareness, buzz, and excitement!
Make your Video Contests a success
You've seen all the examples and marketing objectives that can be achieved with video competitions. So here are some last tips from Easypromos to successful video competitions:
Make the entry requirements clear and easy to follow. This way you ensure that the participants will follow the video competition guidelines.
Describe the final prize and make sure that it is adequate for the entry requirements.
Share the video contest on social media, newsletters, and in-store (if you have a physical store).
Enable the voting system to create more buzz around your promotion and boost brand awareness. Enter all voters into a prize draw to motivate more people.
Use a platform like Easypromos to ensure your Video Contests are legal, transparent, and fraud-free, and that you can use collected content for promotional use. The Easypromos platform is also easy to use and navigate, so you don't need to worry about video extensions.
Synchronize the contest with your Dropbox account to save original video files instantly.
Any questions? Don't hesitate to contact us through our Online Chat in case of any doubts. And if you're ready to host your own Video Contests you can now create your free Easypromos account! Work in the draft mode to check all the features! The platform won't ask for payment until you decide to activate the promotion!