Posted in: EventsLast update: 12/07/19
On 30th July, we celebrate the International Day of Friendship. It's a great time to engage with followers and encourage them to share your brand with their friends. Use these free tips and resources to share the love with a Facebook or Instagram giveaway!

In the last few years, social media has become an essential part of our friendships. We go online to share news, make plans, catch up and chat. Half of the world's population uses social media, and research has shown that friendships are just as meaningful online as face-to-face. So for Friendship Day this year, we're focusing on the most popular social networks of all – Facebook and Instagram.
You can run contests and giveaways through your Facebook page, Instagram posts or Stories to connect with your followers, increase traffic, and raise brand awareness. Friendship Day is a great opportunity to offer double prizes for best friends, or prizes shared with a group of friends. You can encourage your followers to share Friendship Day content with their loved ones, too.
In this post, we've collected some examples of fantastic Friendship Day campaigns – and we've produced some free resources to help you out. After all, that's what friends are for!
How to run a Friendship Day giveaway on Facebook
Run a giveaway with Facebook comments
Facebook is a great place to start a conversation with your followers about friendship and Friendship Day. Just remember that you can't ask for likes, tags, or follows. The social network is designed for real friendships, not spam.
Take a look at this neat example of a Friendship Day giveaway on Facebook, designed at busy working professionals. (That's why they picked coffee gift cards as the prizes, I guess.)
The brand invited people to comment who their work BFF is, and why: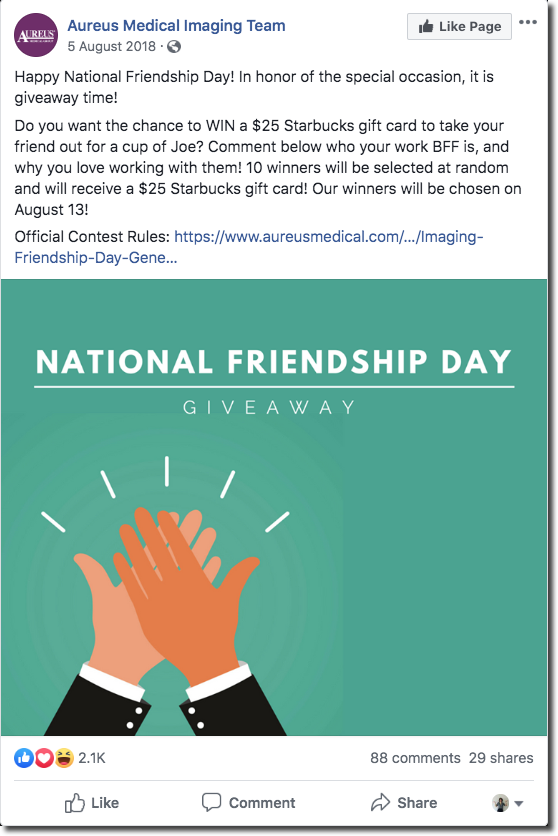 As you can imagine, many people spontaneously tagged their friends anyway. In our experience, most people will naturally follow and tag friends in social media giveaways – you don't need to demand that kind of interaction.
Run a giveaway with photo entries
Here we've found a Facebook giveaway with a slight variation. Instead of just commenting, users were invited to share photos on the theme of Friendship Day.
When they posted a photo in the comments, users automatically entered a giveaway for a luxury leather wallet. And the brand encouraged followers to share the giveaway with their friends, too.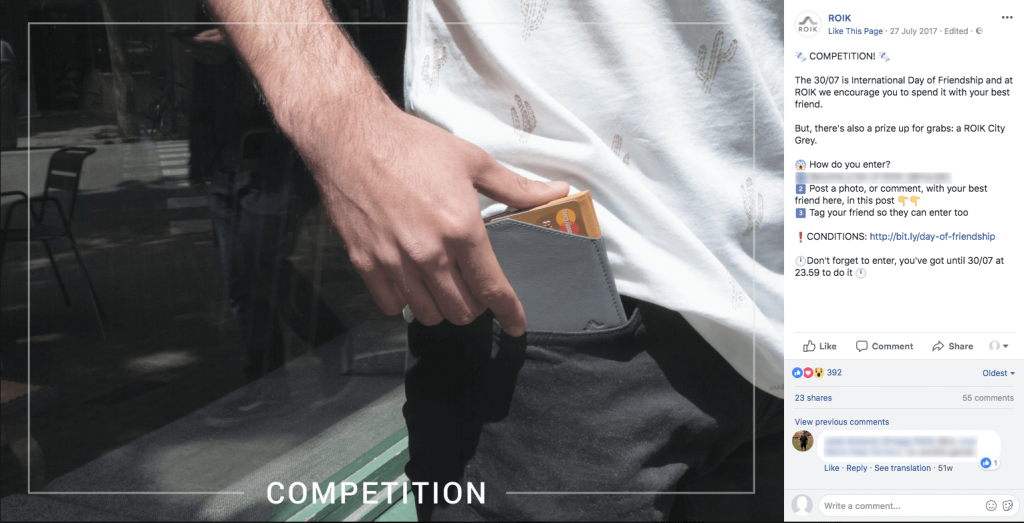 Easypromos has a range of tools for organizing photo contests. For example, you can easily exclude users who comment but don't attach a photo, or users who comment too many times. We recommend keeping this kind of contest simple, but very visual.
Click here to see more examples of fun photo contest ideas!
Set up your Friendship Day giveaway with an instant Facebook template
Here at Easypromos, we like to help our friends. So we've decided to save you some time, by creating an easy template for your Facebook giveaway. You can edit the text with the details of your brand and the Friendship Day promotion. Then your sweepstakes will be up and running within minutes!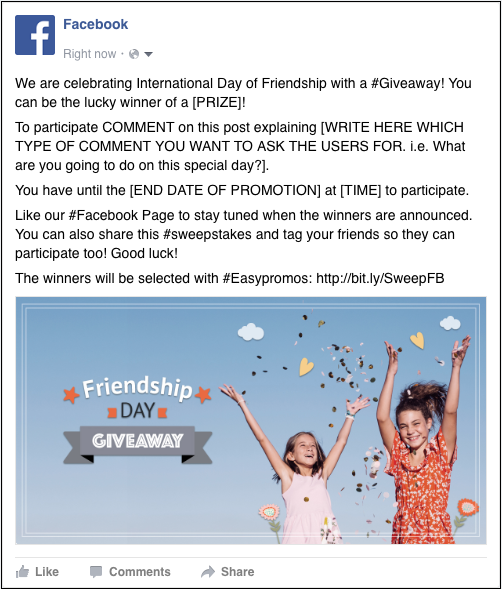 Just click here to start.
How to share a Friendship Day giveaway on Instagram
Run a giveaway with Instagram comments
Instagram has rapidly become the most popular social network – for brands and followers. There are so many ways to raise brand awareness and interact with the community, and Instagram's developers add new features all the time.
You can use Easypromos' apps to run giveaways with Instagram comments, and we recommend sharing through Instagram Stories too. The post below is a great example of how to run an Instagram giveaway.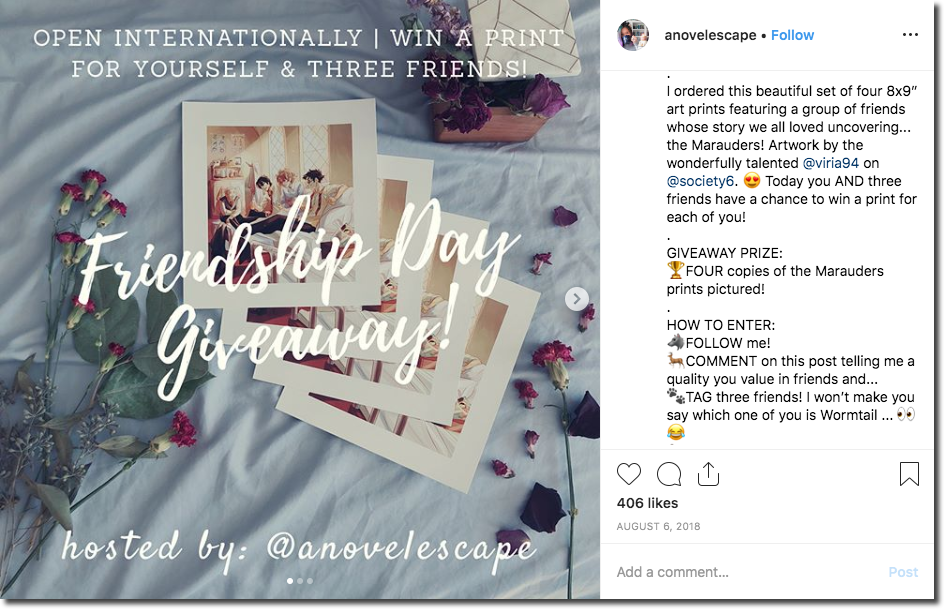 The artist has found a great way to connect Friendship Day with their target audience of fiction fans: a Harry Potter-themed giveaway. She asked followers to comment and tag the 3 friends in their squad, just like the group of friends pictured in her Harry Potter fan art.
If you can't figure out a clear connection between your brand and Friendship Day, then consider just offering a themed discount code for the day. Take a look at the example below. You could offer the discount to everyone, or restrict it to a few lucky winners.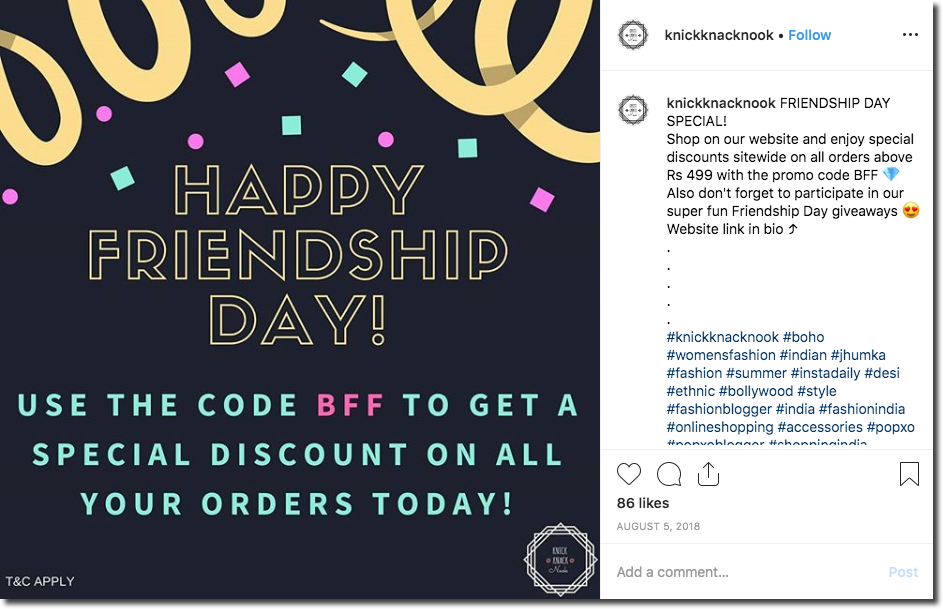 Use our photo templates for your Instagram giveaway
We've helped you to get started with free photo resources and templates for your Friendship Day promotion on Instagram.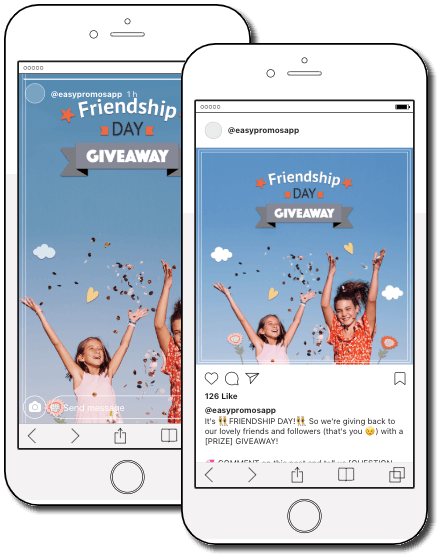 The images are already sized and designed for use on your Profile and in your Stories. Just add the details of the giveaway and make it pop! Don't forget to include a link to the terms and conditions, too.
Facebook and Instagram giveaway terms and conditions
It's important to make sure that your giveaway stays within the rules of Facebook and Instagram. For example, you can't require users to follow you in order to enter a Facebook giveaway.
The Easypromos set of apps help you create giveaways quickly, easily, and according to the platform rules. You can also use our free template and hosting tool for terms and conditions, to make sure that your followers are fully informed about the details of the contest.
With these ideas, resources and templates, you'll be able to set up a Facebook or Instagram giveaway in no time at all. Give it a try – and happy Friendship Day!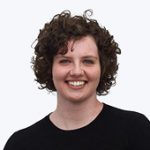 Corinna Keefe
Content marketer at Easypromos
Publication date: 2018-07-27