Posted in: Digital marketing,Ideas for your websiteLast update: 06/07/20
On 30th July, we celebrate the International Day of Friendship. It's a great time to engage with followers and encourage them to share your brand with their friends. Use these free tips and resources to share the love with a Facebook or Instagram giveaway and learn how to organize branded contests to collect user-generated content and new leads!

In the last few years, social media has become an essential part of our friendships. We go online to share news, make plans, catch up and chat. Half of the world's population uses social media, and research has shown that friendships are just as meaningful online as face-to-face. So for Friendship Day this year, we're focusing on celebrating it online!
You can run contests and giveaways through your Facebook page, Instagram posts or Stories to connect with your followers, increase traffic, and raise brand awareness. Friendship Day is a great opportunity to offer double prizes for best friends, or prizes shared with a group of friends. You can encourage your followers to share Friendship Day content with their loved ones, too.
But apart from social media giveaways, contests can also be a powerful tactic to connect with your online community over Friendship Day this year. In this post, we've collected some examples of fantastic Friendship Day campaigns – and we've produced some free resources to help you out. After all, that's what friends are for!
Run a Friendship Day Giveaway on Instagram
Instagram has rapidly become the most popular social network – for brands and online users. There are so many ways to raise brand awareness and interact with the community, and Instagram's developers add new features all the time. Comment-based Instagram Giveaways tend to attract many participants. Entrants comment on the post or mention their friends in comments to help the giveaway go viral.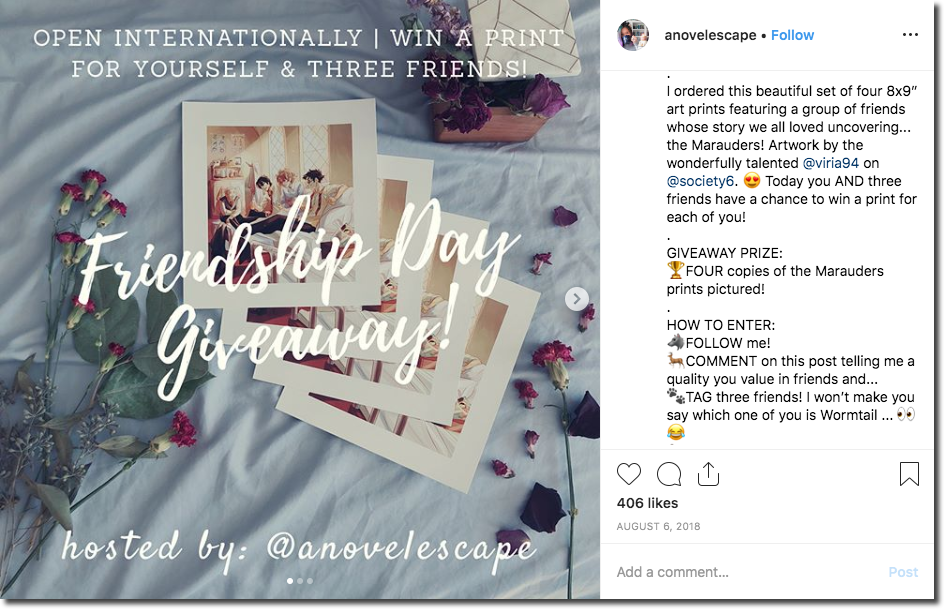 The artist has found a great way to connect Friendship Day with their target audience of fiction fans: a Harry Potter-themed giveaway. She asked followers to comment and tag the 3 friends in their squad, just like the group of friends pictured in her Harry Potter fan art.
Here's another fantastic example of a Friendship Day promotion organized by a haircare brand on Instagram. We've all seen at least a few episodes of this famous TV show, right? The organizers invited their followers to tag the Ross, Rachel, Phoebe, Joey, Chandler or Monica from their life and explain why they resemble the character. It was a fun giveaway to gained a lot of recognition, boosted the brand's engagement, and reinforced brand awareness.
Remember: be creative! The cooler idea you have, the more participants your giveaway will attract!
We've helped you to get started with free templates for your Friendship Day promotion on Instagram.
How to run a Friendship Day giveaway on Facebook
Facebook is a great place to start a conversation with your followers about friendship and Friendship Day. Just remember that you can only ask the participants to like your posts, comment on them, and tag friends.
Take a look at this neat example of a Friendship Day giveaway on Facebook, designed at busy working professionals. (That's why they picked coffee gift cards as the prizes, we guess.)
The brand invited people to comment who their work BFF is, and why: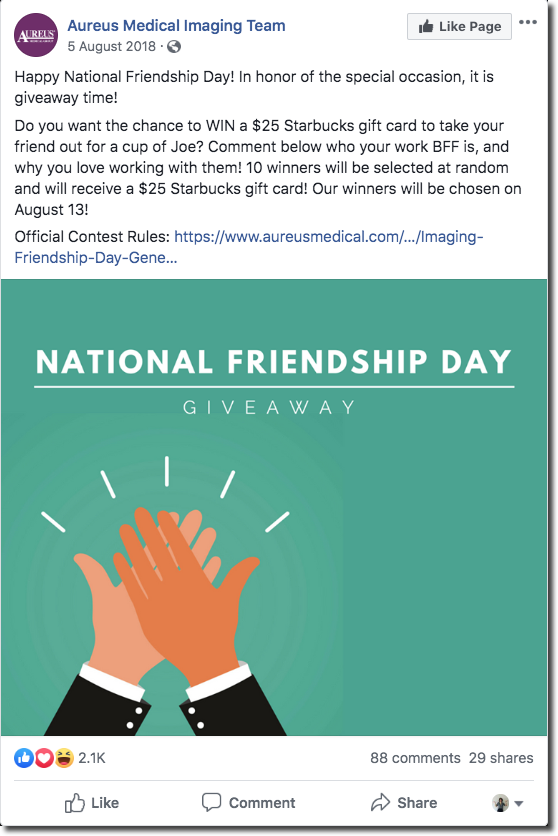 As you can imagine, many people spontaneously shared the giveaway with their family and friends. Remember, great prizes encourage social media sharing, making your giveaway go viral.
We've decided to save you some time, by creating an easy template for your Facebook Friendship Day giveaway. You can edit the text with the details of your brand and the Friendship Day promotion. Then your sweepstakes will be up and running within minutes!
Run a Facebook giveaway with photo entries
Here we've found a Facebook giveaway with a slight variation. Instead of just commenting, users were invited to share photos on the theme of Friendship Day.
When they posted a photo in the comments, users automatically entered a giveaway for a luxury leather wallet. And the brand encouraged followers to share the giveaway with their friends, too.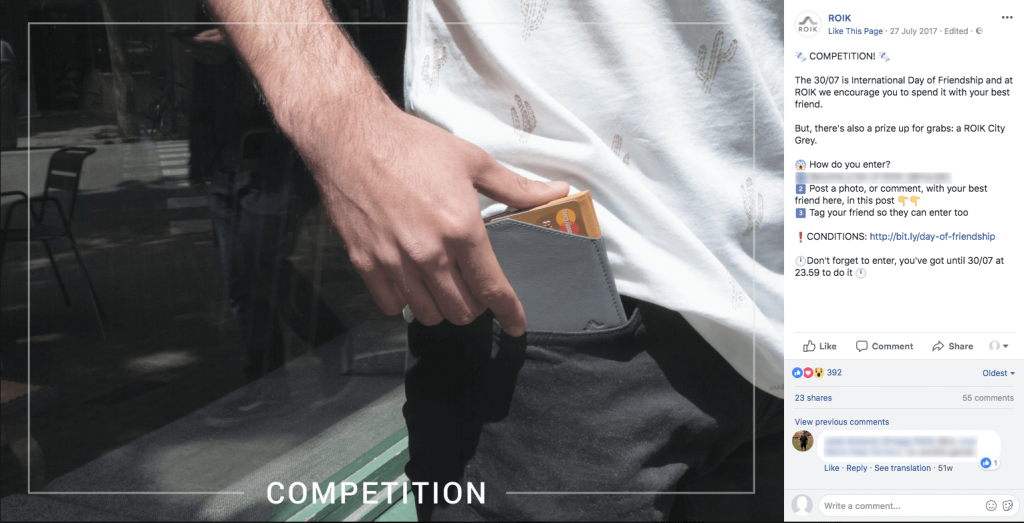 Easypromos has a range of tools for organizing photo contests. For example, you can easily exclude users who comment but don't attach a photo, or users who comment too many times. We recommend keeping this kind of contest simple, but very visual.
We've put together some fun photo contest ideas organized through Facebook comments.
Grow your database with a Friendship Day Entry Form Giveaway
Are you looking to engage your social media followers? But maybe you'd also like to convert them into leads? There's an easy way to do!
Here's an example of an Entry Form Giveaway organized by Clarin – an Argentinian newspaper – as part of their Friendship Day campaign. Clarin was looking to grow their mailing list and to do so they turned to their social media followers.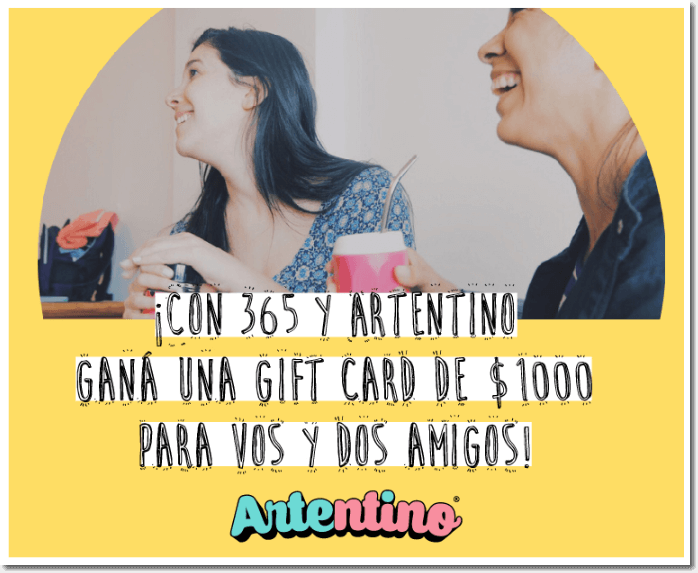 By sharing the giveaway link across their social media channels the brand managed to convert their followers into qualified leads.
Friendship Day Photo Contest idea to help you collect UGC
Did you know that customers are 2.4x more likely to find user generated content more authentic than content produced by brands? We also know that online users love to share pictures on their social media pages. So imagine combining the two and using it for your promotional purposes!
Photo Contests tend to be popular with brands looking to collect UGC and generate new leads; online users also willingly participate in photo competitions. And here's a great Photo Contest idea for a Friendship Day campaign.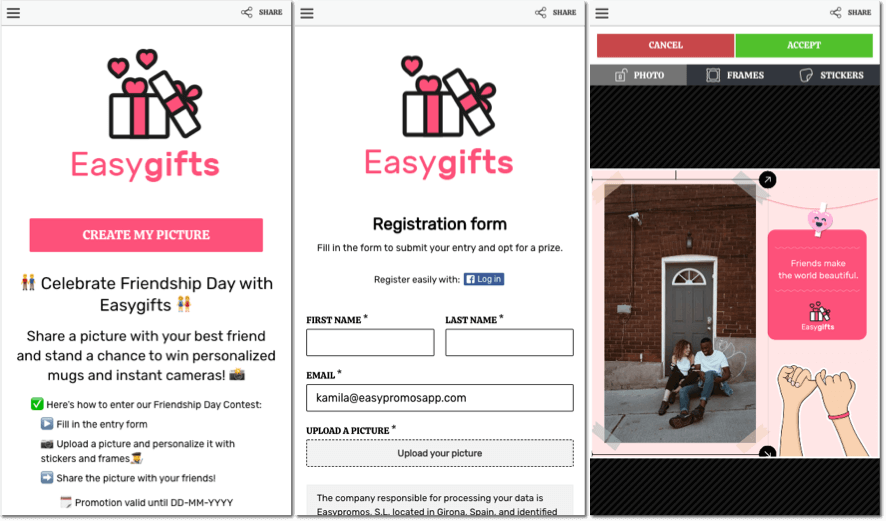 The PhotoFun tool allows you to launch a creative and fun photo contest. Apart from sharing simple pictures to celebrate Friendship Day, users upload their photos and decorate them with stickers and frames. The best thing about it? You can upload them yourself so that the users generate branded content. It's a win-win, right?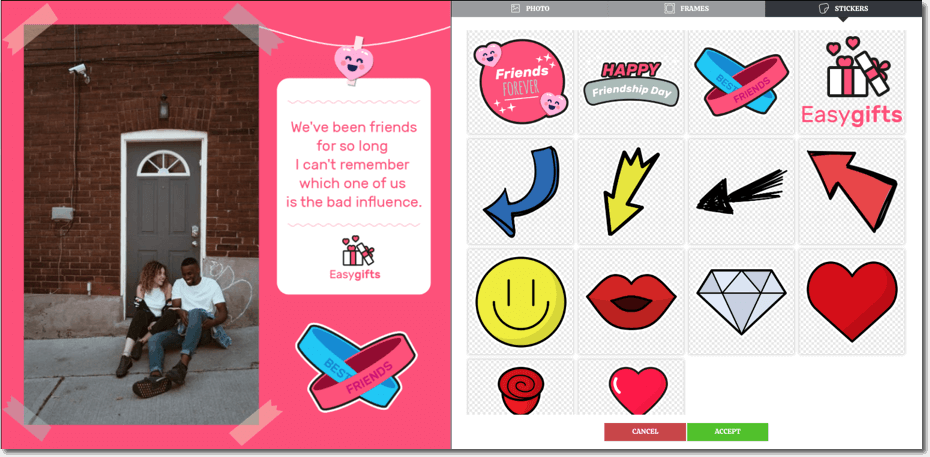 Motivate online users to enter your contest by raffling attractive prizes; free products, products samples and even discount codes or gift cards do the job!
Apart from collecting user-generated content you also get to expand your mailing list, as in order to opt for a prize, the users register through an entry form, leaving the contact details.
Are you interested? Try our Friendship Day PhotoFun DEMO and use the ready-made template to save up to 70% of production time!
You can also launch photo contests on Instagram or Twitter where users participate by mentioning your brand using your hashtag. But our options are not limited to Friendship Day photo contests! Another great way to collect user generated content is by launching a video or writing contest. But remember – they're a bit more time-consuming and some users might decide to abandon the participation. Unless of course, you throw in a fantastic prize that is worth the hassle! Learn more about organizing contests with Easypromos and discover all the possibilities!
Do you have more questions about Friendship Day contest ideas? Or maybe you're not sure which promotion suits your needs? Don't worry any longer. Contact our Support Team – they're always ready to help!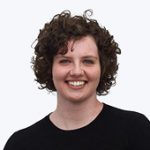 Corinna Keefe
Content marketer at Easypromos
Publication date: 2018-07-27