Posted in: Applications,Ideas for your websiteLast update: 27/07/22
If you're on a lookout for effective ways to stimulate your customer engagement you're in the right place. Today we will show you how you can generate fun and entertainment for your target audience by offering them a brand new app by Easypromos. Match It is a new branded mini-game where users consecutively look to match two different cards that are not identical but connected in some way. Match It is an ideal tool to create rivalry within your online community, as the game must be completed before time runs out. Keep on reading to discover how you can use the game to entertain and educate your audience, and most importantly how to use it for your marketing purposes.

Increase customer engagement with the new Match It game by Easypromos
Instagram has more than 1 billion active users, and according to Ad Espresso, 80% of them follow at least one brand account. However, this phenomenon is slowing down, as audiences are becoming much more selective when it comes to hitting the "follow" button. This can only mean one thing; brands must come up with new attractive ways to increase customer engagement.
One way to make your brand stand out could be our new Match It game. It is made to not only engage but also award audiences for being connected with the brand. Apart from rewarding user engagement, you can also:
Inform and educate your audience: although it's not the most common way of conveying new information, branded mini-games like Match It, allow their users to easily absorb new information.
Increase brand awareness: the users are exposed to your corporate image while being engaged with your branded mini-game. Spending time engaging with your product and brand leads to increased brand awareness so that the next time the user sees your logo, products or branding colors they will easily recognize them.
Collect new leads: branded mini-games blur the line between marketing and entertainment, therefore someone who has enjoyed your interactive promotion will be more likely to leave their contact details if in return you give them a chance to win a prize. Game mechanics allow users to have direct interaction with your brand, which results in improved customer relationships.
The following example demonstrates how brands can accomplish all these objectives with an interactive promotion. Devonshire Hotels & Restaurants engaged their audience by gamifing their Valentine's Day campaign. The players had to connect images that represented the same idea, for example, a bride and a groom. All registered participants got a chance to win a one-night stay at any of the Devonshire hotels or inns.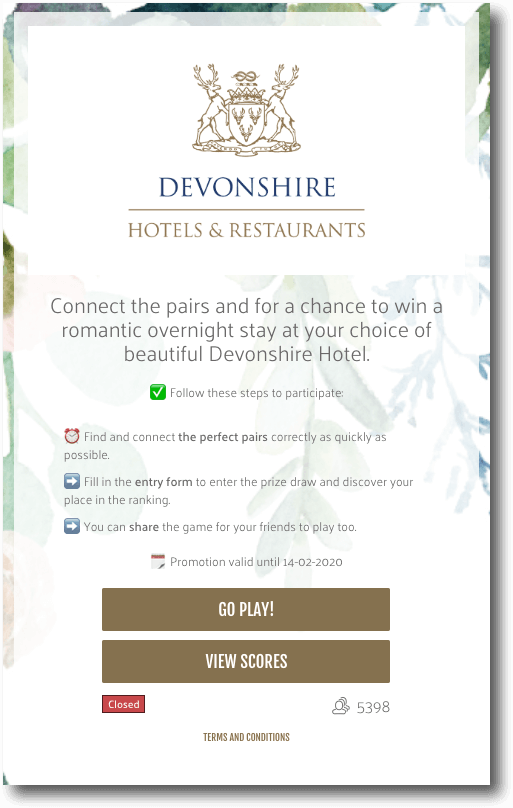 Wondering what it's like to play a branded Match It game? Give a go to our Match It DEMO!
Special characteristics of the new Match It game by Easypromos
Like all branded games by Easypromos, the Match It app comes with visual and sound effects that appear during the game when selecting different cards and when making the right match. There's also a sound when the user runs out of time and upon completing the game the participant gets a round of applause.
What are the settings you can change?
Decide how many pairs you want to create, with a minimum of 3 and a maximum of 8. The more pairs the more difficult the game.
Display cards in columns or mixed.
Present cards face down for higher difficulty.
Set a time limit to complete the challenge.
Give a limited number of moves to complete the game.
Allow the users to play again in case of not completing the game at the first attempt.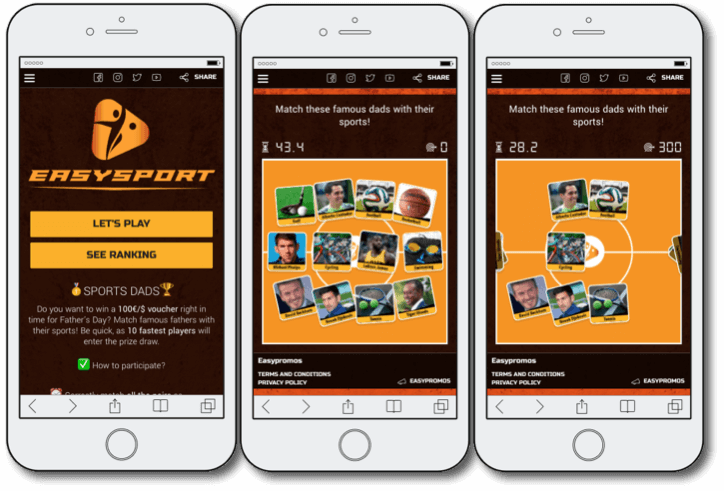 Each player that completes the game receives points. The system automatically assigns 100 points for each matched pair. However, the participants also receive extra points for the remaining time (10 points per second). Once the user completes the game they see the following message: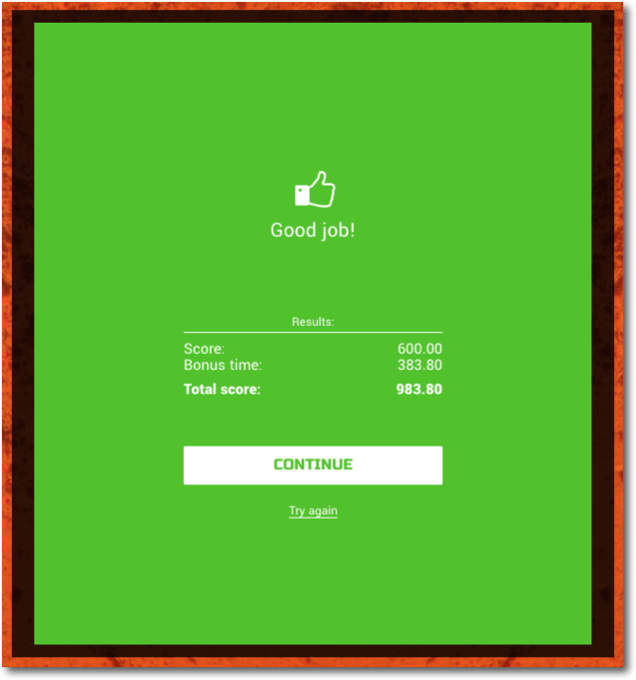 If you want all participants and their scores to be displayed on the ranking page, you must enable pre-participation registration. Making the scores public generates more rivalry, therefore more engagement.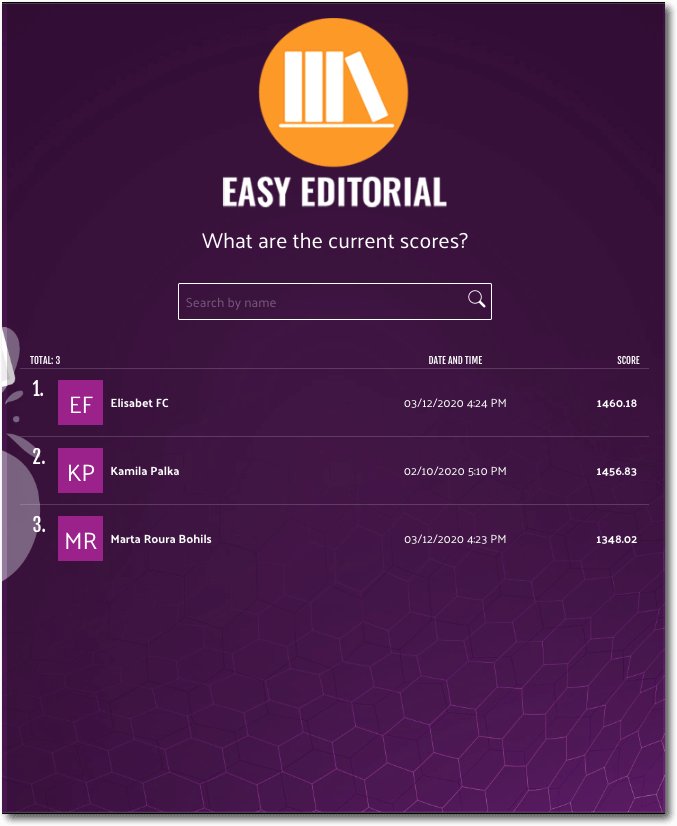 The scores can also be a great reference point for prize distribution. For example, you can raffle an incentive among 10 or 20 fastest participants. You can also send discount codes or vouchers to all users that achieved a minimum number of points. Or you can simply run a random prize draw between all registered players.

Once the user completes the game and sees their score, they can register their participation by filling in an entry form that you can fully customize.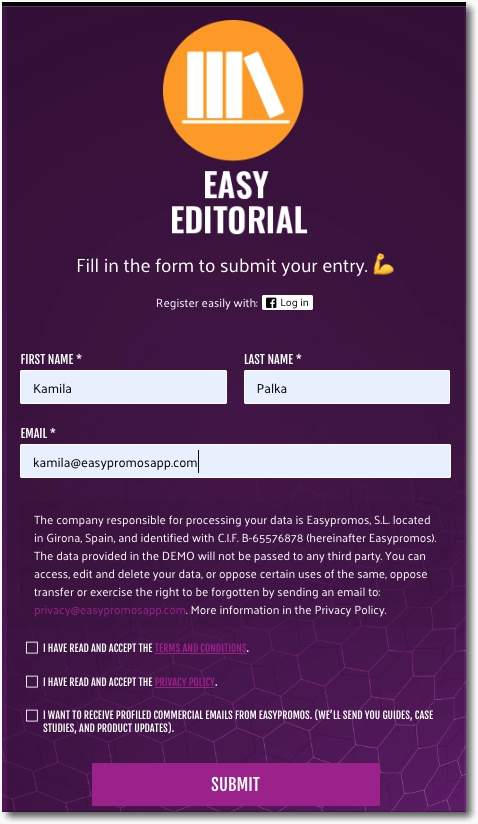 Why use the Match It app by Easypromos?
Unsure about the Match It game? You can create a draft of your promotion to test all the options and settings. You will also get to see how easy it is to personalize the app and fully customize the entry form. Create your Easypromos account completely free of charge and the platform will not ask for any payment unless you decide to activate the promotion.
The previously mentioned game was created by Devonshire Hotels & Restaurants as a way to drive visits to their website. The promotion was embedded on their page, and the main goal was to convert visitors into leads and leads into paying customers. The organizers took advantage of the upcoming Valentine's Day and launched a romance-themed game. This choice expanded their mailing list by more than 4000 new email addresses!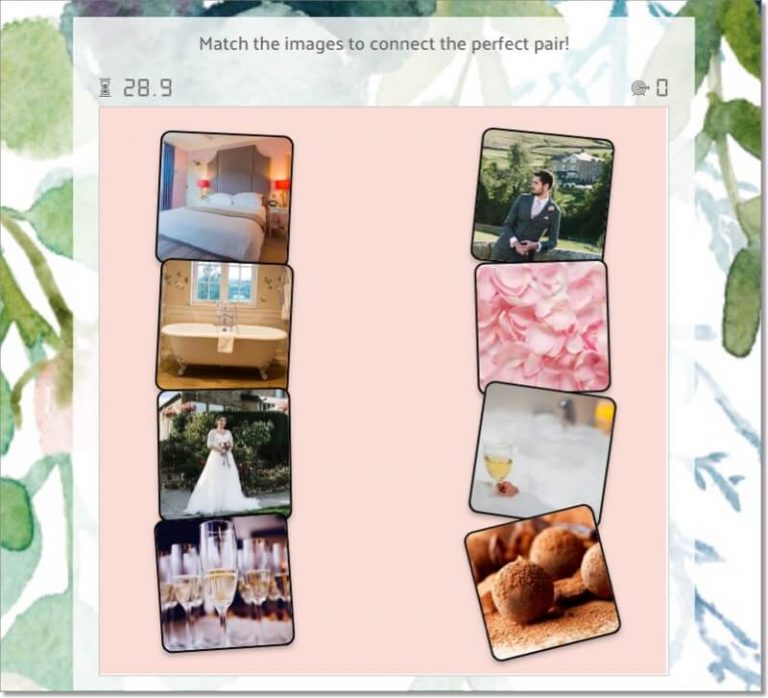 The application also allows you to easily display your terms and conditions, privacy policy and opt-ins. So go ahead and personalize the entry form to collect all the data that you need!
And did you know that you can also download all the participate data as an Excel file, or send it directly to your CRM, webhooks or Zapier!
Do you have questions about our app? Or maybe you need some inspiration? Don't worry! Chat with our Support Team, always ready to assist!
Publication date: 2020-03-13