Posted in: Digital marketing,Ideas for your websiteLast update: 29/07/22
Don't go into a pause-mode! Ensure you don't ghost your online community in times of uncertainty. Today we explain 7 different ways to keep your marketing out of quarantine and keep on accomplishing your marketing objectives.

The current pandemic is challenging all spheres of life. It's changing the way we work, shop, work out, and spend time with our families. There are drastic changes in businesses all over the world, and the fear and uncertainty continue to raise, as we try to adapt to our new realities. That also involves marketing. Many of our clients hem and haw, and ask: shall we change the way we handle our marketing, shall we carry on with the same techniques, or shall we just stop? Today you will the answers to all these questions.

One thing is sure: you can't go into a pause-mode unless of course, you can't deliver your products or services (many brands rely on China when it comes to production, therefore they're simply unable to carry on with producing their goods). However, if that's not your case, and your products are still in stock, and your services can still be profitable, then don't hibernate. And yes, even if your shops are closed, they will eventually reopen and it's your responsibility to ensure that your client base is still there when you once again open your doors to business.

Bear in mind that now, while millions of people are in quarantine or self-isolation they have more time than usual to watch advertisements, play games and scroll through social media. To put it simply, the general public sees and reads more. And we can assure you – from our own experience – that people are not just looking for news and updates on coronavirus. They want engaging and interesting new content that you must now create. And here's how you can do it.
1. Branded mini-games plus challenges equal entertainment
Please, admit that you've played Candy Crush, Angry Birds, The Sims, or the very first GTA on the Playstation at least once. Chances are you're still hooked up on some game installed on your mobile phone. We all love the dynamics of game playing, a bit of a challenge and rivalry. And so does your online community.
Try to use gamification in your marketing strategy. In times of uncertainty, when your business is experiencing a delay in profit you must adjust your marketing strategy.
Now we will take a look at how eCooltra – the leading company in scooter sharing in Spain, Italy, and Portugal – has done it. It's no secret that eCooltra's business has been affected by Europe being in quarantine. The cities where eCooltra has its scooters (Barcelona, Madrid, Valencia, Rome, Milan, and Lisbon) are on lockdown. But less traffic on the streets means more people connected online. So eCooltra took action to stay engaged with their audience and customers. They looked for an effective way to stay connected with their online community and to ensure that their brand awareness and online presence don't shrink in the upcoming weeks. The brand put their bets on a branded mini-game, to be exact a Puzzle.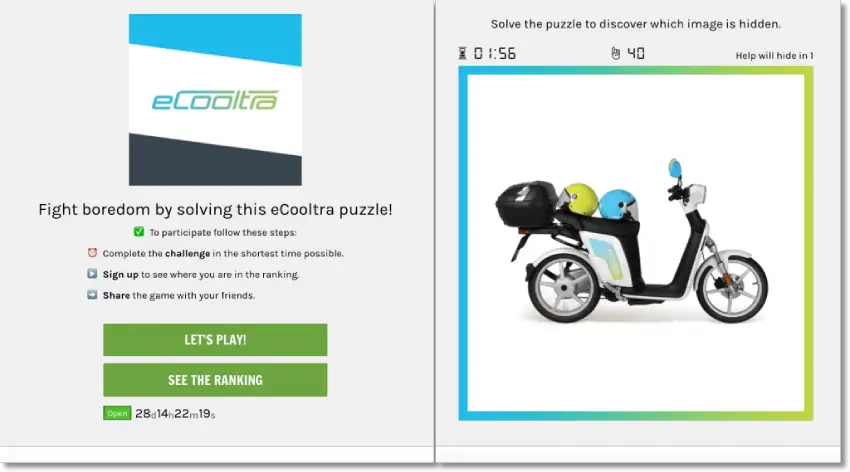 The organizers challenged their audience to arrange the puzzle pieces so that they can discover the hidden image: the brand's product. The game was relatively easy to solve thanks to the colored frame. However, the success of this branded Puzzle by eCooltra has been tremendous. Apart from a fantastic engagement, the company reinforced their brand and product awareness, and also online presence.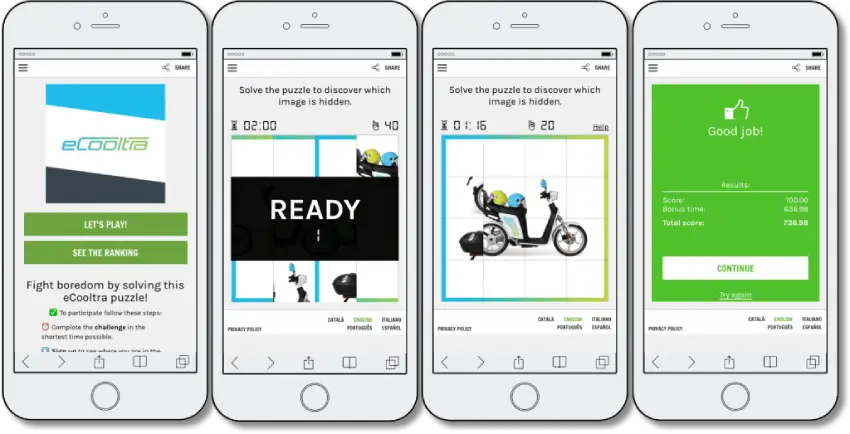 The puzzle and other game applications by Easypromos are fully responsive, therefore the games worked on all mobile devices, which lead to the overall success of the promotions.
2. Stimulate your audience's creativity with Photo Contests
Photo Contests are the perfect way to collect user-generated content from your online community. Normally, you shouldn't set too much of a challenge in order to not discourage online users from participating. However, in times of quarantine and self-isolation, many people have a lot of free time on their hands. And the ones with children have another task – to keep their kids entertained.
Grupo Terry is a car parts and accessories shop based in Seville, Spain. Due to the country being in a pause-mode, the brand wanted to ensure that they stay connected with their audience. However, to win their audience's hearts they launched a photo competition for their client's children. The kids were asked to paint a car for, and in return, they were getting a chance to win a yearly Disney+ subscription.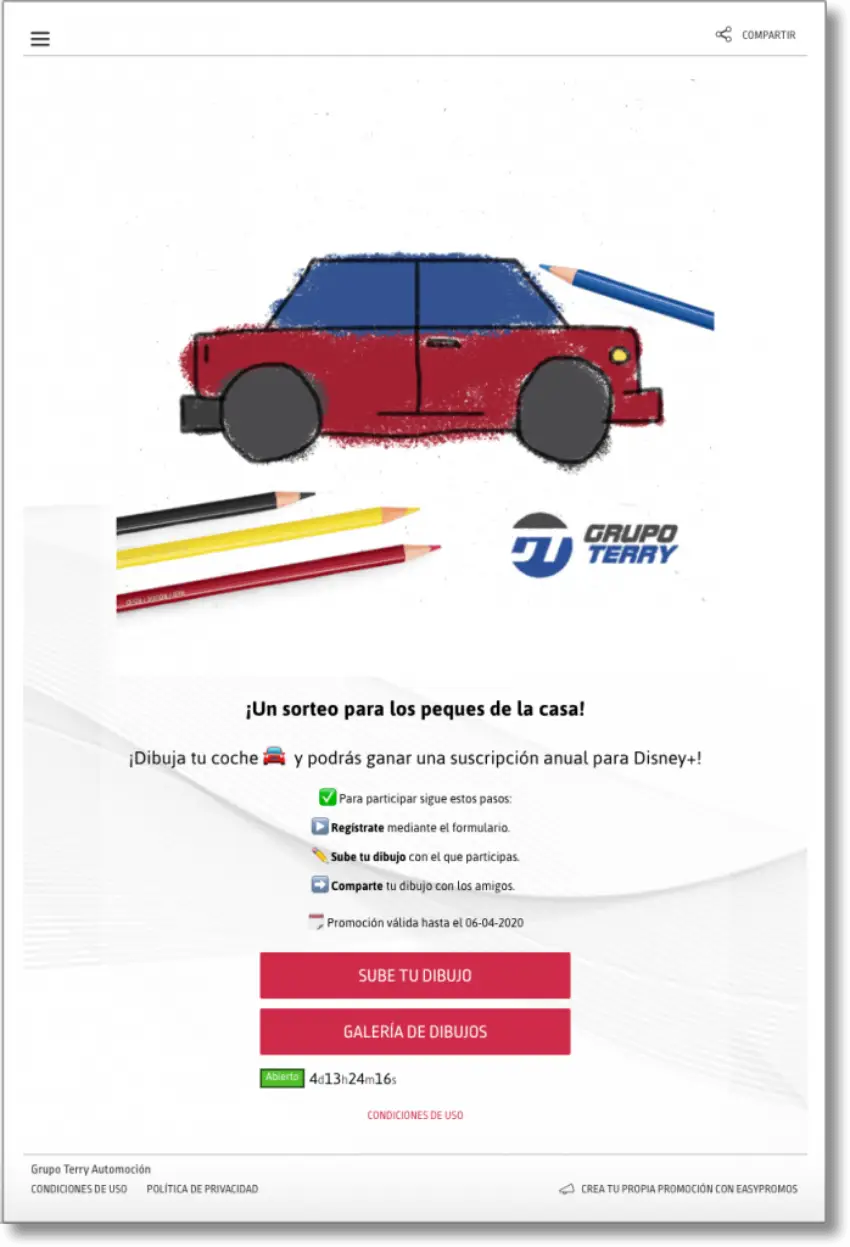 Grupo Terry had a really fantastic idea; they connected with their audience, reinforced brand awareness and showed the humane side of their business, by involving the children. They made their customers and their kids happy, and it's something the parents will definitely not forget next time they need new car wipers!
3. Join a campaign or help raise awareness
It's important to acknowledge the current situation. You can't carry on pretending that everything is normal and that nothing has changed. Joining a movement working towards tackling the current situation is a great way to earn customer loyalty and trust.
Here's an example of our own.
Easypromos' headquarters are based in Spain, therefore we decided to join a local campaign #YoMeCorono, working towards raising funds for clinical trials to define which drugs will be used to fight the pandemic. We made a financial contribution and shared the campaign on our social media channels.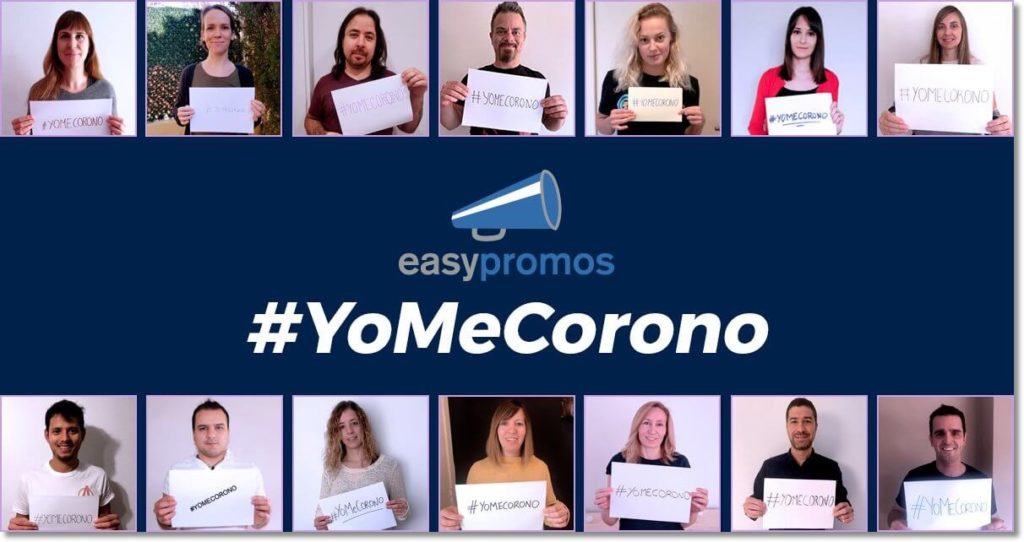 Don't worry if you're unable to make a donation towards any campaign. You can simply join the movement by supporting it and using your social media to disseminate the information, so more people can join.
For example, you can support the #StayAtHome campaign and encourage your online community to adapt to recommended protective measures.
4. Discounts, coupons, and vouchers to brighten your followers' days
Do you want to brighten your followers' days? Do you want to give them something to be happy about? Then let's look at the following examples of coupons and vouchers.
If gift vouchers are part of your offer it's quite possible that there are many people with Christmas and Valentine's Day gift cards that haven't been redeemed yet. Normally such gift cards have an expiration date. And here's how to make your customers happy.
Recently, Swarovski Spain has sent a newsletter to their subscribers informing them that all gift cards have been added three months of validity. Therefore, gift cardholders will not lose their chance to obtain their dreamed jewelry pieces.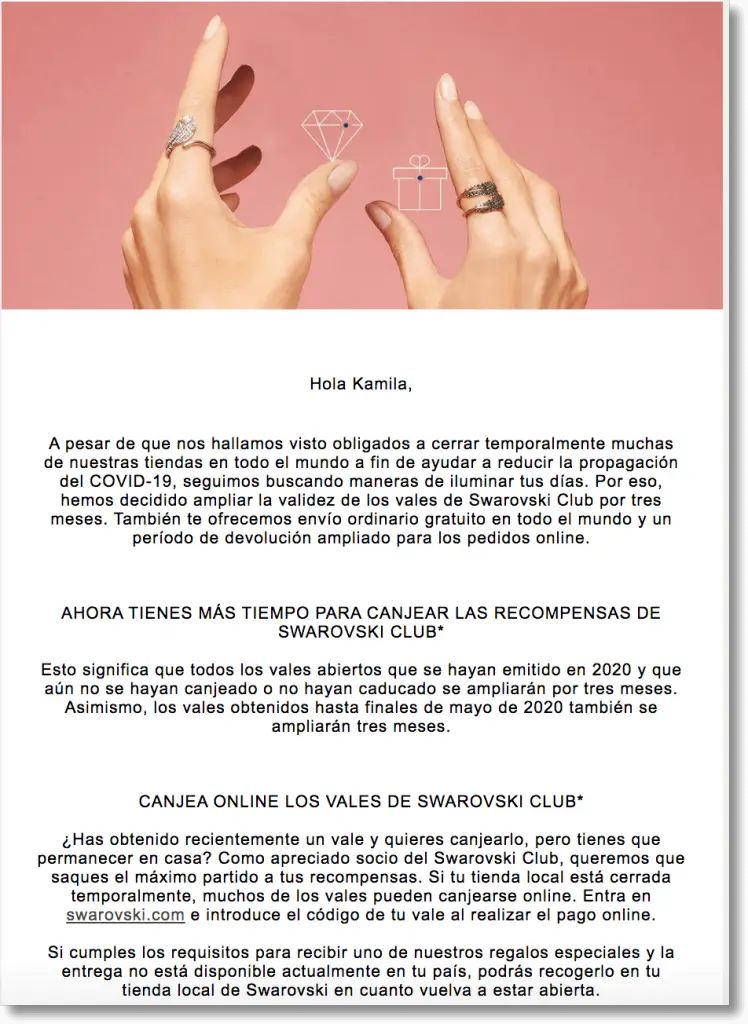 Swarovski also adds free worldwide shipping and extends the return period so that their customers won't be affected by delays caused by the current situation.
Here's another example from a Spanish laser company. Elha Laser & Beauty decided to give their customers a chance to purchase their services at a discounted price. The offer was valid only to their email subscribers. As no-one's sure on how long we'll stay on lockdown, the purchased vouchers have no expiration date.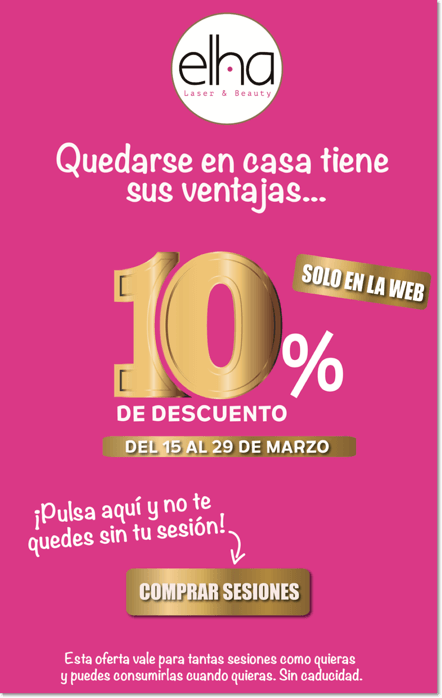 This is a great way to reward customers' loyalty and also ensure there's some extra cash flow.
If you want to distribute discount codes or coupons to your customers you can use our Easypromos Coupons app.
5. Educate and entertain your audience with free resources
Apparently one of the most important aspects of staying sane in quarantine is keeping yourself busy. This is a great way to stay active, reorganize your apartment, learn new things, and exercise.
Many apps and websites are giving free access to normally paid resources.
Here's one of our favorite examples: Down Dog yoga app. When Europe went into lockdown Down Dog took action. They deactivated subscriptions and gave their users free access to all the content – that includes existing and new users. Initially, the free period was valid until the end of March, however, seeing as the quarantine and self-isolation are prolonging, the app owners extended the free subscription until May 1.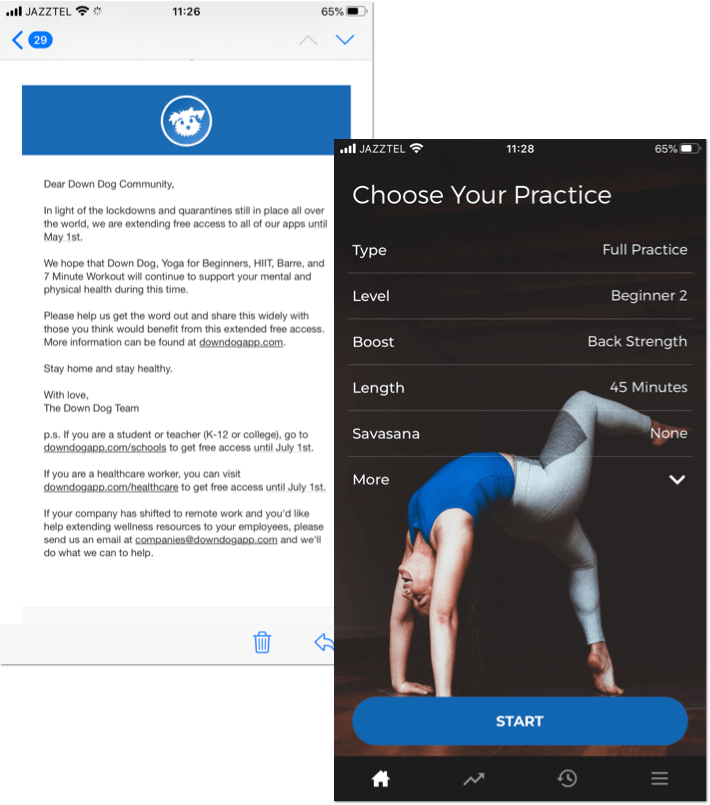 This step taken by Down Dog app is a fantastic way to increase their brand awareness, online presence, database and most importantly customer trust. Who knows, once the free subscription is over many users might convert into paying customers.

Another brand that followed exactly the same step is Pheasyque. In order to keep their audience active, the brand sent their subscribers an ebook with workouts for different fitness levels.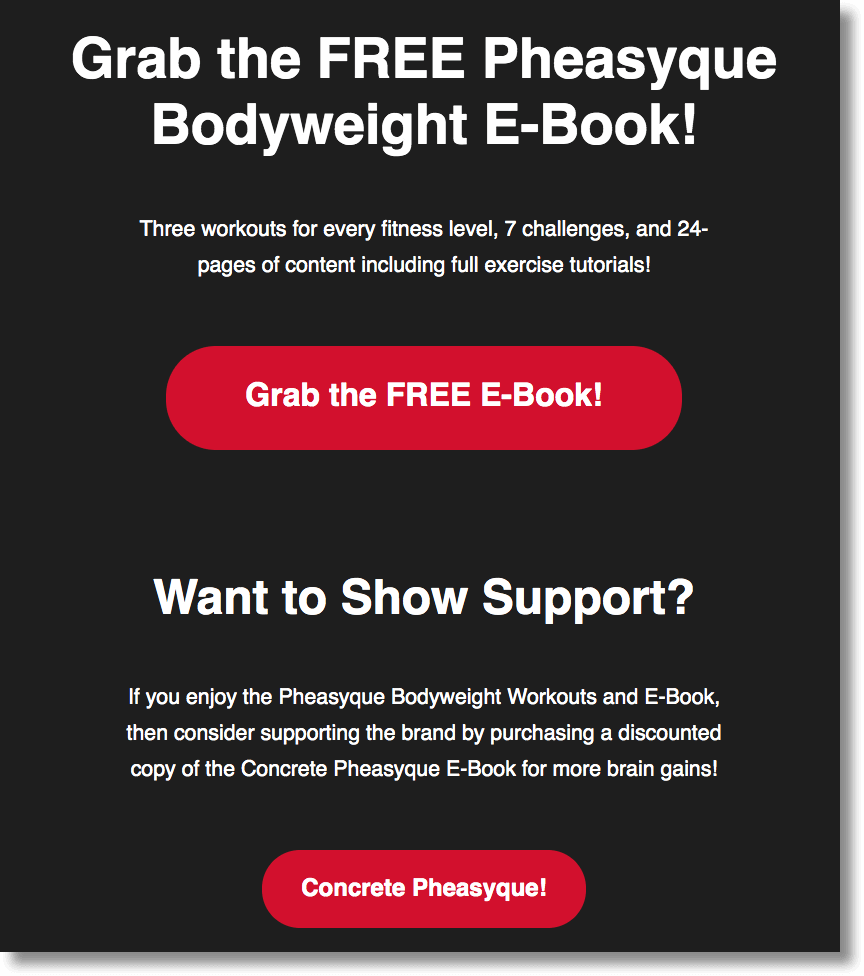 6. Collect new leads to target when your business goes back to normal
Like we've already mentioned you cannot allow yourself to become dormant, and you can't expect your competitors to stop their marketing. Basically, the battle is still on.

One of the most important marketing objectives of any business is lead generation. And as you might already know, the best motivation for your participants to share their contact details is an incentive involved in the promotion.
Here's an example from Van Van Go, a caravan rental company in Spain. The brand decided to give away a free week of motorhome rental in low season.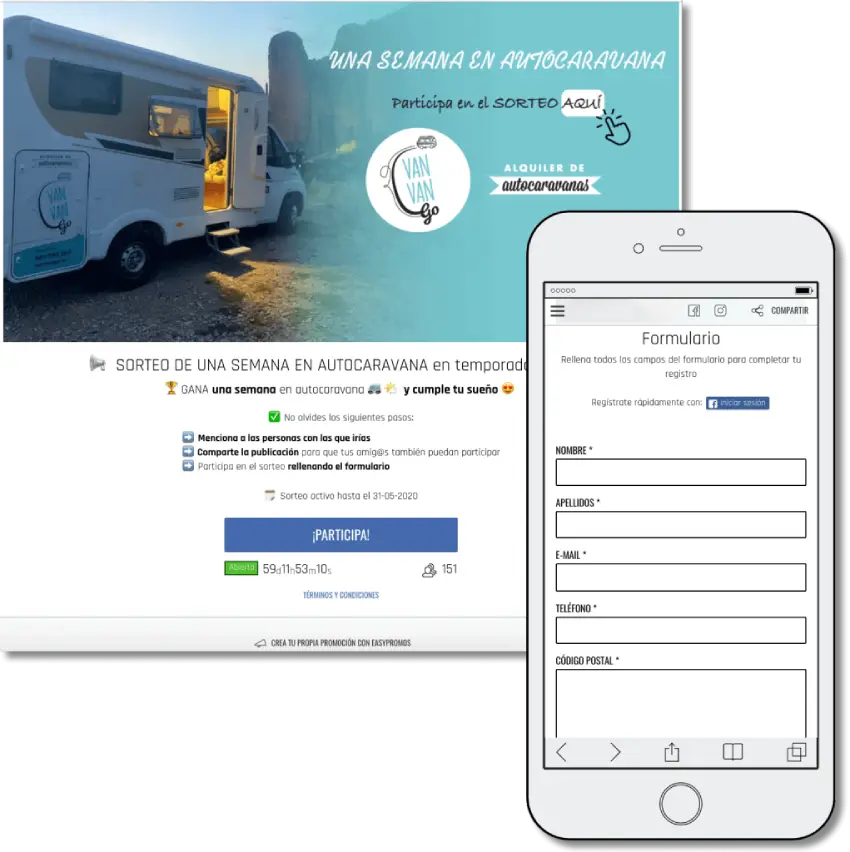 In order to participate, the entrants fill in a registration form with their contact information. With 59 days to go, there are already more than 150 participants, which means that the brand has already expanded their mailing list by more than 150 new email addresses.
Organize an Entry Form Giveaway, if you're looking to generate leads, increase brand awareness and reinforce customer loyalty.

7. Boost social media engagement with comment-based giveaways
Last but not least is social media giveaways. You can't ghost your social media followers and allow the engagement to go down. As we already mentioned, nowadays there are more people checking their social media than ever before. Make sure you keep them engaged with high-quality content. Giveaways boost social media engagement and now it's time you should take advantage of it.
Here's an example from an apparel shop in Canada. The brand wanted to brighten up their followers' self-isolating but giving them a chance to win a piece of their new collection.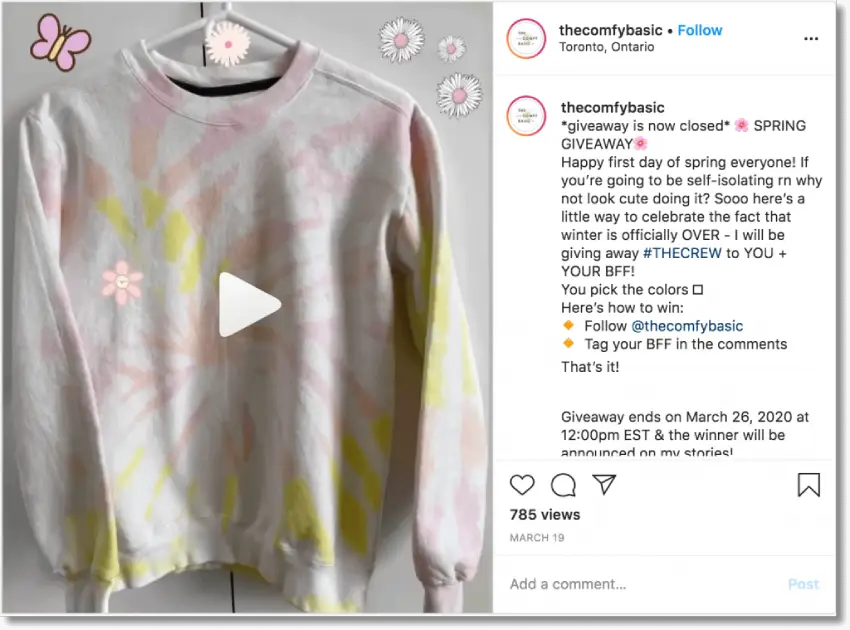 The Comfy Basic increased their following number, engagement and brand awareness, and also promoted their new product.
It's your turn to adjust your marketing strategy
We hope the above examples showed you exactly why you shouldn't put your marketing on hold. Here's a couple of things to remember:
Acknowledge the current situation
Adjust your marketing strategy
Don't become dormant
Continue working towards your set objectives
Don't let your audience forget about you
Do you have some doubts? Our Support Team is here to help you any time!


Publication date: 2020-04-02