Posted in: Applications,Digital marketing,Ideas for your websiteLast update: 04/08/22
Struggling to capture your audience's attention? What about a classic mini-game that will get shared online, help you collect data, and keep people coming back for more? Here's how to build your own Minesweeper game to boost brand engagement and harness your followers' nostalgia.

Remember Minesweeper? We sure do! It's one of the all-time classic computer games – and one of the simplest.
Your task is to explore a virtual minefield without setting off any of the bombs. Starting with a field of small squares, you have to clear away the blank squares and flag the mined squares for safety. But if you accidentally click on a mine, it's game over.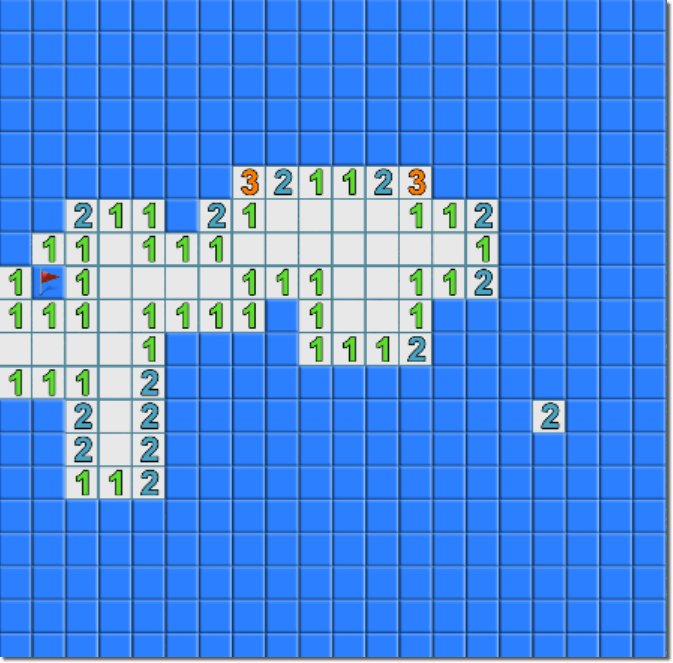 So far, so fascinating. But why is Minesweeper suddenly making a comeback? And how can you build your own branded Minesweeper game?
Why classic games like Minesweeper are coming back
Nostalgia marketing is one of the breakout trends of 2020. Maybe it's the influence of Baby Boomers, maybe it's the Gen Z obsession with 90s fashion, or maybe it's the pandemic… but many of us are looking backward to childhood styles, games, and hobbies.
Minesweeper is a part of that trend. It's simple, retro, and quick to play. That also makes it perfect for playing on a mobile phone screen, which is how most of us access the internet these days.
And then there's the marketing angle. In 2020, consumers are not interested in merely seeing or watching media. They want to interact. They want to be a part of the story. Mini-games like Minesweeper are the perfect solution.
Strangely enough, Minesweeper has long been used to educate and entertain consumers. Back in 1990, Minesweeper was part of the original suite of quick games for Windows computers. It was designed to teach people how to use a computer mouse with ease and precision while making it fun. In other words, it was an early example of gamification: using games and competitive dynamics to attract, inform, and motivate consumers.
These days, most people are used to clicking a mouse or tapping on a computer screen. But Minesweeper still has some powerful benefits to offer…
Organic engagement. Offering fun content is a great way to engage your email subscribers, social media followers, and website visitors. Throw in a leaderboard and social share options, and you've got yourself a viral hit.
Brand recall. The more time people spend with your brand, the better they'll remember it. That's why we recommend illustrating your branded game with your logo, brand livery and even product images.
Lead generation. You can collect contact details from everyone who plays the game, ask them survey questions, and offer discounts or rewards. Hook the game up with your CRM for best results.
Find out more about other Easypromos apps to boost brand engagement and customer loyalty.
How to design your own Minesweeper
By this point you're probably thinking, "Sounds great – but I don't have the same marketing budget as Microsoft Windows in 1990". Fortunately, creating your own branded games has become a lot easier and more affordable.
The Easypromos game apps give you a ready-made game that you can design and customize to suit you. You can edit the colors, logos and even the fonts used in the game – without having to write a single scrap of code.
In the Minesweeper app, you can even upload your own icons for the mines and flags in the game, change the color-coding of the tiles and add a custom background. (If you don't want to lose the classic design, you can keep the default mine and flag icons but simply add your brand colors to the game.)
To help you get a head start, here's a list of the design assets you'll need:
Your logo in png format (recommended size: 200 x 200 pixels)
An icon to represent the mines (250 x 250 pixels)
An icon to represent the flags (250 x 250 pixels)
An image to display when players share the game on social media (1200 x 630 pixels)
And that's it. That's all you need to create a fully customized, branded Minesweeper game.
Extra customization options
So far, we've mainly focused on the design aspects of the game, and how to make it a branded experience for your followers and customers. But you can also change other aspects, such as the game's difficulty level. Let's take a look at those advanced customization options for Minesweeper.
Game difficulty
When you create a game in the Minesweeper app, it comes with default settings for game difficulty and size. But you can adjust these to match your goals and your audience. When you make changes, the app editor will tell you whether the game has a low, medium or high difficulty.
For example, if the game is aimed at younger players, you might make it easier. Or if you want to offer a prize for just a few of the best players, then you might make the game more difficult.
You can adjust the game difficulty level in two different ways:
Size of the game board. Choose between a board with 36, 100 or 196 squares.
Number of mines. Your game comes with a default minimum and maximum number of mines on the board, which you can alter. However, we recommend that at least 10% of the squares should be mined.
In the screenshot below, you can see two different ways of setting up the board – one easier and one harder.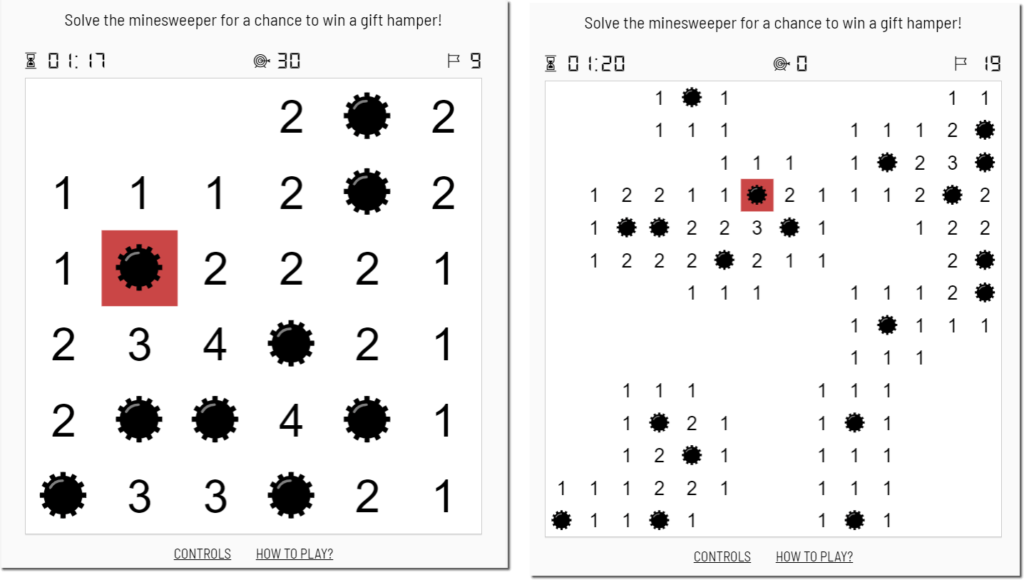 Time limits
As well as changing the game difficulty, there are other ways to make your Minesweeper game more competitive:
Limit the time players have to solve the game.
Limit the number of times players can try the game.
A game with a shorter time limit is much harder to beat. However, if you allow players to play again, they'll be encouraged to keep trying until they win. And they'll spend plenty of time with your brand in the process.
Whenever a player finishes a game, they'll see a screen that gives them a score and tells them whether they won, hit a mine, or ran out of time. You can also choose to show them a leaderboard with their ranking compared to other players but to do so you must first enable pre-participation registration. This is a great way to encourage repeat participation as the Login option allows you to give users multiple participations in the game.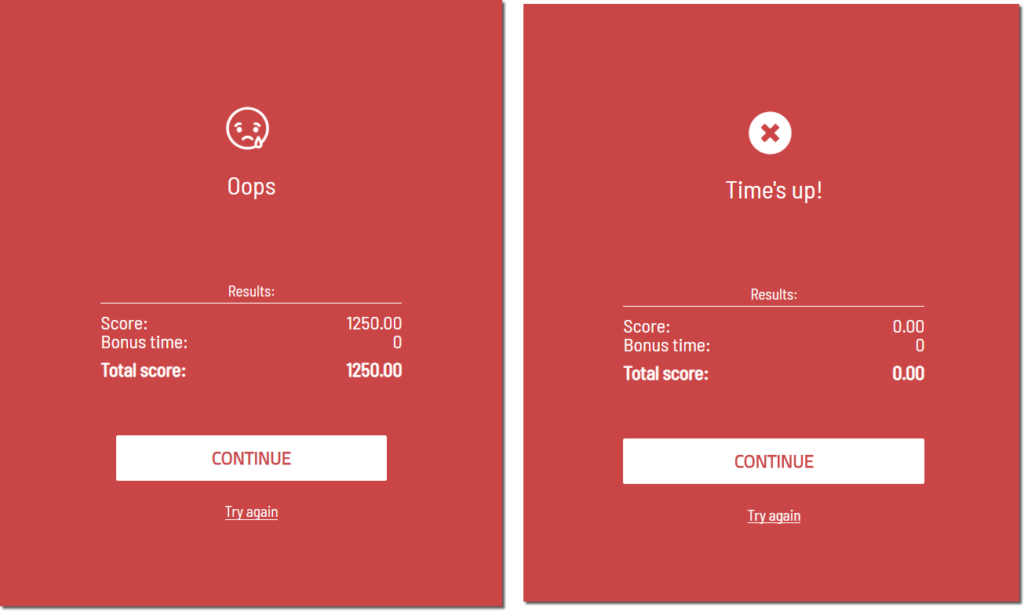 Repeat participation
The more people return to the game, the better. There are several different ways you can set up repeat participation – depending on whether you want to focus on gameplay, or build a relationship with each player.
You can allow:
One attempt at the game per player.
Multiple attempts by each player, until they beat the game and continue to the registration form.
Multiple attempts by each player, where they have to log in each time they play.
Sounds interesting? Learn more about repeat participation, data collection and logging in.
From the player's perspective
Believe it or not, there are people out there who've never played Minesweeper. (How time flies, right?) That's why the game app includes a few Help buttons to explain the game and how to play.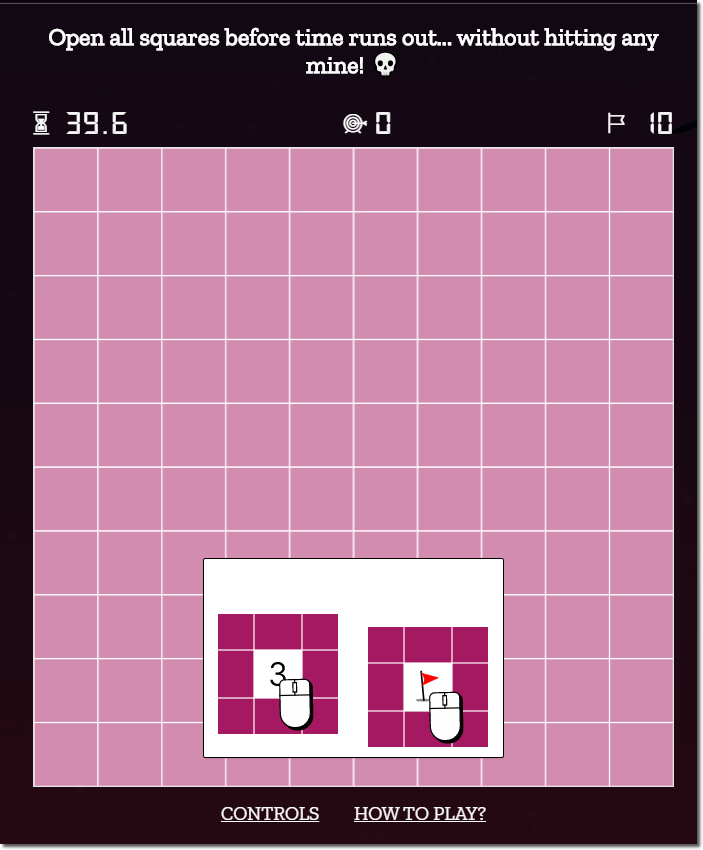 Players will also see a countdown letting them know how much time they have left to beat the game, and how many points they've racked up so far.
Plus, we've thrown in a consolation prize for players who don't quite beat the game: you earn points for every exposed square. If a player empties the board without hitting a single mine, they also get a points bonus.
Try it yourself with our Day of the Dead Minesweeper game! Can you make it on to the leaderboard?
Getting started with Easypromos
The Easypromos app has everything you need to create your own branded Minesweeper game. As well as the game itself, you can set up a registration form to collect contact details and lead-qualifying info from players. You can easily edit or upload promotion terms and conditions and privacy policy. And you can download all that data, or integrate it with your CRM, to feedback to your marketing and sales teams.
It's totally free to set up an account and start designing your own game. If you'd like to discuss your brand engagement campaign or get some extra tips, chat live with our support team.
Publication date: 2020-09-23