In the following paragraphs, we will be delving into how to boost your e-commerce sales:
Use a prize wheel to convert visitors into leads
If a user lands on your e-commerce, it's safe to say that they have at least overcome the following barriers:
Attention Barrier

: The competition for users' attention is fierce. The fact that a user has arrived at your website indicates that they have overlooked other content and websites to devote their attention to your e-commerce.

Relevance Barrier

: When a user visits your online store, they have identified your brand or your products as relevant to their interests or needs.
Most likely, from this moment on, they will want to explore the products you offer in more detail. AS well as being interested in fundamental issues such as the trust and security that your e-commerce transmits regarding the purchase process.
With Easypromos you can take advantage of this initial momentum to capture the visitor's interest and offer them an attractive dynamic to strengthen the bond with your e-commerce. Imagine that the user is presented with an eye-catching banner or pop-up with a prize wheel. To spin the wheel, all they need to do is complete a simple registration form.
After registration, they get to spin the wheel and possibly win discount codes for their next purchase.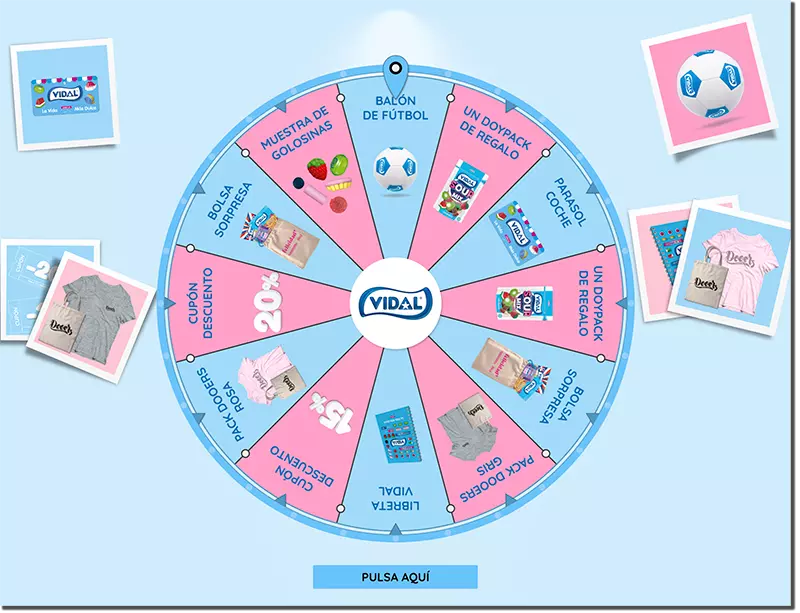 In this way, not only will you have obtained valuable information about an interested visitor that you can incorporate into your CRM, but you will also have provided them with an exciting and rewarding experience that nudges them into purchasing your products.
From this basic operating scheme, Easypromos allows for multiple advanced settings so you can fully customize the user experience. Here's a list of some of the possibilities available:
Changing the order of the registration process. I.e., the user spins the wheel first and you only ask for contact details to claim the prize they have won.
Asking users to register via email, mobile phone with SMS validation, or directly with their Google or Facebook login.
Embedding the wheel on your website using a 'widget'.
You can decide that a pop-up with the wheel appears after a certain number of seconds. For example, if the user spends more than 5 seconds in the 'new arrivals' category, displaying a wheel focused on 'new arrivals'.
On the wheel, you will have total control, both over the look & feel and the number of prizes and the odds of each prize.
In the prizes section, you can distribute virtual prizes such as discount codes or, if you have physical points of sale, you can also give away coupons that must be redeemed at one of the brand's establishments.
Both for discount codes and coupons, you can set a relative expiration date, like "you have 15 minutes to use this discount coupon", thus introducing a sense of urgency for the purchase.
In addition to the wheel, you can use other types of dynamics like the classic 'Scratch & Win' or mini-games that help to introduce your products in a fun and original way.
Boost your E-commerce sales with a product recommender to guide users
Another way to turn visitors into leads is through a product recommender. When the user enters your e-commerce, they will find a highlighted banner or an option in the main navigation menu that will take them to a product recommender.
The user will then answer a series of questions and as a final result, they will receive a product or a category of products that best fits their answers.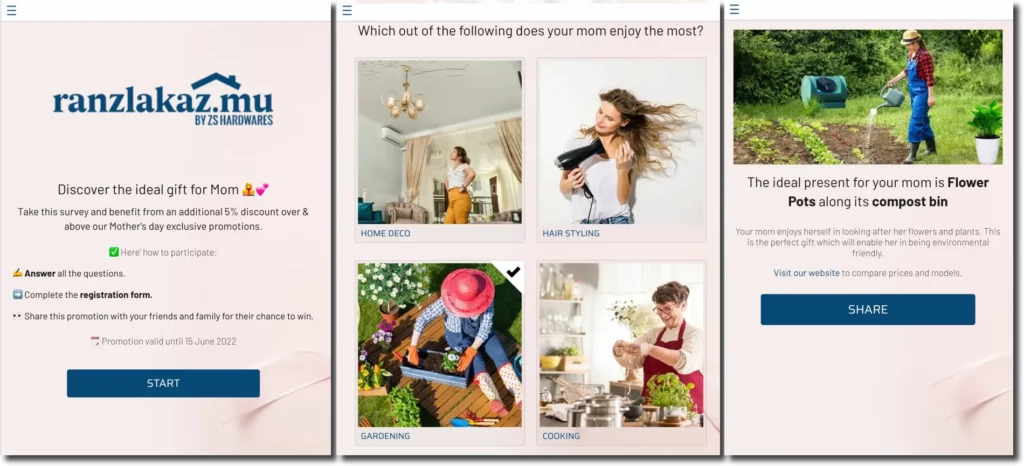 There are several advantages of using a product recommender:
Improves customer experience:

A personalized product recommender takes care of providing your customers with exactly what they are looking for, significantly improving their shopping experience. This personalized approach can reduce the time a customer spends looking for a product, thus making their shopping experience more efficient and enjoyable.

Increases engagement

: By providing relevant product recommendations, visitors are more likely to interact with your site. This increase in engagement can lead to more frequent visits, longer stays on your site, and ultimately, more sales.

Captures contact information and interest data:

Just like with the prize wheel, the visitor who uses the recommender is no longer anonymous and can therefore be impacted through future commercial communications. In addition, the recommender itself can be designed to improve understanding of our customer's interests, therefore optimizing your marketing strategy.
With Easypromos you will have access to a fully customizable tool for your shop. These are some of the most distinguishable features that might inspire you:
You can have more than one active recommender, for example, one for each of the categories in your store, or you can create seasonal recommenders.
The flow of questions and answers can be as extensive and detailed as you wish them to be. You can mix textual questions with more visual selections. For example, if you have a clothing store, you can ask a question like "Which style do you identify with most?" and display images with models or pieces of clothing from the different styles that you manage.
Easypromos allows you to configure as many products or product categories as needed. The final result is fully customizable and is parameterized based on the score assigned internally to each answer provided.
With Easypromos, you can assign direct gifts just for participating in the recommender, so we can distribute discounts associated with the products we recommend to further reinforce the purchase impulse.
In addition to direct gifts, we can do periodic draws among all users who have participated in the recommender. This will give you another excuse to communicate with users who go beyond the typical "discover our latest offers" email.
Reward your buyers with direct gifts
The third strategy we suggest is aimed at the buyers of your e-commerce. With Easypromos you can design actions to reward your most loyal customers and incentivize recurring purchases. Each purchase can carry with it the opportunity to win prizes, adding a factor of surprise and excitement that will keep your customers coming back for more.
In Easypromos there are different alternatives for distributing prizes after a purchase, in this article, we will focus on the 'Scratch & Win' given that it is a very well-known mechanic and fully integrated into our customers' imagination.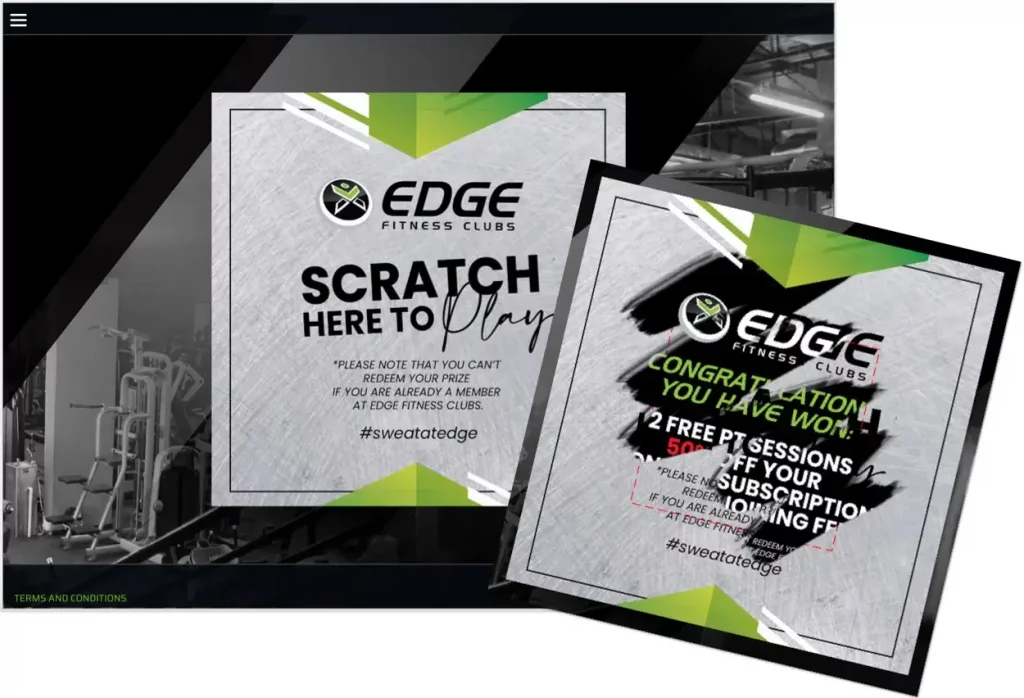 There are different ways to implement a digital 'Scratch & Win'. Through participation codes, validation of purchase tickets, and through integration with the e-commerce user system.
Scratch & Win with Participation Codes
When the customer completes the purchase, the e-commerce sends them an email with the details of the purchase made. This email will include a unique participation code and access to a URL of the type: scratchandwin.myshop.com.
Customers will then enter their contact details and participation code to access the Scratch & Win.
The main advantage of this system is that it can be implemented with almost no need to involve the IT team. The only point of IT intervention will be to add a unique code in the email that is sent at the end of the purchase. What's more, if the volume of purchases is not very high, the code sending can be done manually.
Scratch and Win with Proof of Purchase Validation
This case does not involve participation codes as the customer accesses a URL of the type scratchandwin.myshop.com. On this URL, the system asks them to upload proof of purchase (for example, the invoice provided by the e-commerce) and Easypromos validates that the invoice is correct and has not been uploaded previously. If everything is right, the customer will then be able to participate in the Scratch & Win.
Easypromos' receipt or invoice validation system uses OCR (Optical Character Recognition) technology, to scan the receipt and decide in real-time if it is valid according to the rules previously established.
What's interesting about this alternative is that no technical integration is needed, all tasks associated with the implementation of a ticket recognition system will be carried out directly in the Easypromos back office.
Scratch and Win Integrated with the E-commerce User System
This is our recommended implementation because it provides the best possible user experience. In this case, Easypromos will integrate with the e-commerce user system. Therefore, when the buyer completes the purchase, the e-commerce will present the Scratch & Win, and the customer will not have to register again to participate, but will directly see the Scratch & Win mechanic.
The integration with the e-commerce user system will be done through Easypromos' Autologin API. Easypromos will register the participating user based on the internal identifier provided by the e-commerce site.
This alternative requires the involvement of the e-commerce programming team. The integration is technically straightforward and allows for more sophisticated derivations, such as being able to give away different prizes depending on the user segment we are dealing with. For example, if your e-commerce has VIP customers, this information can be passed via API to Easypromos and thus give them higher-value prizes than those offered to non-VIP customers.
With the API, we can also use the prize information to update the customer's wallet in the e-commerce, for example awarding them loyalty points.
Whether the Scratch & Win is configured with unique codes, with validation of proof of purchase, or is implemented integrated with the e-commerce user system. There are a series of characteristics that are common and worth highlighting.
Easypromos can reward individual purchases or it can reward users based on the number of purchases made or the value of accumulated purchases. For example, you can offer a Scratch & Win after 5 purchases, or show a Scratch & Win when the total accumulated purchases exceed €100.
To increase the average purchase value, you can offer the instant prize mechanic only for purchases above a certain amount. For example, reward all purchases over €30.
As with the prize wheel, Scratch & Win gives you total control over the aesthetic appearance of the mechanic and total control over the probabilities associated with each prize.
In summary, Easypromos is a tool to supercharge your e-commerce, both for capturing leads, creating engagement, and retaining your existing buyers. At Easypromos, we not only focus on helping you sell more, but also on helping you create an exceptional customer experience that sets you apart from the competition.
Discover how Easypromos can boost your sales and build lasting relationships with your customers. To get started, all you need to do is create an account at www.easypromosapp.com, or if you prefer, request a personalized demo from our sales team and see firsthand how easy it is to take your e-commerce to the next level.