Social media giveaways are eternally popular with brands and customers. Why? Because everyone wins. Brands get engagement, clicks, and improved visibility; customers get the chance to win a prize or be featured by their favorite Instagram accounts. A Halloween giveaway on Instagram is an especially popular idea!
In this post, we've collected some of the best-designed and most entertaining Instagram Halloween giveaway ideas. Read on for inspiration, tips… and even some free giveaway templates.
In need for some extra Halloween inspiration? Visit our Halloween marketing campaign hub for more promotion ideas and resources.
Sweets and candies: Instagram Halloween giveaway ideas for the food sector
Halloween has become a major event for almost every B2C brand, but some industries do especially well. According to Halloween statistics from the National Retail Federation, customers are buying candy, decorations, costumes, seasonal produce (yes, we mean pumpkins), and party accessories. And they spread their spending across specialty Halloween stores, e-commerce, department stores, grocery and craft stores, clothing, and home décor.
But if we had to pick a favorite… It would be Halloween candy, bakeries, and restaurants getting in on the act. Our first example of a Halloween giveaway on Instagram comes from lifestyle blog Food, A Love Story in collaboration with The Glass Knife bakery.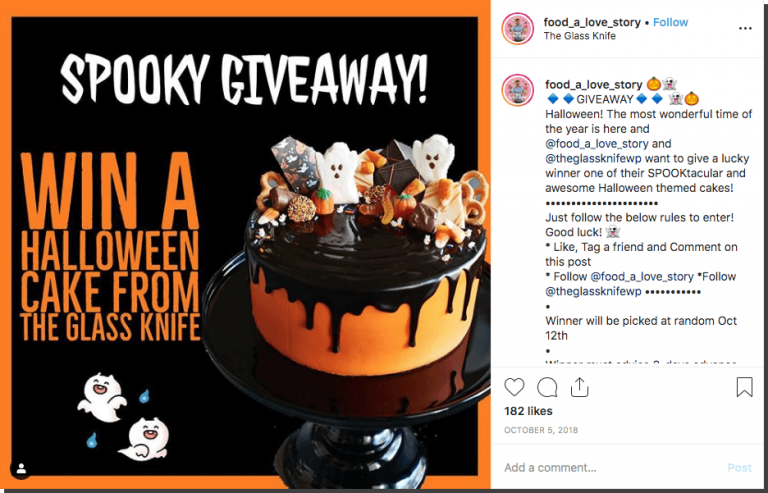 This is a great way to run a Halloween giveaway if you don't stock your own spooky products. Team up with another brand and you both get the benefits of a giveaway: increased engagement, customer loyalty, and probably even new followers.
The best thing about this type of Halloween Instagram giveaway is that it's super simple. All people have to do is comment and tag a friend. If you want, you can ask participants to follow you as well – but the key thing is the comment.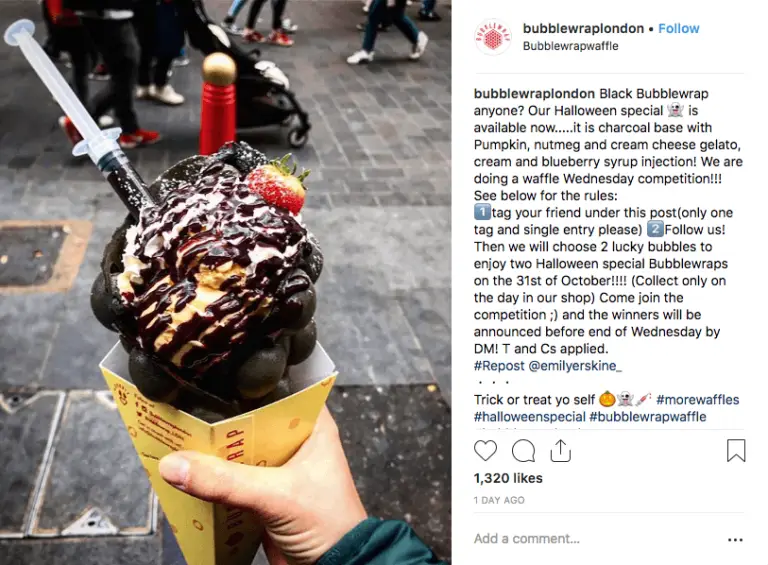 Another idea comes from a popular snack brand that isn't directly linked to Halloween. To generate visibility and connect with followers, they teamed up with a floss cotton candy producer and together organized a spooky giveaway, in which participants had a chance to win products from both organizers. Just like in the previous Halloween Instagram giveaway ideas, in this case, organizers asked users to follow both accounts, like the post, and tag a Halloween buddy.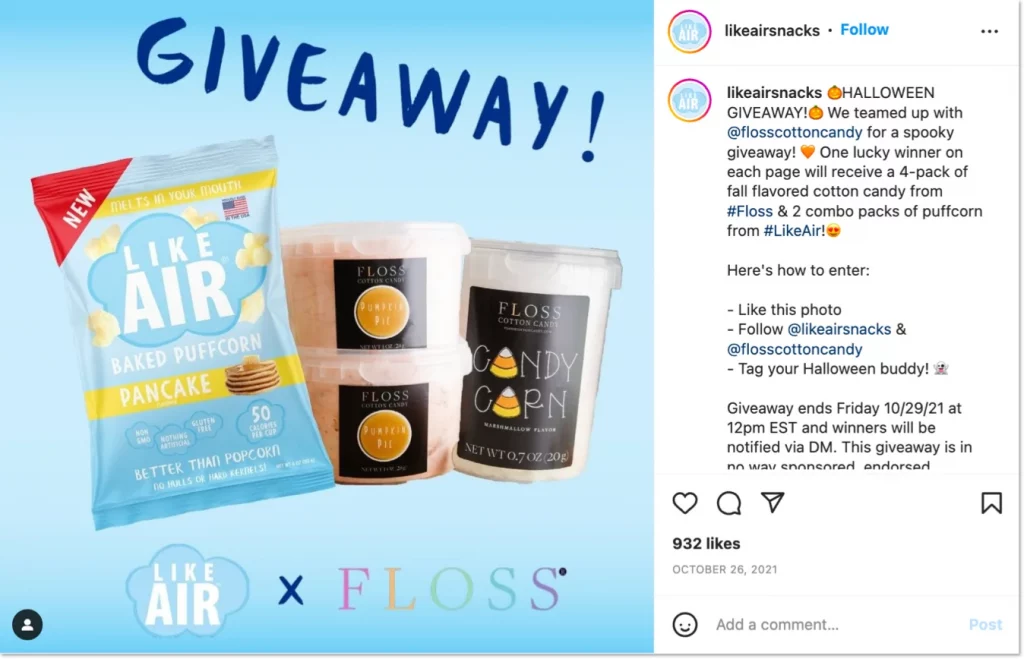 And here's a quick idea of a Halloween comment giveaway organized on Instagram by a local supermarket that wanted to join in on all the Halloween fun.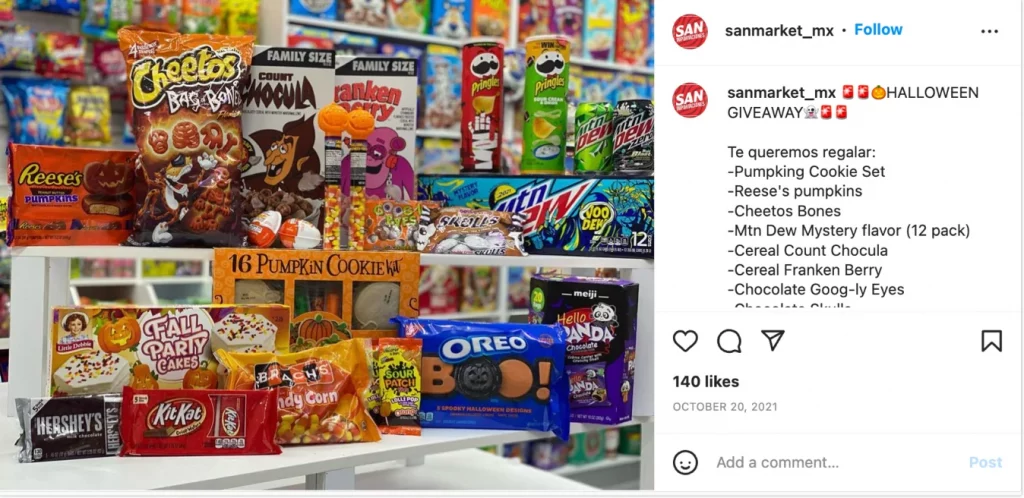 Why are comments so popular? Our Instagram Giveaway app can automatically collect all comments left on your promotional post and randomly draw a winner. But it's not just that! Comments increase engagement, and engagement helps your positioning and social media visibility. So the more comments you get, the more people see you!
Halloween Instagram giveaway ideas: costumes, costumes, and… costumes
There would be no Halloween without candy, pumpkins, and… costumes! This is why costume brands see an extraordinary spike in sales in the weeks leading up to the scariest event of the year. Instagram giveaways are a great way of promoting your best-selling costumes and staying top of mind with customers when it's time to buy theirs. Here's an example of a Halloween Instagram giveaway organized by an online costume shop a year ago. The brand raffled a PJ Masks costume among all users that followed Fun Costumes' account, liked the post, and tagged two friends.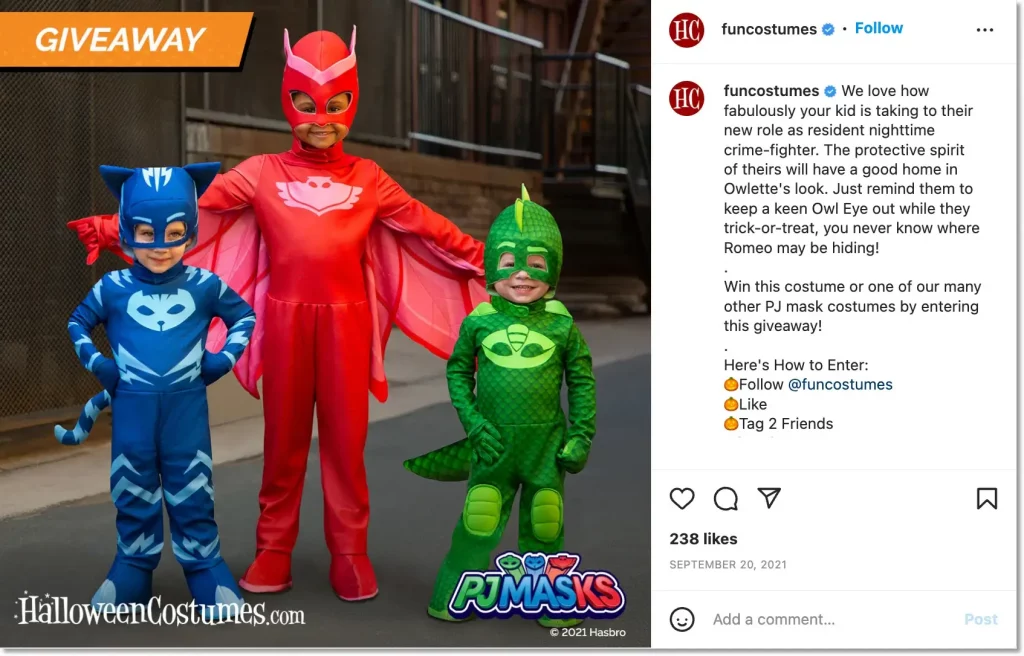 However, this year, the costume shop went all out and ran Seven Days of Giveaways, during which they gave away Halloween costumes in daily giveaways.

Another Halloween Instagram giveaway ideas comes from a mask creator who looked to promote one their pieces. Entry requirements were pretty straightforward; users liked the post, followed the organizer, and explain why they wanted to win the mask.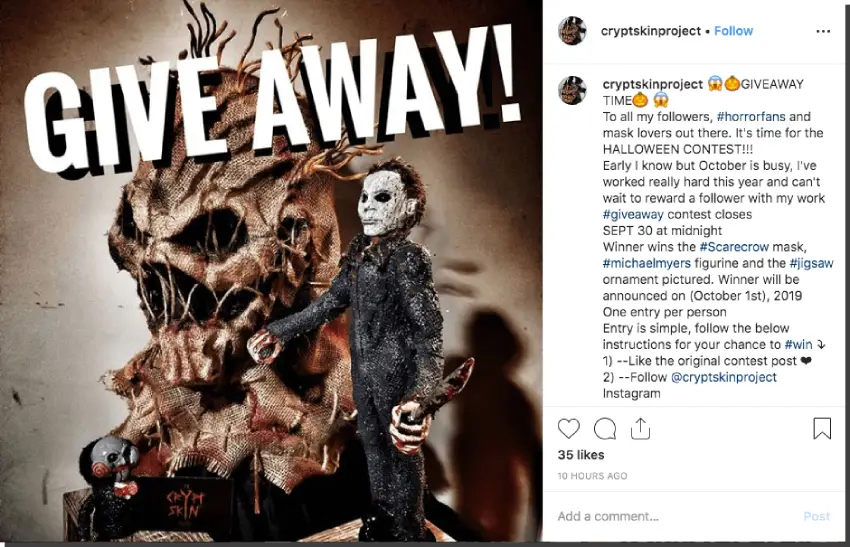 Ideas for Halloween giveaways: events and haunted houses
Haunted houses are especially popular during the Halloween season, especially the newly opened establishments. Here's an example from Fear the Raven, Boston's newest haunted attraction. Interested participants commented on the post to explain who they'd like to come with.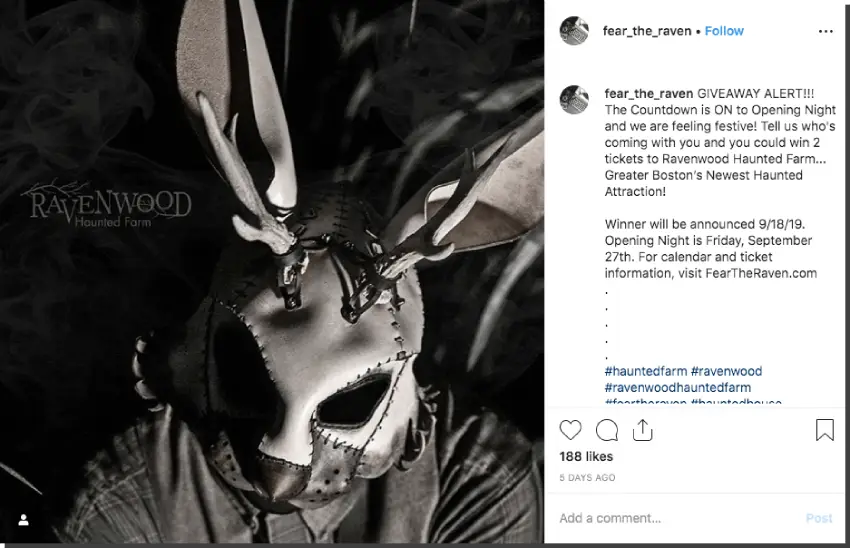 Did you know that open-ended questions lead to real conversations? It's a perfect way to boost engagement and strengthen customer relationships over Halloween. Ask your audience to share their favorite Halloween traditions or costumes, and watch your brand go viral!
Want to get a head start? Use our ready-made template for a Halloween giveaway on Instagram and boost social media engagement in no time!
How beauty brands can organize Halloween Instagram giveaways
Beauty products might have literally nothing to do with Halloween, wouldn't you agree? However, that doesn't stop you from jumping on the wagon and benefiting from all the engagement and visibility that Halloween giveaways can generate on Instagram. And here's an example of a brand that did exactly that.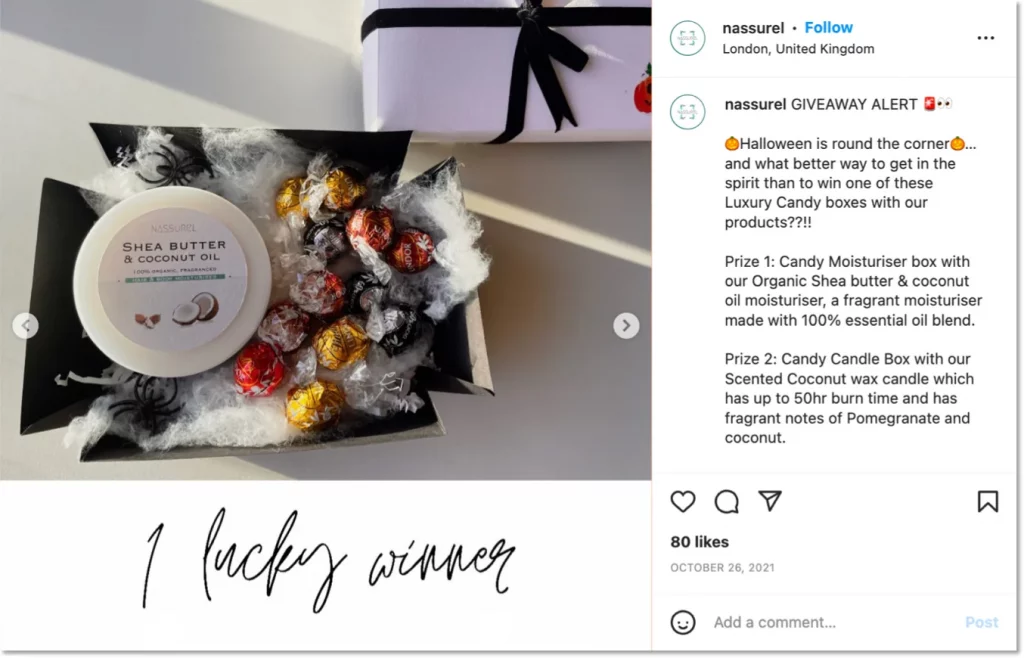 Nassurel, a natural beauty product brand, prepared a gift box decorated with fake spider webs, candies, and Nassurel products. This is a great example to show how any brand can organize Halloween giveaways on Instagram – all you need is a bit of imagination and will.
How to collect Halloween user-generated content on Instagram
So far, so simple. But… what if you want more than just engagement?
An Instagram Halloween giveaway is a great way to collect user-generated content. Once you've got that content from your followers – photos, videos, comments, or whatever else – then you can use it for your own social media posts and marketing materials. It's another win-win situation.
The easiest way to collect Halloween user-generated content on Instagram is by using a Mention + Hashtag Contest app. That's when people post their photos, tag your brand, and use your Halloween hashtag. Then you can collect all that content automatically and pick a winner. (Bonus: it works on Twitter, too!)
We know we're focusing a lot on cake in this blog post, but this really is a great example: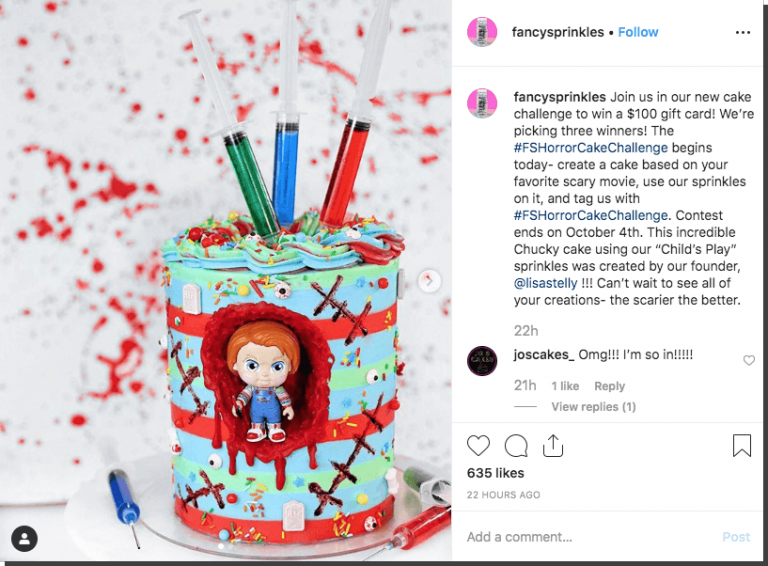 Fancy Sprinkles organized a Halloween cake challenge on Instagram and were looking to reward three participants with $100 gift cards. Horror fans – and baking enthusiasts – were invited to create cakes based on their favorite scary movies. Then all participants shared a picture of their cakes on Instagram, along with the campaign hashtag and brand mention. Apart from engaging their audience, the brand increased their social media engagement and visibility on social media.
Collect leads with Halloween giveaway on Instagram
Some brands might turn to Instagram to generate leads… And rightly so! If your brand has a well-established audience on Instagram, running Halloween lead generation campaigns might be a great idea to nourish your database. All you have to do is share a Halloween giveaway with registration form with your Instagram followers and invite them to share their contact details for a chance to win prizes or discounts.
Take a look at the following example that shows how a costume shop can convert their Instagram followers into leads. All you have to do is customize the registration form and the Halloween giveaway app with your corporate image and share the promotion link with your followers.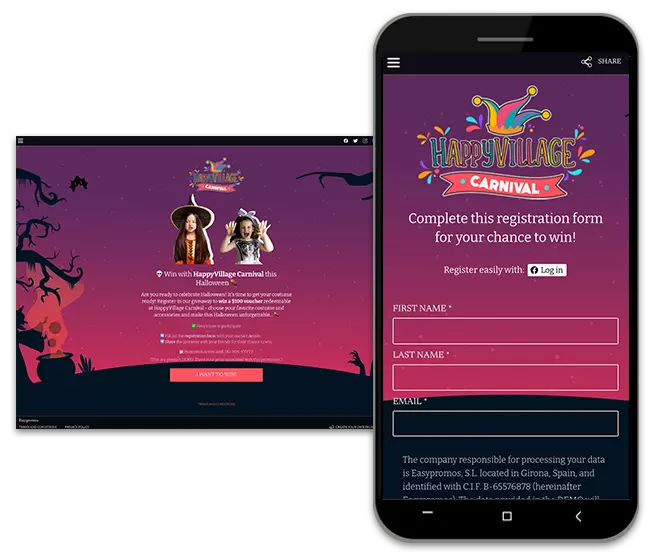 Create organic posts to spread the news about the Halloween giveaway and prepare sponsored posts to reach a wider audience. You can also use Stories to promote your promotion or add a direct link to the link in bio – the following example shows exactly how to do it: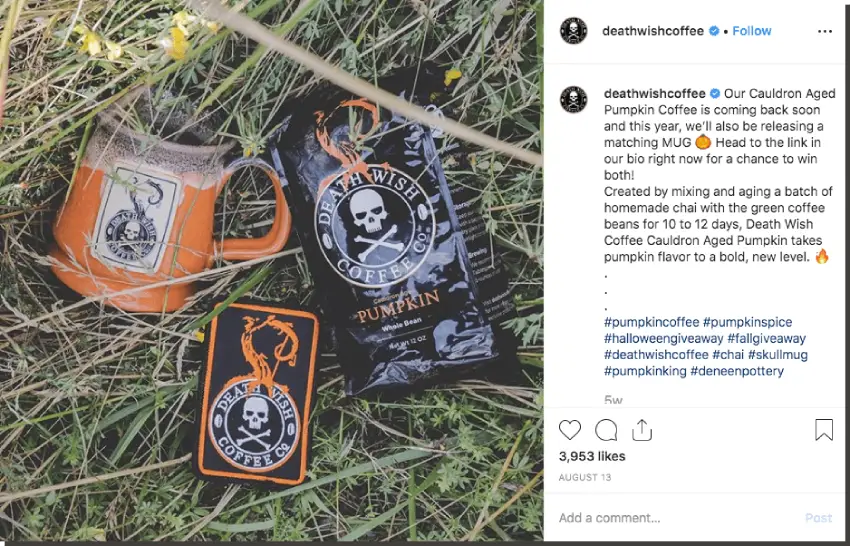 You'll still collect likes and follows in the same way – but you should have people clicking through to your Halloween contests, too.
Try our Halloween apps and get easy Halloween contest templates! Test our Halloween games, quizzes and giveaways to see how easy it is to run an interactive Halloween campaign.