We've rounded up five ideas for a St. Patrick's promotions and contests. They will help you collect leads, get user-generated content, build customer loyalty, and entertain and engage your audience! Let's take a look at examples of interactive content that will help you stay top of mind with customers this St. Patrick's Day.
St. Patrick's Day marketing idea: collect leads and boost sales with an online prize wheel
Any holiday is a great occasion to acquire and retain customers. And St. Patrick's Day is no different.
So what is the best way to drive existing and potential customers to the point of sale? We say discounts and vouchers! And distributing them has never been easier… or more fun!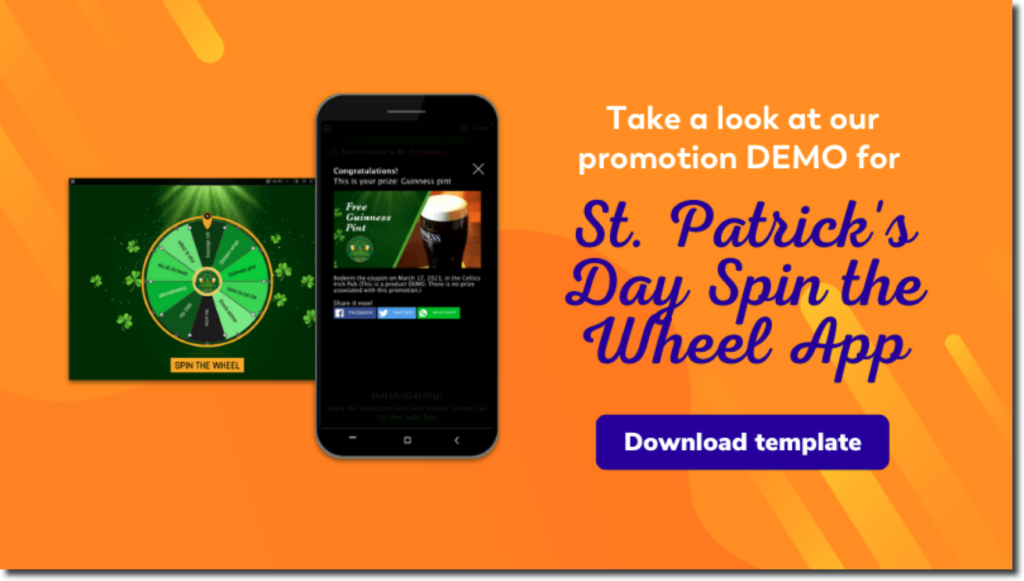 The Spin the Wheel app is an interactive prize wheel that you can use to share coupons, vouchers, and prizes, but also to collect new leads. The best part? It's fully customizable and you don't need any coding or programming skills to set it up. Personalize the wheel with your campaign and corporate image… or use our ready-made template that has been designed with St. Patrick's Day in mind!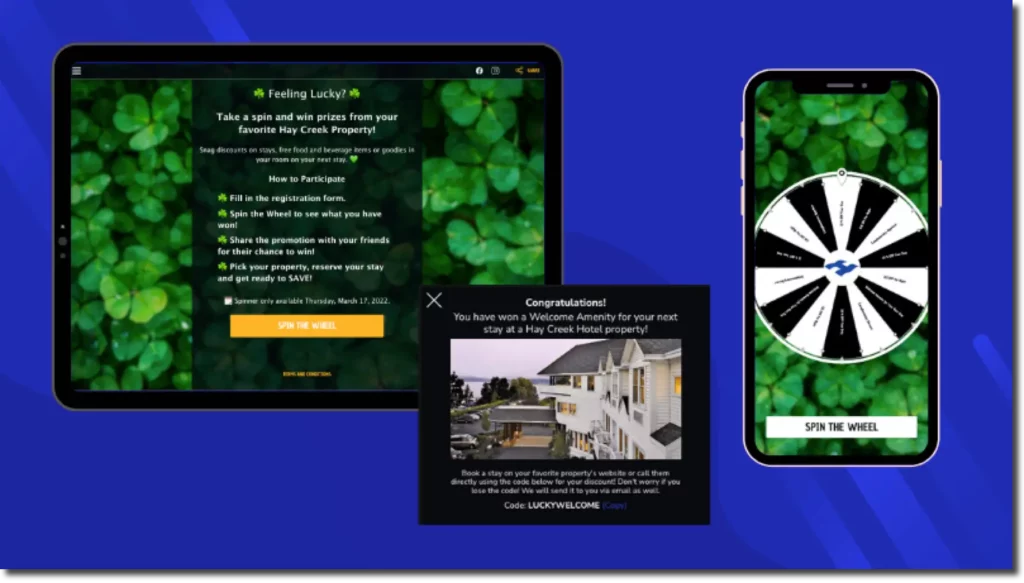 In the above example of a promotion launched by Hay Creek Hotels you can clearly see an example of a customized online roulette. The hotel chain offered its guests the possibility to win a variety of prizes. Our Spin the Wheel app lets organizers create different prizes and distribute them by probabilities or winning moments.
Flutter Fetti liked our St. Patrick's Day roulette so much that they ran their own version. Take a look at how they made use of the final page.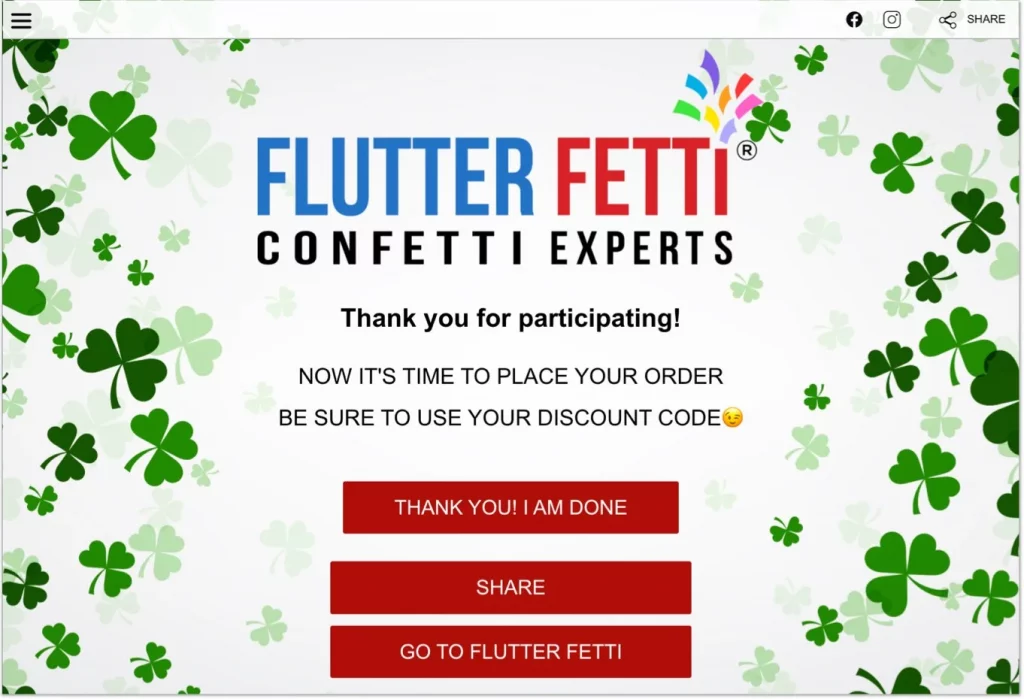 They used the wheel to distribute discount codes and so they added a direct link to the Flutter Fetti shop so that users could redeem their vouchers.
Organize a Reveal & Win game for St. Patrick's Day and boost online visibility
Would you agree that interactive content is way more engaging than static images? And we're not just talking about videos. One way to boost brand engagement and recall is to organize a mini-game that you can fully customize with your corporate image. The integrated registration form will allow you to collect new contact details that you can easily send to your database. And let's not forget about the positive user experience that you'd deliver with an online game!
Four-leaf clovers, leprechauns, and pots with gold can mean only one thing… St. Patrick's Day. And here's a game that combines all of these elements!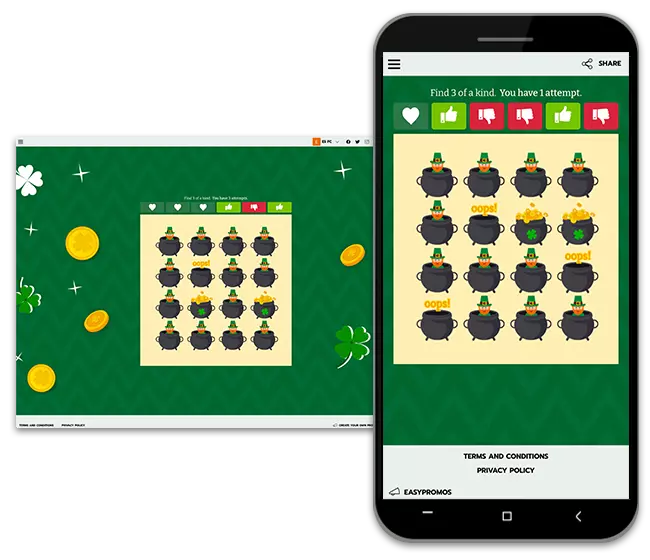 In this example, users register their contact details in order to participate in the promotion. Once registered, participants see a board with 16 leprechauns guarding their pots. But only three of them have gold inside! The challenge is to find the three pots within the move limit. You can give discount coupons to those that successfully complete the game and organize a prize draw for all registered users.
Try our Reveal & Win game for St. Patrick's Day and use our template to launch your promotion with less effort!
Create a St. Patrick's Day Quiz to entertain your audience
What are the origins of St. Patrick's Day? How old is the Boston St. Patrick's Day parade? How do you say hello in Gaelic?
For a St. Patrick's Day promotion with a competitive edge, try challenging your followers to a Knowledge Quiz. This type of promotion creates excitement and rivalry, which results in a positive customer experience. Motivate participation by offering small rewards or promotional codes for everyone who takes part – and a grand prize for the most correct answers.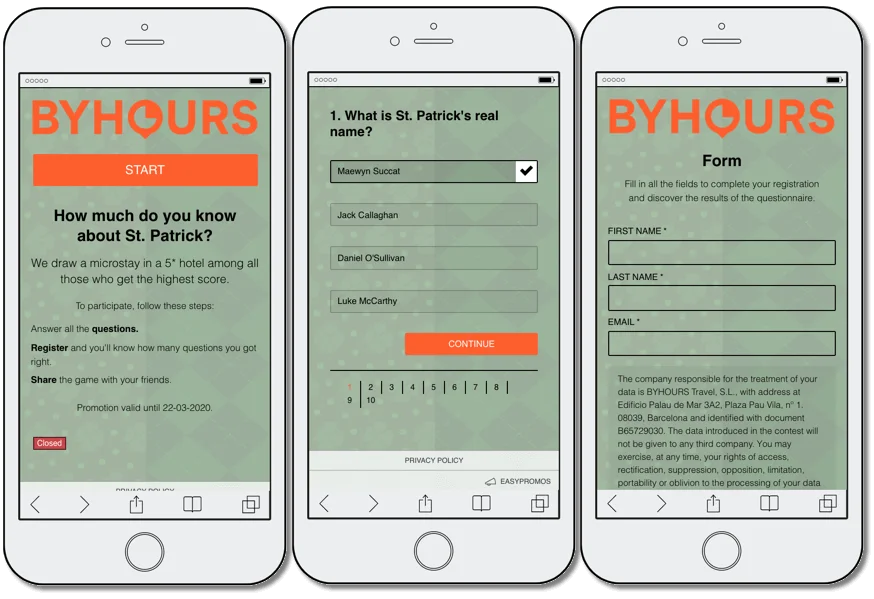 In the above example, you can see how By Hours, a hotel micro stay booking platform, engaged its audience right in time for St. Patrick's Day. They launched a Knowledge Quiz with 10 questions about the history of St. Paddy's Day. The participant with the best score won a stay in a 5-star hotel.
Easypromos apps come with integrated registration forms, which you can fully customize. You can then export all new leads and target them in the future! Ensure that you ask the entrants only for the information that you need. If you want too many details they might feel discouraged to leave their info.
Social media giveaways are fantastic to boost engagement and social media presence. Online users love getting a chance to win, and Instagram or Facebook sweepstakes take only a few seconds to participate in. Head to our blog post dedicated to organizing social media giveaways for St. Patrick's Day and get inspired!
Ready to go? Sign up to draft a St. Patrick's Day promotion for free! Or you can use our Online Chat to contact our experienced support team in case of questions and doubts. You can also share your St. Patrick's Day marketing ideas with our team!