Almost three billion people worldwide now use social media. And the benefits of getting your brand online are huge: increased exposure, increased traffic, and a massive boost to your sales leads. But here's the catch. Just having thousands of followers on your Facebook page or Instagram profile isn't enough. You'll never convert leads into sales if your page is overrun with zombie followers, who scroll, scroll, scroll, and never click. That's why we're always talking about active engagement, and how to organize social media giveaways and increase engagement.
What is social media engagement?
Social media engagement is how followers interact with your brand and content. Interactions can be small and simple, such as a Retweet, Facebook reaction or Instagram likes. Comments, shares, replies, click-throughs, purchases and reading your website also count as engagement. And engagement is closely linked to trust and customer loyalty.
If you want to increase social media engagement, you need to offer your followers clear motivation. So show that you value their loyalty over time. Make your social media pages fun, friendly, and communicative. Let us point out that there are many different types of engaging social media posts but well-executed giveaways are one of a kind. Reward followers who engage with you! And give your online community lots of opportunities to interact and share.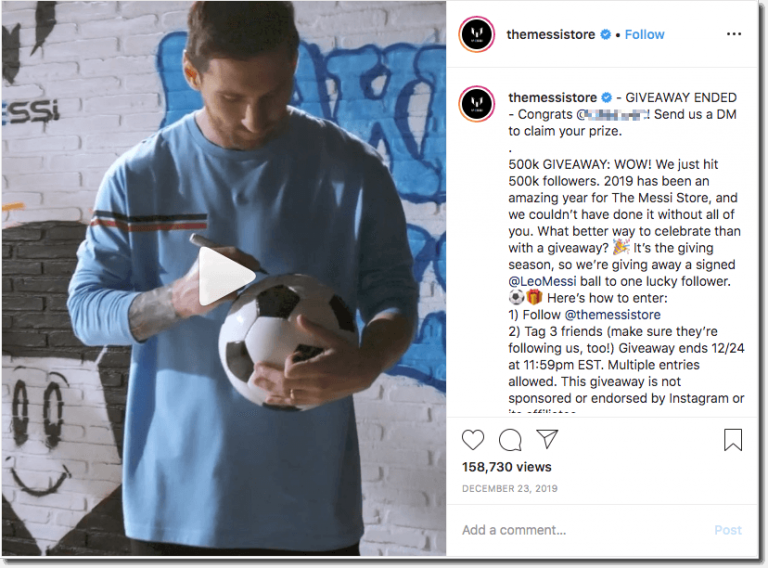 Here's a fantastic example of an Instagram Giveaway organized by The Messi Store, which is "the official premium lifestyle brand of Leo Messi". It's quite obvious that the main fan base are supporters of Leo Messi. Therefore, a ball signed by their idol was a fantastic prize and motivation to participate in the promotion. The social media giveaway had more than 10,000 participants commenting on the post and tagging their friends. The engagement boost was incredible!
How to increase engagement with social media giveaways
There are lots of tried and tested strategies to increase engagement with social media giveaways. But today, we want to highlight one option that works on every social network: giveaways and comment competitions. Followers love contests, and well-designed giveaways generate a lot of excitement and chatter among your brand's community. Here are some general tips to bear in mind:
Tailor your message for each social network – and we don't just mean character limits. Posts on Twitter should be short, sharp and witty. In contrast, Facebook prefers a clear and straightforward tone. Show your fans that you're speaking their language, by adapting your tone to suit. Take a look at this Multi-Network Giveaway organized by National Express, and the text difference between both posts.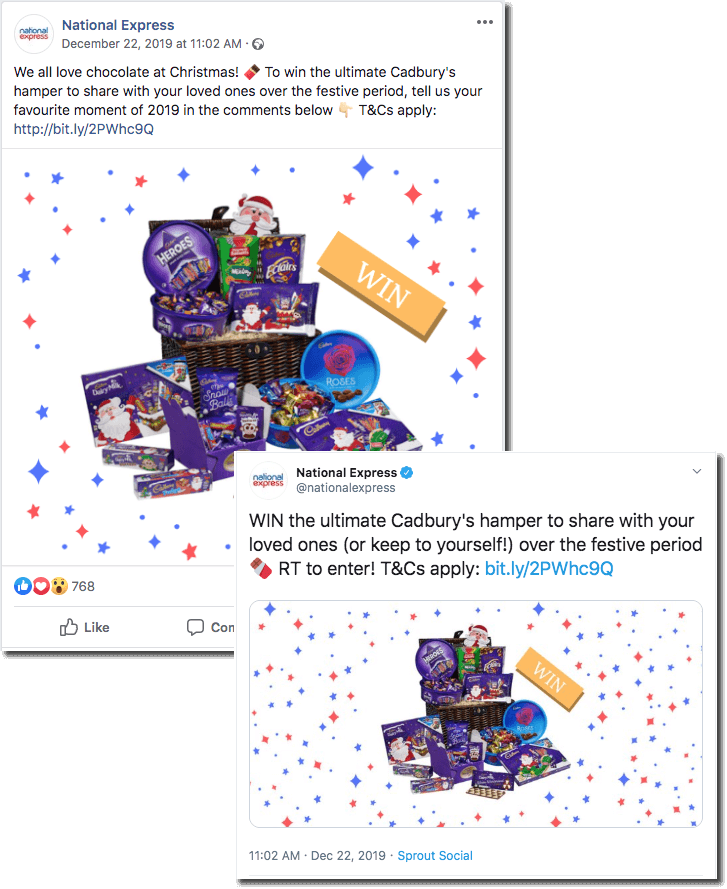 Make it look good – make sure you're following recommended image sizes and design guidelines. Your promotion should be attractive and in line with your brand image. Followers are more likely to take part if the giveaway looks smart and professional, too.
Follow the rules – every social network has its own rules about what you can post, and what you can ask participants to do. If you misuse the platform, there's a risk your account will be suspended. Followers could lose confidence in your brand, too. So use the Easypromos tools to make sure that your promotion is problem-free!
Keep it simple – the best contests are easy, spontaneous, and in real-time. Don't ask participants to jump through endless hoops. Set up a fun competition with an exciting prize, and let your followers express themselves.
Best ways to increase engagement with social media giveaways
There's one type of giveaways that has the best engagement ratio. And if your goal is to increase followers and raise your brand's profile, it's the option we recommend. Here are three reasons why you should run a comments-based giveaway:
It's easy to take part – it only takes seconds to respond to a post with a comment or reply. Users can take part without effort. And there's a great side-effect. Your post will get more visibility in social media feeds, and encourage sharing as well. If one of the entry requirements is to tag a friend, this will also create extra engagement and stimulate conversations.
Followers can choose to Like or React – you can't require users to Like as well as comment. But many of them will choose to, anyway! Spontaneous, natural engagements like this are great for your brand. And if you run more giveaway promotions over time, your users will be happy to engage in return for your generosity.
Pick a winner automatically, randomly, and fairly– it's important to show followers that the contest has been free and fair. When you run a giveaway with Easypromos, you'll receive a Certificate of Validity to share. Then users will be encouraged to participate next time, and customer loyalty of your brand will increase, too.
Best networks for increasing engagement with social media giveaways
There are a lot of social networks out there. But not all of them will be the right fit for your brand, and not all of them can handle giveaway promotions. So in this list, we've chosen our top 4 social networks. They're popular, great for engagement, and fully compatible with Easypromos' authorized apps.
Easypromos pick: Instagram. Make a post on your Profile and run a prize draw for all your followers who comment. You can advertise the giveaway and announce winners with your Instagram Stories, too!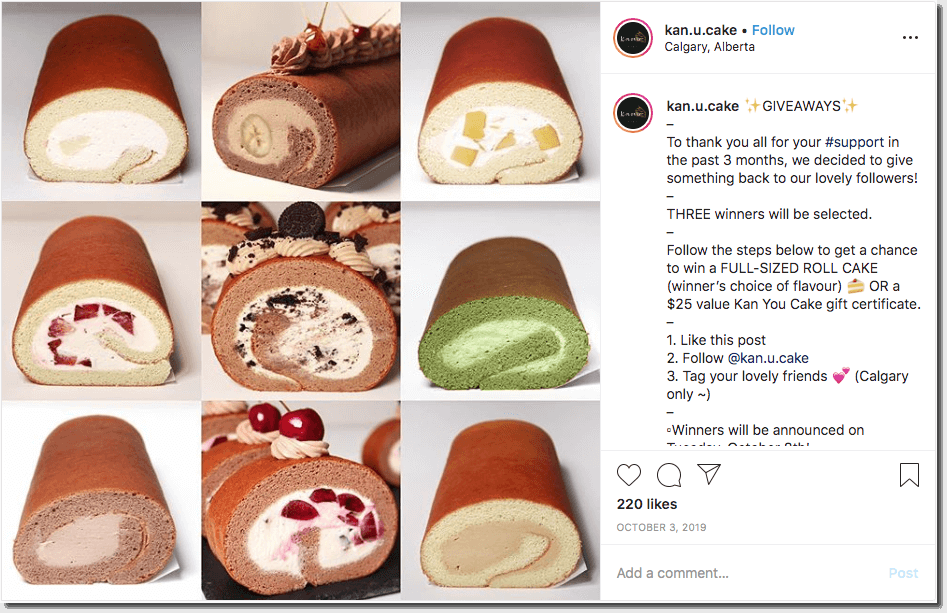 Most reliable: Facebook giveaway. You can run a promotion for users who comment on one or several of your Timeline posts.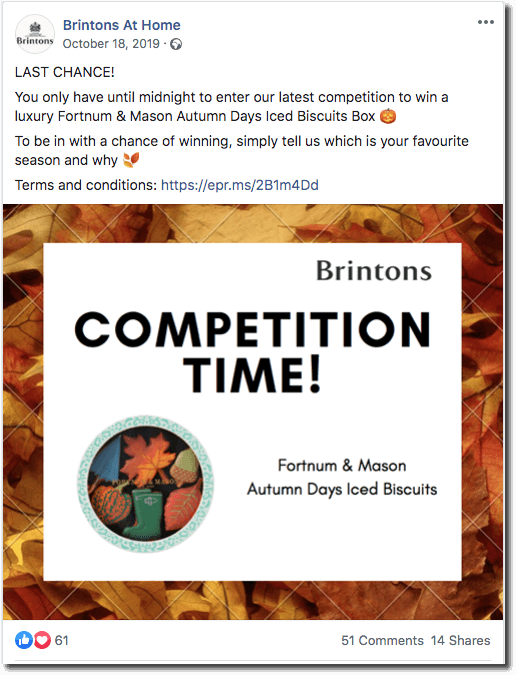 Most flexible: Use a Twitter giveaway picker. Take a look at the Easypromos app to see all your options! The most popular giveaway style is a prize draw for users who Reply to one or more of your Tweets.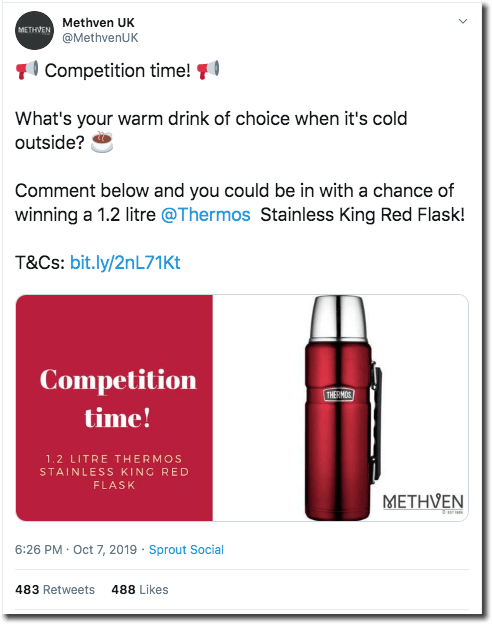 Remember, you want to make it easy for followers to take part in the contest. So when you ask for comments, keep it simple! Come up with a fun idea, explain the contest clearly, and your promotion is sure to be a viral success. Here are a few suggestions for comment-based giveaway ideas:
Offer a range of options and ask your followers to pick their favorite. You could ask them to explain their reasons, too.
Ask for followers' opinions or feelings about a product, service, brand, or situation.
Ask followers to tell you about an experience or idea they have.
Comment-based giveaways are great for creating and improving relationship marketing with your customers. They also help with brand positioning.
Increase social media engagement by understanding your audience
Active followers are the jewel in the crown of your social media strategy. And you should value them accordingly. When you understand what makes your followers tick, you can offer promotions that they'll enjoy, with prizes that they really value. And in return, you'll get a prize too: quality insights, a strong community, and increased engagement.
We've said before that giveaway contests should be simple and straightforward. But as your followers become more engaged, you can ask more from them in order to increase engagement with social media giveaways. In the bullet points below, we've mapped out how to develop your promotion strategies along with your audience.
Zombie followers = minimum requirements. When you're just starting out, keep the promotion as simple as possible. For followers who are slow to react or share, stick to comments-based giveaways.
Active audience = added value. When your followers start to comment actively and frequently, you can step things up. Comments-based giveaways are still effective, but you could try a social media Photo Contest or Writing Contests too. Remember to motivate users with a prize in proportion to the competition.
Brand champions = creative freedom. If you're lucky enough to have a committed, energetic online community, then give them a challenge! Encourage them to be creative and independent, with any one of the Easypromos applications.
Top tip! Remember that if you ask your followers to create content, it could be a useful resource for marketing your brand in future. Make sure your terms and conditions are up to date, with clear rules about rights user-generated content. What's more, when you credit users for their content, your trust, loyalty and engagement ratios will show the benefits.
Increase social media engagement and in-store
Another way to engage with your followers is with discount coupons and promotional codes. Even the most active followers live some of their life offline! Coupons can lead customers directly from your social media profiles to your brick-and-mortar stores.
There are hundreds of ways to use coupons in your promotions. They are a fantastic method to reward loyalty or encourage specific behaviors, such as using a new app or responding to customer surveys. In this post, we've shared some tips for planning a coupon promotion.

So how would you describe your social media community? Are they zombie followers, an active audience, or champions of your brand? Whatever stage you're at, we hope this post has given you some ideas and inspiration to incorporate social media giveaways into your marketing plan.
You can now create your Easypromos account and increase engagement with social media giveaways for your own brand! Remember, the first giveaway with Easypromos is always free!