In 2018, 3.3 million US households are using QR codes for their shopping – and that doesn't include all the other coupon types and promotional codes available. Coupon promotions are big business. So the only question is, how do you make your campaign stand out from the crowd? In this post, we'll share an easy, three-step planning process to make sure your coupon promotion yields results. There are three benefits you can expect to see right away:
Increased sales, due to discount coupons or gifts linked to purchases.
Qualified leads, when you capture information about current and potential customers.
Greater engagement on social media.
And there's more! A well-run promotion can boost consumer confidence in your brand, and encourage customer loyalty. Follow the steps below to prepare your coupon promotion for success.
Step 1: the concept
Think carefully about the audience for your promotion. Are you aiming to attract new customers, retarget inactive users, or reward your faithful fans? Make sure that the concept behind your coupon promotion matches your brand, product, or service, too. Choose a promotion type that your followers will appreciate and enjoy, whether that's an Instagram comments competition, fun quiz, or exciting instant win giveaway.
Quizzes and surveys are popular choices with consumers and brands alike. And you can use the opportunity to get customer details, qualify leads, and learn more about your target market. So ask questions about buying habits, consumer tastes, in-store experience, and anything else that could be useful. Meanwhile, participants will enjoy the sense of competition and the coupon reward. Comment-based giveaways and hashtag contests are great ways to start a conversation with your followers, too.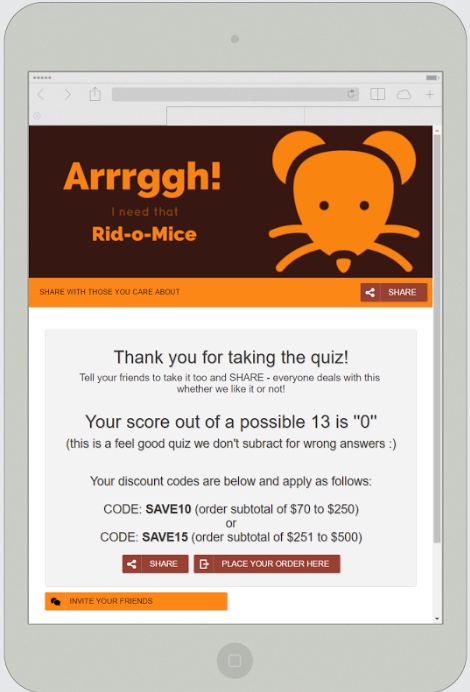 In this example, a home products brand realized that its followers liked challenges. So they offered a variety of coupon rewards, based on participants' scores in a quiz about pest control. The quiz was fun, informative, and incentivized customers to make big-ticket purchases.
Another popular way to share coupons with an online audience is through a coupon directory. Our coupon directory software can be embedded on your website or mobile app, it can be public or visible only in the private area of your app. Users download coupons that they're interested in, which allows you to see which products or services your customers are particularly interested in. Additionally, users can access all the downloaded coupons through the app. Try our coupon directory software demo to test the user experience!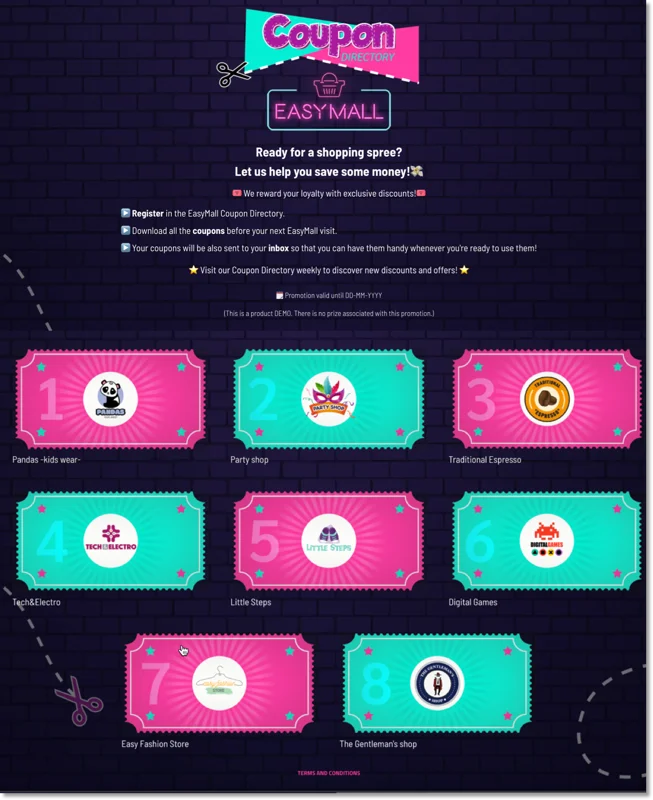 Step 2: sharing strategy
So you've created a fun, relevant, valuable promotion. But have you shared it? To get the full benefits of a coupon promotion, you want your campaign to go viral. Here are some ideas for your sharing strategy.
Share on every social media channel. In the example below, a bookshop designed a Back to School promotion, offering a coupon for $100 to one lucky winner. Then they published the campaign on their Facebook, Twitter, Instagram profile, and Instagram Stories.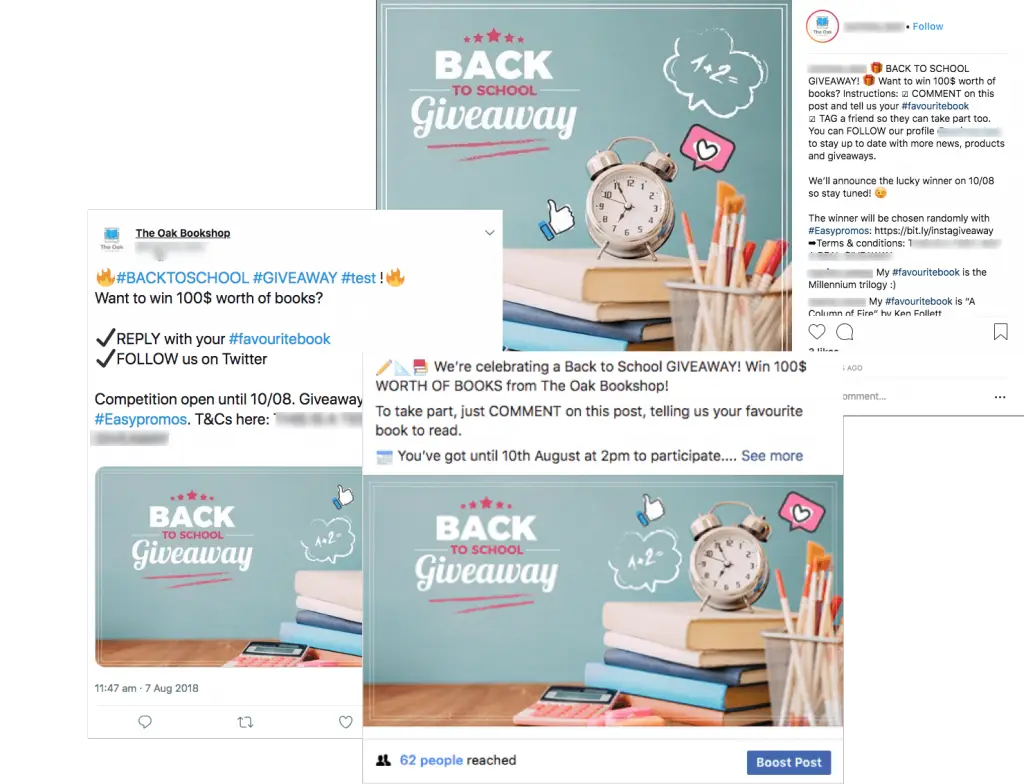 Send a newsletter to your contacts. If your email strategy is healthy, then your mailing list should consist of loyal customers and engaged leads. So keep them in the loop to build loyalty and incentivize sales! Make sure you mention the promotion in your regular newsletter. And you could send out a one-off mailshot to highlight the opportunity, too.
Your website or blog can be a great route for promotion traffic. Publish a banner, blog post or pop-up to announce the promotion. Then, once you've incentivized purchases, customers are already in the right place. Remember that Easypromos provides support for coupons in online store platforms such as Prestashop and Magento.
Advertising campaigns. If your promotion is a really big one, you could run a traditional advertising campaign. As always, remember to go where your customers already are. So choose media channels that your customer base is likely to use.
Step 3: the prizes
Choosing the right prize is an art, just like choosing your promotion concept. It needs to be relevant to your brand, and ideally highlights a product or service that you're keen to sell. You'll need to make a sensible cost-benefit analysis, too.
But it's not just about what your brand wants. The prize must be something that also resonates with your audience. Think about what you're asking from participants: is the prize enough to motivate them? What makes this prize stand out?
Here are some ideas for coupon promotion prizes. Make sure you examine all your options – and don't be afraid to be creative!
Free samples. A fantastic option to start with. Use free samples to raise awareness of new products, or tempt new customers into that key first purchase.
2×1 offers. A classic promotion type. Aim this kind of prize at regular, repeat customers. It's also a good option for products that people buy in bulk.
Financing conditions. As we've said before, coupons are for everyone – not just budget brands. So if you sell big-ticket items and want to incentivize purchases, try a limited-time promotion that offers generous financing conditions.
Product guarantees. This is another good prize for expensive purchases. If your product has a long lifespan and may require servicing, you should seriously consider offering guarantees. Customers who are already prepared to make an investment will then be highly motivated by an offer of service and support.
Free gifts. This option is extremely popular with consumers, especially for products connected to fashion, pets, or personal care. Offer a gift that complements your customers' purchases. You could offer the gift in exchange for a minimum spend, or membership in a loyalty scheme. Buyers feel like they've saved money, and you'll reinforce customer loyalty too.
We hope this post has inspired you! Whatever style of coupon promotion you're planning, we'll be here with blog posts, tutorials, and support to help you make the most of your campaign.