Instagram photo contests are a popular form of collecting user-generated content and generating more visibility and awareness for your brand. Did you know that one of the reasons customers connect with brands on social media is the desire to stay up to date with discounts and promotions? By adding contests to your Instagram feed you provide positive experiences for your audience and create buzz around your brand or campaign. And wouldn't it be great to also gather new contact details for your database in the meantime?
So why not launch an Instagram photo contest with an integrated registration form to collect UGC, leads and stay top of mind with customers whilst actively promoting your brand? In this blog post, we introduce you to a powerful tool that'll help you organize a successful promotion; we also show you examples of Instagram photo contests with registration forms so that you leave from here full of ideas!
Hashtag + Entry Form app: the best tool for your Instagram photo contest with entry form
Before you launch your contest, think about the objectives that you want to achieve. Are you looking for leads, engagement or maybe attracting new followers? If you're only just getting started with social media promotions, running a photo contest with a registration form might not be your go-to solution. However, if you've already engaged your followers with comment giveaways and got high participation numbers – it's time for your UGC contest on Instagram.
Are you wondering what type of photo competition will work best for your brand? Head to our blog post to learn how to run Instagram photo contests and see different types of applications, depending on your ultimate goal. 
The Hashtag + Entry Form application is a powerful tool to collect contest submissions on Instagram. And here's how it works:
Users upload a picture that they want to participate with on their Instagram account and use your campaign hashtag, for example, #easylandpark
They access your promotion to fill out a registration form with their contact details
They connect their Instagram account with the promotion app
The application automatically imports the post with your campaign hashtag and displays it in a sharable public gallery. Users can scroll through all the entries and vote for their favorite submissions.
Try our Instagram photo contest with registration form DEMO to see the real user experience. You will see how easy it is to participate in Hashtag + Entry Form promotions!
Instagram photo contests permit you to gather high-quality photos submitted by your followers. They can be reused as social proof by adding the UGC to your social media content calendar. And if you're wondering: Isn't this what the Mention + Hashtag app is for?, you're totally right. However, the Mention + Hashtag application is solely used to collect user-submitted photos and boost social media visibility and interactions. Another difference is that the Mention + Hashtag tool can be used only to import entries submitted by public accounts. By having to connect their account with the Hashtag + Entry Form app, your Instagram photo contest can be also entered by users that value more privacy. Let's not forget that all users accept T&Cs that you write – so why not ask for permission to use their images for your promotional purposes?
So if you want to take a step further and convert followers into qualified sales leads while also generating UGC, it's time to head for the Hashtag + Entry Form app. We put together an article full of examples of Instagram photo contests with entry forms to help you get started!
Promote your product with Instagram photo contests and collect leads with an integrated registration form
We've already established that one of the reasons consumers connect with brands on social media is to stay up to date with special offers and discounts. But what about brands? By regularly posting engaging content, brands stay top of mind with their target audience. They get to promote new and bestselling products while also differentiating from competitors. A well-planned social media strategy will also generate engagement – and hopefully, convert likes and comments into sales. Here's what happens when you integrate an Instagram photo contest with a registration form into your marketing plan.
Flor de Mayo – a beauty, cosmetic, and personal care brand – was planning a launch of their new online shop. The brand looked for a creative, yet powerful way, to raise awareness for their new e-commerce. Flor de Mayo opted for an Instagram photo contest with a registration form and… take a look for yourself!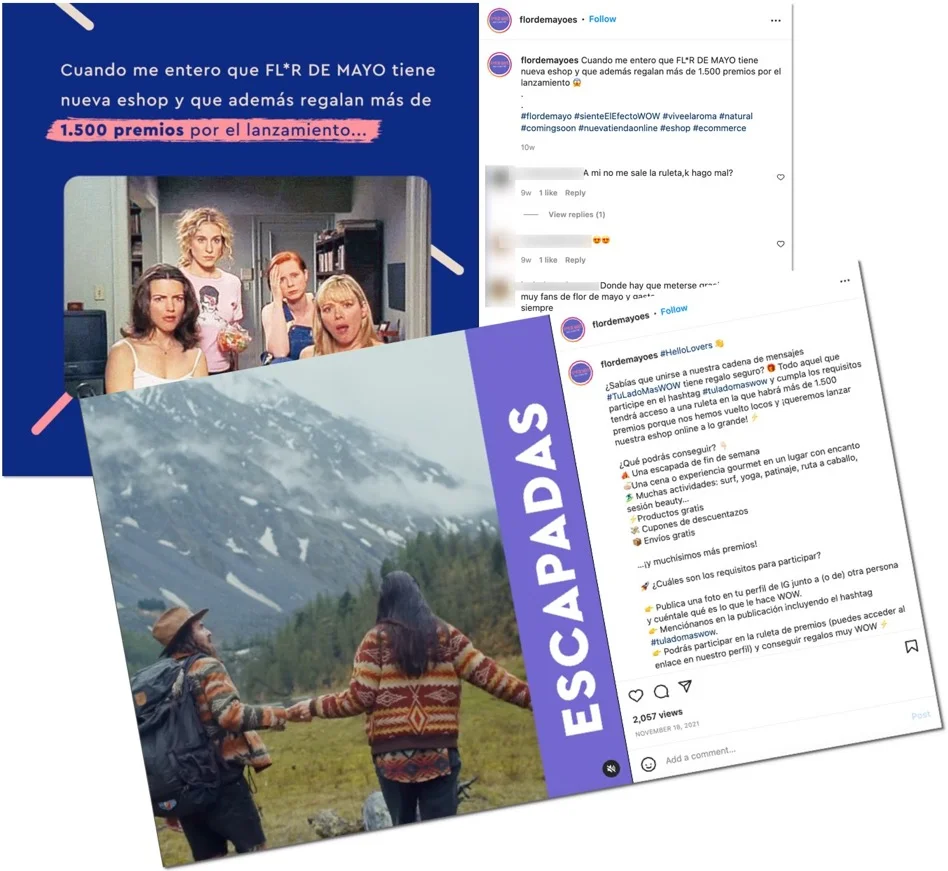 Flor de Mayo promoted their photo contest – and 1500 prizes up for grabs – in a series of Instagram posts. Apart from organic posts and ads, they posted a series of Instagram Stories to attract more participants to the promotion.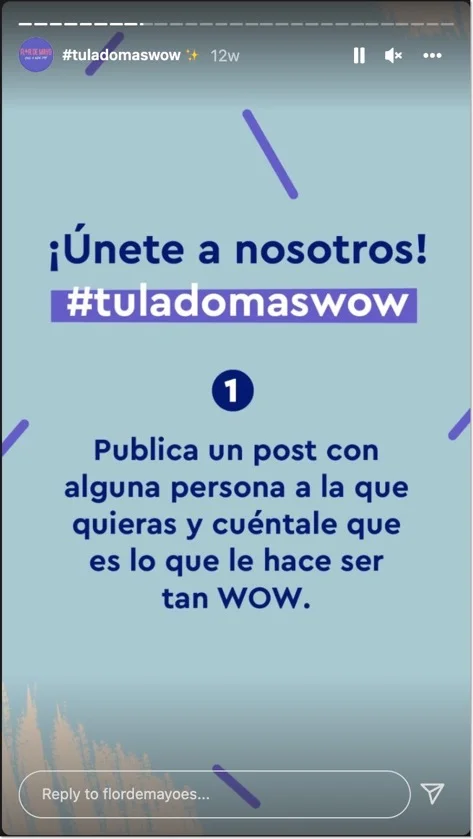 Users interested in winning one of the 1500 prizes (a weekend getaway, fun experiences like yoga sessions, free products, discount codes, etc.) were invited to share a picture with a person that they love and describe what makes them special. In order to enter the photo contest, each entry had to include the campaign hashtag: #tuladomaswow. Then, the participants accessed the Hashtag + Entry Form app by following the link shared in Flor de Mayo's link in bio and they registered through the entry form and connected their Instagram account to submit their photo to the contest.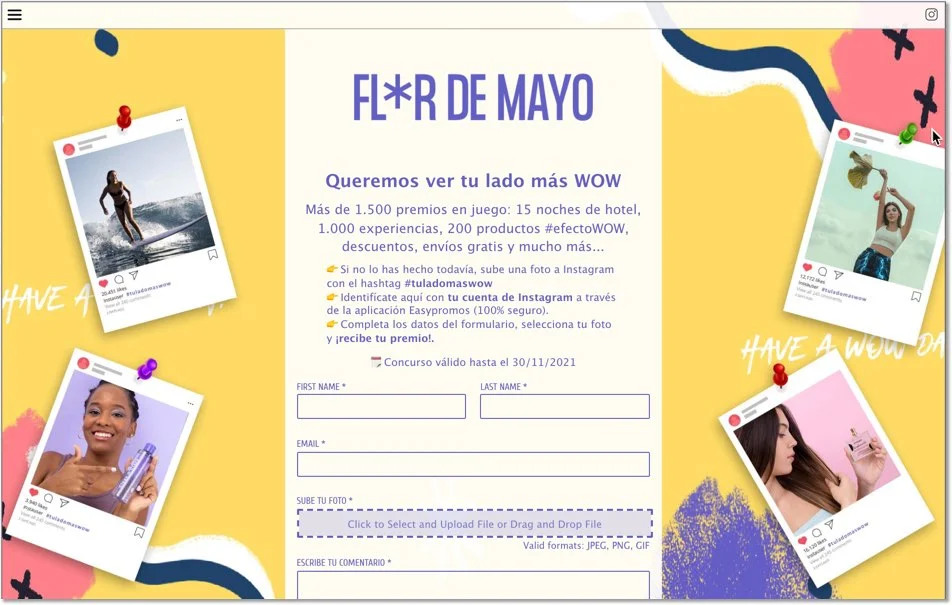 Flor de Mayo's audience had two weeks to participate in the contest. However, to ensure that users didn't forget about the competition, the brand reshared some of the user-submitted photos on their feed. It was a great opportunity to not only promote the contest but also foster customer loyalty and give visibility to the already existing relationships.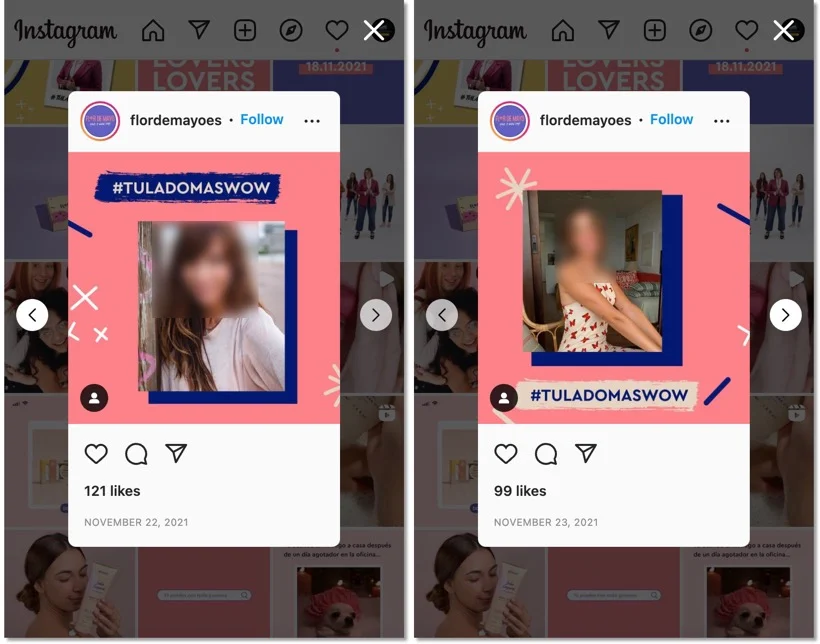 All the prizes were distributed with winning moments, which means users received their prize after participating. However, you can also reward the entries with the most votes or organize a random giveaway for all participants.
Convert shopping mall visitors into leads with a photo competition with a registration form
This second example shows a successful promotional action designed by Sunshine Nutrition. The brand looked to promote brand new vitamins for children. Sunshine Nutrition set up a stand in one of the Dubai malls and invited people to snap selfies with their mascot. Participants then uploaded the pictures to their Instagram profiles using Sunshine Nutrition's campaign hashtag: #coolgummies. Next, each participant connected their Instagram account with the Instagram hashtag contest app and filled out a registration form.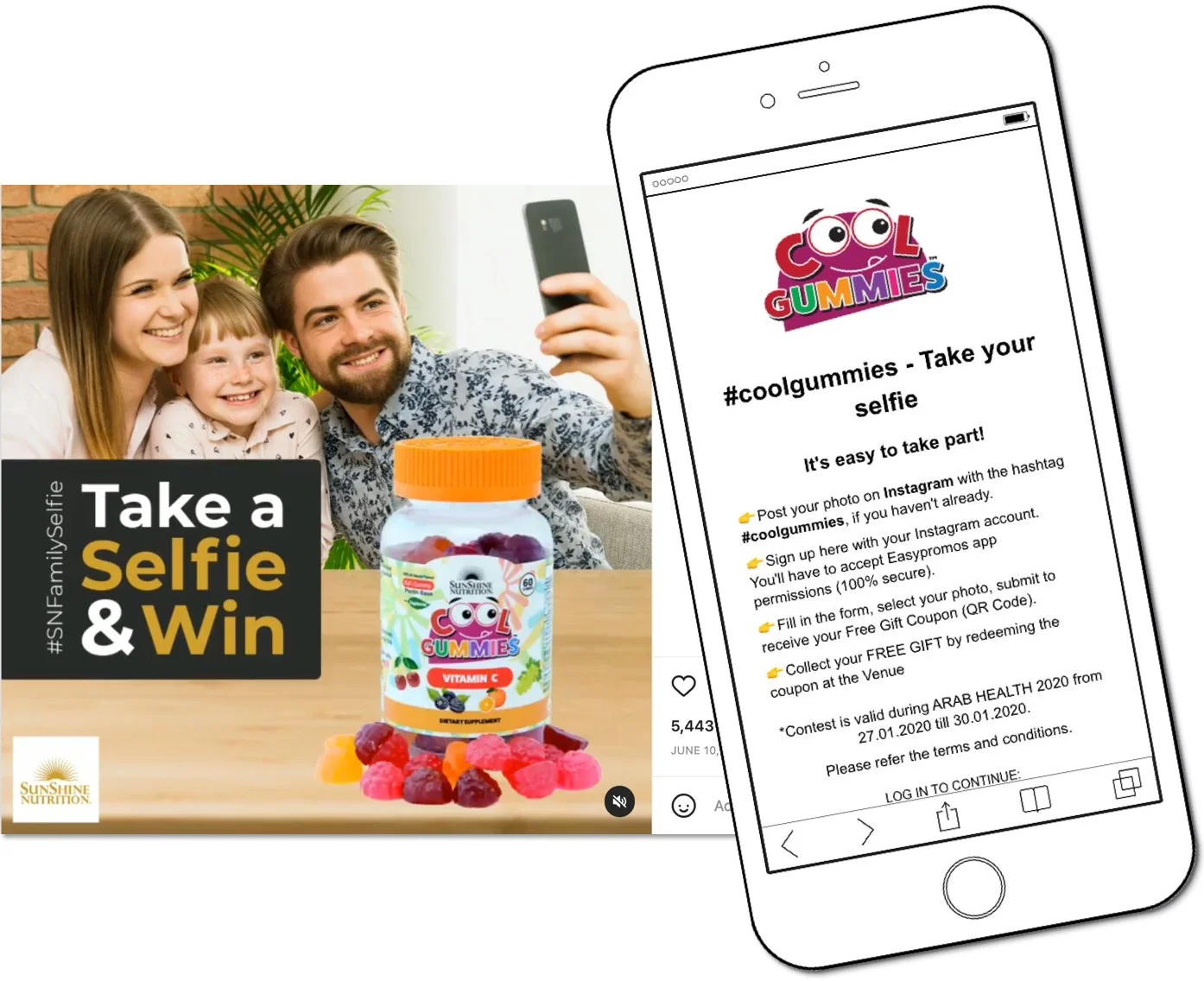 Each participant could then download a discount code for their next Cool Gummies purchase. And what did the organizing brand get out of it? New email subscribers, fun UGC, and more sales thanks to the discount code.

Example of an Instagram photo contest with an entry form that collected outstanding UGC
Odisseais regularly launches different types of campaigns aimed at gathering user-generated content. As an experience gifts distributor, the brand counts with shots produced by their customers – for social proof. Here's an example of the promotion that gathered photographs promoting the best hidden gems in Portugal.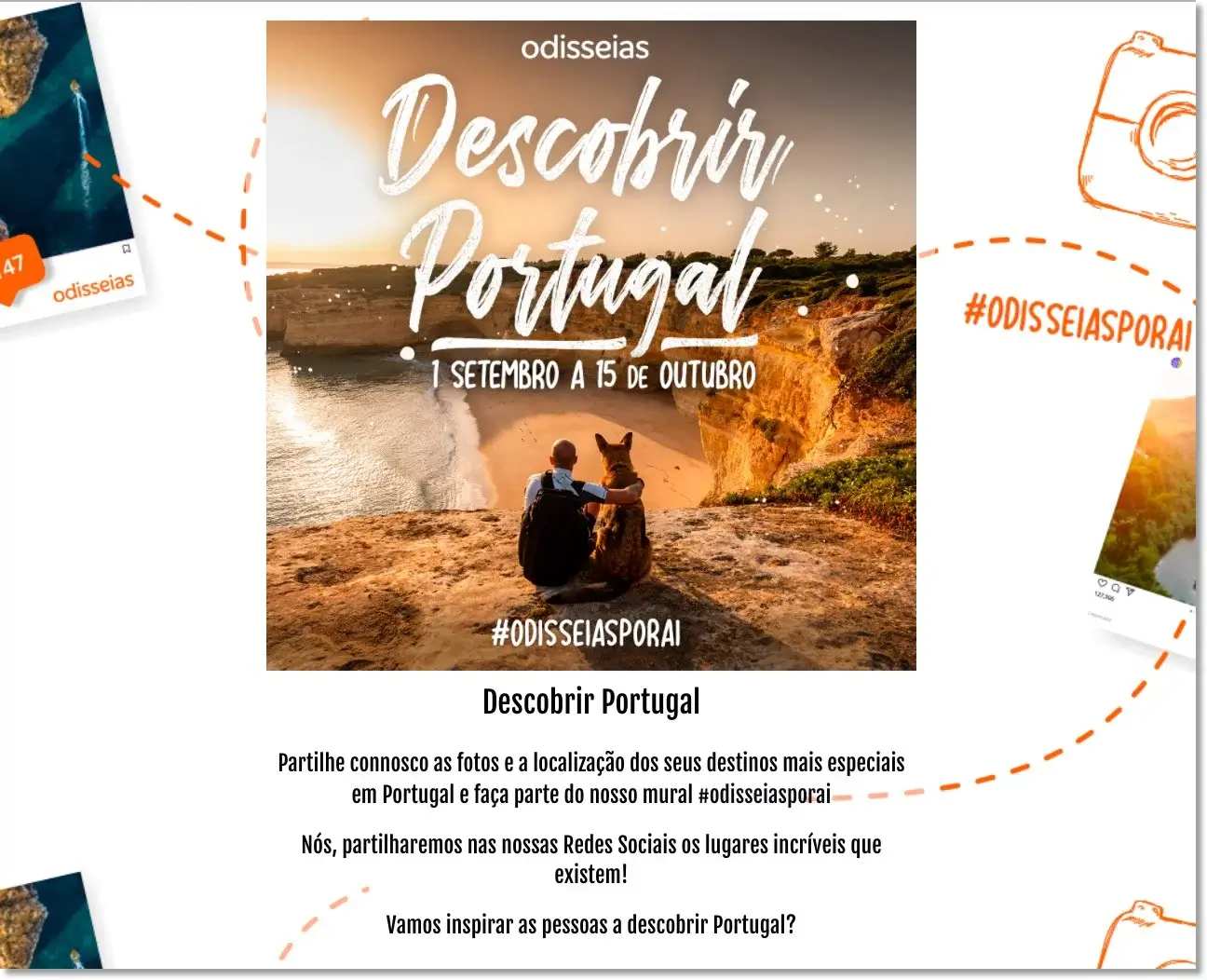 The aim of the organizer was to inspire more people to discover Portugal. The Hashtag + Entry Form app brought all the entries together. It allowed Odisseias to display all participating submissions in a public gallery. This example of an Instagram photo contest with an entry form particularly shows how successful hashtag contests can be on Instagram. Apart from reaching new followers drawn in by the chance of winning experience gifts, the brand touched base with existing customers too. And the gallery makes us want to visit Portugal right about now!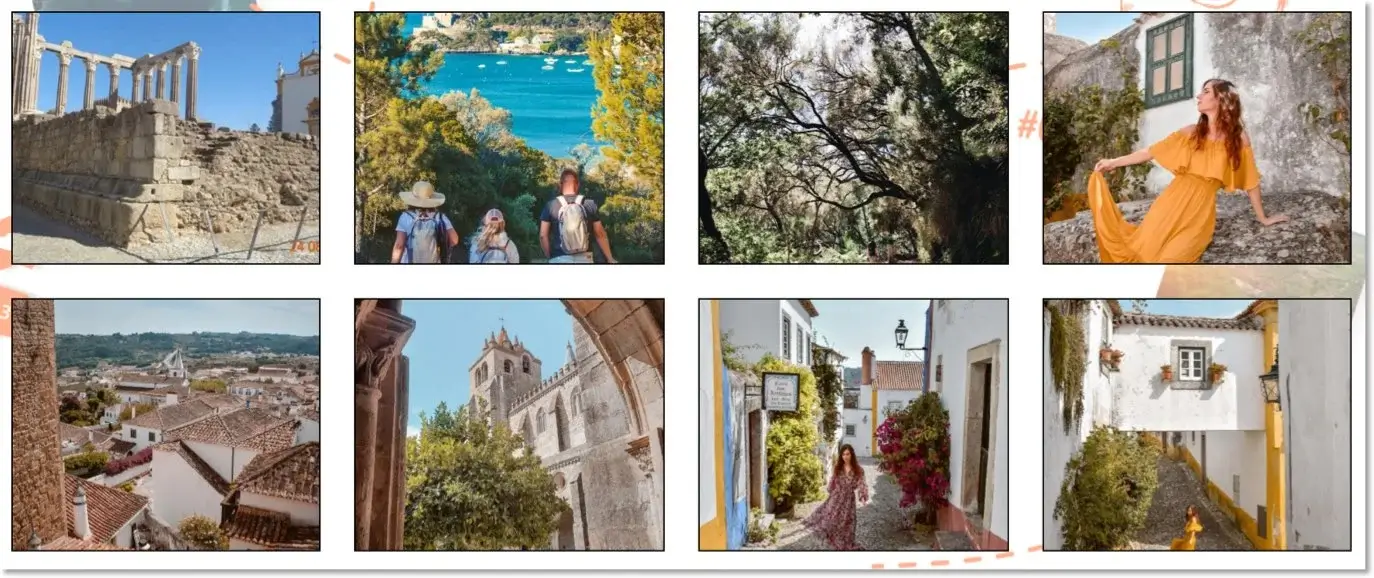 Instagram photo contests with registration forms for different sectors
Some brands might think it's better to steer away from photo contests but that doesn't have to be the case. A well-thought-out promotion will work for brands from different sectors. The next example comes from Seri Pajam Development, a well-established development company from Malaysia. They looked for a way to further promote their services on Instagram, as well as expand their mailing list. Their Instagram photo contest with an integrated registration form turned out to be a great success.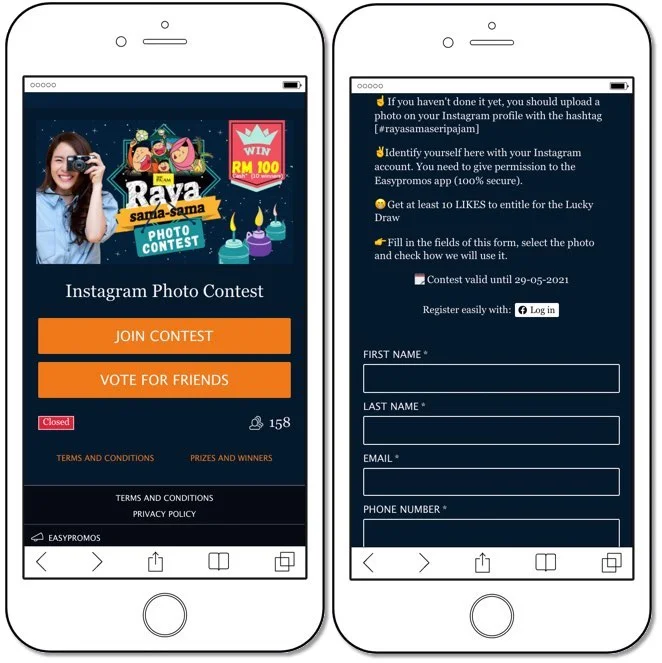 The brand generated more than 150 pieces of user-generated content and also expanded their mailing list with new email addresses. They were able to boost brand visibility and awareness as participants posted on their social media with #rayasamaseripajam.
Social media giveaways are great for engagement – but you end up with no information about the participants. By launching promotions with registration forms you convert anonymous Instagram followers into new sales leads. You can then target them with more personalized emails and campaigns.
We hope that all these examples of Instagram photo contests with entry forms have delivered enough inspiration for your own UGC campaign. Do you have any questions? Chat with us!