Instagram continues to be one of the most popular social media networks, with almost 1.4 billion monthly active users. This number clearly indicates that adding an Instagram photo contest to your marketing strategy can bring about great results, especially if your goals include dynamizing your online community, enhancing your online presence, and gathering high-quality user-generated content. But before you launch your next – or first – photo contest on Instagram, let us explain certain things that you should be aware of.
When can I launch an Instagram photo contest?
Instagram Promotion Guidelines clearly point out that online promotions are gladly received on the content sharing network. And any campaign is a good enough reason to organize a photo competition on Instagram; a newly released product; an upcoming popular campaign… Or even a customer loyalty program that you wish to promote. All you need is a catchy idea that will generate interest and attract a considerable number of participants. Ask users to upload pictures with your products in action, encourage followers to share their favorite memories, or invite them to participate with pictures of their pets just like RSPCA did.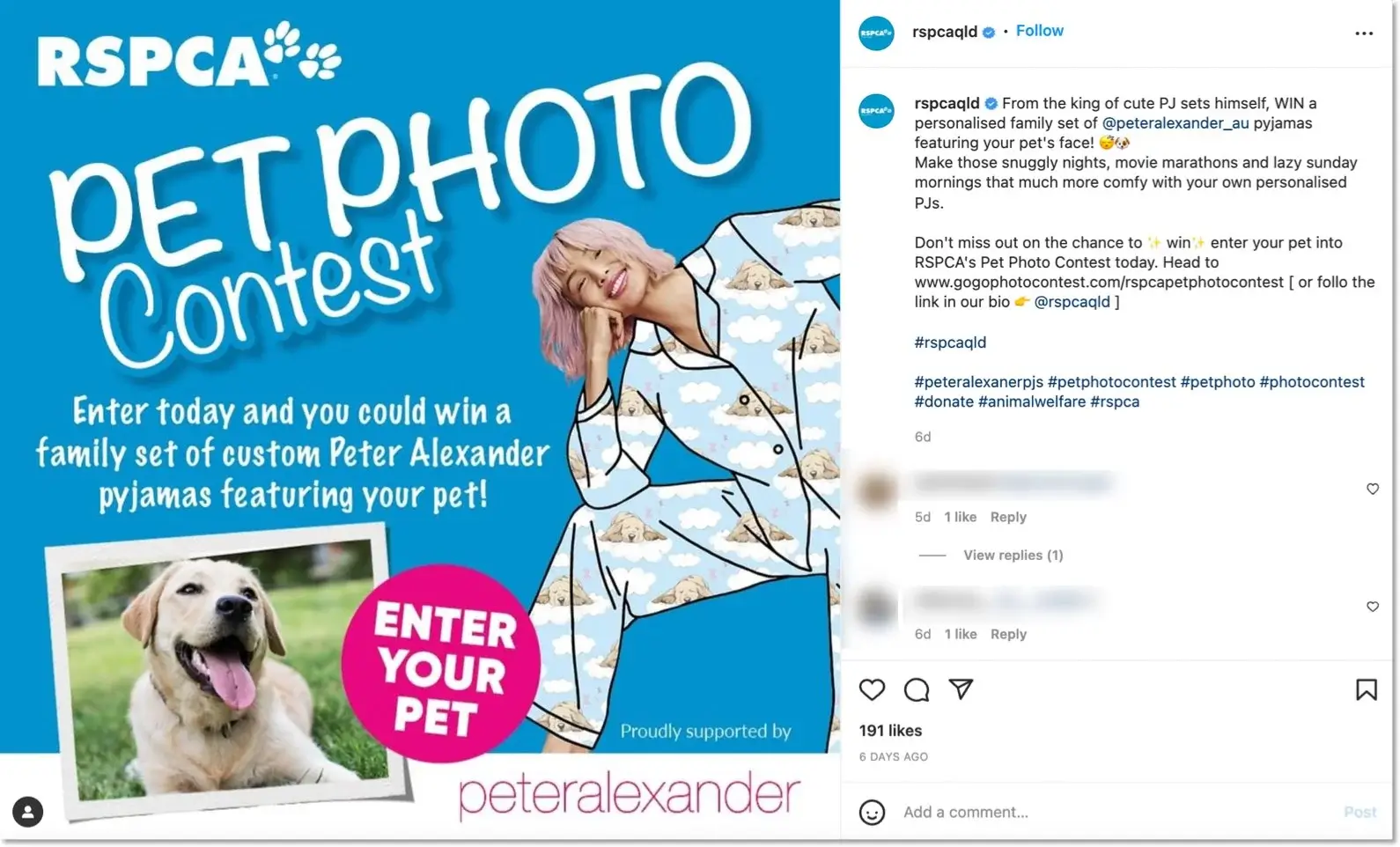 However, if you're still growing your account and haven't previously launched an Instagram contest, we suggest you start with a simple Instagram giveaway. It will give you an idea of how active your followers are by seeing how many users enter the promotion. Treat the participant number as an indicator of how ready your following base is for an Instagram photo contest. Remember that UGC contests are more time-consuming and require more effort, therefore, don't start with an Instagram photo contest if you don't have many followers, or are unsure whether your audience is enough tech-savvy to sign up for UGC competitions.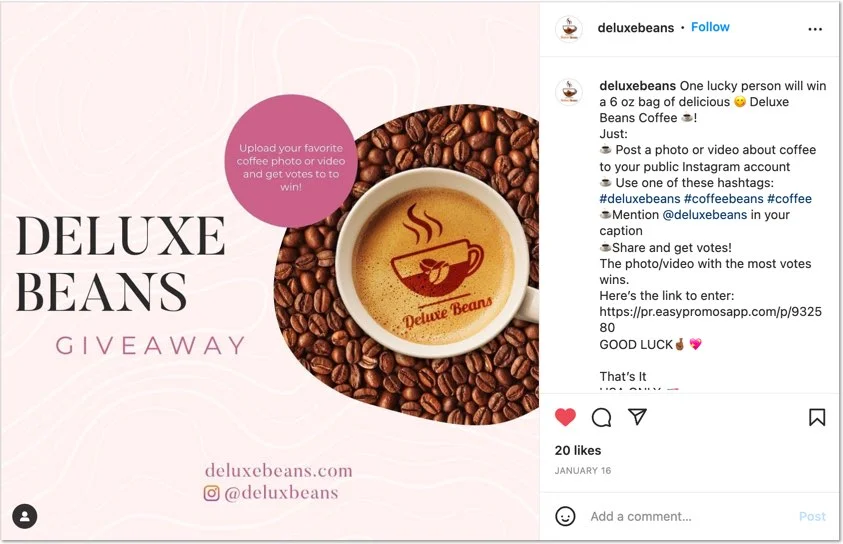 What objectives can I achieve with an Instagram photo contest?
It doesn't get easier than Instagram when it comes to engaging online communities. Apart from being one of the most popular communication channels for brands, Instagram is the most visual social media platform. Simply, there's no better place to ask users to share visual content. However, it's important to remember that photo contests require more effort and time than simple comment giveaways. This is why you need a tempting incentive that will attract many entrants ready to put their hands on the big prize. Incentives associated with your brand and appealing to your audience work best. However, online users are also drawn to online competitions with gift cards, store credit, or experiences like a weekend getaway.
Although they're a little bit more complicated than sweepstakes. Instagram photo contests are still accessible to the majority of the Instagram community – after all Instagram is all about photo sharing. A UGC campaign on Instagram can help you work towards a variety of different objectives, including:
Boosting brand visibility, exposure, and awareness. By inviting Instagram users to share branded content with their followers, you ensure your brand is exposed to more users. That means more views, more visibility, and more awareness for your offering – and without these aspects, there are no sales. Additionally, every user that shares branded content on their social media channels becomes a new brand ambassador.
Improving brand authenticity and fostering customer loyalty. We repeat this whenever we talk about user-generated content: UGC is the most authentic and trustworthy content brands share on social media channels. What would you trust more: content produced by the brand or authentic pictures shared by customers that paid for the product? Happy customers = loyal customers.
Collect new sales leads. By organizing your Instagram photo contest with an app that asks users to share their contact information you get to maximize lead generation while gathering high-quality UGC.
Additional promotion. By posting branded content on their social media channels, online users spread the word about your company to a wider audience.
Valuable content for your social media channels: last but not least! Entrants grant you permission to reshare their content on your social media channels. This gives your graphic designer a break and your brand a positive perception, as you give visibility to the real relationships established with your consumers.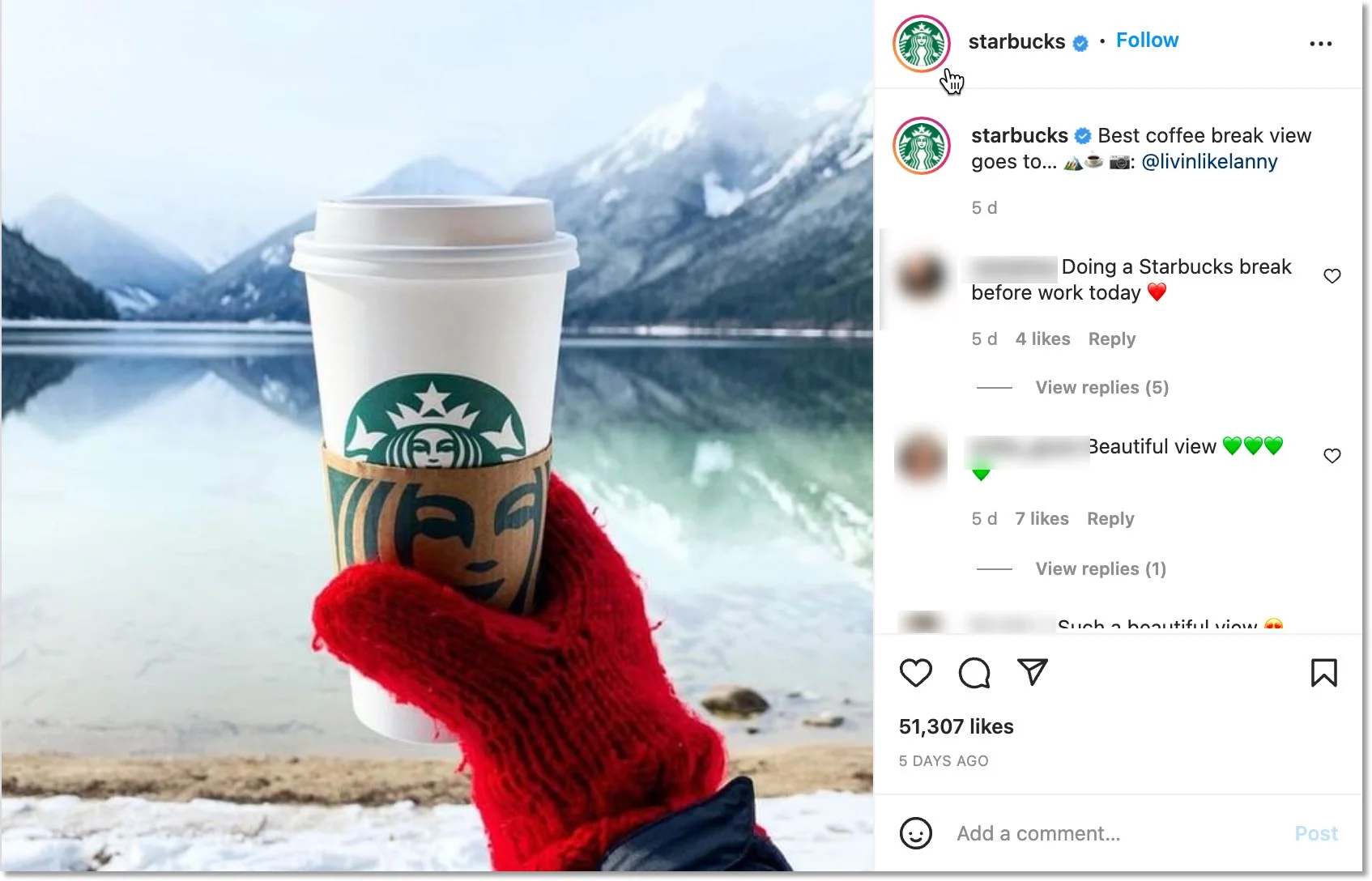 The above example from Starbucks might not come from an Instagram photo contest but it gives you an opportunity to see how valuable user-generated content is. Apart from giving visibility to a loyal customer, the famous coffee house could also establish greater trust between the brand and potential customers. The UGC picture enhances Starbucks' authenticity and promotes a real positive experience that the user had with a Starbucks product.
So before you publish a persuading post to attract participants, showcase your prize and explain participation requirements, you will need to choose an Instagram photo contest tool that meets all your needs. Luckily for you, there are three different ways to run your Instagram photo contest.
Mention + Hashtag: the most popular Instagram photo contest
The Mention + Hashtag app is the most popular when it comes to running photo competitions on Instagram. And it's pretty straightforward.
How to participate in Mention + Hashtag contests on Instagram? Users enter Mention + Hashtag contests by sharing a picture on their Instagram account. They must mention your brand and use your campaign hashtag to enter the contest and have their photo shown in your contest gallery.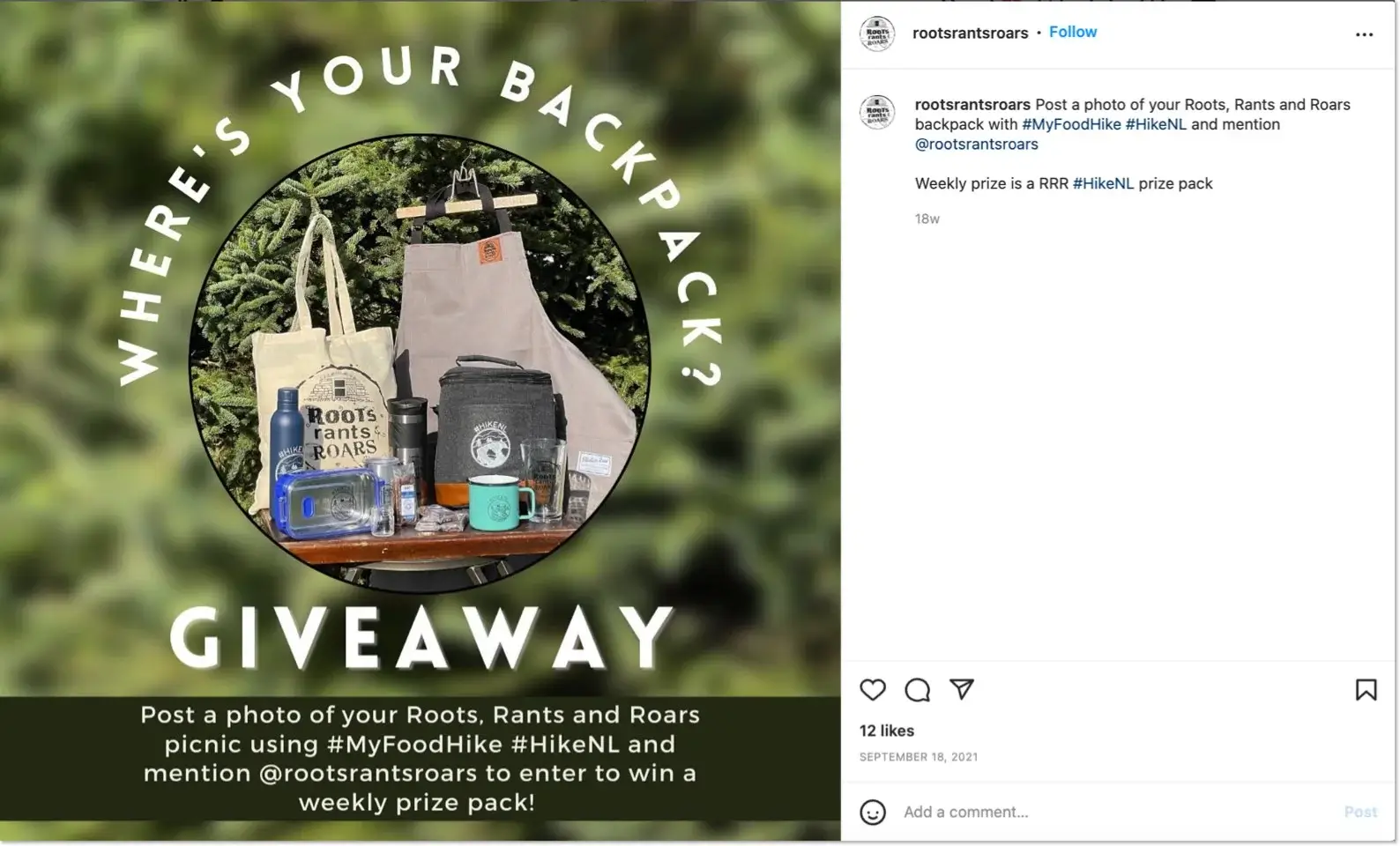 The key to success is disseminating your Instagram photo contest. Simply put, you need to make sure users know about your campaign and can't miss it. Share organic posts, invest in ads and make use of Stories; and don't forget to cross-promote your contest on other platforms and communication channels. Take a look at the contest organized by Roots Rants Roars, a fall food festival. During the event, the organizers gave some of the attendees branded backpacks. Later on, and in order to re-engage with their audience, Roots Rants Roars asked their audience to share pictures showcasing where they had taken their Roots Rants Roars backpacks. Users entered the contest by uploading a photo to their Instagram account, mentioning @rootsrantsroars and using #MyFoodHike and #HikeNL hashtags. All entries were then displayed in a public photo gallery.
Important tip: All participating users must have a public Instagram account. They must mention the brand and use the campaign hashtag, otherwise the entry will not be displayed in the contest gallery.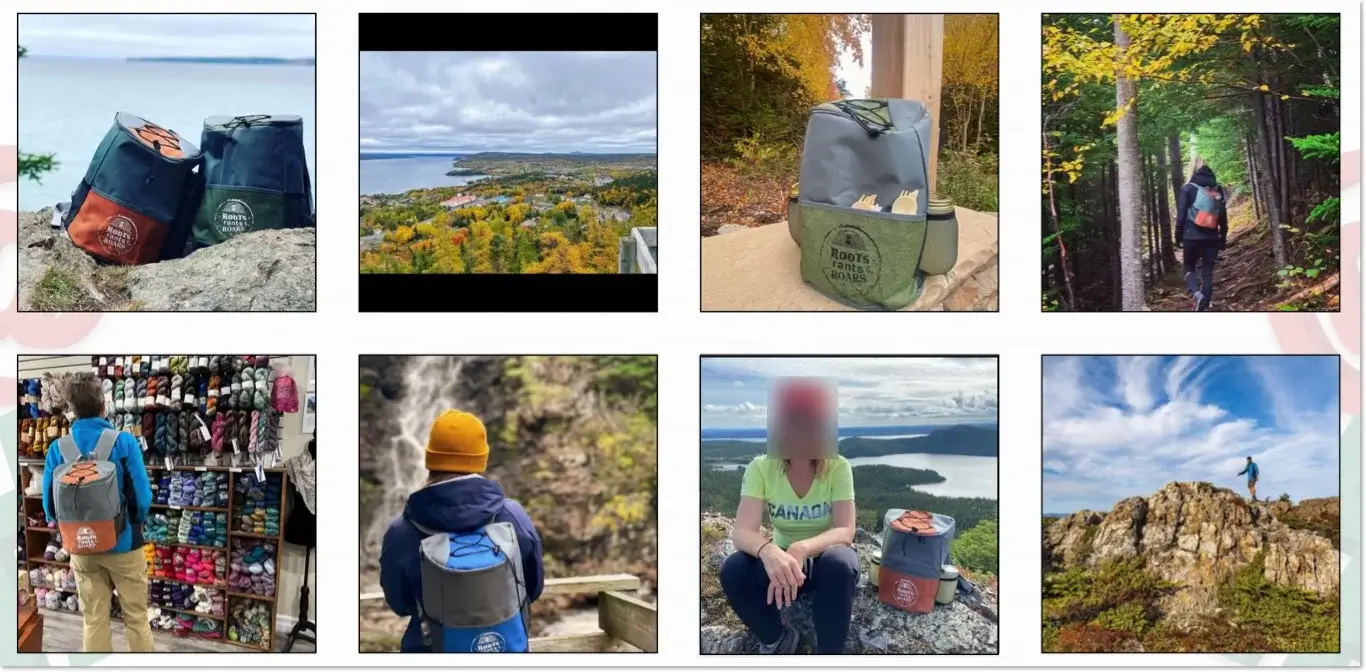 Take a look at the following post shared by the festival organizers. Can you spot the same picture in the Instagram photo contest gallery that we shared above? Yes! Roots Rants Roars reshared the content submitted by the contest participants. Apart from making use of the UGC, they showed their products in action!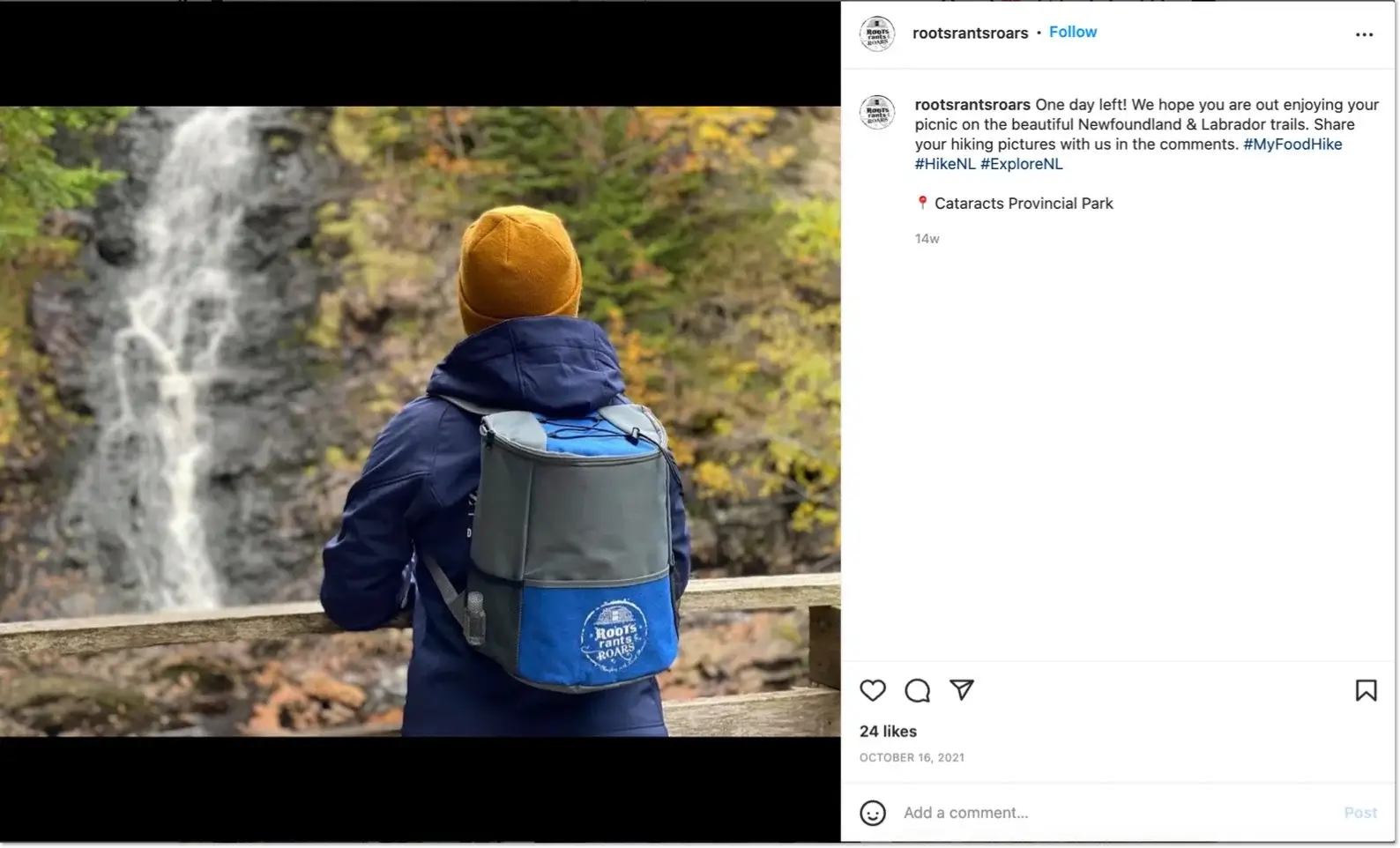 Would you like to give more visibility to your brand and collect sales leads? Invite your audience to vote for their favorite entries. Each voter must leave their contact information in order to submit their vote. By enabling the voting system your Instagram photo contest will also be exposed to a wider public as contest participants are more likely to share their entries with friends and family when looking to receive more votes.
Here's another example from a brand that ran a photo competition and made use of the collected UGC.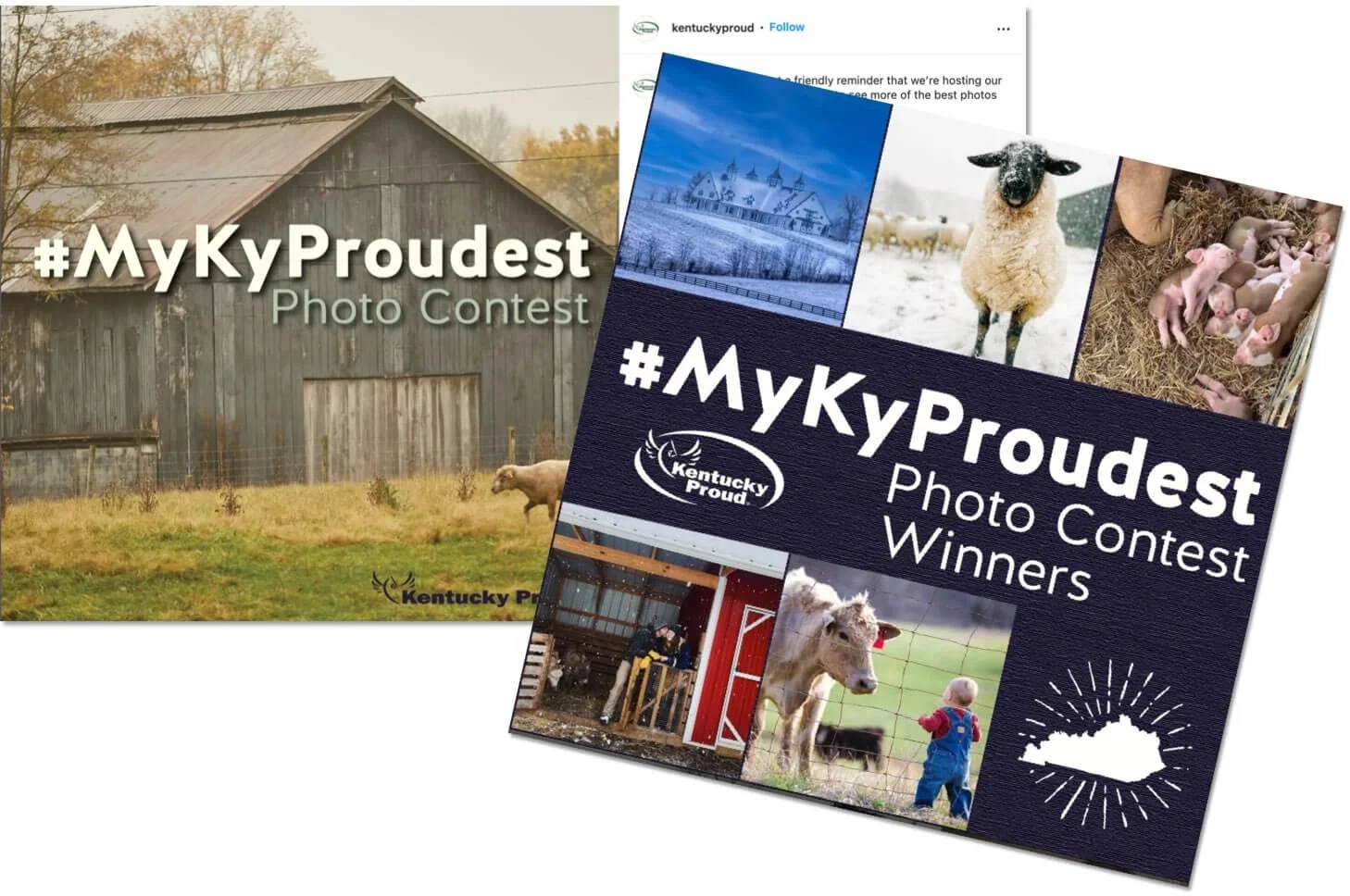 Interested in learning more about the Mention + Hashtag app? Check out our 2019 Netball World Cup success case and learn how our tool helped collect more than 45,000 pictures.
Traditional Instagram photo contest: collect UGC on various social media platforms
The next example works well for anyone looking for a straightforward photo contest tool that works well on Instagram and other social media networks. The Easypromos photo contest app can be used to run a photo contest on any channel, website, or even forum. All you have to do is create a series of posts, ads, Stories, and newsletters and you're good to go. Here's an example from Head On Photo Fest. They share weekly reminders to give visibility to their contest and draw the attention of potential participants that are hesitating or still don't know about the competition.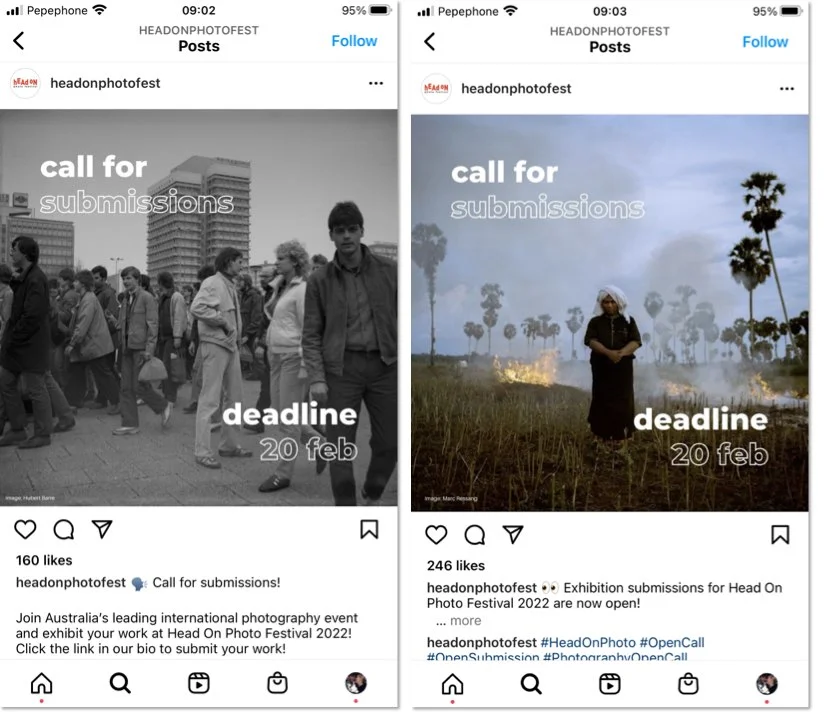 Take a look at the example from Humphreys Witch Hazel. The beauty brand wanted to collect user-generated content showing how customers use the Humphreys Witch Hazel products at home. The organizers shared a link in their Instagram bio that redirected users to the photo contest app where they had a chance to win a $250 gift card.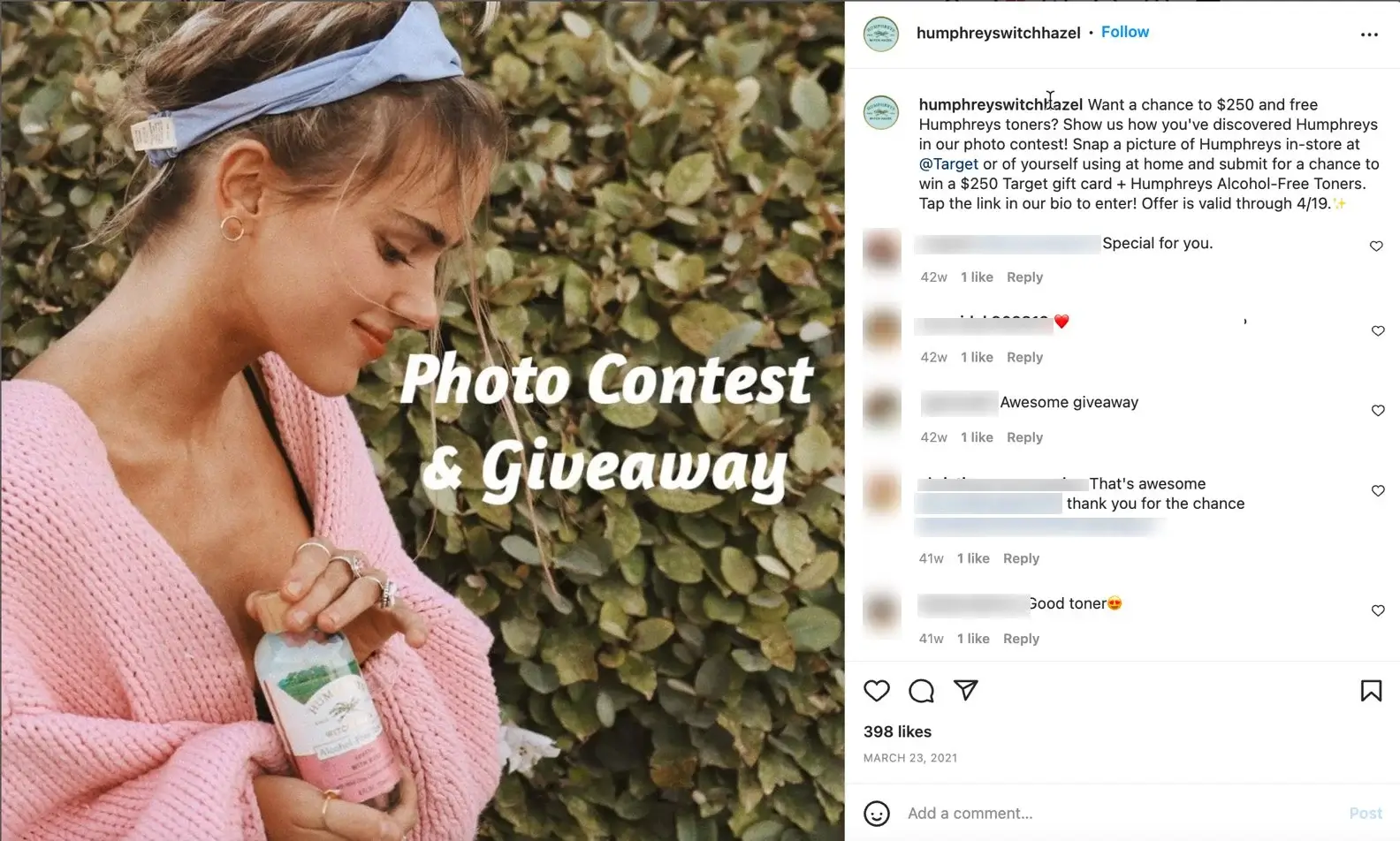 How to participate in a traditional photo contest on Instagram? Interested participants fill out a registration form and upload a picture that they wanted to participate with. All the entries are then displayed in a public gallery, making it easy for entrants to share their submissions.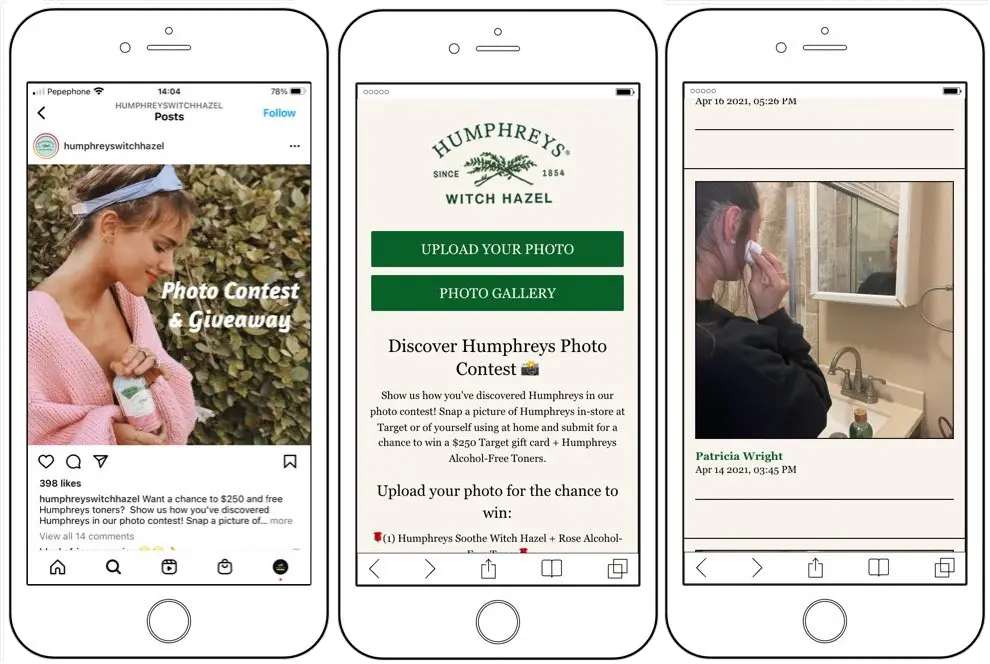 Use the photo contest app whenever you want to organize a photo contest across different social media platforms. Apart from disseminating your competition on Instagram, you can also share it with your Twitter, Facebook, and TikTok followers. A great idea would be to promote your contest on Stories and your website for further exposure and more new leads.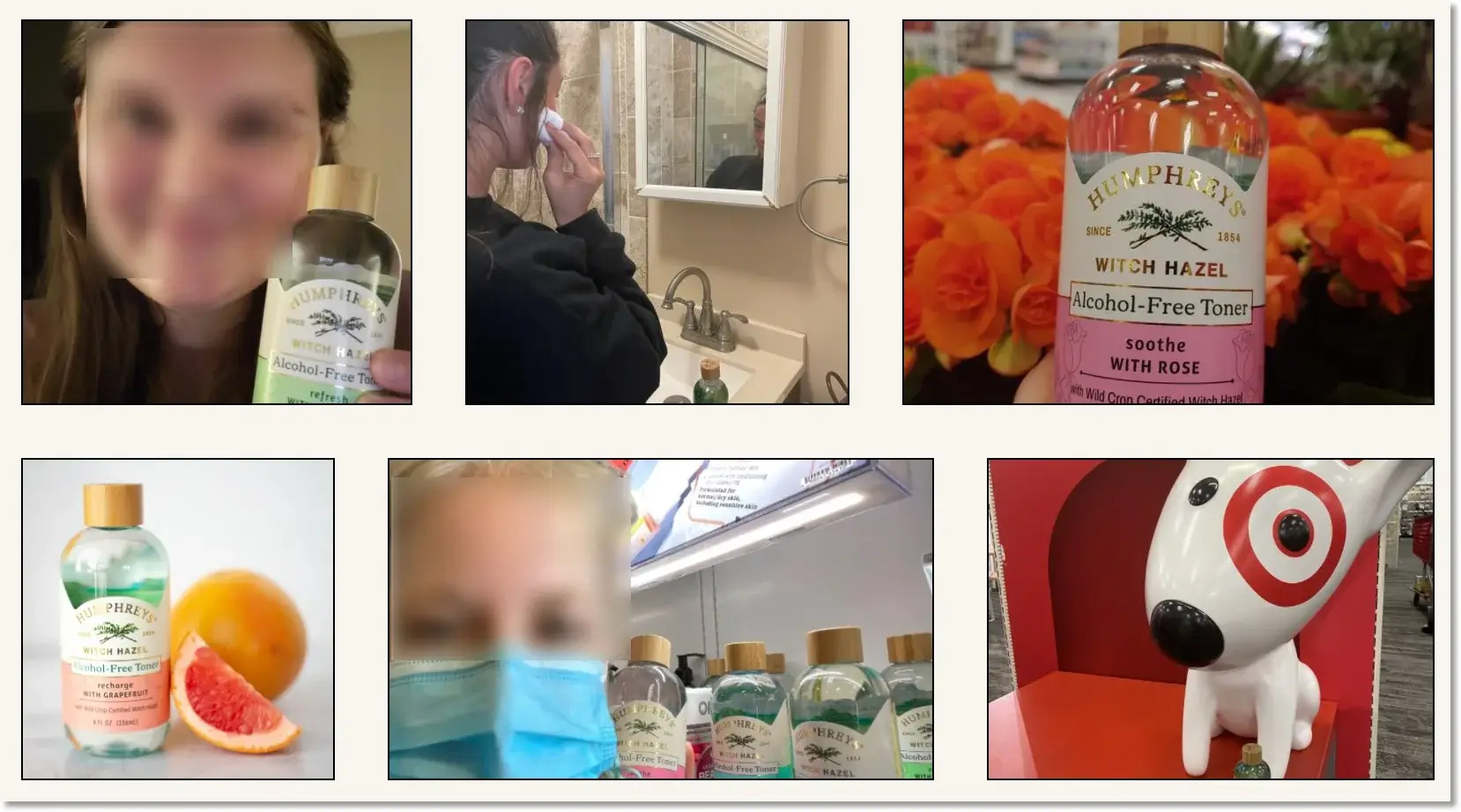 We have ready-made photo contest templates! Try the DEMOs and use the templates to launch your promotion in minutes! They come with free text, images and templates for your privacy policy and terms and conditions.
Why shouldn't I organize an Instagram photo contest on Stories?
Social media algorithms trick us all and it is true that organic reach is not as impressive as it used to be. This is why some brands try to organize competitions on Instagram Stories. However, we don't recommend running Instagram photo contests on Stories because:
There are no automated tools that can pull information from Instagram Stories which are visible only 24 hours. This means that unless you stay glued to your phone screenshotting each picture shared by participants you won't be able to retrieve all the pictures shared by your audience.
Even if you decide to conduct your Instagram photo contest manually, there is a risk that you will miss some entries. This would create a bad perspective of your brand.
You will still need an automated tool to choose a random winner or an internal jury that will have to scroll through each photo to choose their favorite.
However, let's not forget that Stories are a great promotional tool. This is why you should make sure that you use them to further promote your contest. Use Stories to share daily reminders or showcase already collected entries. Take a look at how Vueling made use of Instagram Stories to promote their anniversary photo contest. The Stories came with a link that directed interested users to a microsite where they could upload their pictures.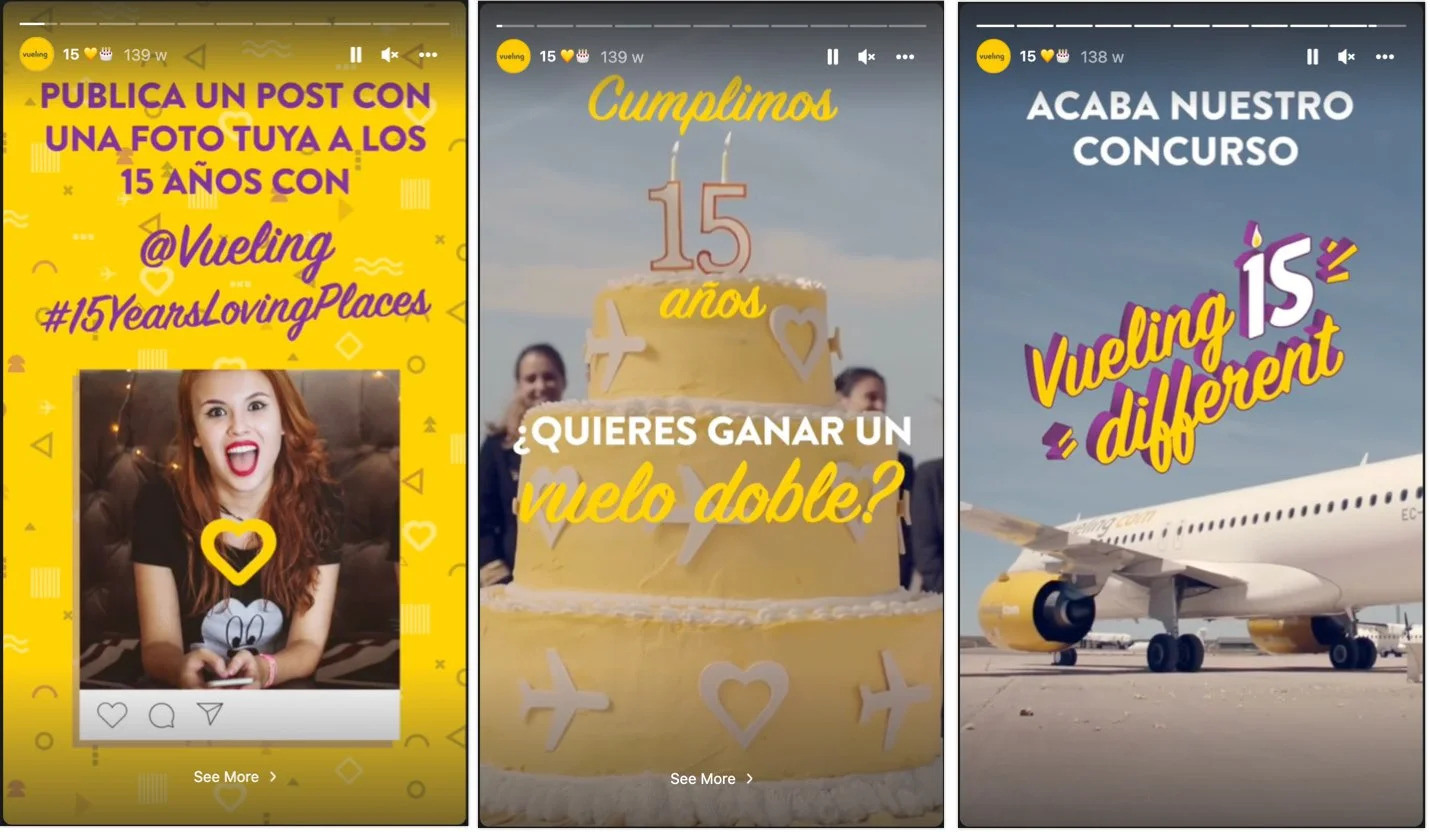 How can I choose a winner for my Instagram photo contest?
Running an Instagram photo contest means that you will have to choose a winner. And these are your options:
Reward the participant with the most votes: all the tools that we've looked at in this blog post come with an integrated voting system.
Choose a winner using our random giveaway tool.
Have an internal jury choose the best picture.
What to remember when organizing an Instagram photo contest
Before we finish, let us leave you with a list of things that you should remember next time you organize an Instagram competition:
Choose an application that most meets your needs
Choose an attractive prize, relevant to your niche
Create a series of organic and promoted posts to disseminate your Instagram photo contest
Cross-promote your Instagram photo contest on other social media platforms and communication channels
Share terms and conditions explaining all the participation requirements, dates, and age or location restrictions
Reshare the content collected in your contest
Are you ready to launch your photo contest? Don't worry if something's unclear or if you need help setting up your promotion. Our dedicated customer support team is ready to help.