Posted in: Success cases
The Client

Oysho, one of the brands from the Inditex group, offers collections of women's underwear, lingerie, homewear and beachwear.
Oysho Facebook page: 416,380 fans (12th March 2013).
The Campaign
Under the name "Lovely Parents", the aim of the campaign was to increase the number of fans and create  engagement with the followers of the page. The promotion consisted of a multilingual photo contest where users had to upload an old picture of their parents. The campaign lasted 25 days, during which the followers of the page had the possibility to send their images. Among all the pictures received, five finalists were selected by a jury, who won as a prize a Canon G15 digital camera.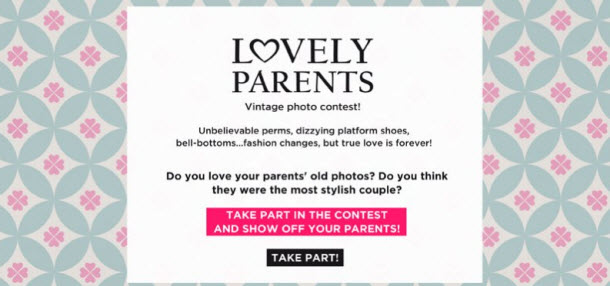 CHALLENGE:
Running a photo contest in a global Facebook fanpage with followers who speak different languages and come from different countries. The photo contest had to host the pictures of all the participants, regardless of their language or origin, but at the same time give a personalized and unique experience to the user, showing the contest in their language.  Read more »