What is the biggest problem that publishing houses and writers face? The answer is 2.2 million new titles published each year. So how do you attract the public's attention to your book? The one in 2.2 million? The answer is online promotions. Namely, book giveaways, as they allow you to segment your target audience. For example, if you're a publishing house, good segmenting will allow you to precisely target your audience, and offer them titles and genres that they enjoy.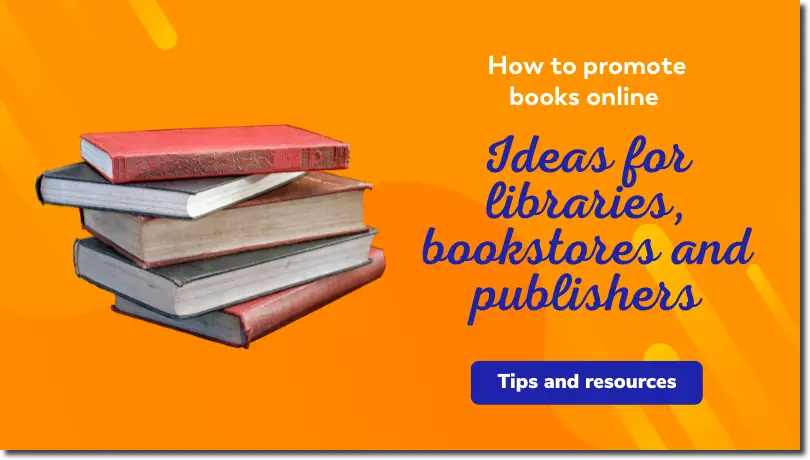 Therefore organizing a social media giveaway to promote a book or an audiobook is probably the easiest and most efficient idea. However, creating buzz around bestsellers and newly released titles is not the only reason to organize a social media giveaway. With such promotions, you can accomplish many other objectives, such as increased brand awareness for the publisher and author. Let's take a look at successful book giveaways organized on Instagram, Twitter and Facebook.
Would you like to benefit from your social media giveaways further? Launch a book-themed Entry Form Giveaway and convert followers into qualified leads!
Boost social media engagement and grow your audience with book giveaways on Instagram
Instagram is the most popular social media platform for giveaways. It is also the social media network with the highest engagement for brands. Therefore organizing a book giveaway on Instagram is a no-brainer.
Let's take a look at some engaging and successful giveaways organized on Instagram, with the main objective of promoting books.
Crossway is a non-profit publishing house of Christian books. With a high number of Instagram followers, they regularly organize giveaways to promote newly published books and reward their online community, so they can gain their trust and loyalty.
In the following example, the organizers wanted to disseminate information about a recently released piece. In order to do that, they organized a comment-based giveaway and gave away copies of the book to 15 lucky winners. They also threw in audiobooks!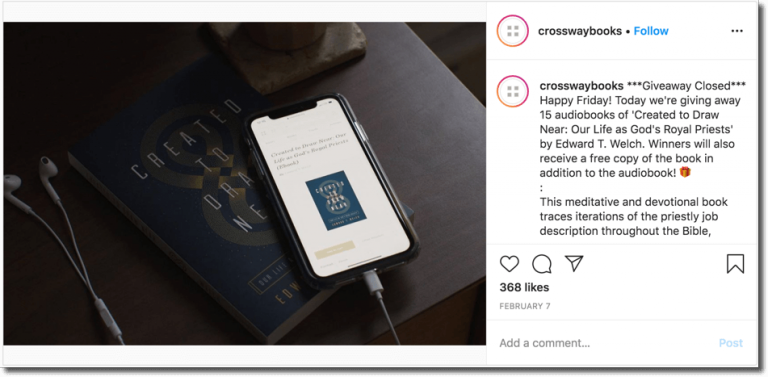 The entry requirements were very simple; participants followed the organizing account and mentioned five of their friends in the comments section. These requirements increased the number of followers and brand engagement, and also reinforced product awareness. The promotion also had more chances of becoming viral, as by mentioning five friends, each participant was potentially recruiting new entrants.
Crossway Books took exactly the same steps to organize their Christmas giveaway on Instagram.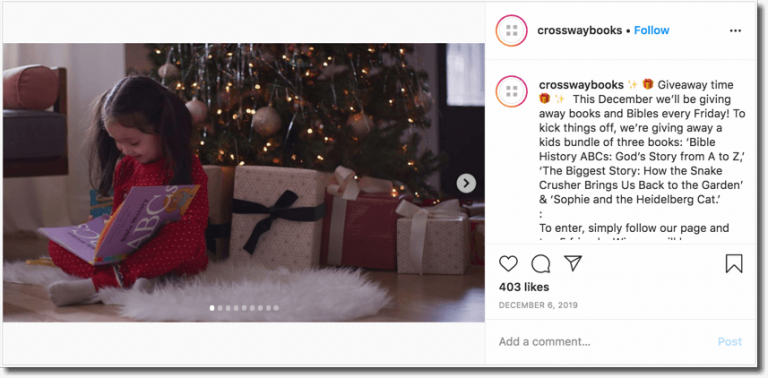 If you're an author, publisher, or bookseller, then strengthening your customer relationships is very important. And by organizing regular social media giveaways you will not only reinforce loyalty and trust but also form an emotional brand attachment.
Let's bear in mind that you don't have to be directly connected to books or literacy to launch a book giveaway on social media. Here's a fantastic example of a promotion by Khan Academy Kids – a mobile app with educational content for kids aged 2-7 years old.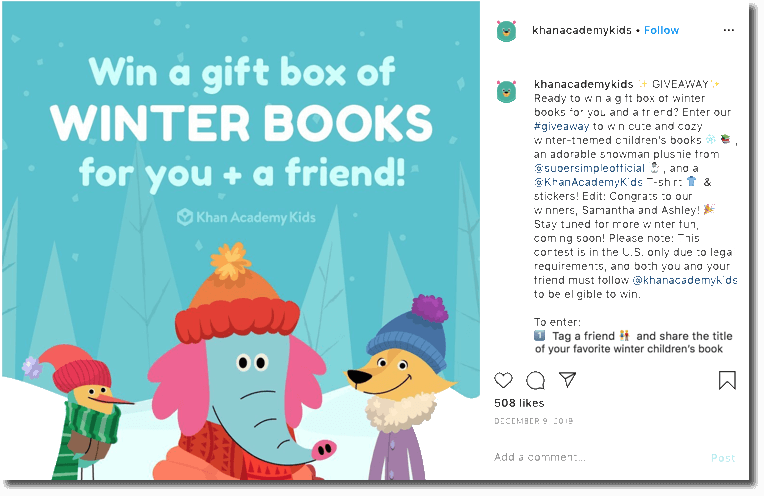 The organizer was looking to grow their Instagram audience, increase engagement and reinforce brand awareness. Khan Academy Kids achieved the three objectives with their book giveaway. In order to participate, the audience followed the brand's Instagram account, mentioned a friend in the comments section and also shared what was their favorite winter children's book.
So please bear in mind… Any brand can organize a book giveaway!
Another great example of a book giveaway is by Tombow. Tombow regularly launches Instagram giveaways to promote their products and reward their audience. This time the brand teamed up with a children book author. The main goal was to promote the book and dual brush pens by Tombow.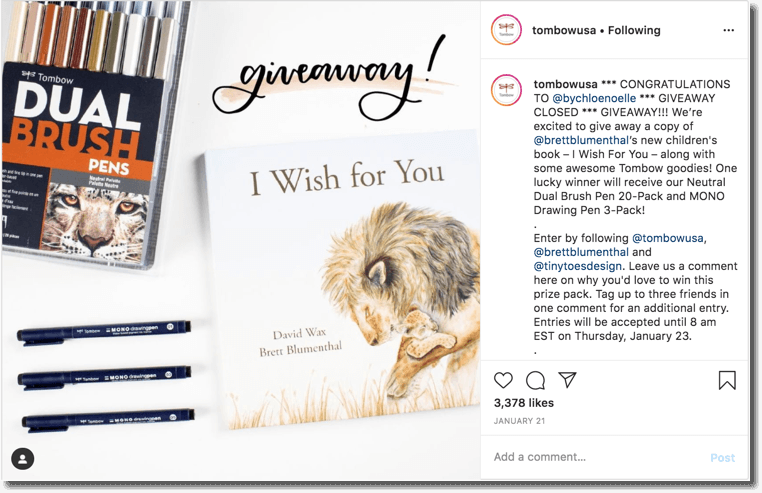 To enter the giveaway, users were asked to follow the organizing accounts and comment on the post explaining why they would like to win. The number of followers of all three accounts increased, the products got promoted, and engagement went through the roof.
Are you planning to organize a World Book Day Giveaway? Use our ready-made templates for your World Book Day Giveaway on Facebook or Instagram.
Book giveaways on Twitter will grow your audience and boost product awareness
The great thing about Twitter giveaways is that they're super simple to join. There's literally nothing easier than hitting the "Retweet" and "Follow" buttons. These two requirements are the most popular when it comes to Twitter sweepstakes. By asking the participants to follow your account you grow your audience, and by asking them to retweet the promotion post you make the giveaway go viral, and more visible to other Twitter users. Moreover, you also boost product awareness, which is the main purpose of promoting your book online. We will now have a look at how writers, bloggers, publishers, and booksellers can organize book giveaways on Twitter. And here are some real examples.
Example of a book giveaway on Twitter organized by an author
Natasha Carthew is a British author who recently ran a Twitter promotion. The author's followers got a chance to win three signed copies of her recently published books. In order to enter the prize draw, she simply asked her audience to follow her account and retweet the promotional post.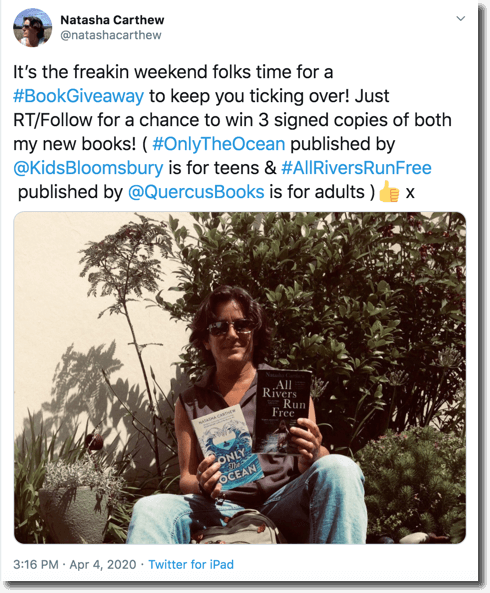 This is a fantastic example of how a writer can promote their own books. By launching a giveaway based on such dynamics, it is guaranteed that there will be an increase in followers, engagement and product awareness. The giveaway might also lead to some followers converting into paying customers, as many people might be interested in reading the book despite not being the winner of the promotion. 
If you're looking to organize your book giveaway on Instagram and need a little extra inspiration, take a look at these Instagram Book Giveaway examples.
Example of a Twitter book giveaway organized by a blogger
We've all seen our share of fashion, food, and beauty bloggers. But did you know that there are also book bloggers whose mission is to recommend great books and get people into reading? Here's an example of a book giveaway organized by Get Kids Into Books.
The organizer asked their audience to follow them, and also retweet the post.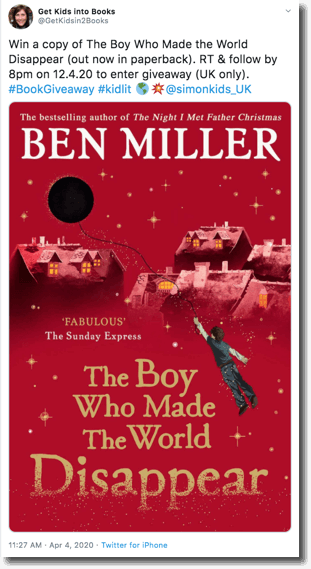 If you're a successful blogger you can team up with authors, publishers, or even bookstores. Giveaways organized in collaboration with another party always tend to be very successful. It is simply because promotions organized by more than one account reach a wider audience, which means that both organizers gain more visibility and social media presence.
Example of a Twitter book giveaway organized by a publishing house
It is quite clear that it's also a publisher's interest to promote a newly released book. More engagement means more awareness, and more awareness means more potential customers. Therefore creating a buzz around a new release also benefits the publishing house.
One way of doing this is through social media giveaways. Here's an example of Orca Book Publishers, an international publishing house. The brand recently held a Twitter giveaway for teachers.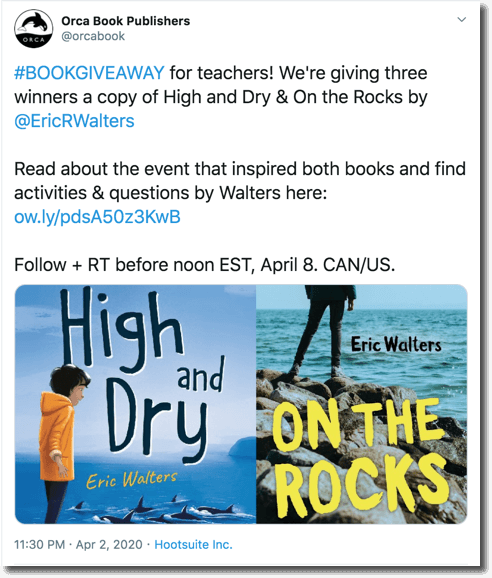 Once again, the participants had to follow the organizer's account and reshare the post. Also, note that the brand mentioned the writer in the promotional tweet. It's important to do so so that the author can reshare the giveaway on their social media. This way more potential participants can see it.
Example of a Twitter book giveaway organized by a bookstore
Booksellers are now on social media, too. And it's no surprise that they also organize social media giveaways to energize their followers and increase social media engagement.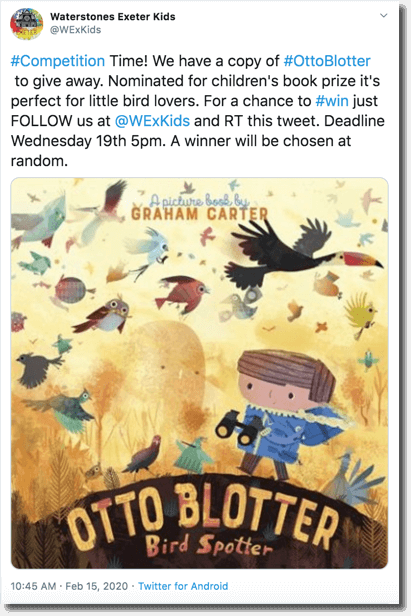 As you can see, the fourth example of a book giveaway on Twitter uses exactly the same dynamics as the previous examples. Once again, the participants were asked to follow the bookseller's account and retweet the post.
So if you're planning to organize a book giveaway on Twitter don't complicate your life. Follow proven practices so that you can easily tick off your marketing objectives.
If you want to celebrate World Book Day with interactive contests and apps, then head to our World Book Day Promotion Ideas blog post, full of inspiring examples!
Book giveaways on Facebook will boost social media engagement
Chicco regularly organizes Facebook giveaways for their customer base. The requirements are always the same: comments on the posts. Open-ended questions on Facebook dramatically increase social media engagement, as they encourage real conversations. By sharing stories, views, and memories in comments, the audience grows emotionally attached to the brand.
In this example, Chicco partnered with the author of a cookbook for kids. The winner of the giveaway put their hands on a copy of the book, and a new high chair by Chicco.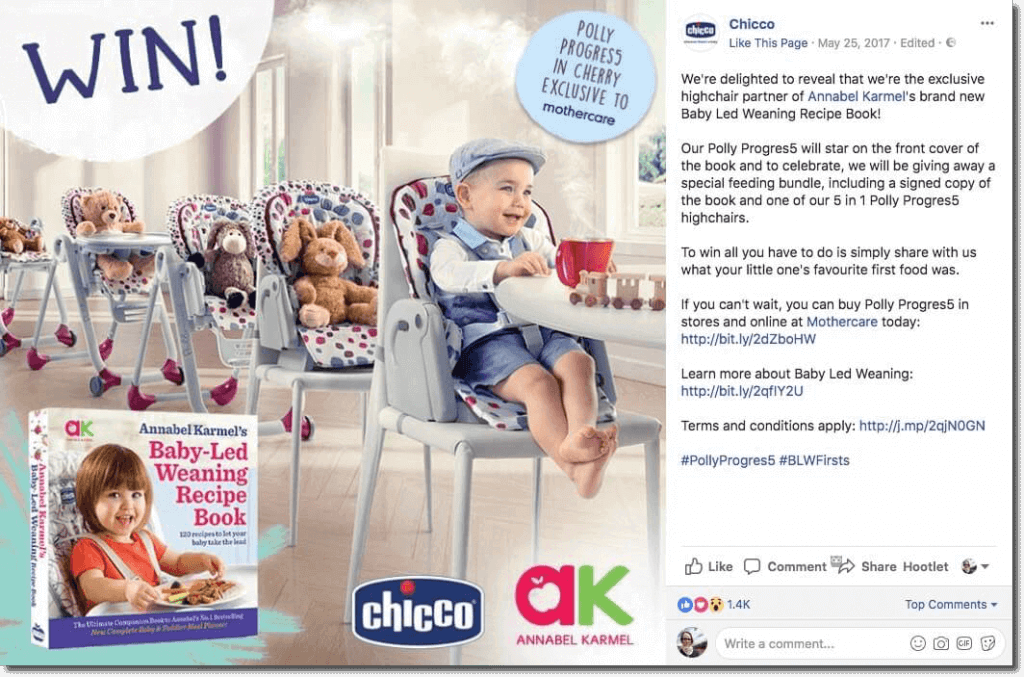 If you're planning to launch a book giveaway on Facebook you could also ask the participants to mention their friends in comments; this would attract new potential participants, and increase engagement further.
Here's another example of a book giveaway organized on Facebook. Once again, it is a comment-based promotion aimed at reading enthusiasts. Planet de Libros is an online bookshop that was looking to promote a recently published book. To increase their social media engagement and brand awareness they organized a promotional giveaway. The organizer published the first few pages online so that the interested participants could read them, and answer a question, which was the only entry requirement. The entrants commented on the post stating what was the occupation of one of the book characters.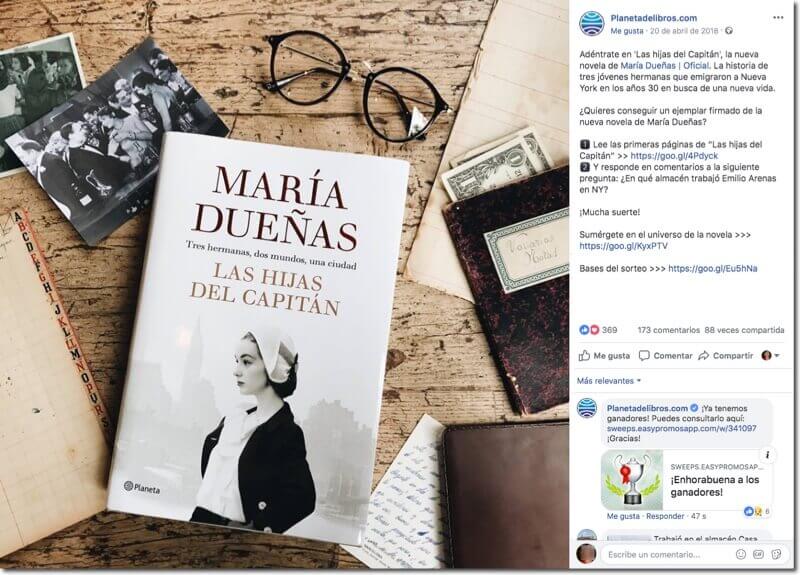 Are you looking to run a book giveaway on different social media networks? Use our Multi-Network Giveaway app to draw a winner from multiple social media platforms.
Ready to organize your own book giveaway? We hope all the above examples inspired you to launch your book sweepstakes on social media. But don't worry if you have some questions or doubts! You can now Chat with our Support Team, they're ready to answer all your questions!