As you well know, every social network is different. Each one has its own distinctive style, audience, and tools for marketers. In this article, we'll break down the different social networks on offer – discover which one is the best fit for your Father's Day giveaway ideas.
But just before we start, we'd like to point out a very important aspect of running social media giveaways: cross-promote your giveaway! If you're running a Father's Day sweepstakes for your Twitter followers, make sure you promote it on your Facebook and Instagram accounts, and vice versa. There's no easier way to drive traffic to your promotion, as well as grow your following organically on other platforms.
Instagram giveaways for Father's Day: woke dads and parenting influencers
Instagram must be our favorite platform for organizing social media giveaways. Although it has a smaller user base than Facebook, Instagram has a huge cultural impact, especially on young, affluent shoppers. Instagram giveaways have become a hugely popular way to boost engagement and get people talking.
It's also the social network of choice for parenting bloggers and lifestyle influencers. If you want to reach out to young, stylish parents and users, then Instagram is the best place to start. Take a look at this trendy-looking Instagram giveaway organized to celebrate Father's Day. Ten and Co, a home decor account, teamed up with sustainable soap brands. The organizers provided some of their best-selling stock to put together an attractive product bundle.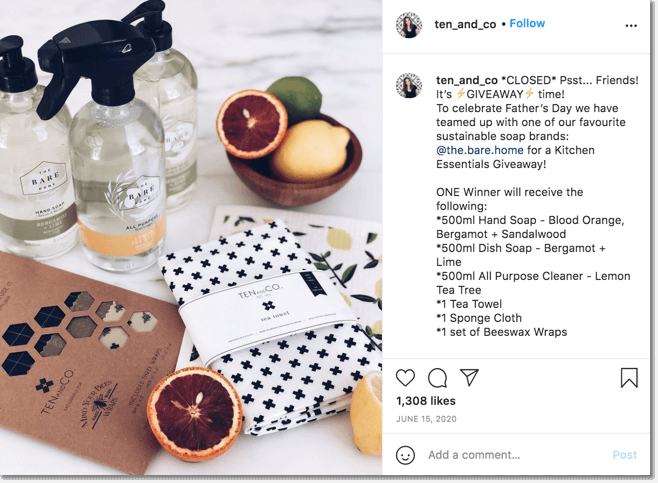 Users participated in this fun Father's Day giveaway by following the organizing accounts and mentioning two friends in the comments. Then, a random comment picker app for Instagram chose a random winner.
To help your giveaway go viral, ask participants to mention their friends in the comment section as one of your entry requirements! You can also specify how many friends you want them to tag. Would you like to find out more about sweepstakes celebrating Father's Day? We created a blog post dedicated to Father's Day Instagram giveaways – visit it for more ideas, real examples and customizable templates!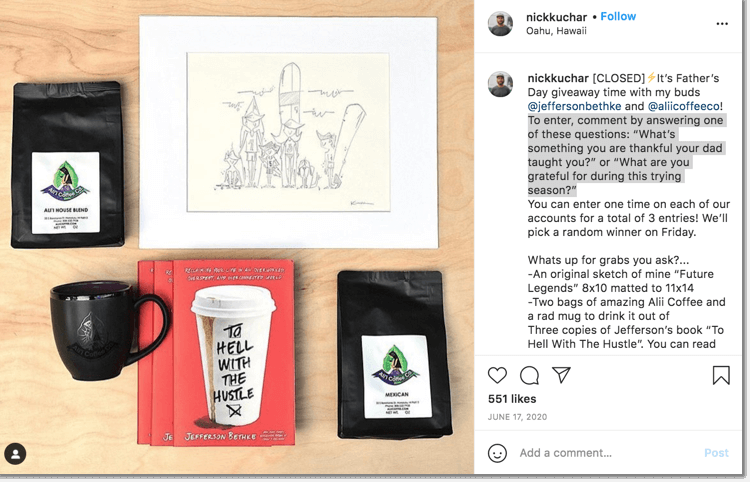 Another fun example for a Father's Day Instagram giveaway comes from Nick Kuchar Art&Design. They teamed up with two other brands to give away product bundles in three independent giveaways! Users could participate on each brand's account for a new chance to win.
Celebrate dads with Facebook sweepstakes: where families stay in touch
Facebook is, of course, at the top of everyone's list. With almost 3 billion users, pretty much every brand will find an audience here. And it is a great place to start your Father's Day campaigns.
Although Facebook users skew slightly older – it's barely used by the teenagers of Generation Z – it is where families keep in touch. Use Facebook giveaways and ads to reach out to parents, and adults who want to celebrate their dads and families.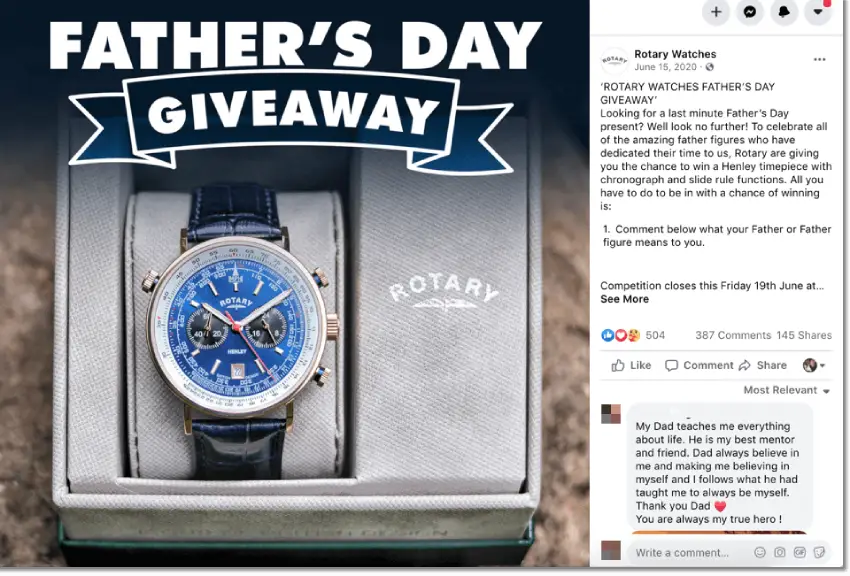 In the above example you can see how a watch brand celebrated Father's Day with their Facebook audience. They looked for stories and… they got them! Users participated by commenting what their father or father figure means to them. It was a great way to kickstart conversations! Remember that comment-based giveaways are the best to boost engagement so asking open questions is a great way to encourage real conversations and generate meaningful customer relationships!
Interested in finding out more about celebrating Father's Day with Facebook giveaways? We also have Father's Day giveaway templates! Visit our article dedicated to Father's Day giveaways on Facebook.
Twitter: engage fun and community-oriented users
Twitter is often under-rated by social media marketers. And truthfully, it can be hard to get started and build your audience.
But once you do… Twitter offers a tight-knit community where people share jokes, ideas, and product recommendations freely. Just like on Instagram, there are lots of moms and dads sharing insights from their day-to-day lives. (With a little more caustic wit and sarcasm than other social networks.)
It's also a great place to start conversations, organize customer service, and collect user-generated content. Check out this Father's Day giveaway, where Eurochange asked people to share why their dad is the best: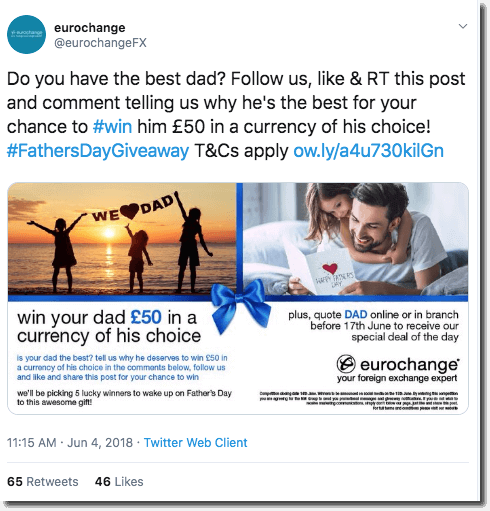 They received some heartfelt responses and moving stories from Twitter users. It was the perfect way to mark Father's Day and reward their most active followers. Participants followed the organizing account, liked the post and replied to the promotional tweet. Once you finalize your Father's Day Twitter promotion you can use the Twitter Giveaway app that will automatically choose a random winner of your contest.
As well as collecting Twitter replies, you can also use Mentions + Hashtags to harvest users' photos and tweets about your Father's Day campaign. In this example, the brand collected selfies and stories with the custom hashtag #SuperheroDad.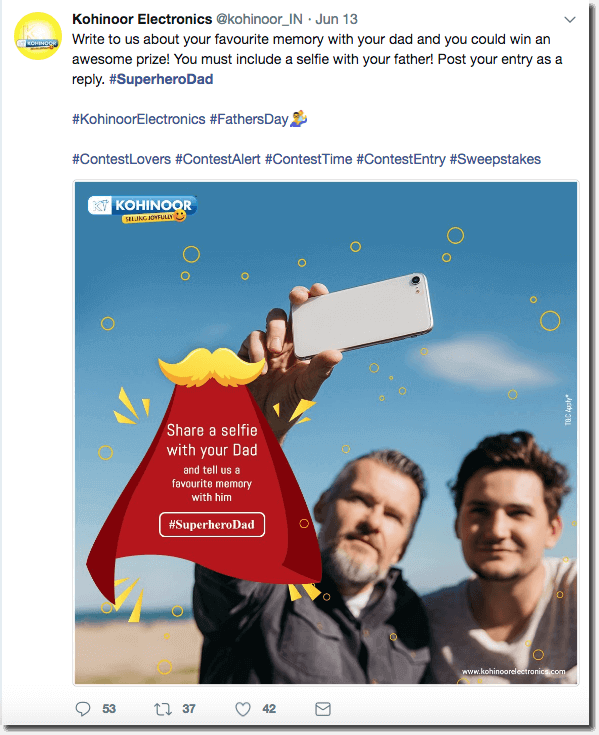 Entry Form Giveaway app: convert followers into leads with a Father's Day giveaway
Social media followers respond highly positively to easy-to-enter promotions. The more requirements you set the more participation barriers you create. It means that many potential entrants might abandon the participation process after discovering all the different steps they have to go through. That's the reason why social media giveaways are so popular! They don't require much effort and time and they leave mostly positive impressions.
But many brands seek creative methods of collecting contact information from their followers. Launching registration form giveaways has proven to be one of the most effective approaches.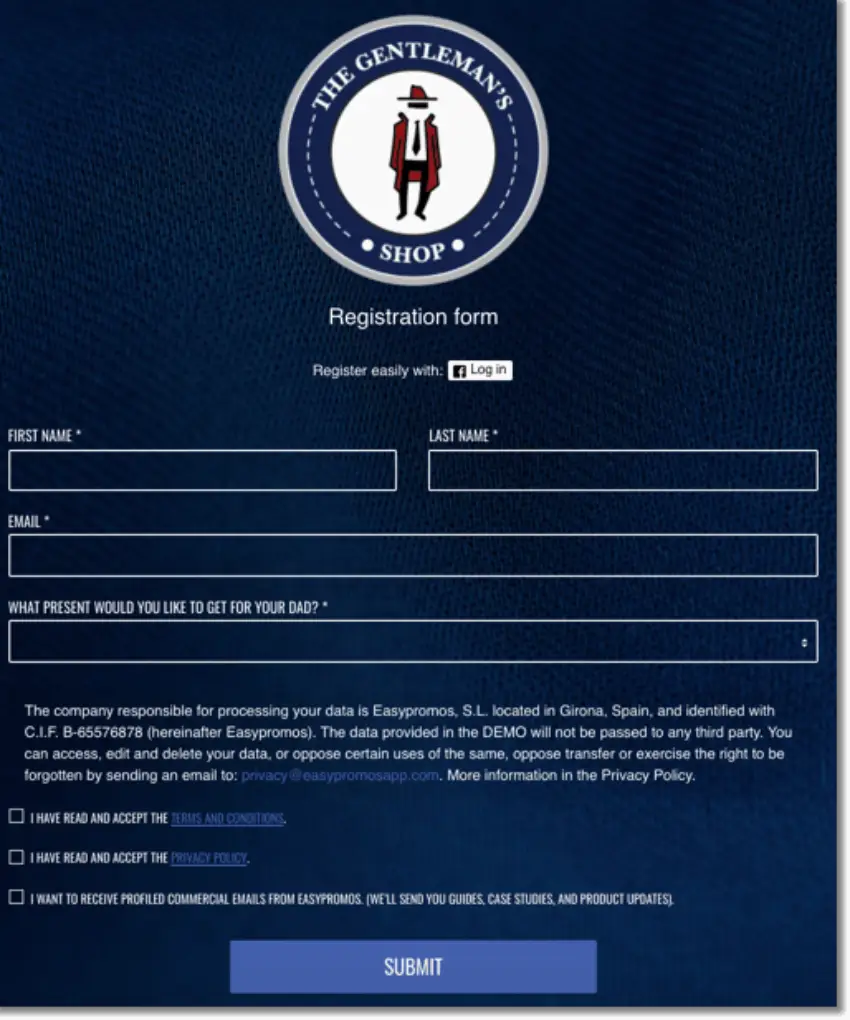 Take a look at the above image to see an example of a registration form. Users fill it out with their basic information and submit it for a chance to win whatever it is you're raffling! Entry Form Giveaways are published on a microsite with their own URL – you can share it with followers across all social media networks to attract as many participants as possible. Apart from boosting your brand awareness you also get to nourish your database with qualified leads.
Are you ready to organize a Father's Day giveaway for your social media followers? We hope our ideas brought a little bit of extra inspiration! You can visit our section dedicated to Father's Day marketing ideas or contact our Support Team in case of questions and doubts.