The main reason for brands launching contests is that they give a fantastic opportunity to increase brand awareness and engage social media followers. Many online community members are passive content consumers who don't interact with branded content. By giving them a chance to win a prize, experience, or even obtain a discount code, you increase their chances of becoming active community members.
However, launching a contest is never a bad idea. But it is incredibly important to invite your followers to participate in a promotion that appeals to their likes, preferences, and lifestyle.
Reasons for organizing a pet-themed contest
In one of our previous posts, we mentioned that online promotions with baby and animal topics seem to be always the most popular among online communities.
So does your brand sell products or services aimed at pets and their owners? Or maybe you simply have a reason to believe that the majority of your social media followers are pet lovers? Your guess might be just correct, as 67% of US households own a pet, according to the 2019-2020 National Pet Owners Survey. And targeting your audience's soft spot is ALWAYS a good idea. With the number of pet holidays that happen throughout the year, you have more than enough chances to do it! Here are just a few from the Complete List of Pet Holidays:
World Animal Day
International Dog Day
International Cat Day
Hug You Cat Day
International Homeless Animal Day
And the list goes on!
Brands organizing pet-themed contests can accomplish much more than just engaging their online communities. By sharing content that strengthens the emotional connection between the brand and the target audience you retain the most loyal customers.
Did you know that clients who feel a connection to a brand spend up to twice as much as those who don't?
Click To Tweet
Another reason to make contests a permanent part of your marketing strategy is if shared on social media they convert followers into qualified leads. And if users participate by sharing videos, texts, or pictures you automatically get to collect the so-desired user-generated content that happens to be the most authentic type of content brands share on their channels.
In this blog post, we show you examples of successful online pet contests organized by companies from different sectors. They engaged online communities, improved brand, and product awareness, and generated hundreds of contact details for the organizers' databases. And most importantly, they allowed brands to share user-created content that humanized the brands and helped boost customer loyalty and trust. Take a look because one of them might inspire you enough to launch your own online pet competition.
Are you looking for something more simple? Why don't you launch a pet-themed comment-based social media giveaway to boost engagement and connect with your social followers?
Boost brand visibility and social media presence with pet Photo Contests
If you have a pet yourself, your phone is likely to be full of cute shots of your puppy, or your grumpy-looking cat. If you'd come across a pet Photo Contest online it'd take you less than a minute to participate. Now think that there are thousands of people like you. And they're the people you should launch a photo contest for!
Boost social media presence by encouraging social media sharing
First up is this photo contest organized by DogTV, an absolute pioneer in pet-themed online contests. DogTV is the first television network made specifically for dogs! The TV channel regularly launches contests for their loyal viewers, giving them a chance to shine in front of other dogs, as the best content pieces make it to the TV channel itself. But this time DogTV went further. Instead of asking the users to submit pictures of their dogs, the brand decided to look for the Dog Mom of the Year! This contest targeted all the female dog owners that wanted to claim the special title.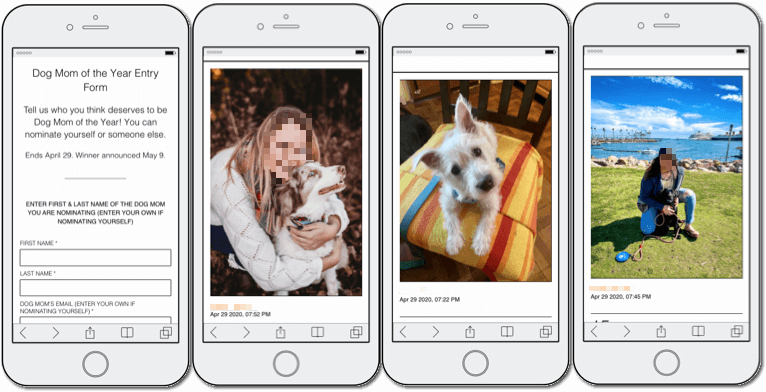 It was in the public's hands to choose the winner, therefore all participants shared the promotion link across social media channels. It tremendously boosted DogTV's brand awareness and improved their social media presence. The brand also expanded their mailing list and obtained content for the TV channel and social media networks.
Promote your brand and product with a pet photo competition
Maggie Dent is an Australian parenting author, educator, and speaker. During the recent self-isolation, the author decided to celebrate the connection we have with pets, the compassion and kindness they bring out in us. Maggie Dent launched a photo contest for pet owners; interested online users shared pictures of their kids spending quality time with their four-legged friends, parrots, and hamsters.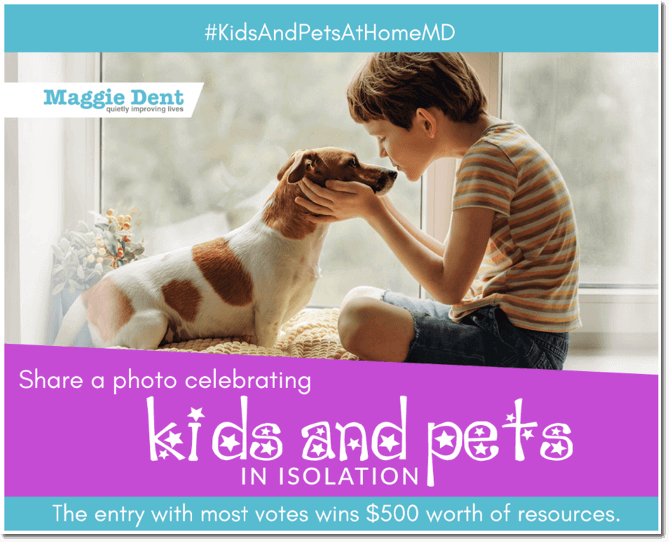 Once again the winner was chosen by the public, which encouraged the participants to share the promotion link across social media channels. It was also a great way to attract more potential entrants, and convert followers into Maggie Dent's online community members.
You might be wondering what would be the best prize for a brand awareness campaign on social media. Follow the steps of Maggie Dent; the winner got $500 worth of Maggie Dent's resource, while the 2nd and 3rd runner up got $200 vouchers to redeem in the online shop. It was a fantastic opportunity – that Maggie Dent took – to promote educational products and raise brand awareness. The online pet photo contest also drove many participants to the e-commerce simply to check out the products that Maggie Dent offers.
Launch a pet-themed online contest to drive traffic to your e-commerce site
Have you recently launched an online shop for your pet shop? Or maybe you simply want to drive traffic to your e-commerce? There's a way to do it! Here's an example from Vetscriptions, a British pet shop. The business asked their customers to upload pictures of their "super pets" for a chance to win a £50 voucher to spend in their online store.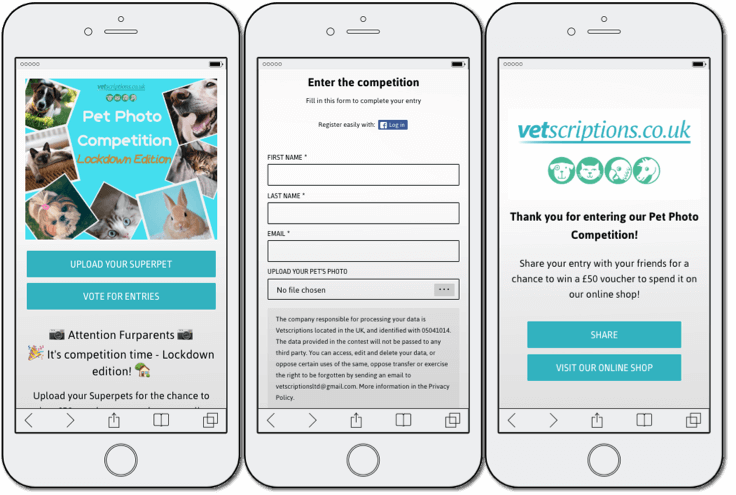 TIP: If you're looking to boost sales offer a discount code for all participants, apart from a big final prize. You get to collect great pictures for your social media channels while boosting sales and driving traffic to your website. It's a win-win.
Boost social media engagement and visibility with a Mention + Hashtag Contest
Many brands launch content-focused contests in order to raise awareness. But how about launching a contest in which users participate by posting on social media instead of uploading pictures through an entry form?
Here's an example from Lara Vital, a popular online pet shop. Lara Vital wanted to promote one of the products available at their shop: dog food. To do so, the company launched a Mention + Hashtag Contest, in which online users participated by sharing a picture of their dog with one of the Natural Extra products.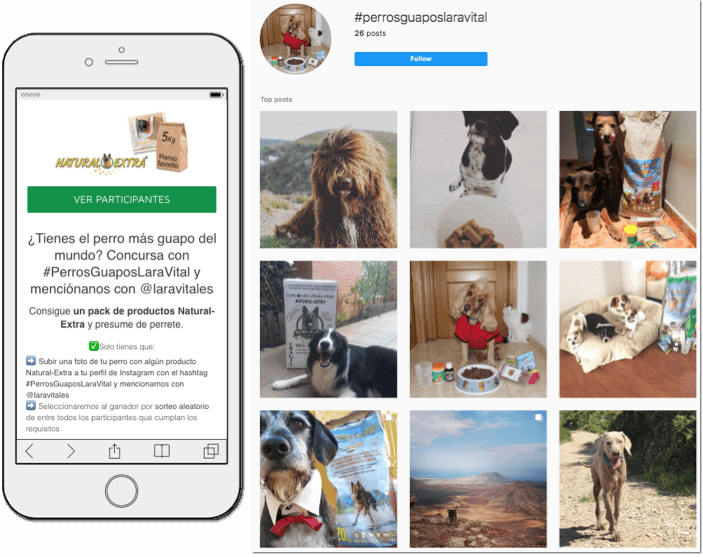 It was a great tactic to boost the brand's visibility on social media and promote the sponsoring brand and product. Social media pet contests tend to go viral, as many potential users learn about the contest from posts shared by their family and friends.
Launch pet Video Contests to expand your database and obtain authentic content
Video Contests are very similar to Photo Contests, as they are based on exactly the same dynamics. However, video content is more engaging than image and written content. It is reported that videos generate 1200% more shares than texts and pictures. So if you're looking to repost the content obtained through an online pet contest you might want to put your bets on audiovisual pet competitions.
Here's an example from Koala Mascotas, a pet shop from the Canary Islands. The organizers were looking for funny videos of pets; dogs, cats, parrots, and even spiders were welcomed!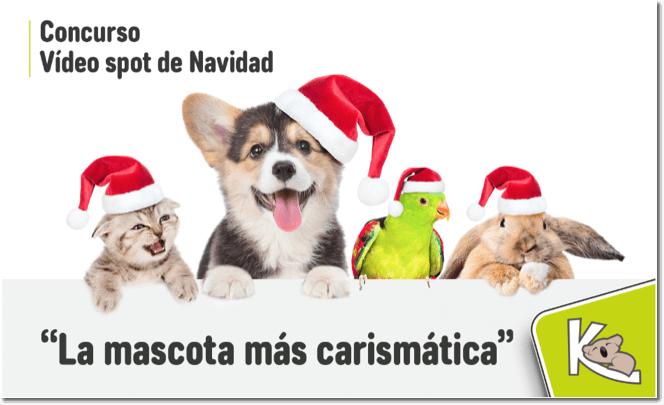 The winner was once again picked by the audience and won a gift bag full of products appropriate for their funny animal.
Share fantastic stories and tap into your customers' loyalty with Writing Contests
Haven't we all shed a tear reading a heartwarming story about rescued cats or dogs? Well, some of us have! By targeting your potential customers' emotions you create an emotional connection between your brand and potential clients. And that connection can be often built through stories, as they're the trigger for our brain emotional center. Here's a great example of a Writing Contest launched by Rescue – disinfecting products. The company decided to give back to their community and to do so they turned to their social media followers. Rescue asked online users to nominate animal shelters that needed disinfecting products. Over the course of a year, monthly, they donated products needed for keeping animal shelters clean and safe.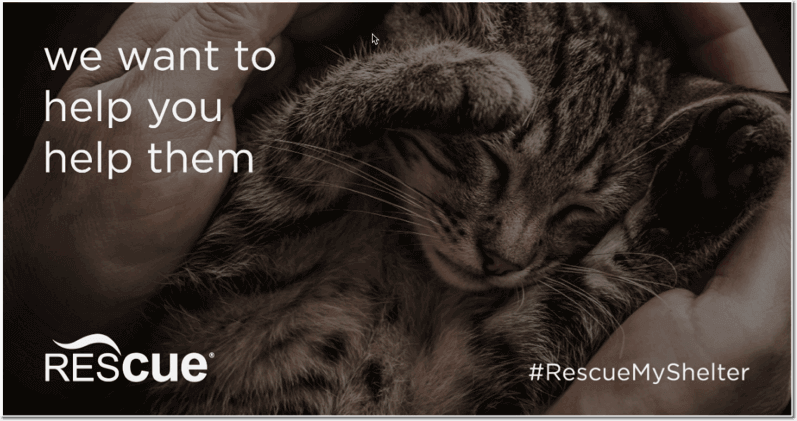 It was a fantastic customer-driven campaign, as the online users helped choose the shelters most in need. The contest increased brand and product awareness and hugely reinforced customer loyalty and trust. In order to convert website visitors into leads and disseminate the contest, Rescue announced the promotion also on their website.
Go viral with a Refer-a-Friend pet contest
Have you ever thought about organizing a contest where participants get extra chances to win for convincing their friends to also join the promotion? Let us tell you: it's the best way to make your promotion go viral and tremendously increase brand and product awareness.
Universo Mascotas is another online pet shop, regularly launching fantastic pet-themed giveaways and contests for their online community. This time the brand organized a Refer-a-Friend contest in which they wanted to hear stories about rescued animals.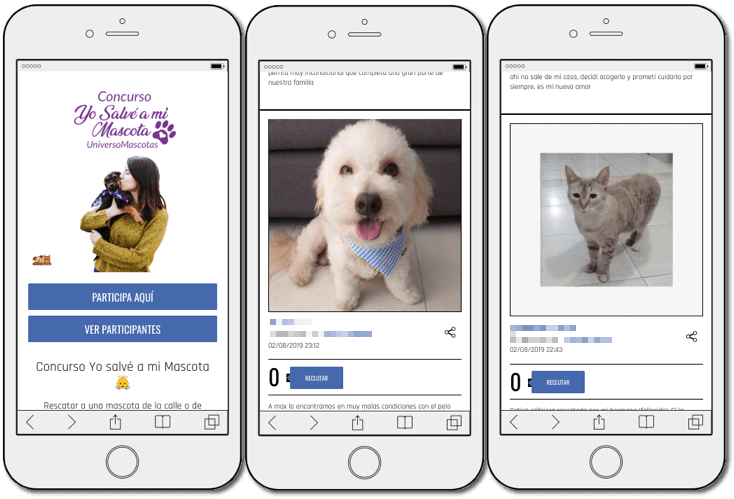 Interested participants shared pictures of their rescued furry friends and then shared a link with their family and friends. For every recruited participant the recruiter had an extra chance to win a 6-month food supply for their pet.
Don't worry if your brand is not associated with pet products or services, as any brand can launch a pet-themed contest. Celebrate World Animal Day or any other event to tap into your customers' loyalty.
Do you have questions or doubts? Or maybe you launched a great pet contest that you'd like to share with us? Contact our Support Team!