An effective prize management system might well be the single element that makes or breaks a promotional action. Most users participate in contests and giveaways motivated by the prize being offered, according to a study by Easypromos that surveyed over 1,700 people. Specifically, 48% stated that the prize is the most important factor, and for 45% of them, it is the main decision-making factor.
At Easypromos, we have managed over 50,000 digital promotions, all of which included a prize. The mechanics of these promotions are always designed to award a prize to the winner. However, there can be various scenarios: having a single high-value prize, having multiple prizes of different values, having infinite digital format prizes, combining physical and digital prizes, and more. The prize inventory of a campaign can determine the participation mechanics and is determined by the type of prize and the number of units of each prize type. For example:
You have 100 movie premiere tickets, how to give them away? (Flash idea: Instant Win)
You have 100 tickets for a music festival with 5 different artists. How do you give them away? (Flash idea: the first 100 user to register get the tickets)
You want to give away a car, which is a very high-value prize and you want to guarantee a high participation level. Which is the best option? (Flash idea: a final prize draw always does the trick)
You can give away a luscious trip as well as merchandising. Can these options be combined? (Flash idea: Use the excitement of a Scratch&Win)
You have five 80% discount codes and unlimited 10% discount codes. What are my options? (Flash idea: How about a prize wheel?)
You want to reward your most loyal clients with a treat. How do I make sure that the promotion is not abused? (Flash idea: Digital coupons with redemption control)
Want to know more about these options? Keep on reading!
How can prizes be distributed?
There are basically five ways to distribute prizes in digital promotions:
By random draw
Direct participation
Instant Win
By odds / probability
By manual assignment
These options are not mutually exclusive but can be combined, and that's where the power lies if you have an inventory of multiple types and quantities of prizes. Keep on reading to learn more about it.
Prize management system: random draw
It is the most common way of distributing the prize. Everyone who participates in the promotion becomes a finalist in the final draw. Easypromos has a random draw tool that allows segmenting participants according to given criteria (if necessary) and selecting the number of winners and alternates. Keep in mind that the audience sees more chances of winning when there are several units of the prize to be distributed, so it is advisable to allocate more than one prize in the draw.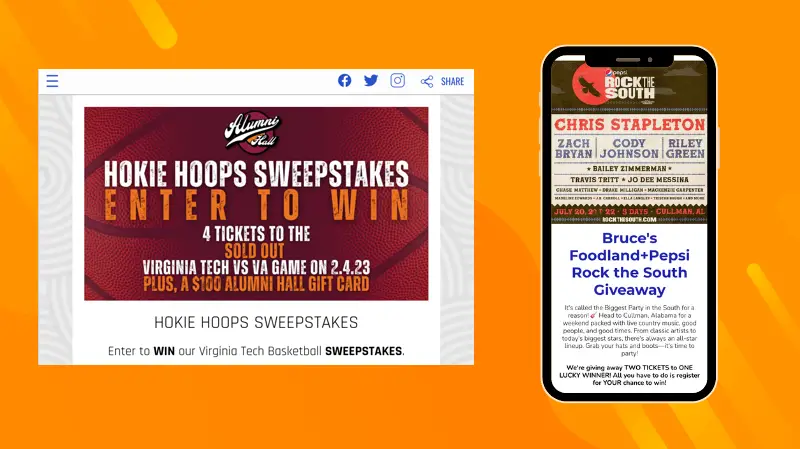 There are several types of sweepstakes that you can organize, but all the dynamics use the notary-certified random winner selection system developed by Easypromos. Besides being able to automatically produce the number of winners and substitutes you have set, the brand ensures the reliability and transparency of the process.
Prize management system: by direct participation
If you aim to maximize conversion, give away instant prizes upon participation. Users know they will receive a guaranteed prize upon registering, so if the prize is attractive, they will participate without hesitation. Offer discounts or units of your products as prizes, making sure you obtain the contact information of your target audience. The most common dynamic for this type of promotion is distributing digital coupons to redeem in physical or online stores. In the following example, the furniture store Moradillo gives away online discount coupons to celebrate its anniversary. Users registered, obtained the coupon, and redeemed it at the time of purchase. The store's attendants validated the coupon using Easypromos' prize redemption tool.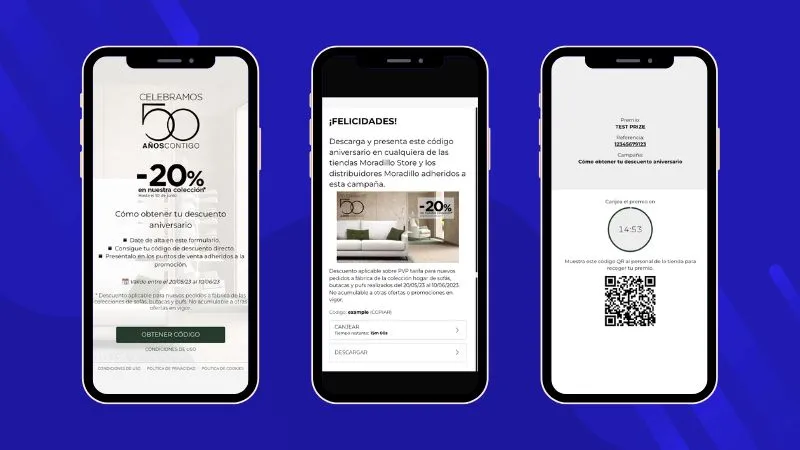 In this kind of promotion, the number of prizes available is usually high and can consist of a single or different kinds of prizes (discounts, gifts, rewards).
You can also create special conditions for prize allocation. For example, giving a specific discount based on what a user has answered in the registration form, or giving surprise coupons to a specific number of participants.
Prize management system: Instant Win
Another option to lure users into participating and trying their luck to see if they win a prize. In the "Instant Win" dynamic, participants register, and if they happen to do it matching a predetermined winning moment, they will receive a prize. Otherwise, they can try their luck again (if the organizer configures it that way). This type of promotion usually involves a high number of prizes to be distributed randomly throughout the duration of the campaign.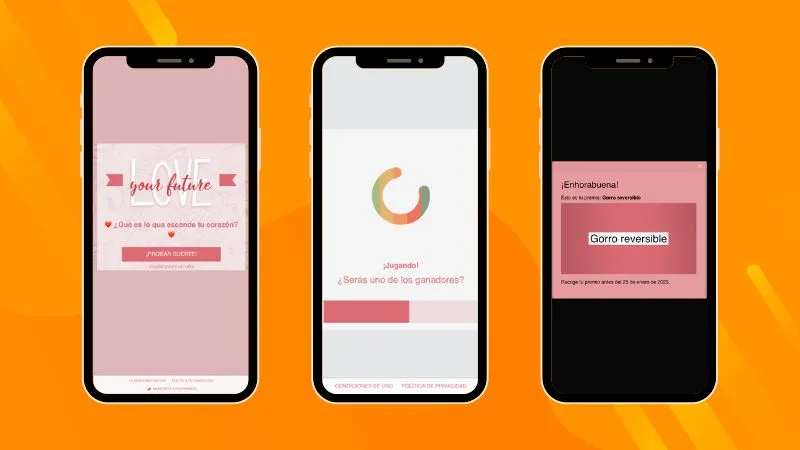 In the example above, the Puerto Venecia shopping center in Spain, distributed prizes online through an Instant Win promotion to celebrate Valentine's Day. By doing so, they drew foot traffic visits to the shops as all the prizes had a near expiration date to be redeemed.
It is also common to organize one-day-long promotions. These include hourly Instant Win moments and participants can try their luck every hour. This kind of campaign involves extensive planning beforehand, but it then unfolds almost automatically. Its objective is to achieve high visibility on that specific day.
Prize management system: by odds / probability
When you have many prizes to distribute, and you want them to be given out randomly, you can distribute them based on probability. The best example of this type of dynamic is a Prize Wheel, where you can configure several prize or no-prize slots, and establish the odds for each type of reward. In this case, it is important to understand how probabilities work and to seek advice from the support team to achieve a smooth distribution of prizes without running out of them too quickly. You can also create special conditions for prize allocation. For example, giving a specific discount based on what a user has answered in the registration form, or giving surprise coupons to a specific number of participants.
There are also other possible dynamics such as the digital 'Scratch & Win' and the Reveal & Win' that fit this prize distribution well. What's more, it can be combined with the 'Instant Win' distribution; if there is a higher-value prize, you can control when it will be given out by programming it as an instant win instead of basing it on odds.
Prize management system: Manual assignment
In Some kinds of promotions, such as contests, you may need to manually assign prizes to one or more participants. For example, when a jury decides who the contest winner is and you need to communicate the result properly to close the campaign. Or in the case of games, when the winner is the top-ranking participant. Having the option of manually assigning the prize is important, as it allows you to display the promotion's outcome on the winners' page, making the dynamic transparent.
Many of these prize distribution strategies can be combined in a single promotion. For example, a game can award the main prize to the top-ranked player while also distributing discount coupons to everyone who completes a certain level or achieves a specific score.
How does a prize management system work?
In promotions that plan to give away a certain number of prizes, it is important to be able to control how they are distributed to make sure that the promotion doesn't run out of prizes too soon. The distribution by odds and Instant Win dynamics are very helpful in this case.
At Easypromos we are well aware that effective management of the prize inventory is crucial for generating a positive experience for participants and ensuring the success of the promotion. That's why the prize system allows you to choose how to distribute them, shows you how many prizes are still available, and provides statistics on how they have been distributed. In the case of complex prize distribution dynamics, such as in the Prize Wheel, the prize inventory is essential and is prioritized within the editor. Take a look at the following example: the editor allows you to clearly and directly define the percentage with which you want to distribute this inventory.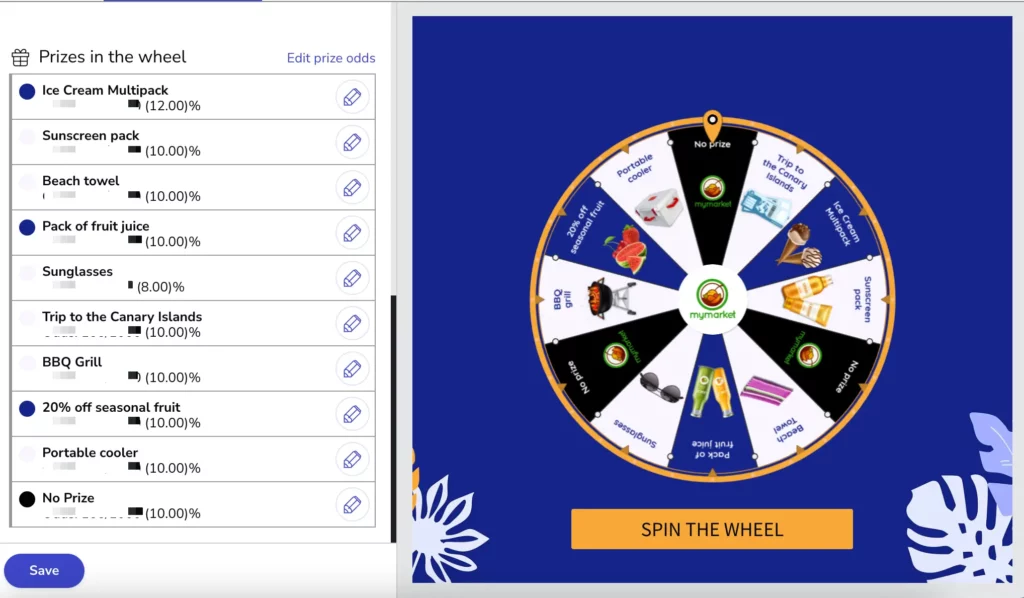 How are prizes displayed?
Prizes distributed through an online promotion can be very varied. Common kinds of prizes include vouchers or digital coupons such as discounts, free delivery, rewards, or free products.
When it comes to distributing coupons, they can be either unique and campaign-specific codes, such as BLACKFRIDAY23, or personalized coupons. Easypromos supports both ways of distributing these vouchers. For the option of distributing personalized codes, the "code set" tool allows uploading a large volume of codes to the platform before starting the campaign, which are then randomly distributed. Additionally, although these codes are preloaded in alphanumeric format, they can also be encoded into QR codes or barcode format when distributed to participants. The supported formats include QR codes, EAN-13 barcodes, CODE 128 barcodes, and CODE 39 barcodes.
How to manage prizes of different values
In many cases, the brand will have several kinds of prizes. It is also common to have one high-value prize and several others of lower value. Since multiple ways of distributing prizes can be combined in the same promotion, this will help you manage them more efficiently.
Have a better control of when the high-value prize is given away using the Instant Win of Random Draw dynamics.
Distribute the rest of the prizes randomly, by direct participation, or by odds.
The Easypromos' prize prize redemption tool offers many other advanced features. For example, it ensures that only one prize is awarded per participant at a time, ensuring better prize distribution. You can also set it so that a participant cannot participate again if they have already been awarded a prize.
How to communicate and contact the winners?
Another crucial aspect of prize management is announcing the winners and contacting them to award the prize. All Easypromos promotions have a "Winners Page," which is a specific URL where the winners can be listed. Additionally, in the case of draws, the "Claim your prize" tool is also available, which allows winners to claim their prize, confirm their identity, and provide their contact information to the brand for efficient prize delivery management.
The Winners Page is commonly used in promotions using a final prize draw or Instant Win. In the case of other dynamics such as instant prizes, the prize is displayed on the final page of the promotion.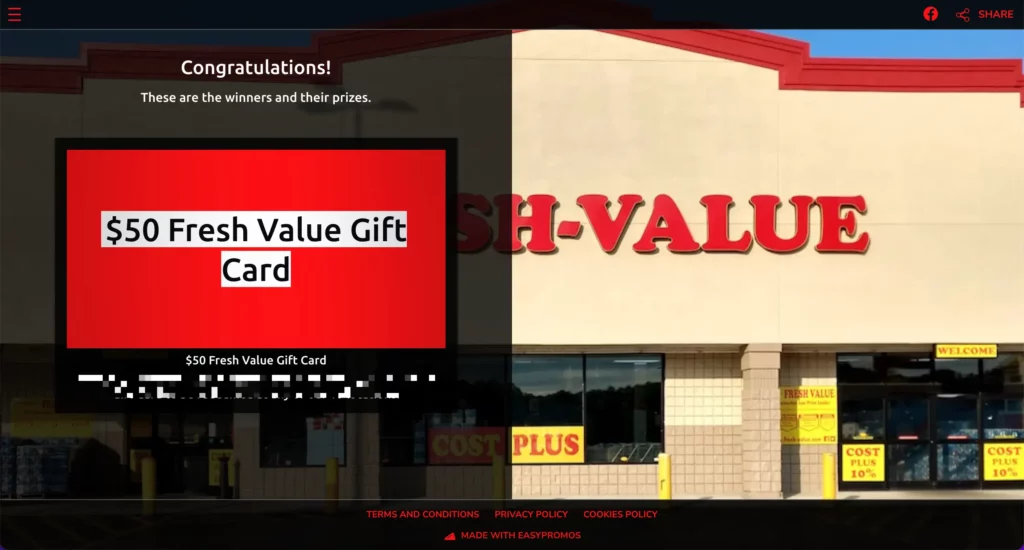 Furthermore, the organizer can send an automated email to winners to confirm the prize and provide them with the next steps to receive it. Learn more about the email platform that allows you to communicate directly with all registered participants of the promotion, automatically, and segmented by prizes or criteria.
How to redeem prizes securely?
Easypromos is ready to be used as your validation and prize redemption tool. Some brands already have a promotional code verification system, so the platform will help them to distribute prizes randomly among users. However, many other brands need not only a reliable platform for prize distribution, but also a quick and efficient way to validate them.
The Easypromos prize redemption tool allows for the validation of prizes distributed online in physical stores. The process is straightforward for the sellers: the customer shows the final screen of the promotion displaying the prize, to confirm that the prize is valid and has not been used, the seller provides the user a code to be introduced in their mobile device, automatically confirming that the prize is valid. The seller will then hand the indicated prize over to the user.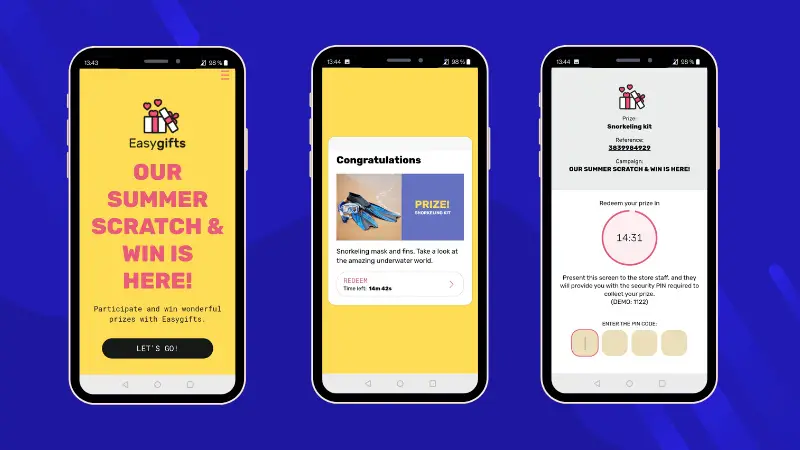 To ensure a prompt prize redemption at brick-and-mortar shops and to help draw foot traffic, a countdown timer can be added to the promotional coupon displayed on the screen. This creates a sense of urgency for customers to visit the establishment to claim their prize.
In conclusion, the prizes offered in online promotions are crucial for the success of the campaign. Therefore, you must carefully plan how you will distribute them among participants. Additionally, make sure to include this information in key campaign elements such as the Terms & Conditions. If you would like to distribute prizes in an online promotion but have doubts, contact our team and we will help you come up with the most suitable option according to your brand's resources and objectives.