Posted in: Ideas for your websiteLast update: 05/08/22
October is the month of Breast Cancer Awareness when brands around the world turn everything pink in order to support the good cause. November is no different, but this time brands and individuals help raise awareness of men's health, such as prostate and testicular cancers. Do you want to play your part and reinforce your brand identity? Read on to reveal Movember promotion ideas.

Movember attracts millions of supporters all around the world. Every year, we also see many brands joining the campaign promoting men's health throughout the month of November.
Brands support initiatives like Movember because XXI century consumers expect to see more of the humane side of brands. Nowadays, it's all about emotional connections with your audience, and innovative communications campaigns. And Movember campaigns allow brands to deliver both.
So if you want to promote your brand core values and build a community around your brand, you're in the right place. We're about to show you some exciting ideas for Movember campaigns. Read on!
Movember promotion idea: Photo contests with Movember mustaches – how to empower your brand
Branded Movember photo contest by Ambar
Wouldn't it be great to engage your audience and together support a good cause? One way to do it is by organizing a selfie contest where users participate by sharing pictures in which they appear with your products. It's a great tactic for anyone looking to boost sales while obtaining user-generated content.
Last year, Ambar – a Spanish brewing company – donated $1 per each picture submitted in their photo contest. The participation rules were super simple; users purchased Ambar products to then snap selfies with their "beer mustaches" and beer bottles. There was no incentive involved in the promotion but the good cause was what motivated Amber clients to enter the selfie contest. Ambar also shared a direct link to Movember donations for anyone interested in making an additional contribution.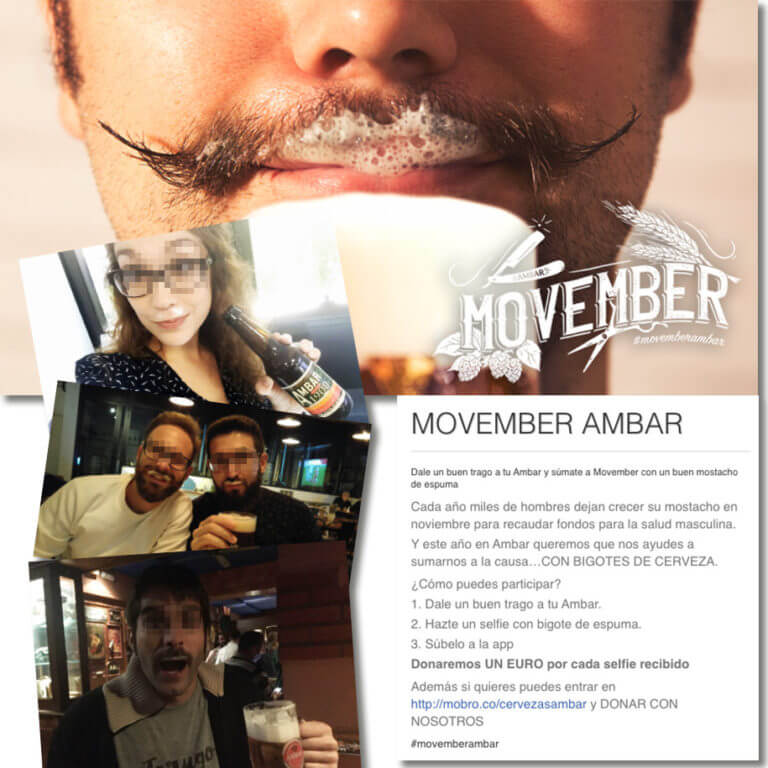 BasicFit and their Movember photo contest
BasicFit was looking for a way to publicize their business and promote the benefits of a healthy lifestyle and physical activity. So they came up with the #MOVEBASICFIT hashtag. The BasicFit gym invited their clients to share pictures from their favorite workouts. The only requirement was that all participants had to sport a mustache, real or fake!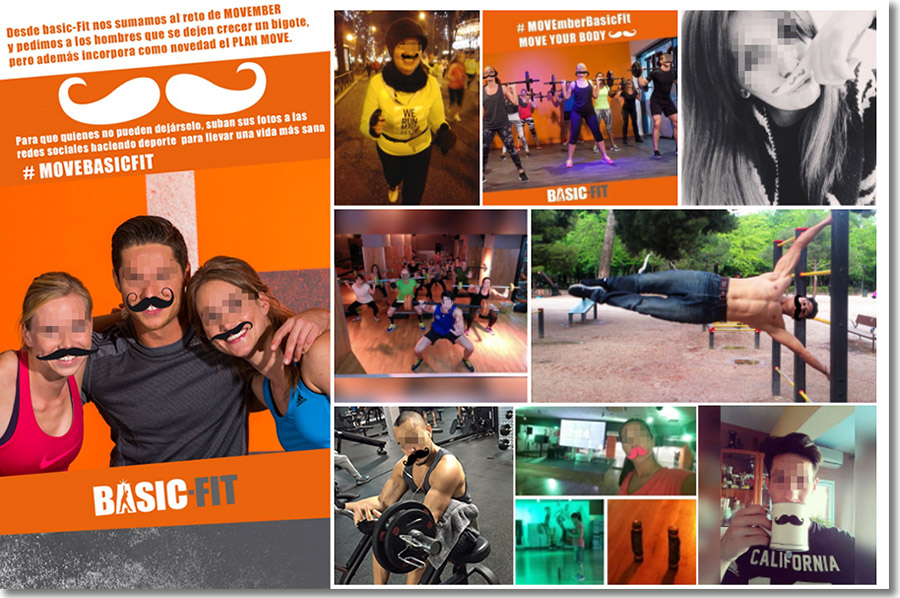 Decorate your picture with a mustache – organize a fun Movember photo contest
If lead generation and increased brand awareness are the marketing goals that you want to work on with your Movember promotion, opt for an interactive solution that is likely to grab the attention of your target audience. This is where the Easypromos PhotoFun app comes into play.
Use our photo decorating application to organize a branded photo contest, and engage and entertain your online community. You can easily empower your brand by uploading branded frames and stickers to the photo contest application.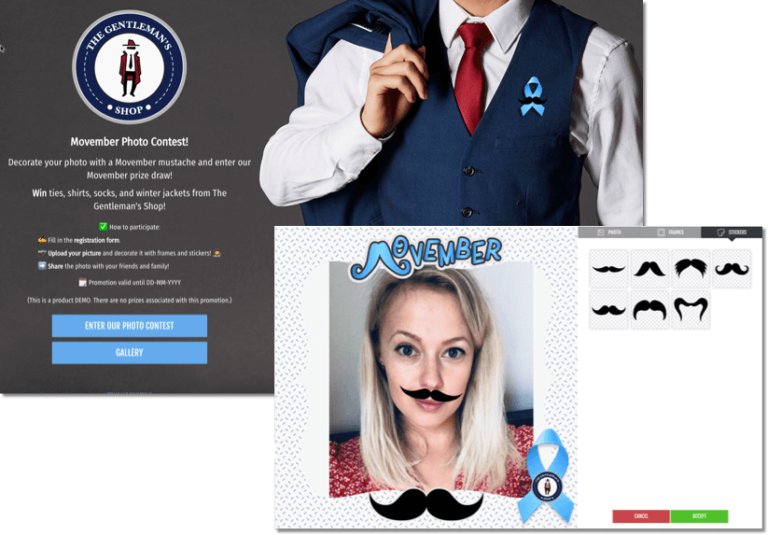 Online users love incentives so if one of your goals is to grow your mailing list make sure you raffle a prize among all participants to attract more potential entrants. You can also give away discount codes to all registered participants.
Do you like the PhotoFun application? Give it a go by trying our Movember DEMO. You can then copy our ready-to-use template and launch your own Movember campaign in no time.
Movember promotion idea: promote your region with an Entry Form Giveaway
Being a long-term campaign, Movember gives you many opportunities to impact your target audience. All you need to do is think of a promotional campaign that can easily attract the attention of your online community members. This is also the right moment to think about lead capture.
Movember Food & Rock was a Movember campaign with a goal of promoting Santander – a coastal city in Spain. The city council organized a weekend event full of concerts, food trucks, and other attractions. People interested in spending a fun weekend in Santander registered through a registration form that was shared across social media channels.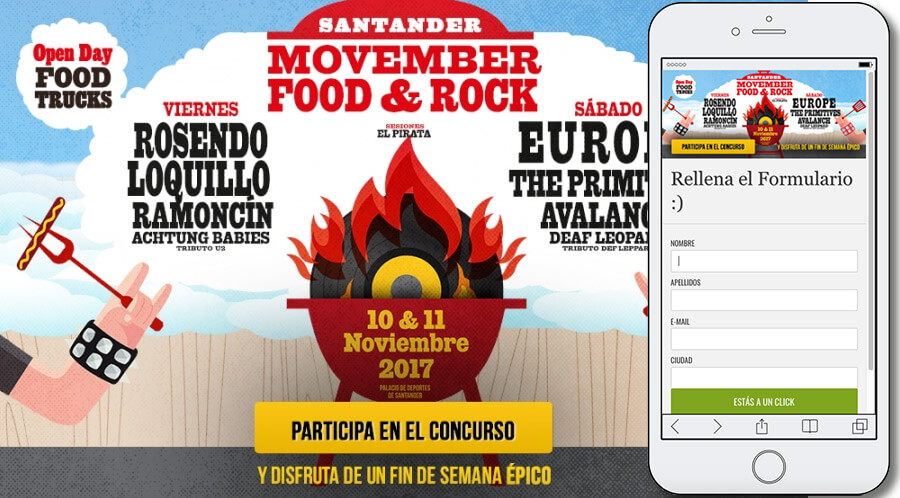 As you can see, it isn't difficult to promote an awareness-raising event. It is also a fantastic opportunity to grow your mailing list by converting social media followers into leads.
Movember promotion idea: run social media giveaways to engage your audience
Social media giveaways always grab the attention of online users and their simplicity makes them one of the easiest and most popular social media strategies. People participate in online promotions simply because everyone is keen to win attractive prizes. Running social media sweepstakes is a great idea to promote men's health and reward your followers' engagement.
Instagram giveaways for Movember
To mark the end of Movember, Grounded Clay Works ran an Instragram sweepstakes. They gave away a handmade stoneware mustache mug to one lucky follower who mentioned two friends in the comments section. Joining awareness-raising campaigns always results in making emotional connections with your audience and reinforcing their trust and loyalty, as your brand comes across as more humane and down to earth.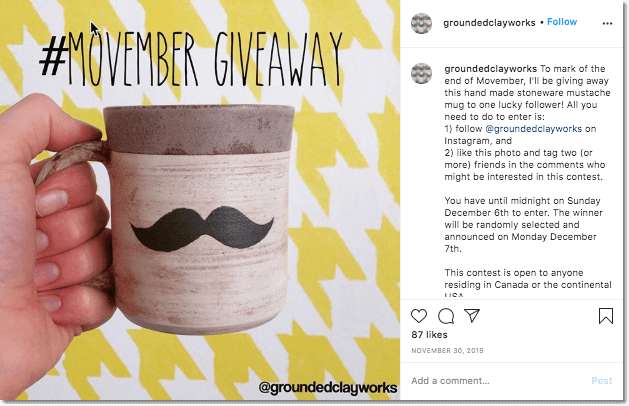 Grow your following with a Movember giveaway on Twitter
Twitter giveaway rules are more relaxed than Instagram and Facebook rules. You can ask for likes, comments, retweets, and follows.
Here's an example from FFS Gyms. The brand raffled four Gillette raisers among all Twitter users who retweeted the promotional post. Apart from running the giveaway, FFS Gyms also invited all members to join their big Movember workout promoting well-being and physical activity.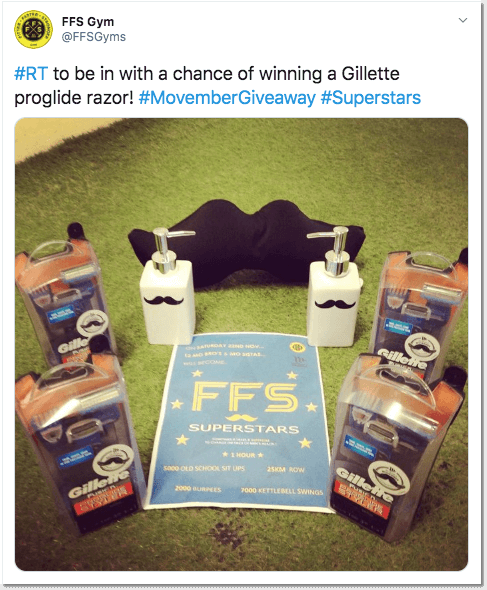 Run a Movember giveaway for your followers across all social media channels
Marketing is now based on an omnichannel strategy, which is a cross-channel content strategy that allows organizations to drive better relationships with their audience.
But how can you apply this concept to promotional marketing? A great idea is to run a single social media giveaway across different social media platforms at the same time. It facilitates user participation and encourages customers to engage with your brand. You also ensure that none of your followers are left out, which can sometimes happen when you run a giveaway on just one social media network.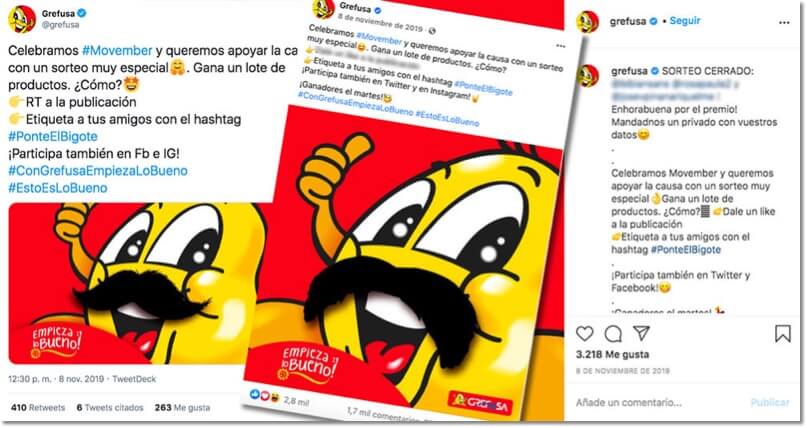 Here's an example of a Movember Multi-Network Giveaway launched by Grefusa. They gave away a product bundle to one lucky winner whose attention was grabbed by a funny version of Grefusa's logo – obviously sporting a mustache.
Movember promotion idea: Mention + Hashtag Contest to build an online community
Do you want to build an online community? The example from Real Racing Club Santander is for you. The Spanish male football team decided it was crucial for them to join the Movember campaign and promote men's health. They launched a Mention + Hashtag Contest and invited their fans to take it to social media to share pictures with their Movember mustaches.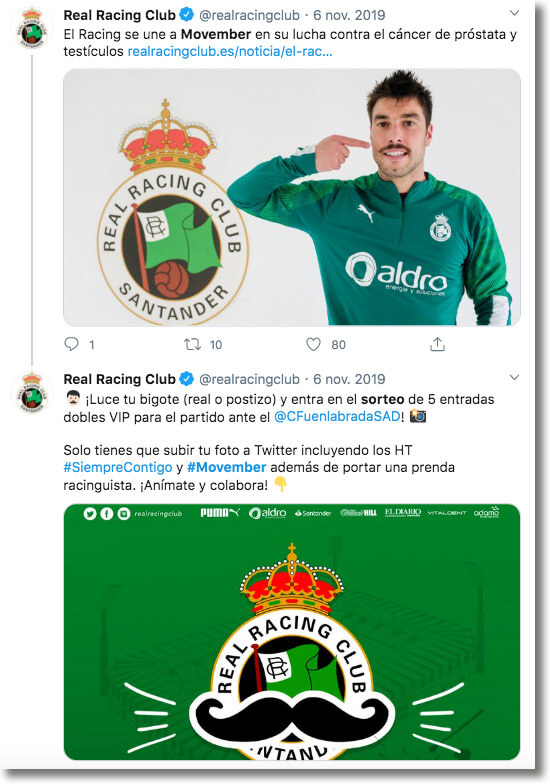 The Mention + Hashtag app allows you to collect all entries and display them in a public gallery that users can access to like, comment, and share their favorite pictures.
What do you think about our Movember promotion ideas? Do you have any questions? Contact our support team, ready to inspire and assist!
Publication date: 2020-10-23