Find out all the stages of the FIFA World Cup
Chances are you're not a die-hard football fan but that shouldn't stop you from launching World Cup predictions for your brand because you need basic information about the different phases of the tournament. Remember that not all countries qualify for the World Cup, so it's possible that your home team won't be participating on the big stage.
Focus on the group stage
The very first challenge for any team is to make it through the group stage of the World Cup, in which all four teams of each group play against each other. This accounts for three matches per team. The most popular and interesting dynamic for World Cup predictions would be to follow your home team and organize betting pools for each match played by your country's representatives. In this case, you could set up a ranking system to award points for each successful prediction to then give a prize to the user with the highest score.
Discover several World Cup promotion ideas that you can organize to boost your brand during the football championship.
Prepare a prize and launch your World Cup betting pool
Online users are always keen to participate in online giveaways or contests. However, they don't participate just for the sake of participating, it's the prize that motivates them to join online promotions. So even if your followers are big football fans, make sure you offer an incentive that appeals to them. The best idea would be to raffle official merchandise or prizes related to your home team, for example, official kits or t-shirts. It's also a great idea to give away free subscriptions to on-demand channels streaming live football matches.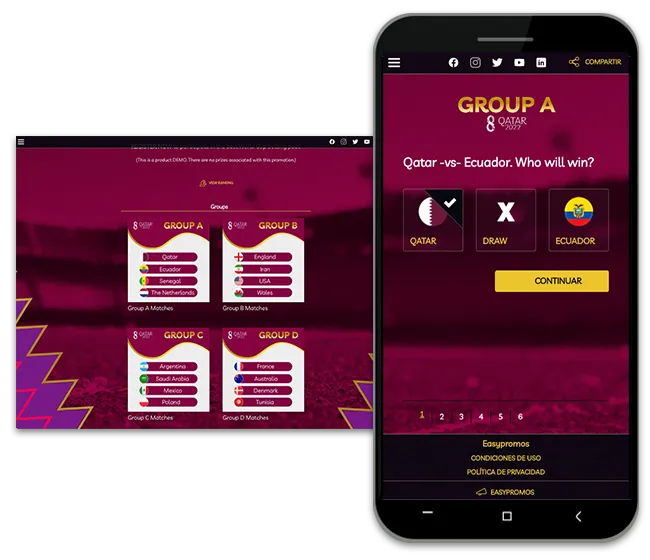 Try the World Cup Multi-Round Predictions DEMO and download it as a template. You will be able to have the campaign launched in minutes as the template has been pre-configured with all the group matches and flags.
By using our World Cup Predictions template you save yourself lots of precious time, as all the first phase matches are all set up and ready to go. Launch the giveaway already, so that your audience has enough time to vote before the first match takes place, on November 20. Once the matches have been played, you will have to access the control panel and introduce the official results into the app so that it can assign points to users.
If you've enabled the ranking page, the ranking will update to display the users with the most points at the top of the page.
If you're giving away prizes for each round, announce the winners.
Share the ranking page with your audience even if you're not raffling prizes. It's a great way to generate more engagement and visibility for your brand and promotion.
Do you want to launch a betting pool only for the matches played by your home team? No problem! The template makes it super easy to eliminate all the matches that don't interest you and therefore have a customized betting pool.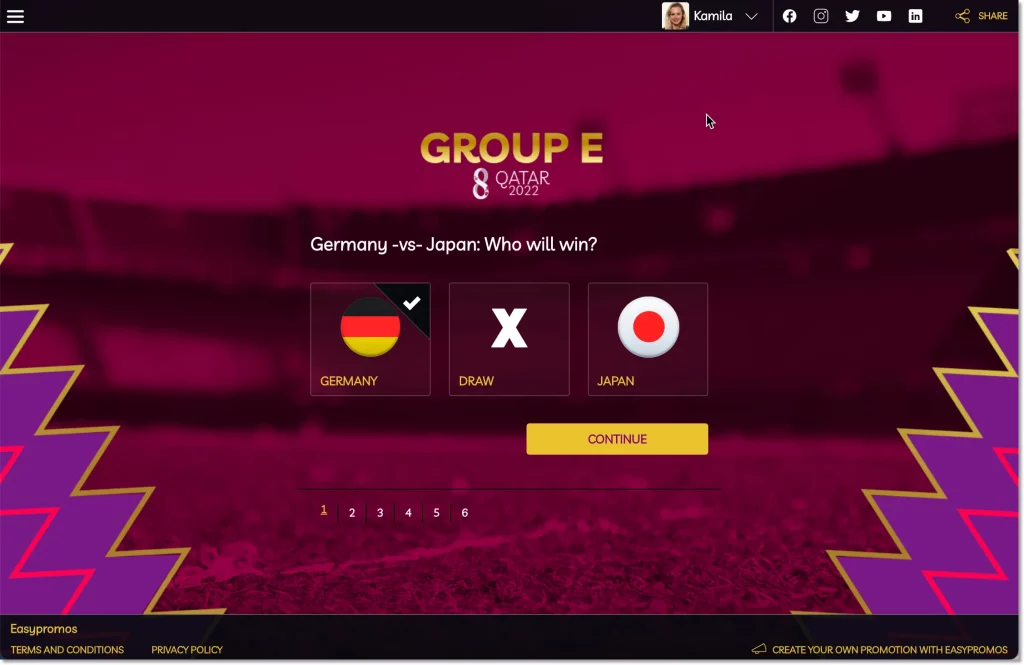 Once the group stage comes to an end, you can create more voting stages for rounds of 16, quarter-finals, semi-finals, and the grand final. Download a pack with resources and create new stages in minutes.
Did you launch a betting pool to predict the scores of your home team and they didn't make it through the group stage? You can organize a giveaway for all registered users or reward those with the highest number of points before finalizing the campaign. Make sure you indicate this possibility clearly in your predictions' terms and conditions so that your audience knows what to expect.
Keep in mind your marketing objectives
Remember that we have a selection of World Cup templates to help you save time setting up your World Cup campaign. However, you will still have to edit them so that you can work towards your KPIs and set objectives. If you're looking to generate leads, make sure you configure the registration form so that you can collect all the contact details that you need. However, you might want to reach more users, in which case, enabling the Refer a Friend feature would help you reach your goals. Some users might want to simply generate more visibility for their brand during the World Cup campaign. If this is the case, make sure you activate the email platform, in-app messages, etc.
We recommend you use the Easypromos email platform that comes with all World Cup campaigns (apart from social media giveaway apps) and use it to inform participants about new participation rounds or updates made to the ranking. You can also send out engaging emails to inform the users about the top ten of the ranking, etc. If your team doesn't make it to rounds of 16, you can send out an email informing about the end of your campaign.
Update the Predictions with new rounds
Your home team made it to rounds of 16? Launch the next participation rounds of your promotion by creating a new participation stage in the same Predictions app. This way, the promotion link stays the same and all the previously registered users can carry on playing without having to sign up again.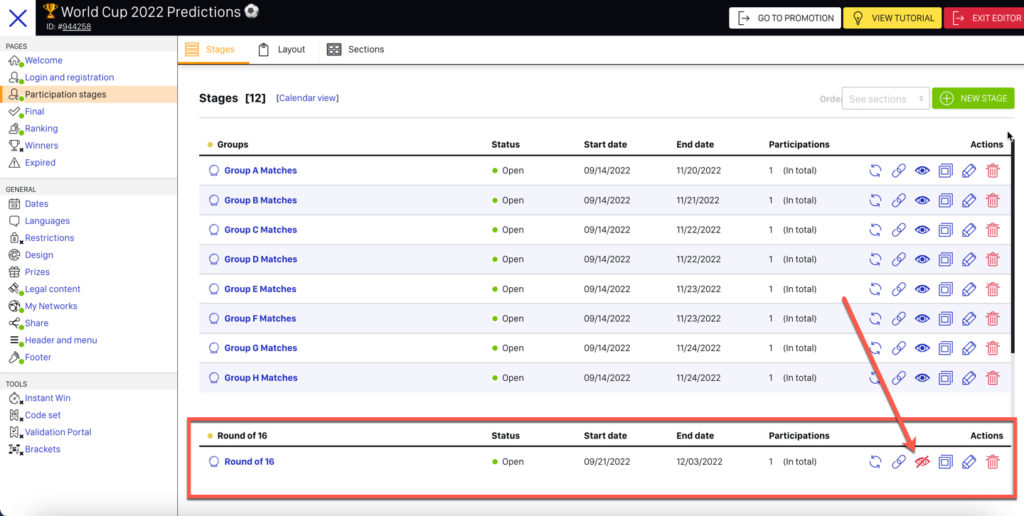 The Multi-Round Predictions app has been designed to follow different rounds of tournaments. All you have to do is put in the names of the teams that make it to the next round of the World Cup and upload their flags. The next step would be to let your audience and all registered participants know that the next stage has been opened. What happens once the quarter-finals start? You repeat the same process, all the way until the final! At this stage, it would be a great opportunity to reward participants' engagement by raffling prizes at each round of participation.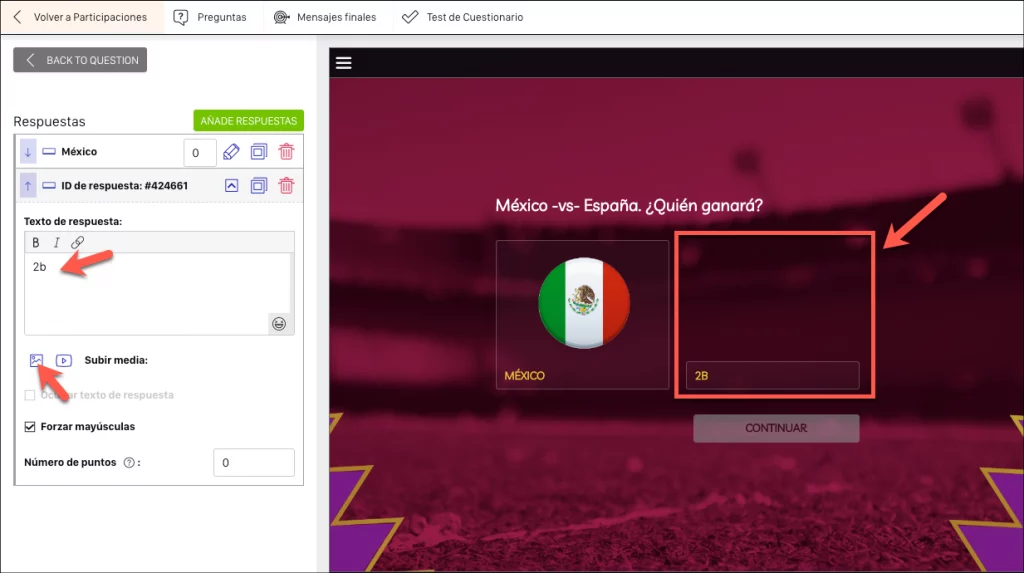 Keep in mind that you must draft and add terms and conditions to your World Cup betting pool. They will be the same for all the rounds if you opt for the single registration option. Make sure they include the World Cup dates and different phases.
What happens if you get stuck launching your World Cup predictions? No worries! Our customer support team will help you with tips, solutions, and advice. Contact them!
Use ranking to generate rivalry and select the winner
What's the best way to choose a winner of your World Cup betting pool promotion? Give a prize to the user with the highest score, organize a random prize draw among all participants, or among those that obtained a certain number of points.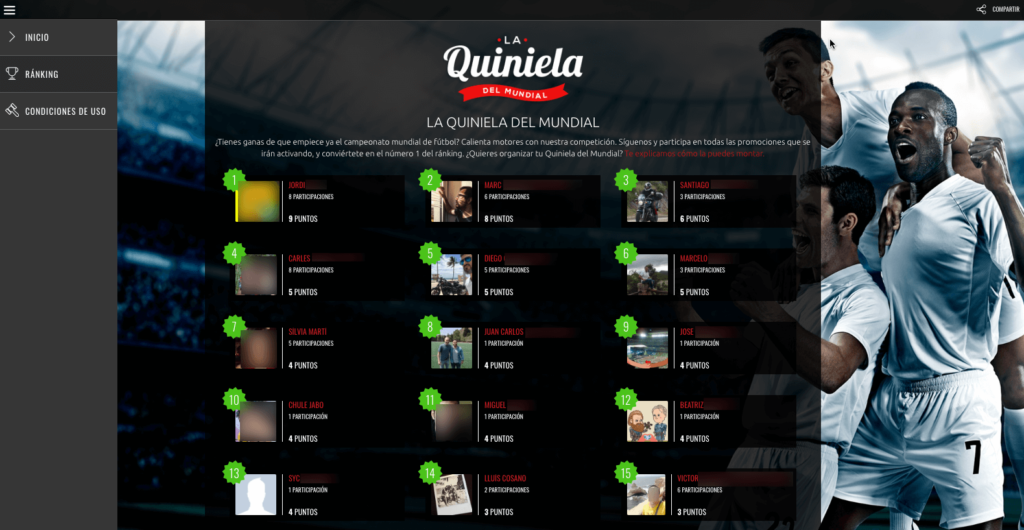 Tournament for the last phase of the World Cup
There is another way to follow the World Cup once the group stage has been finalized. Organize a knockout tournament to launch a campaign focused on predicting the winning team of the World Cup. We have a Bracket DEMO that will be customized and published as a template once we know the 16 teams that make it out of the stage group. You can then use it to launch your own knockout tournament and generate engagement for your brand. Here's an example of a bracket promotion organized for a different tournament: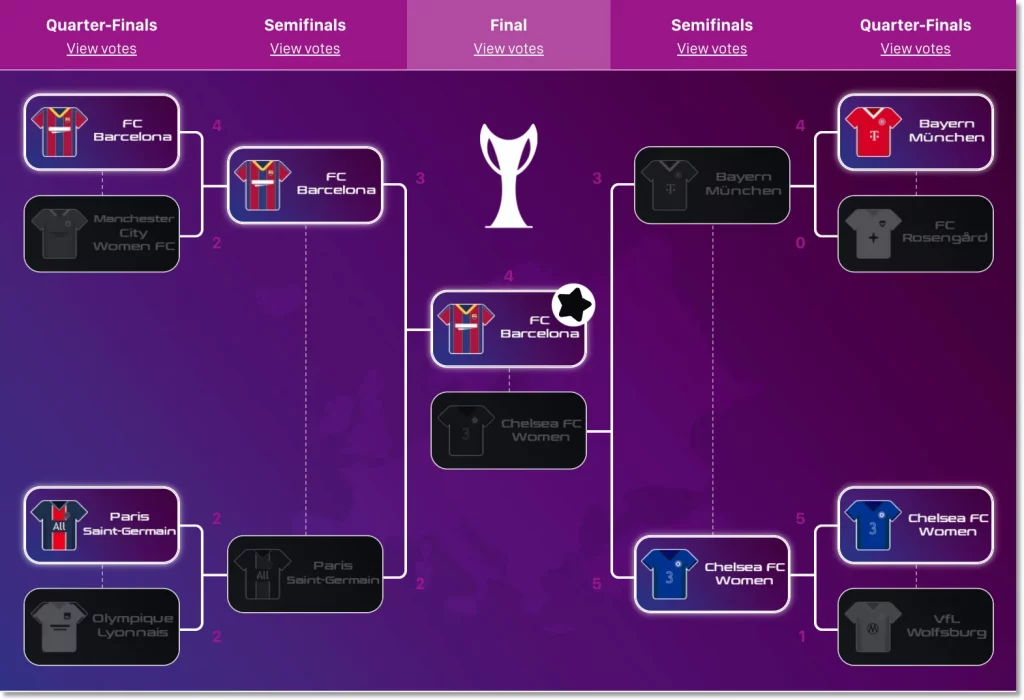 What do you think about these examples? If you're looking for more dynamics, visit our World Cup hub full of ideas, templates, and examples!