You already know how important the internet is for restaurants, cafés, and other local foodie businesses. It's vital to keep your opening hours, menus, and contact details up to date. And social media can be a powerful tool to build your brand. But what if you're still not seeing results? Here's a quick, simple recipe to improve your restaurant marketing strategy: try an online promotion on social media. Read on to learn why restaurant promotions work, how to design them, and how to target different customers. We've even included some Michelin-worthy examples from our own platform.
Essential ingredients for restaurant promotions
The most important step in planning restaurant promotions is to define your objectives. So think about what your business needs. Do you want to welcome new customers, or build up a family of regular visitors? Are you celebrating a specific event, or designing a long-term strategy?
Once you've mapped out your objectives, you can start planning the giveaway. Here are some of the key decisions you'll need to make to come up with a converting restaurant promotion idea.
Pick an attractive prize. The ideal prize is relevant to your brand and popular with customers. Make sure it has a healthy cost/benefit ratio. You could give away a tasting menu, free drinks with a meal, or discount coupons.
Set down some clear rules. Make sure your followers know exactly how to take part. You should also check that your restaurant promotions fit the rules for social networks. Easypromos giveaways are designed to always fulfill network rules. You can use our free tool to publish terms and conditions, too.
Decide how long the promotion will last. Most restaurant promotions run for at least a week. This means your followers have plenty of time to take part. Make it clear when the promotion will close, so that no one misses out.
Make sure the contest is fair. You can use the Easypromos prize management tool to award prizes randomly or by hand. You'll also receive a certificate of validity. This is a great opportunity to show customers that your business is transparent and trustworthy.
Publish the winners. Remember to explain how winners will be announced in the terms and conditions. For most restaurant promotions, winners are published on social media and alerted by email. Easypromos offers a "Claim Your Prize" feature, which makes it easy to notify winners and get in touch.
Are you planning to launch a social media giveaway? Use our ready-made giveaway templates for restaurants; you'll save time and make sure that you're not forgetting to share any vital information.
Restaurant promotion ideas: romance your followers with a couples' giveaway on Instagram
A romantic dinner for two is a classic date idea. And for many restaurants, it's a vital part of their customer base! As well as welcoming couples throughout the year, you can also make the most of holidays and special events. Try planning promotions for Valentine's Day, wedding anniversaries, and more.
Most customers use social media to find date night inspiration, restaurant reviews, and booking information. So a social media giveaway is a great way to attract attention! Aim to project a dreamy, atmospheric image, and offer an enticing discount or prize.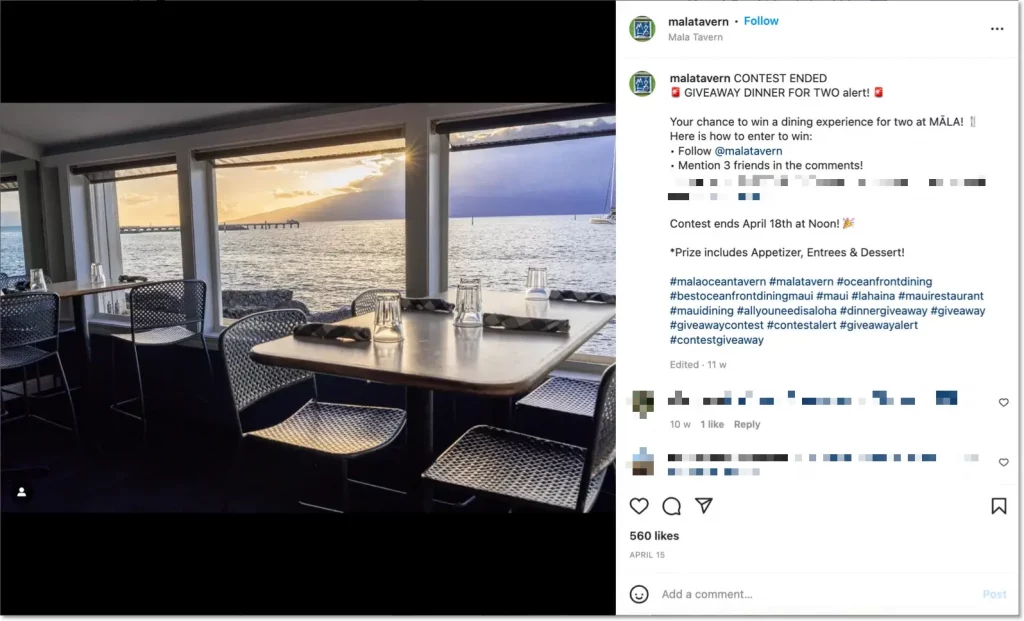 In the example above, the brand ran a simple Instagram giveaway with comments to boost engagement and advertise their restaurant to followers. Interested users participated in this restaurant giveaway by tagging three friends in the comments and following the restaurant's Instagram account.
Instagram has a different demographic from Facebook. Use this social network to reach young, Millennial customers. They enjoy good food, have a taste for adventure, and love spending time with their friends. Another great restaurant promotion idea comes from Harborview. Users just had to mention three friends for a chance to win one of five $25 vouchers.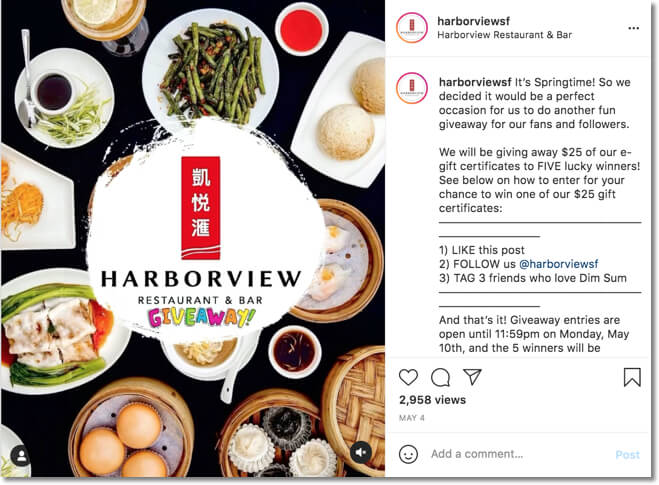 You can also ask Instagram users to follow your account in order to enter your restaurant's giveaway. However, you will have to manually check if the winner is also your follower.
Facebook giveaways as popular restaurant promotion ideas
If your restaurant is reaching out to the family market, then a Facebook giveaway with comments is a perfect choice. Facebook's user profile skews towards thirty-something Generation X and above. This generation has kids, values family time, loves dining out, and follows recommendations from friends. They'll often check out your Facebook profile for reviews, booking details, and ideas for where to eat. You can grab their attention with a simple, family-friendly giveaway.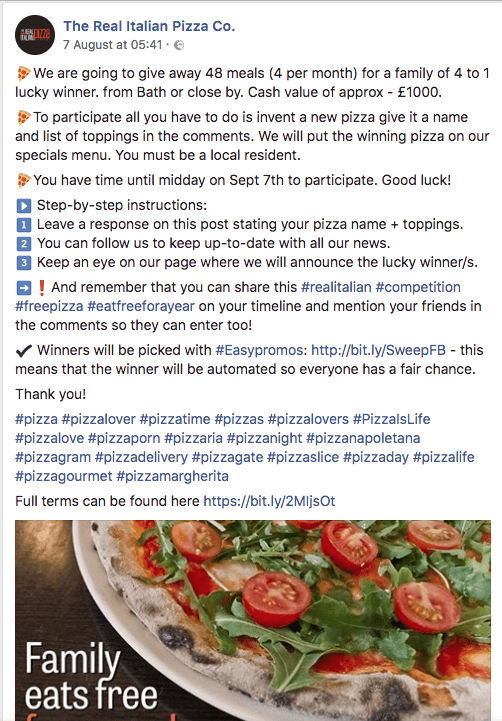 Collect new leads for your restaurant with an Entry Form Giveaway
Social media giveaways are great engagement boosters but there's one downside; you can't collect any information from your participants commenting on your post. If you want to collect leads you need to incorporate a promotion with a registration form. The easiest way to set up a promotion with a registration form for your restaurant is to set up the Entry Form Giveaway app.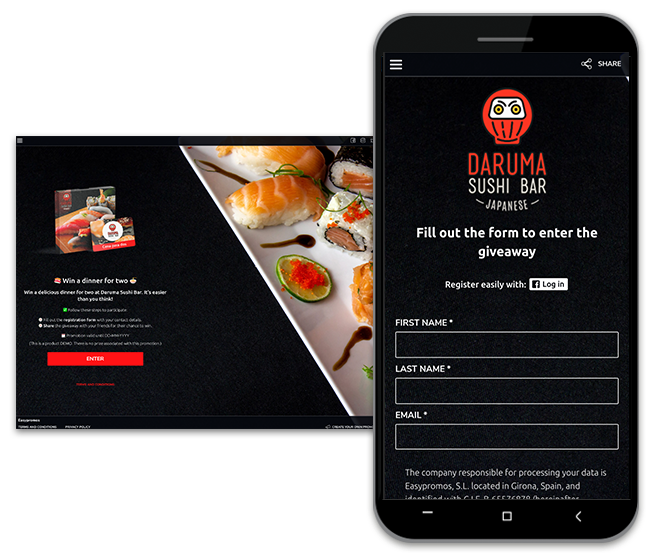 All you have to do is use our ready-made Entry Form Giveaway template for restaurants and edit some texts to describe your giveaway. You can also customize the giveaway with your own logo and other images.
Make sure you share your restaurant promotion on social media channels! You will convert anonymous social media followers into qualified sales leads.
Spice things up with a #hashtag
So far, we've focused on getting customers into your restaurant. But maybe your aims are a bit different: maybe your goal is to spread the word about your business. A hashtag contest is a great way to get mentioned online and create a buzz.
Ask customers to share ideas, experiences, or photos with your chosen hashtag. You can collect all the entries into a public gallery, taking posts from Instagram or Twitter. Then you have the option to display the gallery and choose a winner – or get even more traffic, by asking followers to vote for their favorites. It's a fun, flexible kind of contest. You can encourage your customers to be creative and promote your brand, too.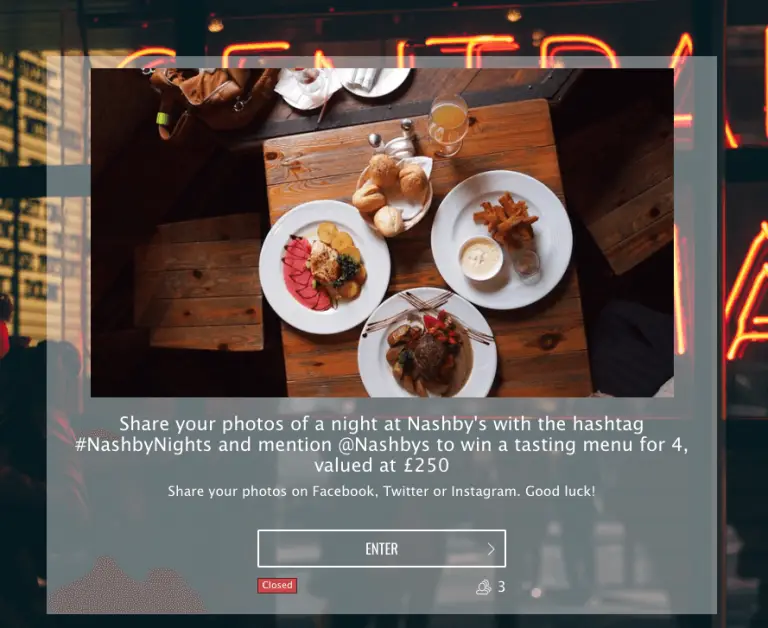 And we love this unusual example below, which combines a hashtag contest with a fun challenge. Users have to figure out the pizza puzzle, and then comment with their answer and the brand's hashtag.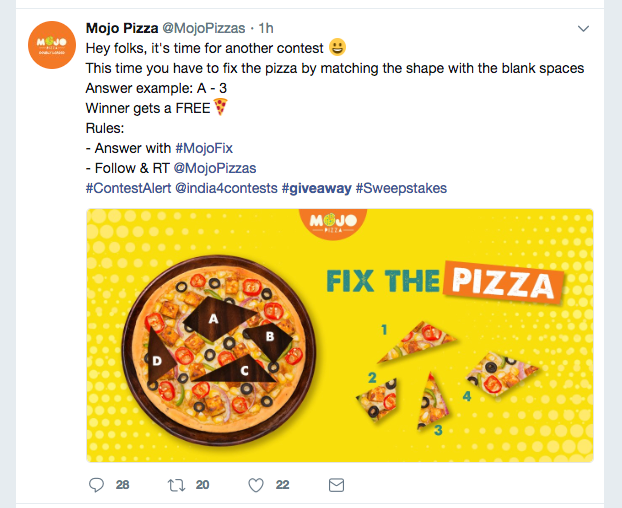 Test your foodie knowledge with a quiz
Quizzes and surveys are great restaurant promotion ideas in several different ways. You can educate customers about your restaurant, and get feedback on their experiences, tastes, and wants. Plus, they're motivated by the thrill of the game, as well as the prize or promotion you're offering.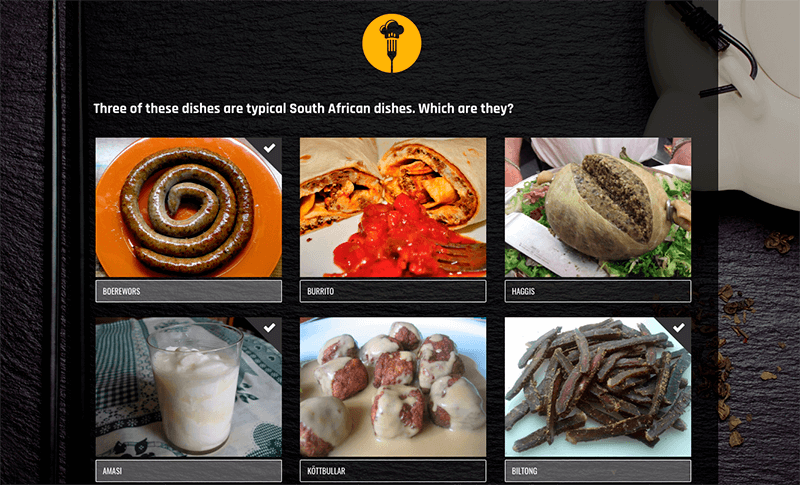 Customers love the challenge of an online quiz, or the chance to share their thoughts with a survey. You could even build anticipation for a new menu or dish by running a predictions quiz. In the example below, customers answer a series of questions about their personal preferences and in return, they get a chance to win free burgers.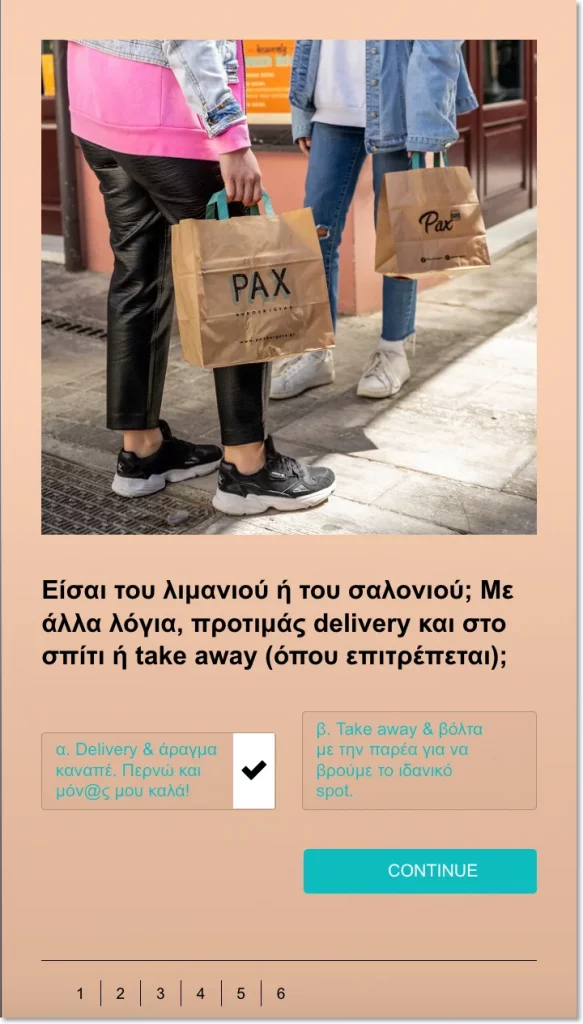 Thanks to all the answers left by participants, the restaurant gets to better know their customers. That's a great thing for personalized offers and discounts.
Restaurant promotion idea that collects UGC: run a foodie photo contest
Open up your social media, and you're sure to see some foodie photos. People love to share images of their restaurant trips and kitchen triumphs. So you can harness that interest for your brand! Challenge the community to share their most delicious photos in a contest. You can choose the winner yourself, or encourage your followers to vote.
In the example below, followers had the chance to win an exclusive tour of the wine country if they won a photo voting competition.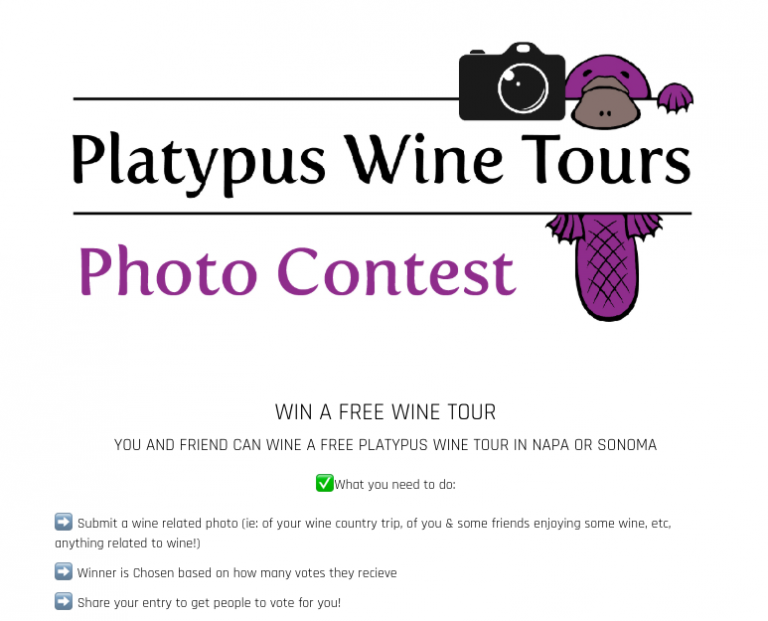 Do you feel like your audience would be happy to participate in a video contest? Try our video contest demo for restaurants – and if you like it, download the free template to run your own promotion and collect valuable user-generated content.
Feeling inspired? Now it's your turn! Get started today with Easypromos. It's free to create an account and draft your promotion. And in case of questions, don't hesitate to live chat with us!