Super Bowl Sunday might well be the most important TV sports event in the USA and possibly Canada and Mexico as well, where the NFL has a wide fan base. Moreover, this game has transcended the sports arena and has become a whole cultural event in its own right.
The good news is that you don't need to foot the $6 million per minute bill to get on the Super Bowl marketing bandwagon and promote your brand during Super Bowl weekend. On the 12th of February, several thousand lucky (and wealthy) football fans will attend the live game. But many many millions more will get together with family and friends at home barbecues, restaurants, and sports bars to watch the game. And pretty much every single one of them will be carrying and using, a smartphone. And this is exactly what comes to play in your favor.
Let's take a look at how you can use Easypromos to promote your brand, engage your audience, gather qualified leads, grow your follower base, and generally help you achieve your marketing goals.
Super Bowl Social Media Giveaway
Let's start with a figure and let it sink in for a minute: 78% of super bowl watchers engage on social media while watching the game. And they do it not to kill time but as an integral part of the experience and the build up to it. Take a look at this giveaway that Bud Light launched on its facebook page. The brand asked their followers to comment on their post for the chance of winning free tickets to the suer bowl.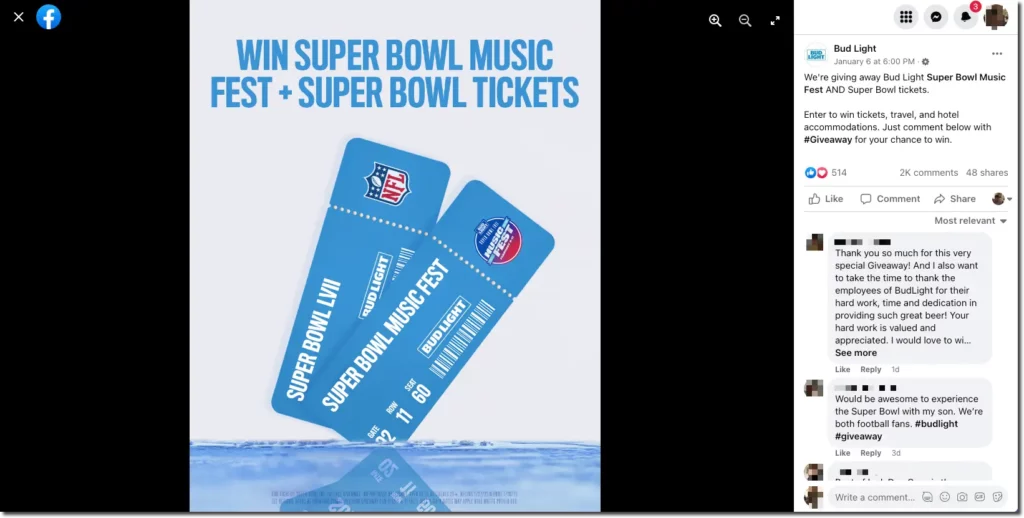 There is no super bowl without a super bowl party, and nothing beats Instagram Stories when it comes to people sharing their good times. What's more, Easypromos offers the only tool in the market capable of running fully automated and reliable giveaways on Instagram Stories.
Ask your followers to post a story sharing how they are enjoying the super bowl party with a mention of your brand as a participation requisite. Or post a Story in your brand's profile and ask your followers to reply to it to participate. Whichever participation dynamic you choose, the Easypromos app will automatically gather the participants and carry out a random prize draw, along with a certificate of validity.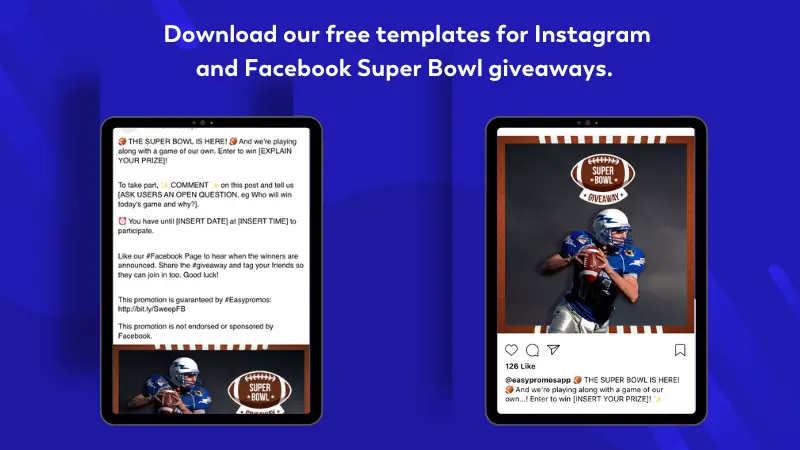 Super bowl gamified promotion
Make the most of the excitement and build up to the big game with a gamified promotion. Pick a game app from our catalog and customize it with your brand image or products. Need some ideas? How about a Match-it game where players need to match players to their teams or positions? Or a memory game with images related to the sport, or even a word shuffle with players' names, teams, or any other football term? Whichever game you choose, you can reward players with the top scores in the ranking or carry out a final prize draw from among the top X players or even all the participants, the choice is yours.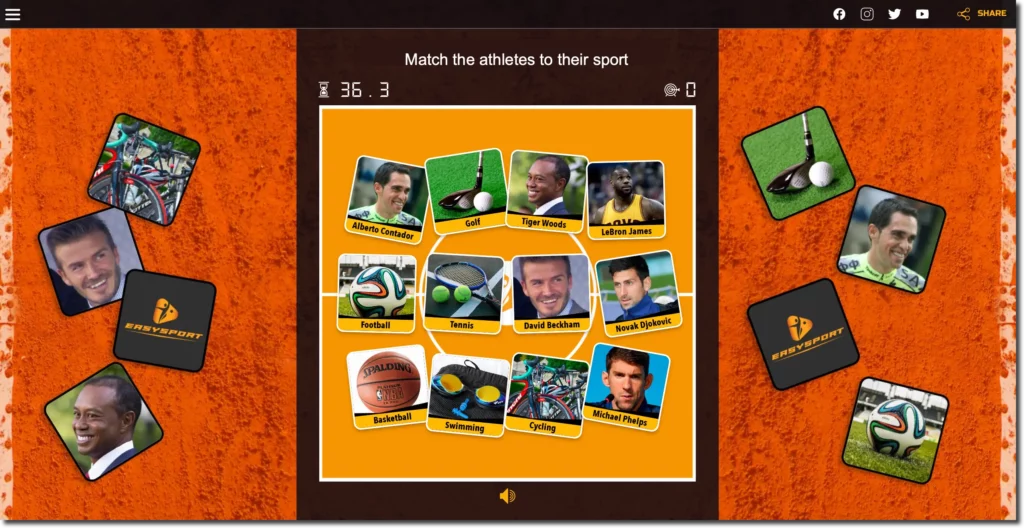 The Easypromos game apps are easy to configure and they can be set up to your data collection needs and objectives. Not only can the registration form be customized to include the information fields that you need, but you can also decide if the players need to register before or after players. And if you are simply looking to entertain your audience, set it up so that no restoration is needed.
Are you looking for promotion ideas for your sports bar or restaurant? Take a look at how to use digital promotions to promote your sports bar.
Super Bowl Promotion Ideas: Photo Contest
Sports fans are usually keen to show the world how they support their team, so a photo contest will be right down their alley. Ask your audience to take a picture wearing their Game-Day colors. Or a picture of their Super Bowl party setting, snack table, or bar. Photo contests are a great way to get your audience involved and have the added benefit of providing you with user-generated content. Don't forget to use your social media accounts to share and disseminate your promotion.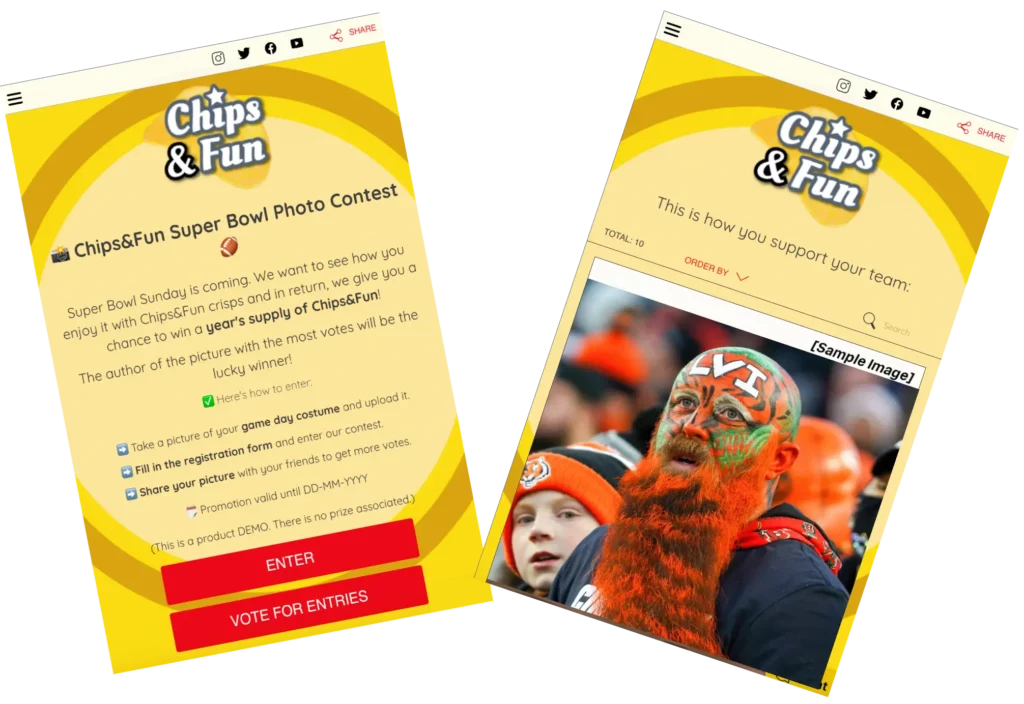 Instant win promotions
Instant win promotions are a great way to build customer loyalty. Organize a Super Bowl flash sale on your e-commerce on game day and offer discount codes or instant prizes to customers who visit your shop or website. There are several apps that you can use to set up an Instant Win promotion. How about a Spin the Wheel promotion at the checkout? Or a digital Scratch&Win digital scratchcard?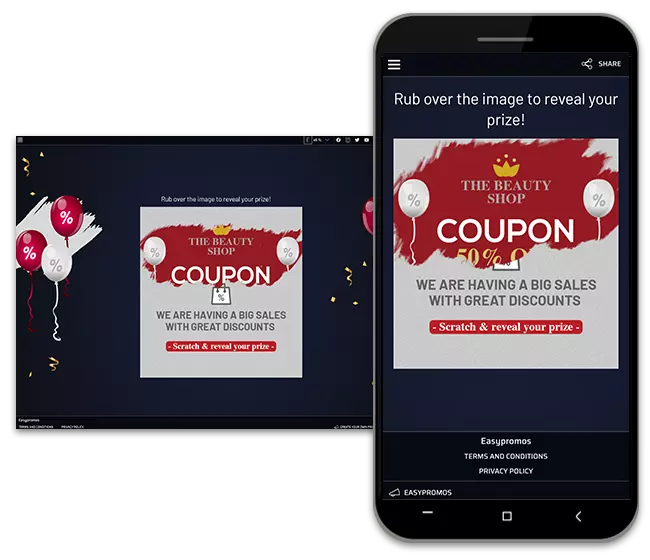 Our Instant Win promotions are fully customizable with your brand logo or products, but that's not all. You can also manage how and when coupons, discounts, and prizes are distributed. I.e. by probability or at a predetermined moment in time (day and hour). Moreover, you can also determine the validity period of coupons or discounts, that way you could set them to be valid only during the Super Bowl weekend.
We hope these ideas help you set up and launch your Super Bowl promotion. If you have any questions or want to learn more about our apps, contact us via live chat. We will be happy to help!