Posted in: Digital marketing,Ideas for your websiteLast update: 01/03/21
Social media has taken over our lives and it's certainly here to stay. Summer tends to be the time of the year when people are most active and up for adventures and new experiences. This leads to increased social media activity and we believe you should take advantage of it. We've gathered examples of engaging giveaways organized on Instagram, Facebook, Twitter, and TikTok to inspire and convince you to create your own summer social media giveaway! Read on!

Social media engagement always spikes up during the summertime. Users get more active on social media sharing snaps from their adventures, new experiences, and holidays. But what if you could take advantage of that increased social media activity?
Social media giveaways are all about engagement and product and brand promotion. Brands notice hundreds of new followers and thousands of comments and likes rolling in, whenever a new Instagram or Facebook promotion is published.
So are you ready to improve your social media presence and brand recall this summer? Prepare because we're about to show you how to organize a summer giveaway on social media!
Promote your products with an Instagram summer giveaway
Social media channels are buzzing during the summer months. Therefore, your main focus should be on ensuring that your Instagram Giveaway post is attention-grabbing. The most important aspects to have in mind is an attractive image and well-written text. And why is that? Simply because potential participants like to see what they could win and understand the entry requirements.
Here's an example from Grüum, a skincare brand for men and women. The organizers wanted to promote their new sunscreen and they put their bet on an Instagram Giveaway. 100 lucky winners walked away with their own sunscreen from Grüum whose social media engagement and following increased; in order to participate the users followed Grüum's Instagram profile and commented on the post mentioning two friends and sharing what factor they normally use. Open-ended questions are great whenever you're looking to start real conversations with your followers, and therefore, increase social media engagement.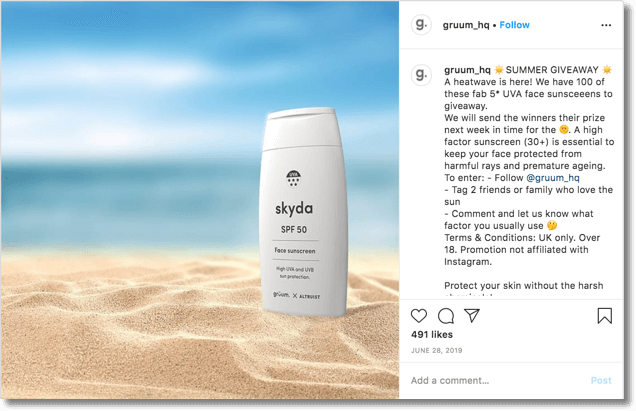 Can you see how the image attracts attention? Because who doesn't dream of being on a beautiful and quiet beach right now?
Let's stay with the holiday theme and look at this Instagram promotion organized by Triangl (an Australian swimwear brand) and Lack of Color (a designer hat producer). Just like in the previous example, the organizers wanted to promote their brands and products while also attracting new potential customers.
Each participant mentioned two of their friends in the comments, therefore this summer fashion giveaway reached a wider audience.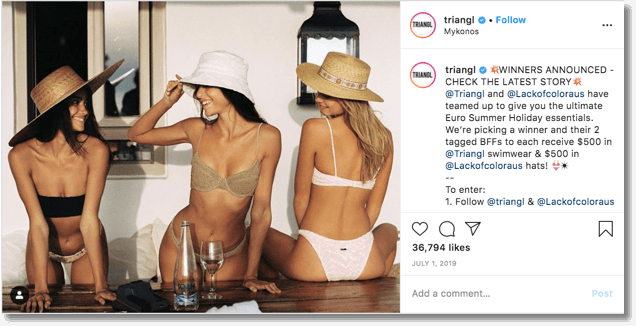 One random winner received a $500 Triangl and a $500 Lack of Color vouchers.
Brand collaborations are a great opportunity to grow off of each other's audiences and increase brand awareness.
Thinking to organize an Instagram summer giveaway? Use our ready-made template for your summer giveaway on Instagram.
But what if your brand has nothing to do with summer products or services? No problem! Because summer is a perfect time (and excuse) for any brand to launch an Instagram Giveaway.
Summer is a quiet time for schools and education centers. However, it's still not time to stop working on reinforcing brand awareness and brand recall. Khan Academy Kids launched a comment based giveaway for their Instagram followers.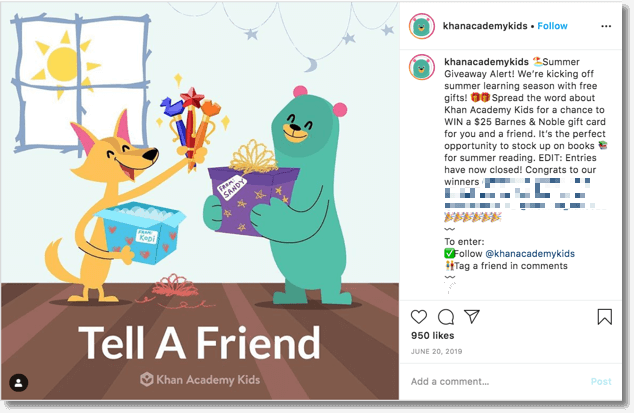 Interested participants followed the account and mentioned one friend in the comments section. This tactic boosted Khan Academy Kids' social media engagement and grew their audience. The brand gave away six double gift cards to a book store so the winners could "stock up on books for summer reading".
Connect with your audience with summer giveaways on Facebook
Any social media network is great for product promotion as that's where your customers are. So if you're looking to reconnect with your Facebook fans over summer, organizing a Facebook comment-based giveaway will be a great choice.
Here's an example from Frezyderm UK, a cruelty-free skincare company. Summer is the perfect time for promoting seasonal products. To do so the brand turned to social media; it allowed them to increase social media engagement and presence.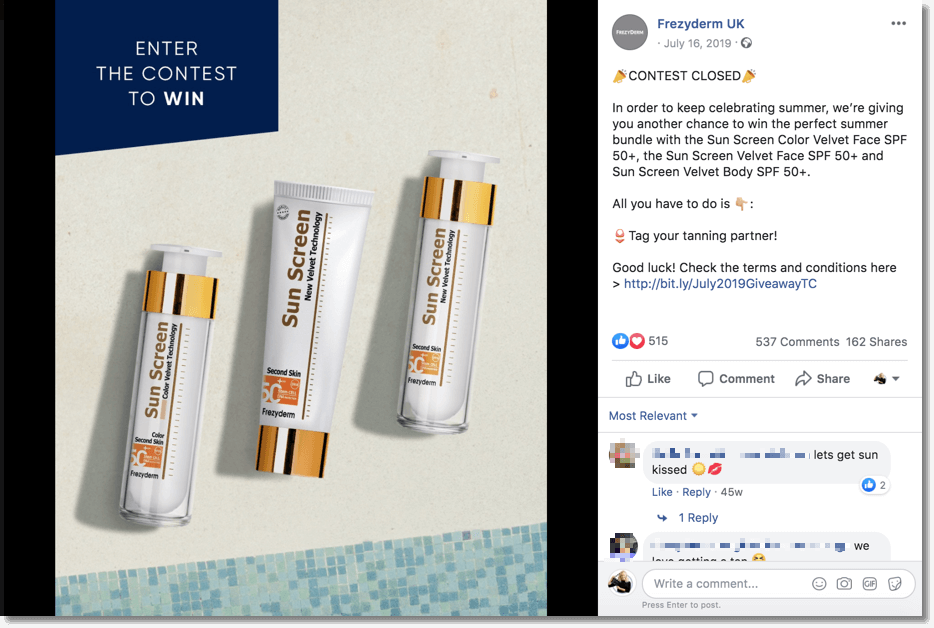 The entry requirements couldn't be more simple; the participants were only asked to mention their tanning partner in the comment section. It definitely attracted more attention and potential participants.
If you're looking to organize a summer giveaway on Facebook why don't you use our Facebook Giveaway app to draw a random winner in an automatic and transparent way?
Summer is a hot season not only for seasonal products but also for experiences and new adventures. That's why family experience packages and getaways are always so popular during the summertime. Here's an example from The Great New York State Fair; the brand organized multiple giveaways over a few weeks promoting The Destiny USA amusement park.

In order to participate, Facebook users commented on the promotional post and one lucky person won 4 Destiny USA Summer Fun Day passes. The series of giveaways kept the users engaged and coming back for more, and their loyalty and trust were strongly reinforced.
Grow your brand with summer giveaways promoted on TikTok
TikTok is the newest social media platform that is growing extremely fast, with 800 million monthly active users already. This number is a great indication of how much possibilities TikTok has.
At the moment TikTok still doesn't allow link sharing, however, they're working on it. Currently, it is also impossible to automatically import post comments in order to draw a random winner. However, there is one possibility that can boost your TikTok profile tremendously: announce and promote an Instagram, Facebook, YouTube, or Twitter giveaway on your TikTok profile.
Here's an example of an Instagrammer announcing her summer Instagram Giveaway on TikTok. In the TikTok video, she presents the prize of the giveaway and simply asks the viewers to head over to her Instagram account.
This is a fantastic way to drive traffic to your Instagram or YouTube account, depending on which platform you decide to choose for your summer giveaway.
Attract new community members with summer giveaways on Twitter
Last but not least are summer giveaways launched on Twitter, another social media platform where giveaways are a very popular thing. Twitter users love to share their daily lives with their followers. Summer is when beer gardens open and festivals happen. These things are what makes Twitter engagement go up during the summertime, as people are more likely to share bits of their lives and adventures. So take advantage of your Twitter followers being more connected than ever, and attract their attention with attractive summer-themed Twitter giveaways.
Don't we all come back from holidays and gatherings with tons of new selfies? OddPrints, an online printing service provider, decided to take advantage of it and organized a giveaway in which the main prize was a £100 voucher for photo printing. The entry requirements were very simple as the participants were only asked to follow the account and like and retweet the promotional post.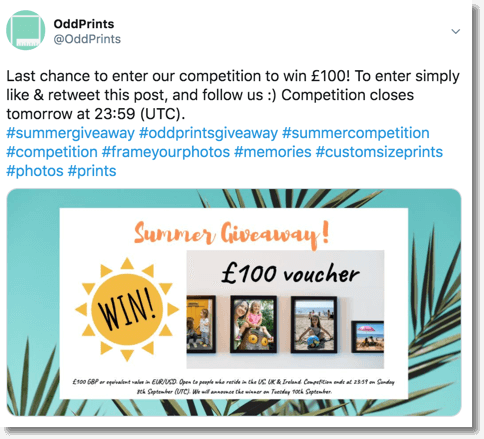 The easy entry requirements helped OddPrints grow their audience and increase social media engagement.
Would you like to run one giveaway across multiple social media platforms? It's possible! Publish your giveaway post across your social media channels and use our Multi-Network Giveaway app.
Another example of a summer Twitter Giveaway promoting a product is from Mavala UK, a care and beauty product producer. Mavala were looking to promote their new summer collection of nail polish.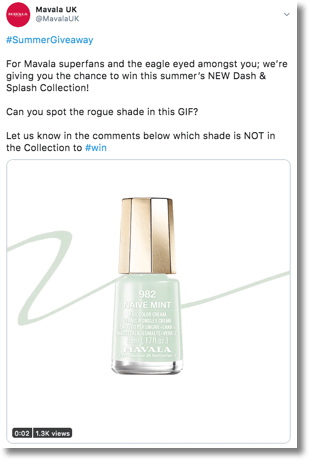 What was so good about this giveaway? The #SummerGiveaway hashtag attracted a lot of attention and the video showing different colors from the new nail polish collection presented the whole new product line just in a few seconds. And that's a fantastic way to promote a product!
Apart from product promotion, Mavala was looking to engage their audience and boost social media engagement, as the only entry requirement was to comment on the post and explain which shade is not in the collection to win.
It's time for your summer giveaway!
We hope these examples gave you an idea of what summer giveaways should look like on social media. Remember, do it well and you will see the engagement going through the roof! Do you have any questions? Don't hesitate to Online Chat with us!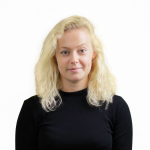 Kamila Palka
Easypromos marketing team
Publication date: 2020-06-01