Are you looking into organizing a Black Friday giveaway? Having evolved into more than just a shopping frenzy, Black Friday is now a strategic opportunity for businesses to connect with their audience, boost sales, and increase brand engagement. One highly effective approach to stand out from the competition and create buzz is by organizing a Black Friday giveaway as part of your digital marketing campaign. In this article, we will delve into the key steps to successfully plan and execute a Black Friday giveaway that captures attention, drives traffic, and converts leads into loyal customers.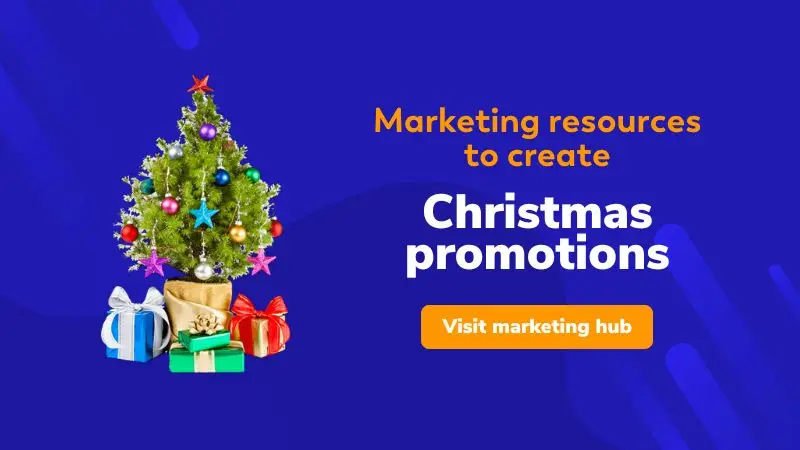 Black Friday giveaway step 1: Define your goals
Every successful marketing campaign starts with clear objectives, and your Black Friday giveaway is no exception. Start by determining what you aim to achieve through the Black Friday giveaway. Are you looking to increase website traffic, expand your email list, or generate leads? Depending on the objective, you will have to choose the right dynamic and platform to run your Black Friday giveaway. Luckily, Easypromos offers the right giveaway app for whichever marketing objective you wish to achieve.
Black Friday giveaway step 2: Identify your target audience
Defining your goals goes hand in hand with understanding your target audience, as it is crucial for tailoring your giveaway to resonate with their preferences and needs. Who is your buyer persona? Do you want to target active users of a specific social network, existing customers, subscribers of your newsletter, or visitors to your website? This combination of goals and target audience will define the platform and mechanics of your Black Friday giveaway. So let's delve a little deeper into these two aspects before we move on to other important aspects of your giveaway.
Objective: Engagement and brand awareness
If you're looking for a Black Friday giveaway to engage your audience and boost brand awareness, Social Media giveaways are the way to go. The second half of the equation is deciding which social network to hold your Black Friday giveaway on. And that choice depends on who your target audience, or buyer persona, is. With this in mind, you can choose to hold your Black Friday on Facebook, Instagram, or X.
Black Friday Facebook giveaway
Facebook is, as of today, the largest social network in terms of active users and therefore, a channel that you just cannot ignore. Its characteristics also make it an ideal platform to start a conversation with your audience and to bring them closer to your brand sing the Facebook Giveaway app. Ask them to comment on your giveaway post by answering a question or giving some feedback on your product or brand.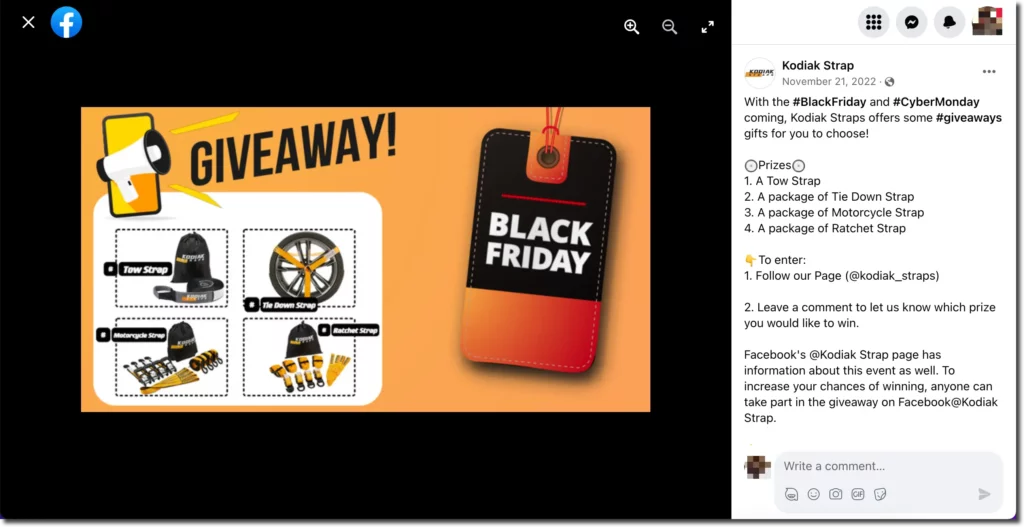 Take a look at the Black Friday giveaway that Kodiak Strap launched on Facebook. The brand asked participants to follow the brand and write in the comments which prize they would like to win as participation requirements. A clever way of both advertising their products and getting a little feedback on their followers' preferences.
Instagram Black Friday giveaway
If your audience is more of an Instagram crowd, use the Easypromos Instagram giveaway app and choose the dynamic that best suits your needs. Define the participation requirements by asking participants to comment on your post or reel and/or tag a certain number of friends. Finally, it's always a good idea to invest in promoting your giveaway post to give it a wider reach, and therefore, a higher level of participation.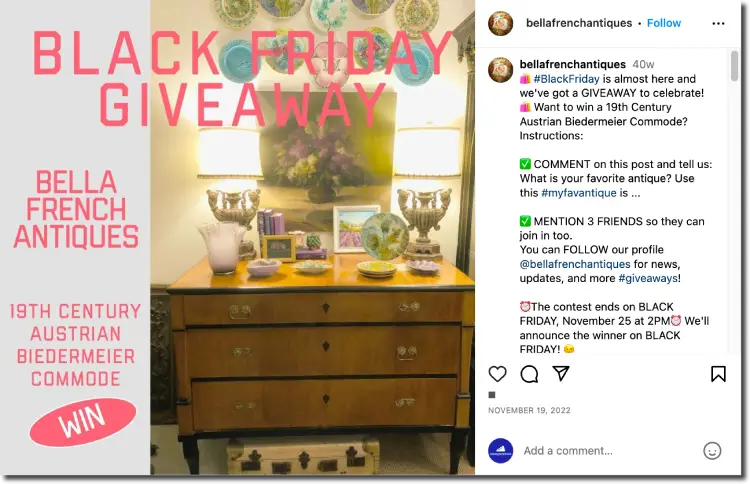 In the example above, antique shop Bella French launched a Black Friday Instagram giveaway and asked users to participate by commenting what was their favorite antique and tagging 3 of their friends. Asking participants to tag X number of friends can help your giveaway go viral and bring in more entries to your giveaway.
Being a single-day campaign, the Instagram Stories format fits perfectly due to its ephemeral nature. The Instagram Stories giveaway offers two participation dynamics: users reply to your brand's Story to participate or post their own Story mentioning your brand.
Multi-Network Black Friday giveaway
If your audience spans through Instagram AND Facebook, you can run a single giveaway using the Multi-Network Giveaway app form Easypromos. It will allow you to manage and gather participants from both networks in a single giveaway.

And that's exactly what M6toll did to celebrate Black Friday with their audience. The organizers posted two identical posts on Facebook and Instagram with the same participation requirements. Using the Easypromos Multi-Network giveaway app, the organizers could then import participants from both networks into a single giveaway, Easy!
X Black Friday Giveaway
The social network previously known as Twitter has a loyal audience of its own, and if this is precisely the target audience you're aiming for, an X Black Friday Giveaway is the way to go. The Twitter Giveaway app allows you to run a giveaway among users to Retweet your post, reply to your Tweet, or mention your brand and campaign hashtag on one of their tweets.

Social Media giveaways are the best option to interact with your audience and grow your follower base to the point of acquiring that critical mass that will enable you to move on to more elaborate and complex dynamics. The downside? Social media giveaways do not allow you to gather user data and therefore, an option to generate leads.
Generate leads with an Entry Form Giveaway
If what you're looking for is to generate leads, grow your newsletter subscribers list, or even gather segmentation feedback, the Entry Form Giveaway app will do the trick. The app features a fully customizable registration form that will allow you to include as many information fields as you need to collect the information you are after. What's more, you can embed the giveaway on your website for easy access and/or share the access link on Facebook and X. Instagram, on the other hand, does not allow sharing links on your feed post, however, you can promote the giveaway in a post and include the access link in your BIO's linktree, or share it on Stories.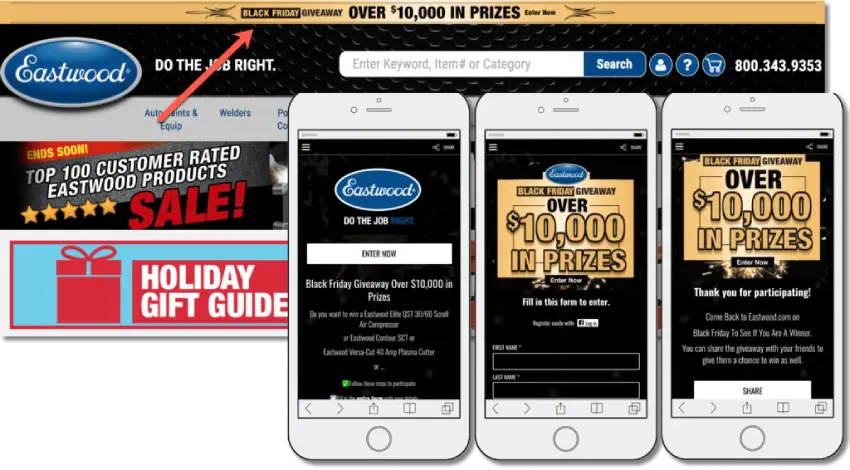 Have a look at the example above. The American car restoration products retailer Eastwood launched a Black Friday giveaway and featured it on its website to make it easily visible and accessible to the site's visitors and clients. This, plus the fact that the organizers offered attractive, high-value prizes made the giveaway a resounding success. This takes us to our next key point to make your giveaway a successful one…
Choose an Irresistible Prize
We are going to finish this article with a short paragraph on prizes. As evident as it may seem, it is still worth mentioning that the prize you offer should align with your audience's interests and have a high perceived value. It could be a popular product from your inventory, a limited edition item, or even a bundle of your best-selling products. Whichever the kind of prize you decide to offer, its allure will incentivize participation and attract potential customers.
We hope you find these Black Friday giveaway tips and examples useful. If you have additional questions, feel free to contact our customer support team via live chat. We will be happy to help!