Mother's Day is one of the most important holidays in the calendar in terms of consumer spending. In the US it's the third highest spending holiday, only behind Christmas and Valentine's, and in the UK Mother's Day generates close to £2 billion in consumer spending.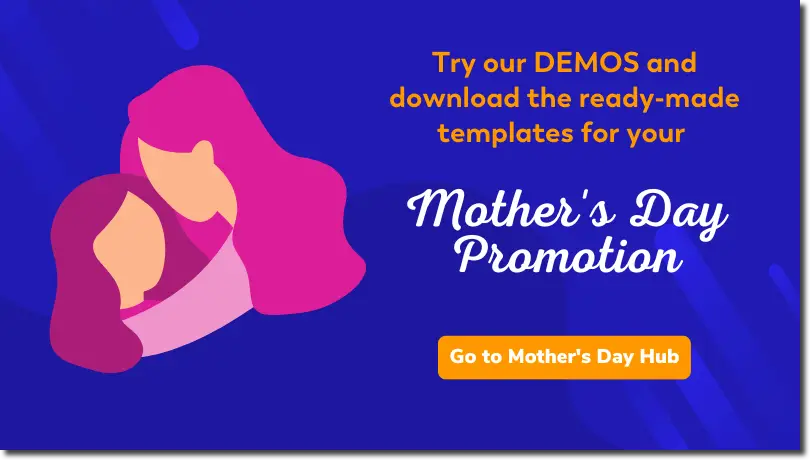 Mother's Day Gamified Promotions
With such figures to show for it, and considering that gamification has become one of the leading trends in digital marketing, why not put two and two together and launch a gamified promotion to celebrate Mother's Day? So, to make it Easy for you, we've put together some examples of online Mother's Day games to entertain and engage your audience and generate leads.
A few words on participation flow
Before we delve into specific ideas for Mother's Day games, let's take a minute to cross the t's and dot the i's on participation flow. As you very well know, lead generation campaigns rely on participants filling out a registration form to participate or play a game. However, we are all aware that this is the step where the risk of losing a potential lead is greatest. To sidestep this participation barrier, the Easypromos platform allows you to configure the participation flow in three different ways:
Participants register first and then play the game. This modality has the advantage of asking users for their information straight off the bat, but it also has a higher risk of potential participants dropping out.
Participants play first and register after the game. This option will allow participants to enjoy the game before anything else is asked of them. You may then tell participants that since they have completed the challenge, they are now eligible for a prize (or a prize draw) and to do so, they need to fill out the registration form.
Anonymous participation. If the objective of your promotion is simply to entertain your audience, you could configure the promotion so that registration is not necessary and users play for the sake of playing. No lead generation here, but happy customers, for sure!
Word Search Mother's Day Game
Mother's Day is all about showing appreciation and telling moms how we feel about them. Thus, a word-related game makes all the sense and we have just the right idea for that: an all-time classic Word Search in digital format. Choose the words you want to share with mom and challenge her to find them in the shortest time possible. You can then configure the game to distribute prizes, coupons, or discount codes.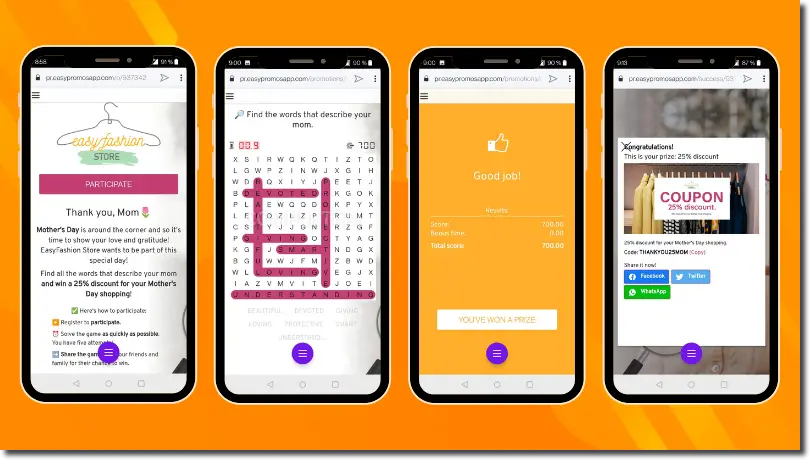 Mother's Day Word Shuffle Game
If you're looking for something a bit different but still want to play with words, here's another option: Word Shuffle! In this game, participants have to unscramble the letters to find out the hidden word or phrase. Since we know that there is so much we can tell mom, the game allows you to set up the game with between one and 25 shuffles from among up to 500 words or phrases that you can upload!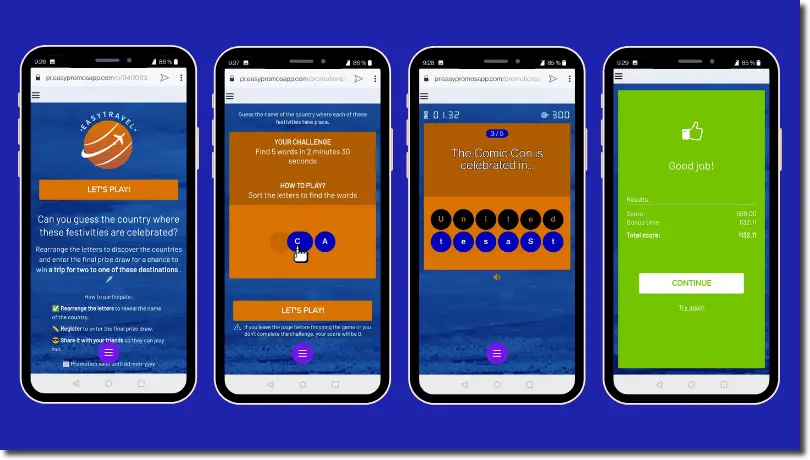 If you are looking for a more visual game to promote your product or brand, a Hidden Objects game will do the trick. In this game, you can "hide" images of your product, logo, or whatever you choose and challenge participants to find them in the background image. Both the hidden objects' images and background are fully customizable.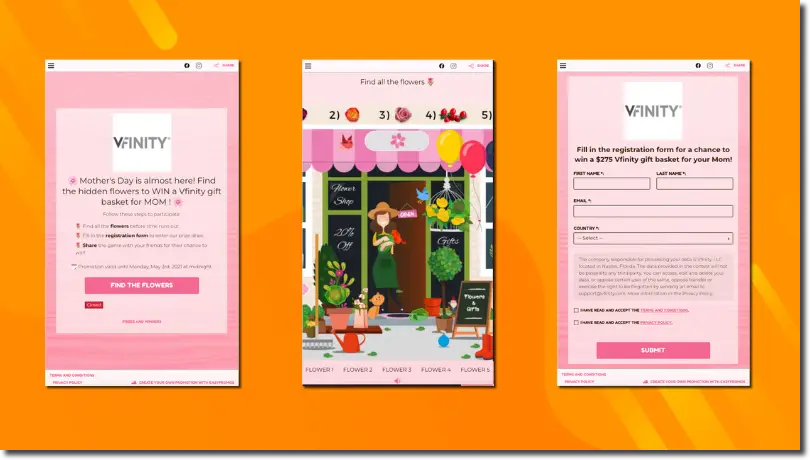 In this example, the American health and wellness brand VFinity launched a hidden objects game and shared it on its social media accounts. Users had to find the hidden flowers in the image to enter a prize draw for the chance to win a gift basket.
Mother's Day Puzzle
Since we are discussing more "visual" games, how about a digital Puzzle? This is a classic, straightforward, easy-to-play game. What's more, you can customize the image of the puzzle with your product's image or even the prize you are planning to give away.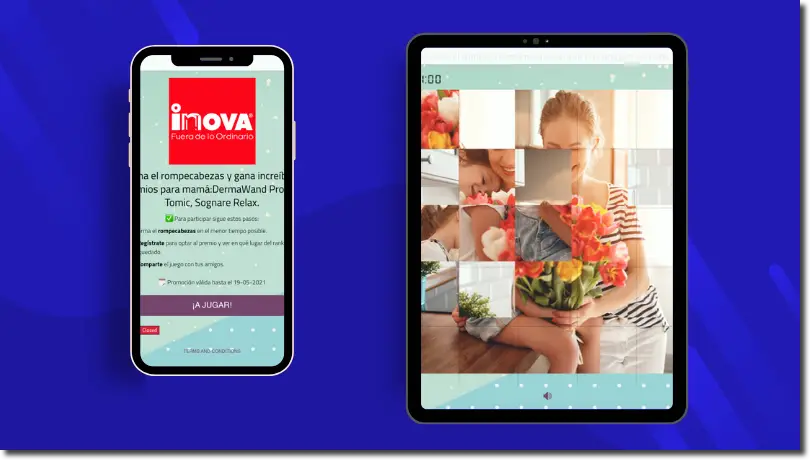 In this example, Mexican retailer Innova launched a Puzzle game in which the three users who completed the challenge in the fastest time would win a bundle of the brand's products. The promotion was quite successful as the game was played over 13,000 times!
Promote your brand with a Product Recommender promotion
Featuring or showcasing your products as part of your promotion not only engages your audience but will also serve as visual advertising. You could, in fact, help your audience choose the right gift for mom from within your product line. And we have the perfect app for that: Product Recommender. This app allows you to configure a little questionnaire based on mom's preferences. Once questions have been answered, the participant will be presented with the present that best suits mom.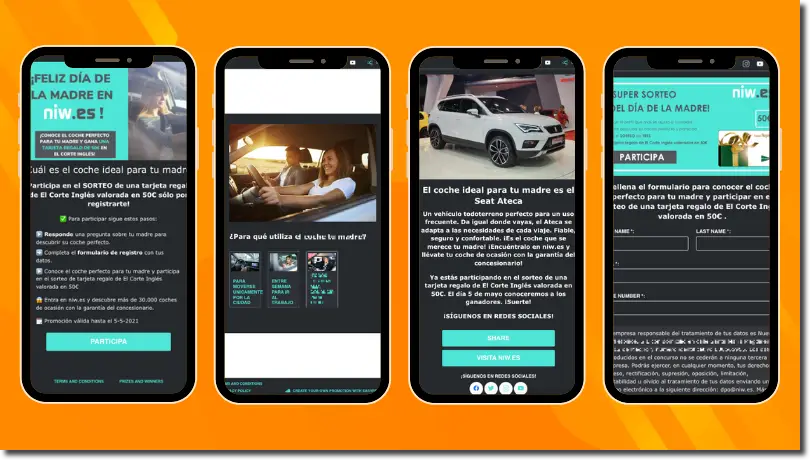 That's exactly what the Spanish car dealer niw.es did in this promotion. Launched a promotion in which users answered some questions regarding mom's driving habits and then got a recommendation on what kind of car would fit her best. Any users participating in the promotion entered in a final prize draw of a gift card for a famous department store.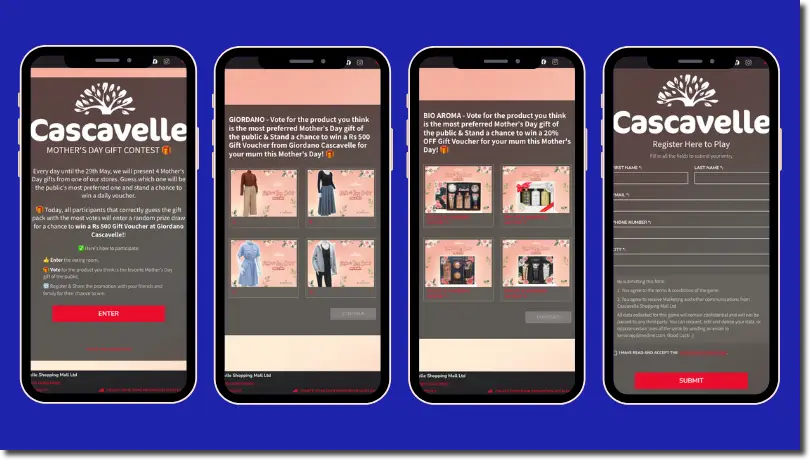 In this other example, the Cascavelle Shopping Village in Mauritius launched a series of Pick your Favorite promotions organized by the different shops in the mall. In each of the promotions, the organizers asked users which of the products mentioned they thought would be the most voted as a Mother's Day gift. Users who chose the most voted product by the end of the promotion entered a final prize draw.
Gather User-Generated Content with a Mother's Day contest
In today's marketing world, there is no content of greater value than User-Generated content (UGC). Audiences today trust other customers' opinions and the content shared by them more than professionally produced content. It is perceived as real and relatable, and if used in the right way, it can provide great value to your brand.
Some of the best ways to incentivize your audience to share content with your brand are through contests. Namely: photo, video, or writing contests. Contests motivate users to share content by offering a reward. So pick your prize carefully and ask your audience to share a video with message for Mom or a photo of their celebration.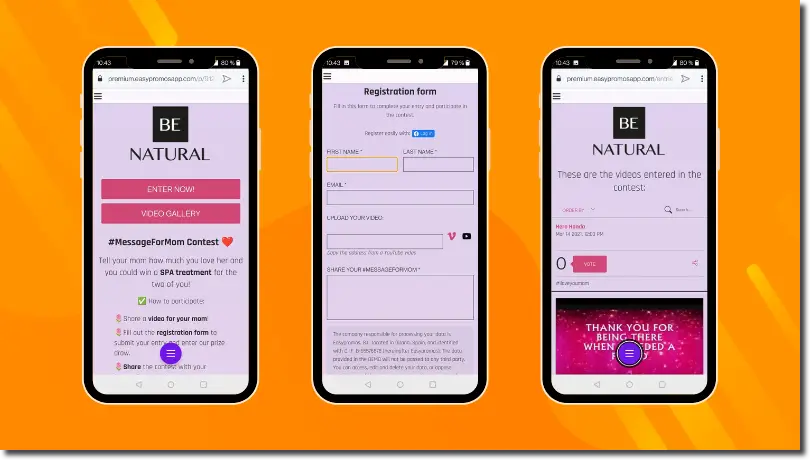 Whatever format you choose (photo, video, or text), you can set up the promotion to showcase participants' submissions in a public gallery so that the general public can vote for their favorite. It is up to you as an organizer to decide how winners will be chosen. Either by popular vote, by a jury, or a combination of both.
Want to spice up your photo contest with a little fun? Try out Photo Fun Demo where participants get to play with frames and stickers to personalize their pictures.
So there you go, we hope you find these ideas and resources helpful when creating your Mother's Day promotion. If you have any question contact our customer support team via live chat. We will be happy to help!