Every online business or e-commerce website hopes to have the most attractive, engaging and converting site in the market. And many companies manage to launch high-quality sites that successfully turn visitors into paying customers. But to do so, you first have to drive traffic to your website because otherwise, your site will have no one to convert… Launching your site and hoping that visitors will just come might work for some (established brands, popular e-shops, etc.) but this is not how it works in most cases.
Luckily for you, there is a variety of different ways to promote your new website. We've proven numerous times that digital promotions do magic when it comes to grabbing the attention of online audiences and (you've guessed it!) the same applies to new website launches. In this blog post, we take a look at how to use giveaways, contests, and prizes to promote your new website or e-commerce site.
Promote your new website on social media
Let's start with the basics. What would be the best place to promote your new site launch? If you already have an existing webpage or a store that boasts success, that'd be the right place to start. You can begin by getting some leaflets, putting up posters, or even printing a fun message on the receipts. But this would mean that only the people that visit your store or website will be informed about the new mighty site coming soon…
So think big and go to where your audience is: social media. Depending on your business, some customers might purchase from your only a couple of times a month or year. But many of them will be still actively following you on social media – looking for offers, discounts codes, special deals, and product news. Social media is where your potential customers are.
Starfish Store is an education store from Australia that supports parents and individuals with or without learning disabilities. They wanted to add a fresh twist to their online presence: hence the new site and online shop that they promoted on their Instagram page.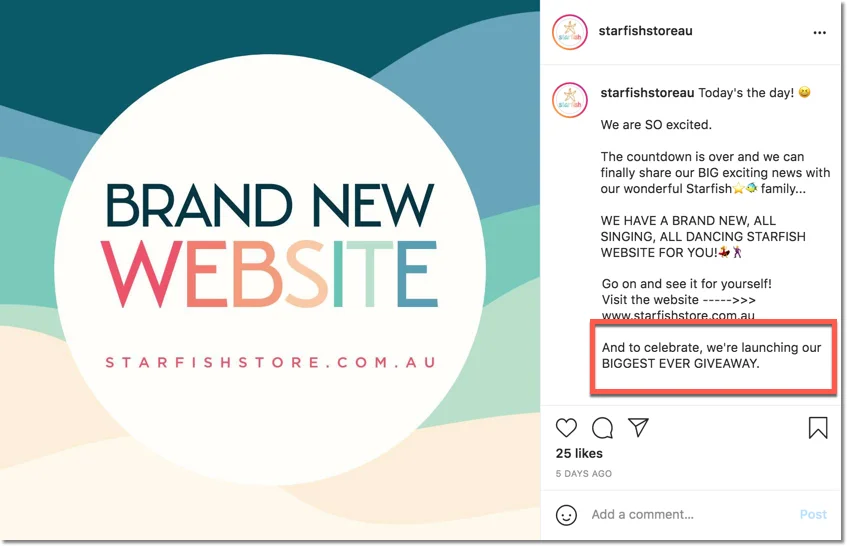 What's the best idea for an Instagram giveaway that promotes a new online store or website? We'd always opt for a comment giveaway as it's the easiest way to boost social media engagement, increase visibility and attract the attention of more users (one of your entry requirements could be mentioning a couple of friends). You can raffle free products, samples, gift boxes, or even discount vouchers.
Is your demographic more active on Facebook or Twitter? You can still launch a fun social media giveaway to promote your new website launch! All you need is a captivating image, giveaway announce text and you're good to go!
Drive traffic to your newly launched website with a prize wheel
Are you looking for more than just increased social media engagement? We're thinking: new leads, more sales, and fostered customer loyalty… All of these objectives are important KPIs for your business and now they can be reinforced with an online prize wheel. By embedding a Spin the Wheel promotion – or adding a banner that redirects the users to your wheel game – you double, or maybe even triple, your chances of converting anonymous website visitors into qualified leads. Humans loooove to win! So by giving your audience a chance to walk away with gifts and discounts you automatically provide positive experiences that can only benefit you and your business.
The following image shows you a fantastic example from Vidal – a Spanish manufacturer of confectionery. The brand launched a brand new online shop and they were looking for an interactive way to promote it. They activated a banner on their home page that redirected visitors to an online prize wheel, in which users had a chance to win prizes like discount codes, reusable cups, and backpacks.

However, they first had to make sure that their target audience knew about the special promotion. To make sure their branded prize wheel went viral they turned to their social media channels to post a series of fun gifs and posts encouraging people to try their luck.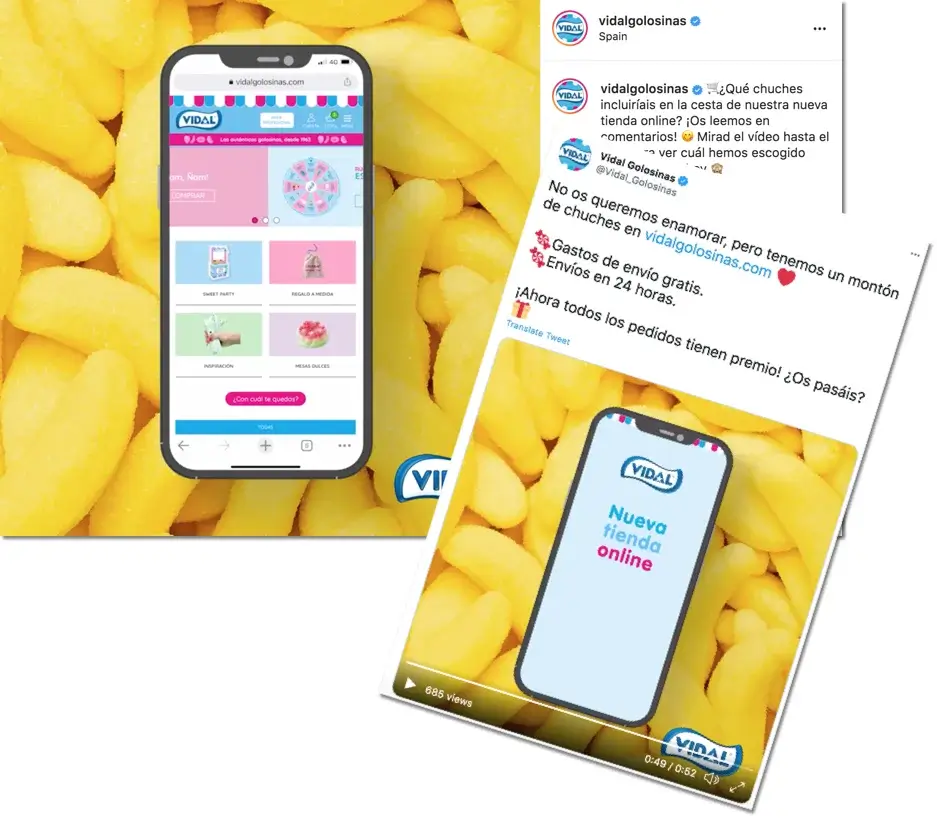 Would you like to test our Spin the Wheel app? Try our prize wheel DEMO to better understand the dynamics and objectives that you can achieve with our app.
Launch a giveaway with a registration form to promote your new website or e-shop
Have you ever entered an online giveaway or promotion? If the answer is "yes", then what was your main motivation to do so? Let us guess – the prize. The better the prize the more participants your promotion will attract. If you want to boost your new e-shop or website's visibility make sure you raffle incentives that appeal to the general public.
Here's an example of an Entry Form Giveaway launched by Stella's Place to promote the grand opening of their new location. You can use exactly the same dynamic to promote your website or e-commerce.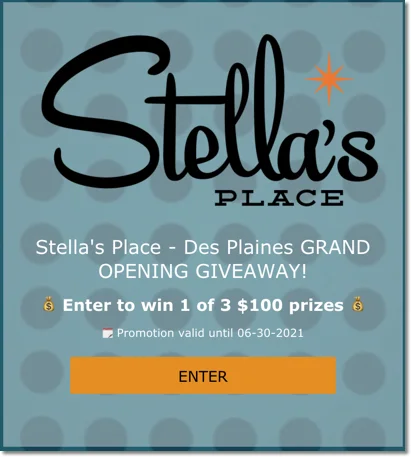 Create organic and sponsored posts on social media to inform your audience about the new website launch and encourage them to visit your website to participate in your giveaway. Make sure you use widgets to embed it on your website – this is the best way to ensure that only those that really visit your new site participate in your sweepstakes.
Branded mini-games have changed the marketing world! Flexi – a Mexican shoe brand – looked to capitalize on website traffic. Learn how a Memory game generated 130,000 new leads from website visitors.
Send traffic to your website for a chance to win: quiz
The final idea – but not any less inspiring – is to launch a quiz to promote your website. You might wonder how that'd work…
Use our Knowledge Quiz app to ask your audience a simple question about your new website or design and hold a random giveaway for all participants. You can ask a question like "What's the main color of our new website design?". The trick is that in order to answer this question, each participant will first have to visit your website!
Do you have more ideas for promoting new websites with giveaways and contests? Or maybe there's a question that you'd like to ask? Make sure to contact us via our live chat!