There's never too many Christmas promotion ideas! Every year, marketers are on the lookout for creative and engaging promotions for the Christmas season, while customers are busy holiday shopping. Here are our favorite Christmas promotion ideas in 2021: the promotions that users love and participate in, again and again. Try these 6 ideas to generate engagement for your Christmas campaigns, drive record sales, and maximize lead generation.
The last couple of years have been full of changes in digital marketing and social media. To stay ahead of the game and maintain a significant digital and online presence, many brands decided to adapt their marketing strategies so that they don't fall behind the ever-changing trends.
Launch branded mini-games to maximize brand engagement right in time for Christmas
Branded mini-games can help you in a variety of different ways; apart from putting your brand in the holiday spirit, they're also the most unique way to maximize brand engagement and brand awareness. Everybody loves to see festive images and pictures of Christmas decorations; meet your customers' expectations and offer your audience some interactive entertainment, ideally with a chance to win incentives. Because at the end of the day, Christmas is all about gifts!
Puzzle and Memory games
Puzzle and Memory games are great engagement boosters. Their interactivity attracts many users as they create a sense of challenge and rivalry, especially when prizes are involved. This dynamic also generates repeat participations, as users interact with the promotion multiple times in order to obtain the best score possible. And this is why gamification is one of our favorite Christmas promotion ideas! Organize a mini-game and customize it with your corporate image to reinforce brand awareness and raffle prizes among all registered users. Is your goal to attract as many participants as possible? Offer discount codes to all registered users – apart from maximizing lead generation you might also boost sales.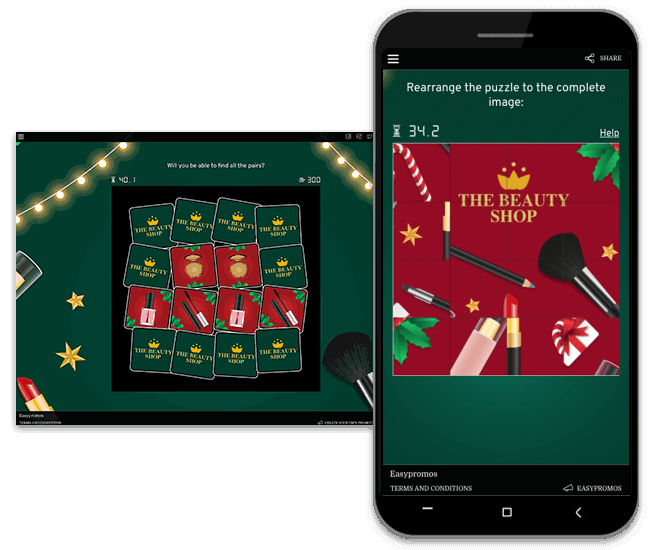 Let's not forget about following up on the new leads. Send personalized email reminders to turn your new sales leads into paying customers! This is how you gain new leads for your future promotions, as the participant has to leave their contact details in order to receive the voucher.
Minesweeper
Nostalgia marketing does work, especially during the Christmas season when we're all a bit sentimental and emotional. Target your audience with their childhood or teenage years memories by launching a Christmas Minesweeper.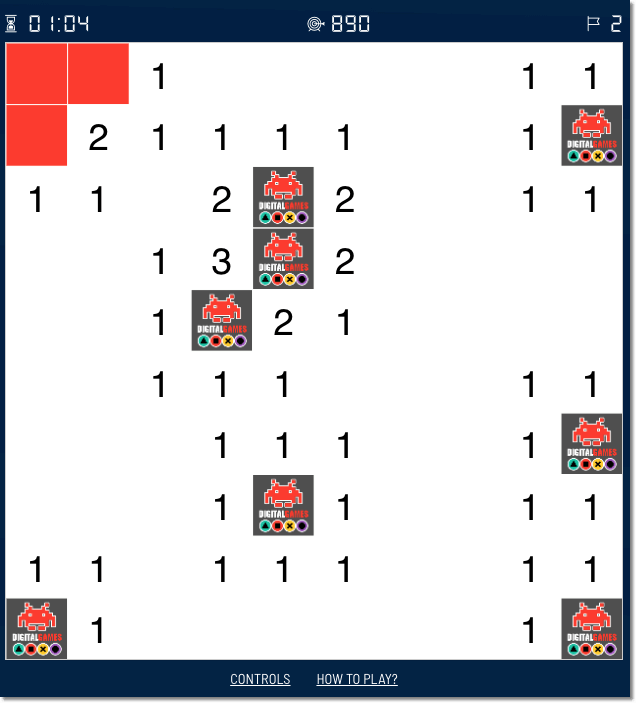 New game: Slide & Match
If your nostalgia doesn't date all the way back to the 90's, the brand new Slide & Match game might be your cup of tea. This new Easypromos' game will keep your followers coming back for more. You can award a prize to the highest score. A highly entertaining game and a chance to win a prize: a match made in heaven!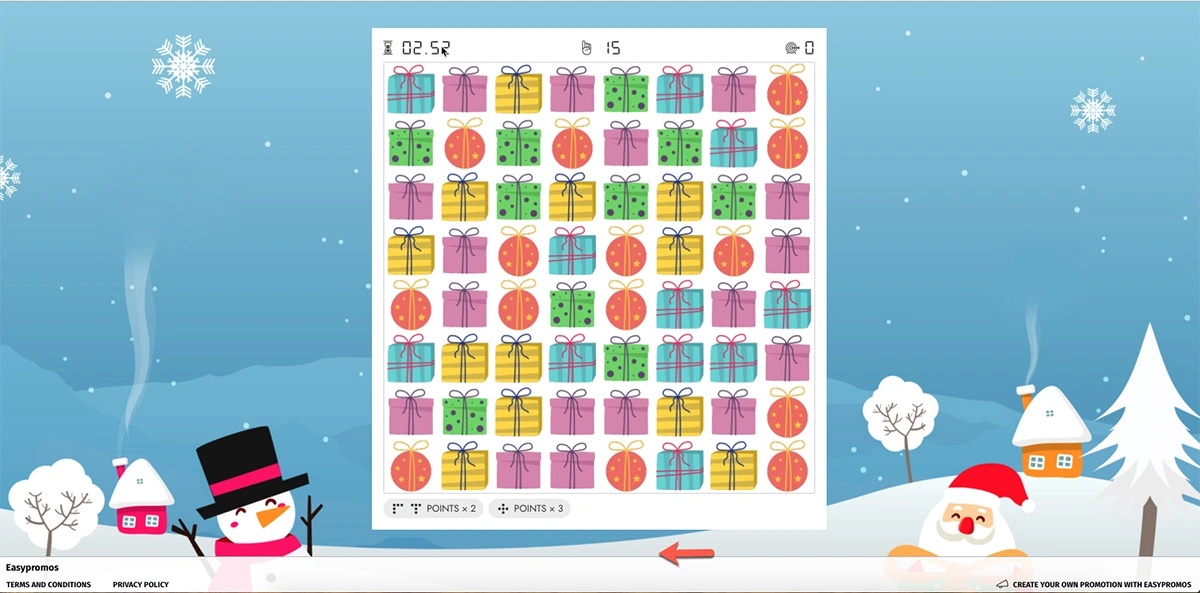 Just like in the previous examples, attract more participants – and therefore more sales leads – with incentives, big or small.
Spin the Wheel: Boost Christmas sales with a branded prize wheel
If you're looking to take your Christmas sales through the roof, then this one's for you, and "interactive" is the best way to describe it!
We all love to see our leads convert into paying customers during the Christmas season but sometimes it seems harder to achieve than it really is. So how can you turn visitors into new leads, and leads into paying customers? Which Christmas promotion ideas are the right ones to follow? Here's the answer!
November and December are the months of Christmas shopping; your customers spend a lot of money trying to make their loved ones happy. Work on their loyalty by offering them discount codes and coupons to your store or e-commerce. But don't just give them away… Launch an interactive Christmas campaign to distribute them and ensure that your new potential customers will remember you for a long time! Get them to Spin the Wheel!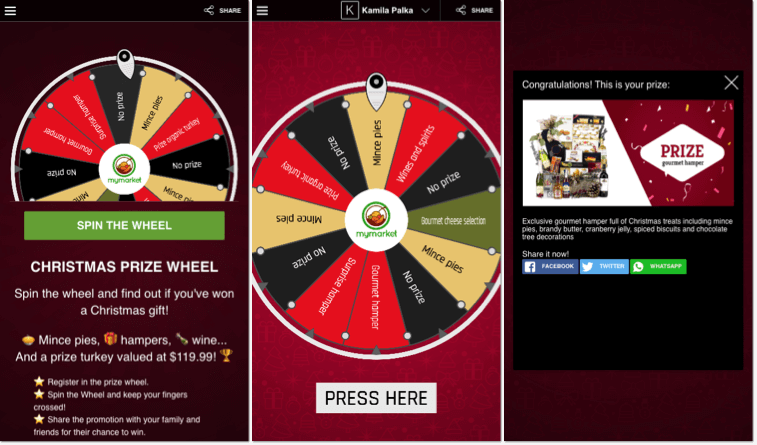 Use Christmas prize wheels to reward your customers with prizes, hampers, and exclusive products, too! You will not only increase brand awareness but also reinforce customer loyalty and trust. Give a go to our Christmas Spin the Wheel DEMO to test the user experience.
Are you keen to incorporate gamification into your Christmas campaign? Discover our pre-configured promotion templates for your Christmas game and surprise your audience with the most creative Christmas promotion this year!
PhotoFun: the creative photo contest as a great Christmas marketing idea
Christmas photo contests always attract many participants, as people love to share their Christmas trees, decorations, and recipes. Imagine how much engagement you can generate with a photo contest where users get to personalize their pictures from fun stickers and frames! And now think how much you can achieve if the stickers and frames are branded…
This is a great Christmas promotion idea for anyone looking to work on their brand's social media visibility. Launch a branded photo contest and invite users to decorate Christmas trees, wrap presents, or even decorate Christmas dinner tables… Creativity doesn't have its limits! In the following examples users were asked to design their festive cards!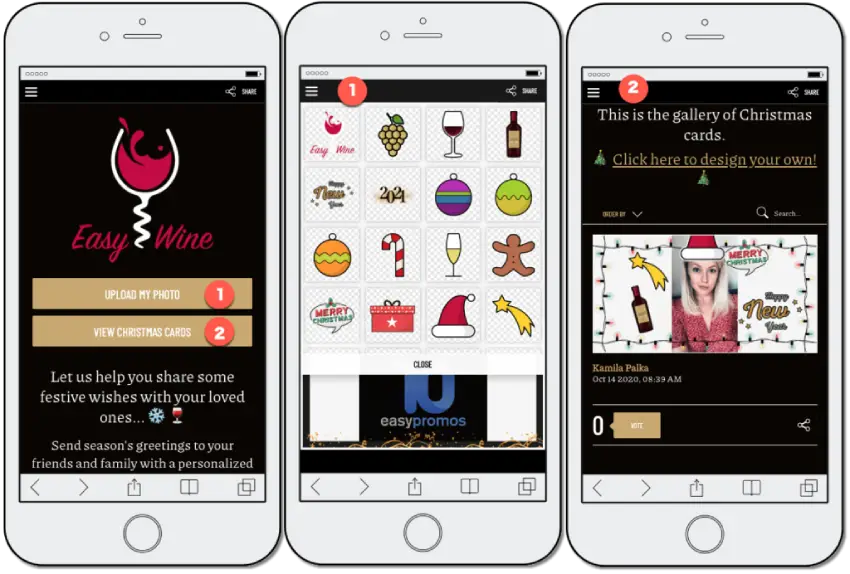 The app works on mobile and desktop, with photo dimensions suitable for Instagram, Facebook, and Stories. We've got a library full of seasonal stickers and festive frames – and you can also create your own custom graphics. Your followers can download their photos from the app, or via email, to share them with family and friends. Customize it with your logo for a perfect Christmas brand awareness promotion!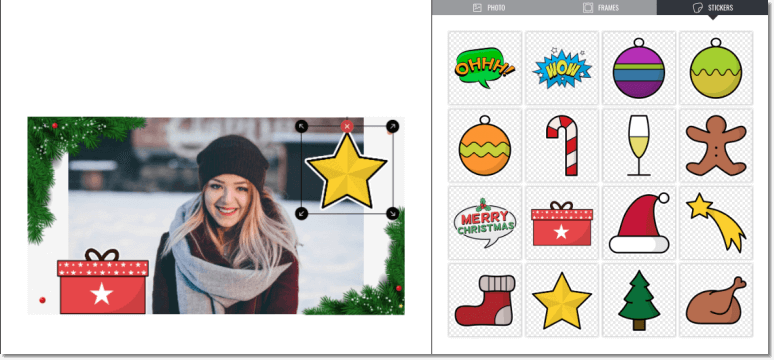 Do you want your audience to help you design a new product or packaging? Create a Scenes promotion which allows users to come up with new product designs.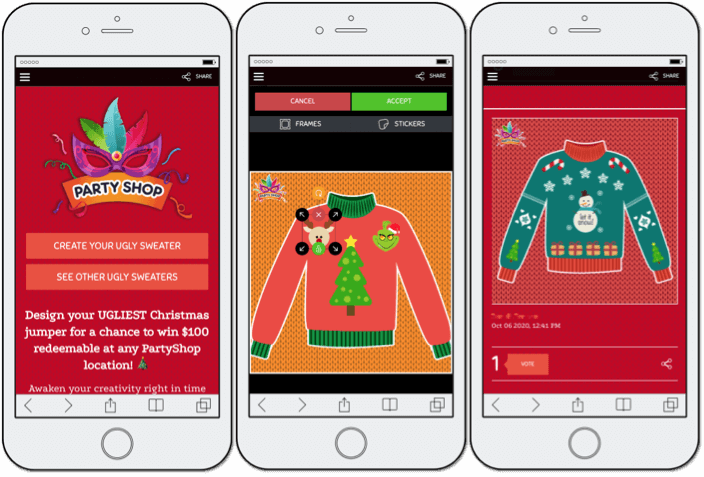 Here's a great example of an "ugly Christmas jumper" promotion. Try our Scenes DEMO to see how you can engage your audience with this Christmas promotion idea.
Advent Calendar: the excitement of a new win every day!
We all remember the thrill of opening a new door each day to find what was hiding behind! That same feeling is still present within your online community whenever you give your audience a chance to win, never mind 24 chances!

This is a great campaign to run if you are looking to organize a more complex Christmas marketing campaign, especially if you want to retain customers and encourage repeat participation from your online audience. Our suggestion is to run promotions and games during the Advent month… Daily! Show all your gifts and promotions with an Advent Calendar.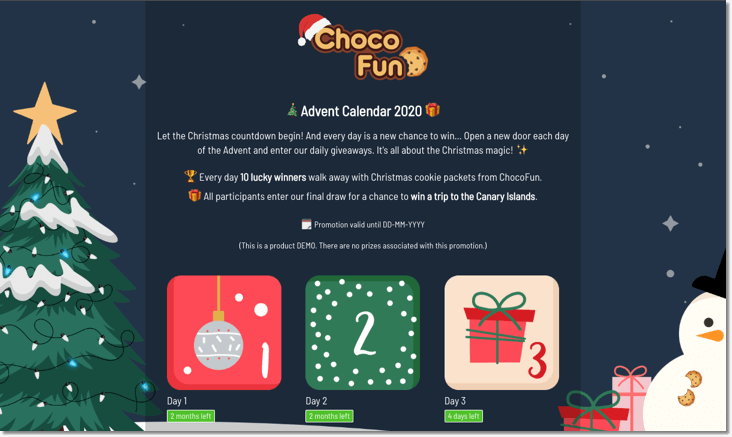 Don't worry if you don't want to run 24 different giveaways. Find out more about another great Christmas marketing idea – an Instagram Advent Calendar with 5 days of Instagram giveaways!
Multi-Network giveaway as part of your Christmas promotion
You want to promote your giveaways and great Christmas promotion ideas on multiple social media networks? No problem! You can now run a single giveaway on all your social networks and profiles. Collect comments from your fans around the internet, and award a single prize. You'll save time and effort, without neglecting any of your online communities. What's more, you can access advanced statistics to compare your Christmas promotions on each network.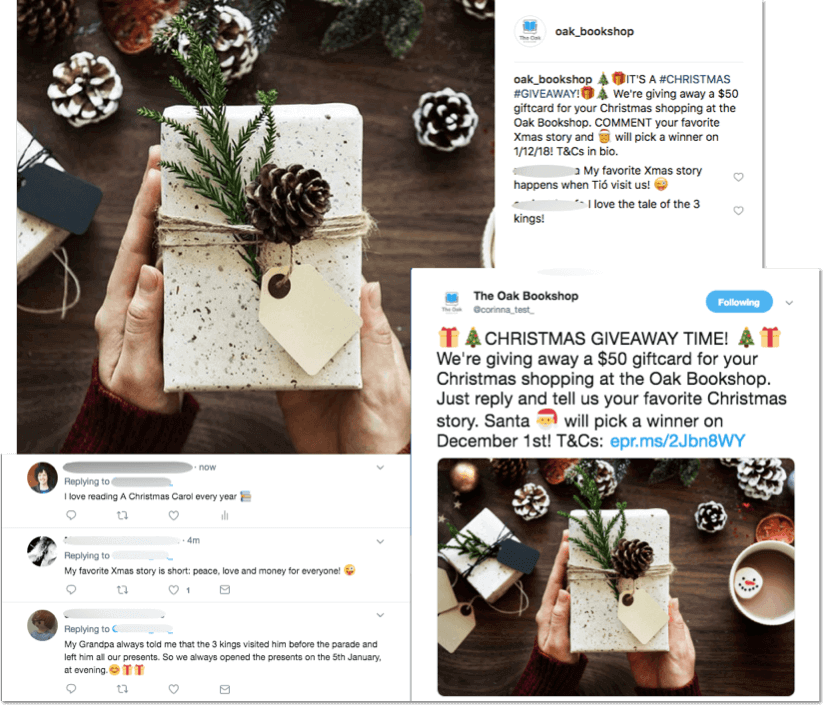 Boost sales with Christmas discount codes
Looking for Christmas promotion ideas that'll help you boost sales and turn followers into qualified leads? This one's for you!
Christmas is a great time to distribute discount coupons and codes as everyone is looking for special offers and bargains for Christmas shopping. Are parents part of your target audience? Ask them to share their kids' letters to Santa Claus, and in return reward them with discount vouchers. It's a great chance to expand your mailing list and collect some creative user-generated content at the same time.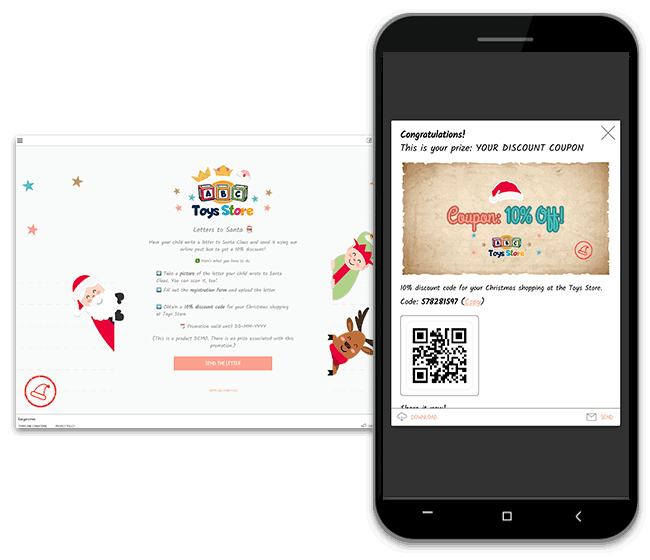 Would you like to create your own Letters to Santa promotion? Download our pre-configured Christmas template and start editing!
Getting social media followers, email contacts and online engagement are all important marketing goals. All the above Christmas promotion ideas will help you stay on top of mind with customers and strengthen customer relationships for the upcoming year! Visit our Christmas hub if you'd like to see some other Christmas promotion ideas, including social media giveaways and quizzes.
In case of any question, the Easypromos Support Team is ready to help through our online chat. And if you're ready to start with your Christmas promotions you can now register for free and create your first giveaway free of charge!