For starters, let's take a look at the experience that your audience will have when participating in your personalized online Advent Calendar.
The 2023 Advent Calendar is a shareable microsite with multiple promotions displayed on the same website. This type of campaign is ideal for boosting brand awareness and capturing new leads over Christmas. In addition, the Easypromos Calendar is mobile-responsive, making it easily accessible from any mobile device.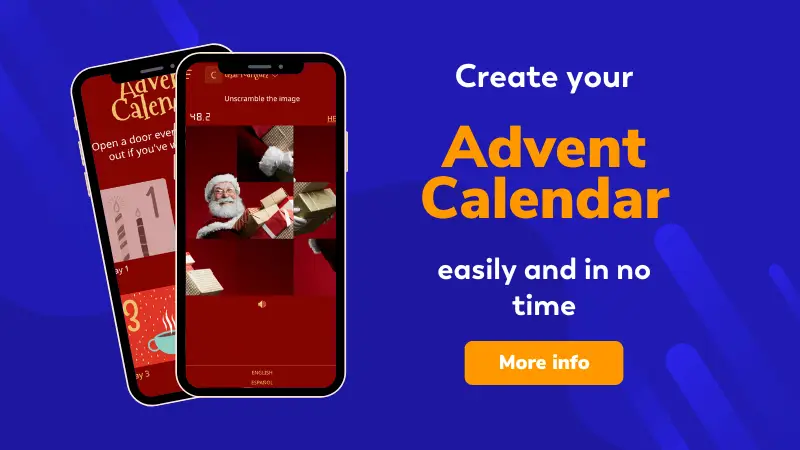 If you decide to launch your own digital Christmas countdown, our pre-configured Advent Calendar templates will help you save time. The ready-made templates allow you to customize the promotion with your corporate image. It's a great option for anyone looking to expose their audience to the corporate image long-term.
Our calendar creation tools make it easy to create this type of promotion and tailor it to your brand's corporate image. Long-term actions like this enable you to engage the audience and enhance brand recall.
Take a look at the main characteristics of an online Advent Calendar and discover how it can help you achieve your marketing objectives.
Custom online Advent Calendar, 24 days of continuous engagement
The key is to create a microsite showcasing 24 windows, one for each day of Advent. Alternatively, you can create an Advent Calendar with fewer days, depending on the prizes available to give away and the length of your campaign.
Having this dedicated microsite will allow you to consistently share the same URL in all communications throughout the entire Christmas campaign. With the Advent Calendar app, you only need to create a single promotion and activate a participation phase for each day. There are various participation mechanics available within the calendars:
Online Advent Calendar with daily check-in
The easiest and simplest participation flow in an online Advent Calendar is for the user to "check-in" every day. How does it work? The user needs to register only once to be able to participate in the calendar. By clicking on a window, a progress bar will appear to confirm their participation.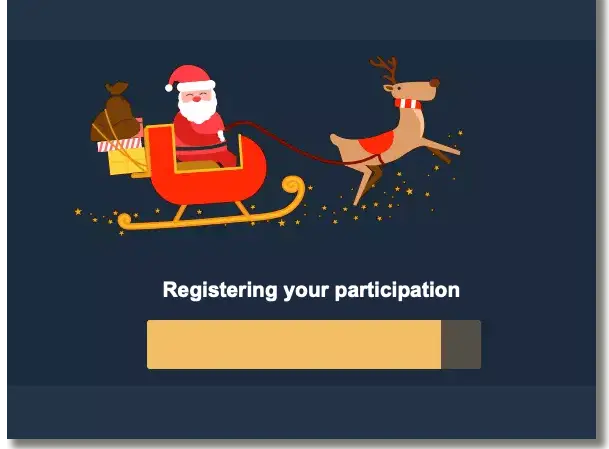 As an organizing brand, you can decide what prizes to give away daily, as well as combine it with other dynamics: discount coupons, gifts for instant winners, or a grand prize draw among all those who have participated over the 24 days.
All the windows in the calendar can be fully customized to feature your brand imagery and the products that participants can win. Take a look at the example below where the Turtle Wax brand Advent Calendar that displayed the products that participants could win for every day that they checked in the calendar.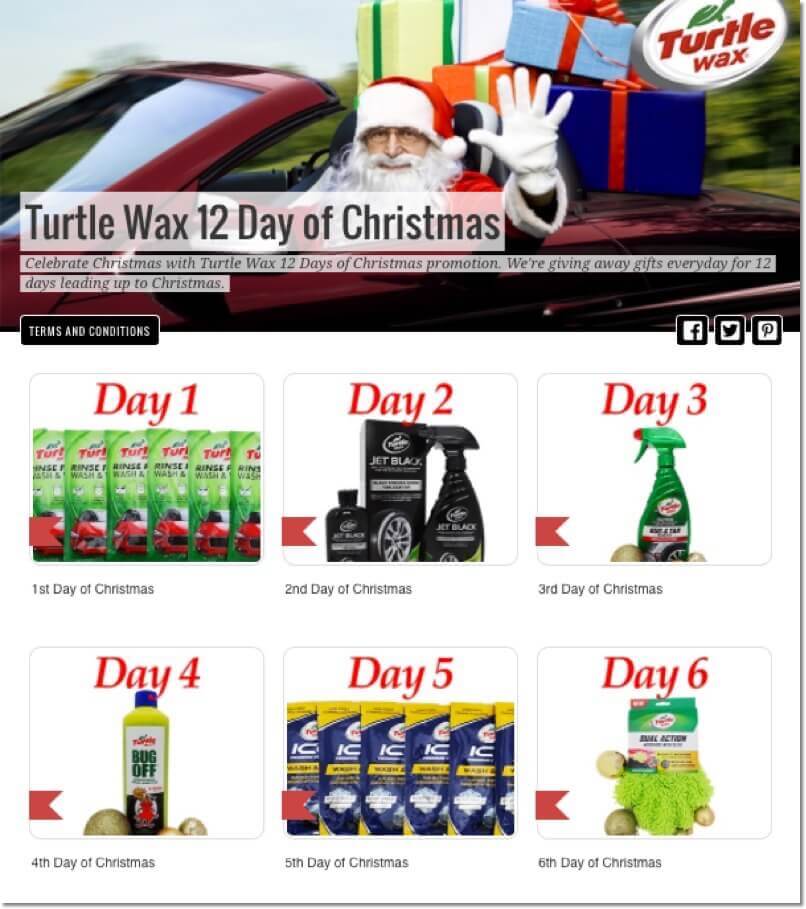 Set up the windows to open and close each day. For example, if you want to open one window every day but want them to stay open until the end of the campaign, you can configure it that way. Or perhaps you're interested in allowing a participant who comes into the campaign late to still participate in multiple promotions simultaneously and benefit from them. It's up to you!

Try our Advent Calendar DEMOs and if you like it, download our pre-configured customizable template to create your own promotion.
Digital Advent Calendar with descriptive content
This type of calendar combines the check-in mode with the display of descriptive content that guides the user to an external URL or to the final page of the promotion.
This functionality is perfect for highlighting and describing products, directing traffic to your website through a button, presenting the prize in a different way, and more. Here's an example from Festina and their watch calendar: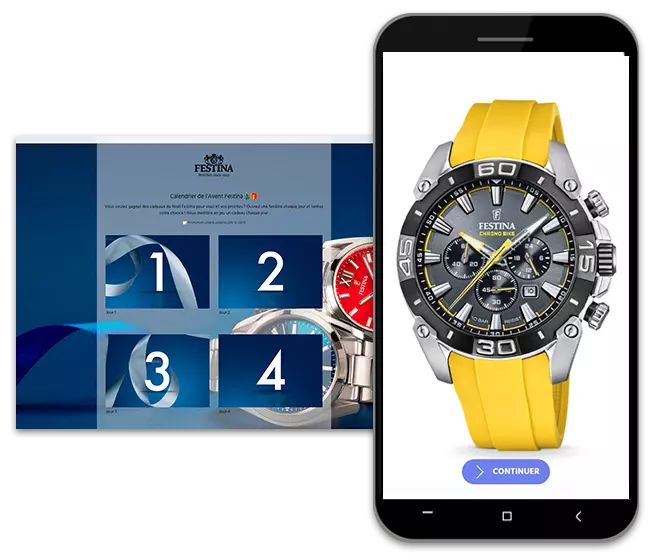 ry these Advent Calendar DEMO and give different brand content to your audience during 24 days.
Advent Calendar with daily games
Another way to create an online Advent Calendar is by having each window hide a game, making the surprise even more exciting for participants. In the following example from Kitoons, the brand created a fun calendar with games and puzzles themed around their brand and products.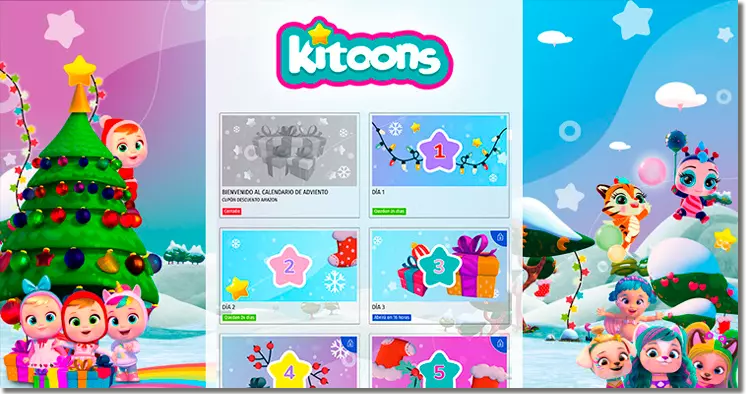 Every day, users would check in and find a puzzle, a word search, a matching pairs game, etc. By participating, they entered a final prize draw. This dynamic with various challenges is great for brand exposure and the fun it provides to users.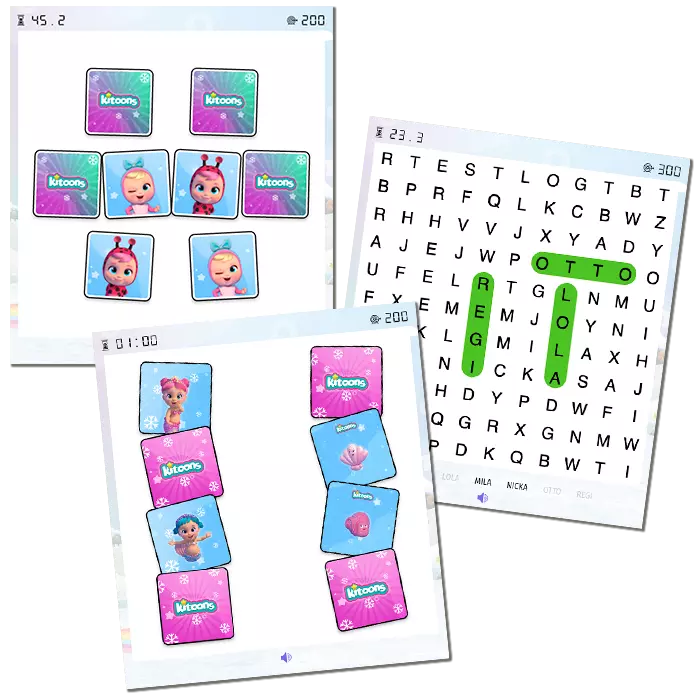 Do you like this idea? Try this Multi-Game Advent Calendar DEMO and if you like it, download the template to create one for your brand.
Advent Calendar with multiple dynamics
When configuring a prize calendar, you can combine all the dynamics we've covered so far to achieve a surprise effect with each participation. You can easily mix the daily check-in mode with games and descriptive content, making participants eager to follow your brand in aticipation for the next day's challenge. As in the other cases, draw a daily prize among the participants and a grand final prize among all those registered for the promotion.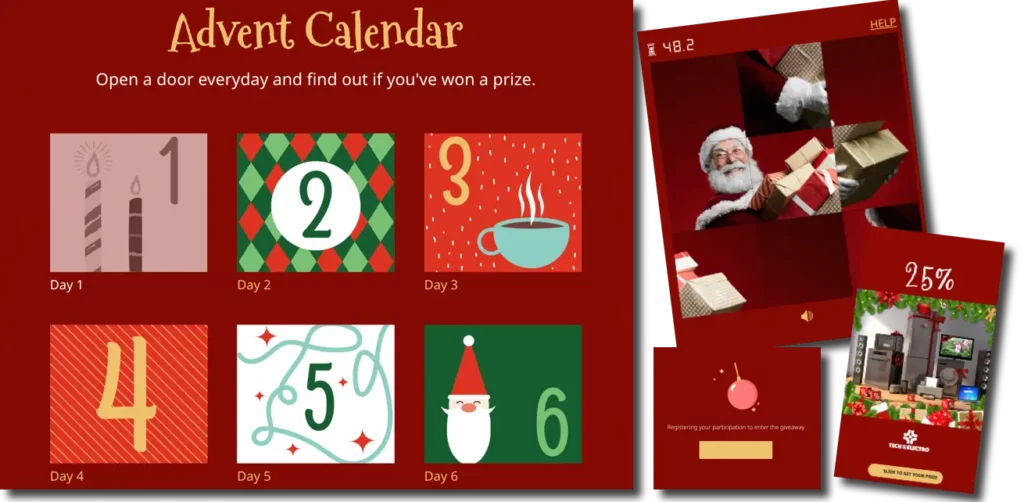 Optimize your promotional Advent Calendar for mobile users
All Easypromos promotions have a responsive design. That means that your Advent Calendar will look great on computers, tablets, and any mobile device. That's great news since most social media users use mobile devices to visit their favorite networks. Here's an example of how the calendar will change to fit a mobile phone screen: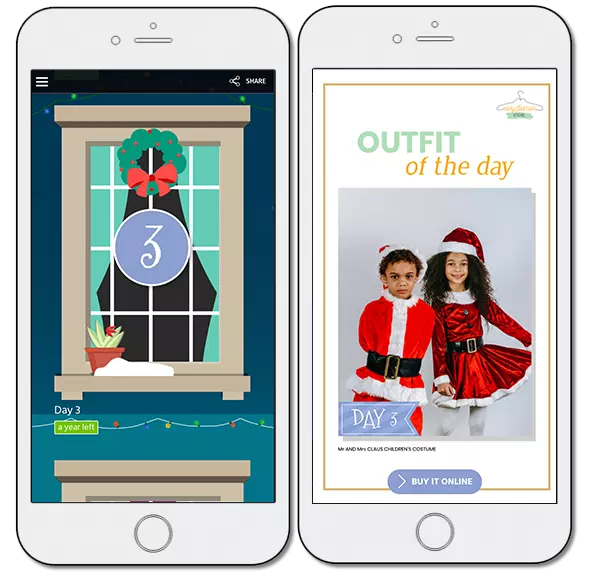 Embed your Advent Calendar on your website or blog and convert your visitors into leads! Have a look at our personalized Advent Calendar DEMO to see how it would look on your page:
Choose the perfect Christmas present
Kids love Advent Calendars because of the tiny gifts hidden behind each door! And adults tend to love promotions as much as kids love the chocolate behind the Advent Calendar doors. So go ahead and build excitement by reminding your followers of the prizes on offer. You could describe the prize at the beginning of each promotion.
If you want it to be a surprise, you can still fuel expectations. Talk about how much the gift is worth, whether it's a product of your brand, a trip to some exotic place, a discount, and so on. And if you're offering discount vouchers to all participants, make sure you emphasize it: "Open the window, guaranteed prizes!".
In the following image of the Anaya editorial house Advent Calendar, the brand chose to visually present the book they were giving away each day in every window. There's no surprise, but they do capture the users' attention and gather a database of participants genuinely interested in each book.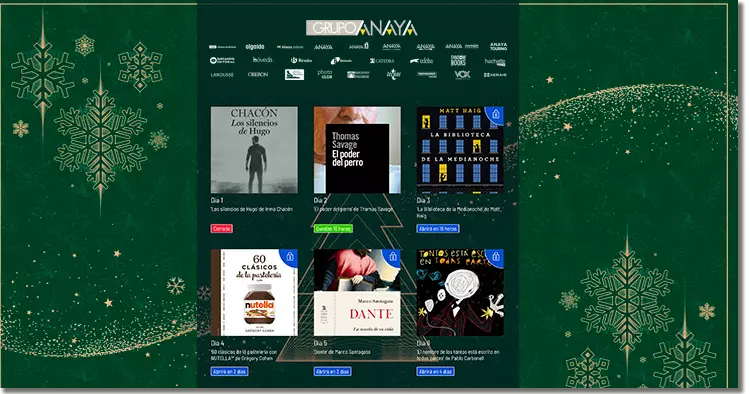 Ideas for an Advent Calendar daily participation
If you are wondering what kinds of daily actions you can present to your audience, here are some ideas that you can configure when creating the calendar:
The simplest option is to conduct a random prize draw among all participants who register on that day.
The most fun option is to create games like memory, puzzles, word searches, or timed quizzes for each day. It is possible to configure multiple stages with different games and run a random prize draw among those who complete the challenge of the day.
There are also more advanced options such as setting up Instant Win prizes. In this case, you can define how many daily prizes you want to award, and winners are selected randomly based on the moment they participate. It's a matter of luck, but the participant will immediately know if they have won, right after registering for the promotion.
Another type of action is to give a guaranteed prize to all daily participants. For instance, give a discount coupon to use in your online store to everyone who checks in for the day.
Advanced options for your online Advent Calendar
Easypromos offers several advanced tools for your promotion's configuration. In the case of the calendar, the following functionalities are worth mentioning as they can be very useful:
Offering direct prizes when participating in the calendar can be interesting, as you can set it so that these gifts have to be redeemed in physical stores within a limited timeframe. This action will draw visitors to the retail locations during the holiday season.
When setting up a timed quiz or a Word Shuffle game in your calendar, you can use AI technology to generate questions and answers automatically or to create the words to be unscranmbled. We've recently incorporated this functionality to simplify the configuration of these challenges.
We hope you find this kind of useful and appealing for your brand. If you have any questions or need further assistance, contact our customer support team via live chat. We will be happy to help!