Black Friday marketing strategies that stand out from the competition and help a brand achieve its marketing objectives are easier to implement than one might think. Especially if you have the right tools at hand to take your promotion from conception to execution. Read on to learn more about the importance of Black Friday digital marketing campaigns and why this particular day should have a prominent place in your marketing calendar.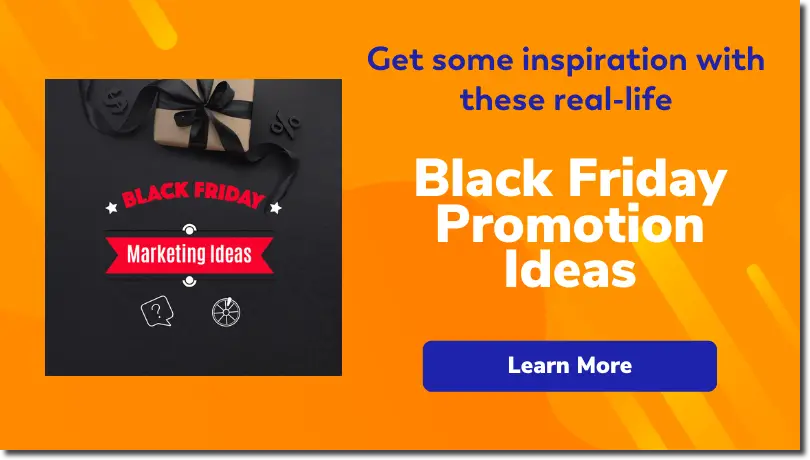 Why Black Friday marketing is so important
To better understand the importance of Black Friday Marketing, let's take a look at some of the latest Black Friday sales figures available:
To better understand the importance of Black Friday Marketing, let's take a look at some of the latest Black Friday sales figures available:
Salesforce Inc. reported U.S. Black Friday online retail sales reached $17.2 billion in 2022, up 10.2% compared with 2021.
U.S. online retail consumers spent a record $9.2 billion on Black Friday 2022, up 2.3% year over year, according to Adobe Analytics.
Black Friday mobile shoppers accounted for 48% of online sales compared with 44% in 2021.
In-store traffic increased 2.9% on Black Friday compared with 2021.
Sales at Point of Sale grew 27% from the previous year.
These staggering figures should be enough for any digital marketing professional worth their name to give Black Friday the marketing prominence it deserves. Nonetheless, these figures also provide a picture of how competitive the playing field has become, making it more important than ever to plan, execute, and manage your digital Black Friday marketing campaign with a powerful, reliable, and easy-to-use platform that offers several promotion dynamics and all the necessary features to achieve your marketing objectives. From social media giveaways to more elaborate multi-stage promotions, Easypromos has all you need to make the most of this shopping extravaganza day.
Black Friday Marketing, Objectives and Solutions
Brand awareness and Social Media Engagement. Solution: Social Media Giveaways
Black Friday provides an opportunity for brands to engage with their audience on social media platforms, start conversations, and expand their follower base. Social media giveaways are the go-to solution to achieve this objective. Offer your community the possibility of winning a prize simply by following your account, commenting on your posts, or mentioning your brand. Choose the right social network depending on your audience demographics: Instagram Giveaway, Facebook Giveaway, or X Giveaway (we know, it's not easy to not say Twitter for us either) and offer an appealing prize to encourage users to participate.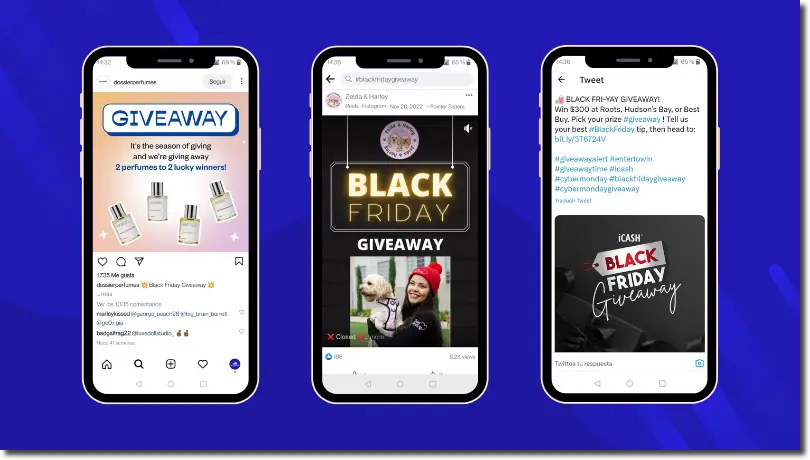 Data collection and lead generation. Solution: Customizable registry forms
Black Friday campaigns can yield valuable data about consumer behavior, preferences, and purchasing patterns. Brands can use this data to refine their marketing strategies and make informed decisions for future events. And here's the good news, every single microsite-style promotion set up with Easypromos offers a fully customizable registration form that you can use to collect the user information that you are interested in gathering. Whether it be a simple Entry Form Giveaway, a gamified promotion, a Multi-Stage promotion, or any other option in the Easypromos catalog.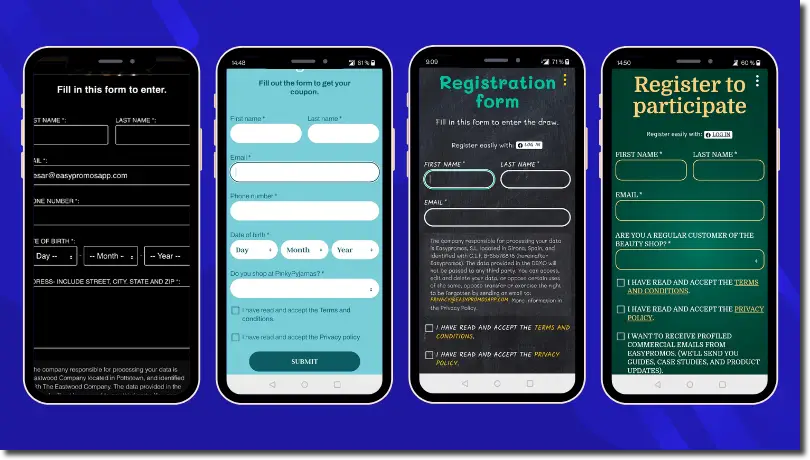 Drive Traffic and increase conversion. Solution: Digital Coupons with Expiry Dates, Urgency and FOMO
In the realm of time-sensitive promotions, digital coupons with expiration dates reign supreme. Distribute limited-time digital coupons to incentivize immediate purchases. The looming expiry date creates a sense of urgency and fear of missing out (FOMO), motivating customers to take advantage of the discounts. This tactic not only drives Black Friday sales but also encourages repeat visits to your store within the specified timeframe. It is up to you to decide how to distribute these digital coupons. Options include Spin the Wheel, Scratch & Win, Instant Win promotions, and more.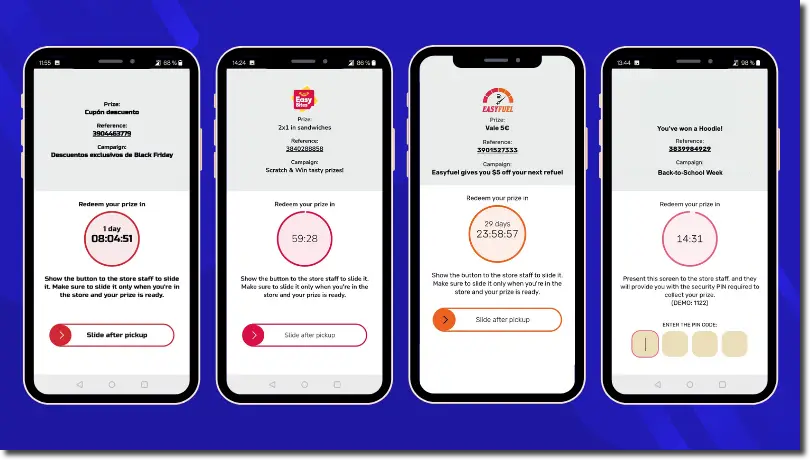 Learn how to Increase foot traffic and sales at your brick-and-mortar shops with redeemable prizes.
Increase Average Transaction Value. Solution: Distribute Coupon Codes and Validate Receipts promotions
Black Friday's sense of urgency and limited-time offers encourage immediate purchasing behavior. Generate immediate revenue and capitalize on the consumer mindset of making quick decisions by offering exclusive deals or rewards for purchases above a certain amount. With the Validate Receipts app, you can reward customers who spend a minimum amount, whether it be on a single purchase or several accumulated purchases. The app uses OCR technology that allows for automatic validation of users' receipts and it can be configured to make sure the receipts include any given requirement. Eg., purchase amount, name of the shop, specific codes, dates, etc.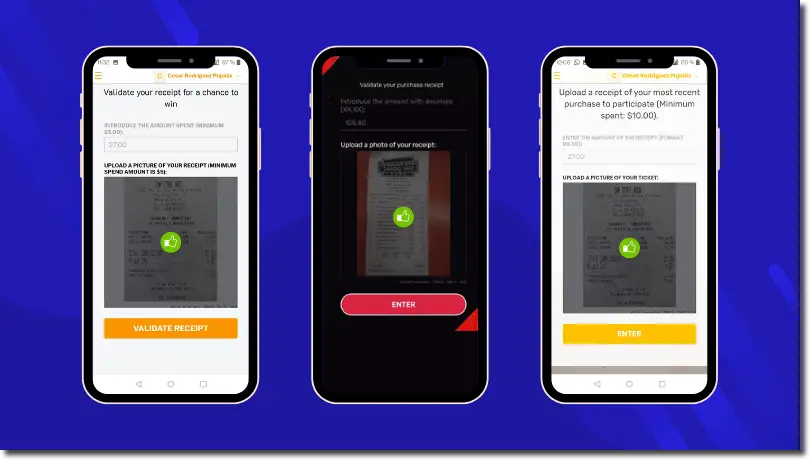 Discover how Easypromos can help you Boost Your E-commerce Sales.

We hope you find these insight useful for your next Black Friday marketing campaign and whichever strategies you choose, ensure that they align with your brand's identity and resonate with your target audience. By weaving together these innovative promotions, you can craft a Black Friday marketing strategy that not only drives sales but also enhances customer engagement and loyalty in the long run. And if you need further assistance, don't hesitate to contact our support team via live chat.