Posted in: Applications for TwitterLast update: 30/08/22
Twitter Sweepstakes based on Retweets are one of the most effective tools for viralizing the content you share with your community while growing your number of followers. If you use Twitter Sweepstakes as part of your marketing strategy, then this new feature is for you. It will help you to manage your sweepstakes and minimize bad practices by users.

Easypromos made it a priority to fight against the bad practices performed by some participants in online promotions and contests. A while ago, we began focusing on how to minimize fraudulent activities in voting contests, implementing a new fraud control system to enable administrators to organize fairer, more transparent and trustworthy contests for their online community.
Unfortunately, bad practices by users don't just affect voting contests. One of our clients – communications agency Arista – was experiencing problems with fraud in one of their Twitter sweepstakes. Subsequently, working together with Arista, we were able to implement a new feature designed to optimize Twitter Sweepstakes and achieve zero fraud in promotions.
Would you like to know more about this new improvement? Then keep reading!
The situation: the use of multiple Twitter accounts for participation
The communication agency Arista, specialists in strategy and integrated communication services, frequently organize sweepstakes in Twitter and Facebook for their clients as part of their digital strategy for growing the brand's fan base and boosting community engagement.
One day, our Client Support Department received a call from Arista. The agency was very satisfied with the results they'd obtained so far with Facebook and Twitter Sweepstakes. The ease of participation in such promotions provides a great advantage, making it possible to increase a brand's community of followers quickly, while viralizing content posted on the brand's profile.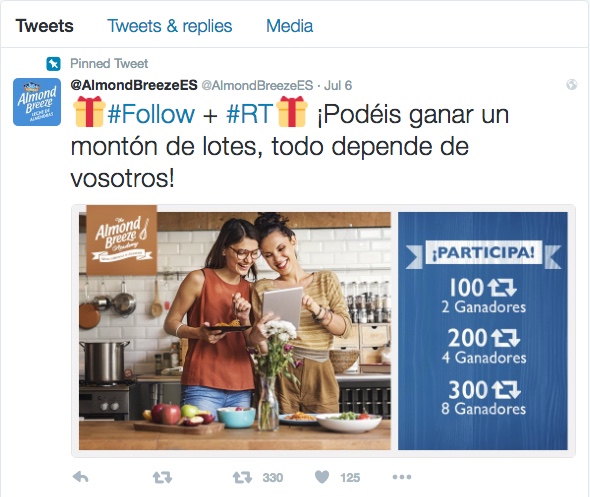 But they were having a problem with Twitter Sweepstakes. Analyzing the Twitter profiles of certain winners, they observed a number of suspicious features: some had no followers, no profile information or picture; some had even posted the exact same tweets. After analyzing these profiles, they reached the conclusion that these Twitter accounts were not real and had been created specifically to enter sweepstakes and promotions. It was clear that multiple Twitter profiles were being used by some participants to increase their chances of winning. The agency shared their concerns with us: How could they prevent a user from participating from multiple Twitter accounts? And, above all, how could they stop participants with fake Twitter accounts from winning the sweepstakes?
The Dashboard already included tools for excluding users from a sweepstakes. However, we needed to go one step further in dealing with the situation outlined above. After speaking to the agency we got our development team to search for a solution to this problem. In the end, our team found that the answer lay in one of the characteristics shared by the fake Twitter profiles: their lack of followers.
The solution: exclude Twitter profiles that don't have a minimum number of followers
Thanks to our conversation with our client we were able to develop a new tool for our Twitter sweepstakes: the 'Minimum number of followers' feature. This optional feature can be configured just before winner selection.
How does it work?
Once the participation period is over – but before the sweepstakes has been carried out – this new feature can be used to exclude any Twitter accounts which don't have a minimum number of followers. This means that, by default, all Twitter accounts with fewer than 25 followers will be excluded from the sweepstakes. This number can be modified depending on how tolerant you want to be. In this way, any Twitter profile that retweets the Tweet, but doesn't have the minimum number of followers required, will automatically be excluded from the sweepstakes.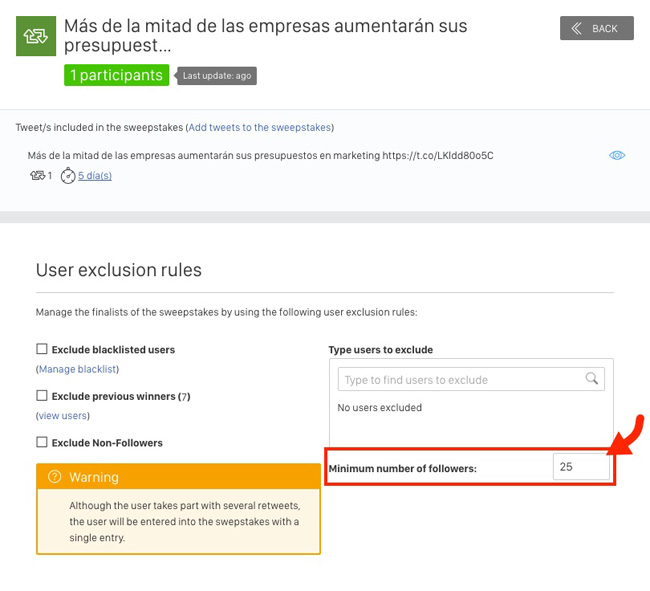 This feature, therefore, makes it possible to block any fake Twitter profiles that have been created expressly for improving the fraudulent user's chances of winning the promotion.
This feature is an important new addition to our sweepstake management toolkit which already provided tools for excluding participants, a mechanism for creating blacklists of Twitter profiles, a 'claim your prize' system for obtaining winners' contact details, and more.
Other tips
Remember that you have a complete collection of tools and rules for excluding participants that will enable you to manage your sweepstakes. This toolkit includes a no-followers filter; mechanisms for excluding past winners or specific participants; as well as the option to maintain a blacklist of users who you wish to keep from winning your sweepstakes.
This final option could complement the new 'Minimum followers' feature perfectly, allowing you to add any Twitter profiles which don't have a minimum number of followers to the blacklist.
Would you like to create your own Twitter Sweepstakes? Log in to the platform now and create a RT Sweepstakes on Twitter.
Publication date: 2016-08-23