Did you know that the most popular social media networks are still attracting new users? Twitter is one of the platforms that brands should really take into account when developing their strategies. Like any other platform, Twitter has gone through a series of updates, changes, and improvements; one of them included the character limit going from 140 to 280 characters, giving brands and users more freedom to share messages and interact with each other. It's also the best network to break news and follow up on recent events or stories.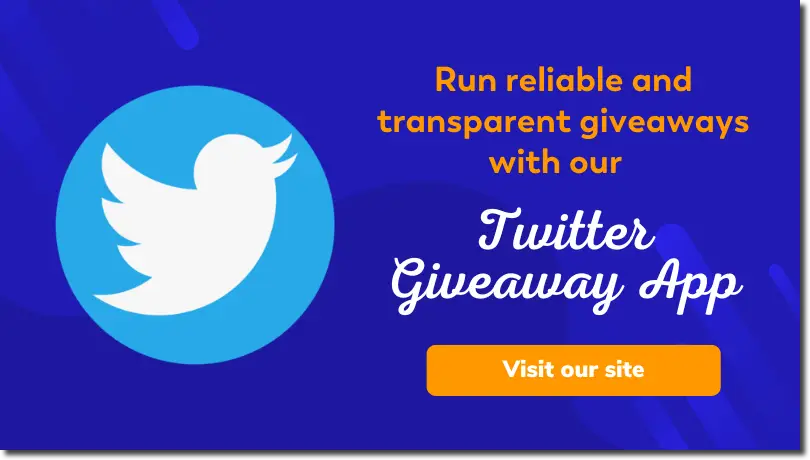 The micro-blogging platform also gives brands a variety of tools so that they can engage and interact with their target audience and communities by following, liking, commenting, or retweeting each other's messages. Different organizations will have various views on the importance of each of these interactions but we can slip them into two categories:
Generating engagement: likes and comments
Growing your account: follows and retweets
So how do you get users to willingly interact with your brand?
Social media users visit Twitter for updates on topics of their interest, to look for information on certain subjects, or simply to take their minds off other things while scrolling through the feed. However, many Twitter users follow their favorite brands so that they can be up to date with new products, promotions, and special deals. As a brand, you must come up with effective ways to attract followers and engage them with your content. One way to do this is by organizing retweet giveaways.
Retweet picker: use it to engage your audience while building your brand
Social media giveaways are extremely effective and popular with online communities. They require minimum effort and offer a chance of winning prizes that appeal to the audience, therefore generating high levels of engagement and visibility for your brand. And while it's possible to organize different types of giveaways on all platforms, Twitter gives the most flexibility, as other channels don't allow brands to ask users to reshare the promotional post in order to gain more visibility.
This is why we recommend using our retweet picker app to run giveaways on Twitter; apart from generating visibility and reaching more users, you also ensure that the winner-selection process will be easy and effortless.
The popular brand Funko has become an expert in Twitter giveaways. They regularly run retweet promotions in which users follow the account and retweet the giveaway post for a chance to win one of their pop culture collectibles.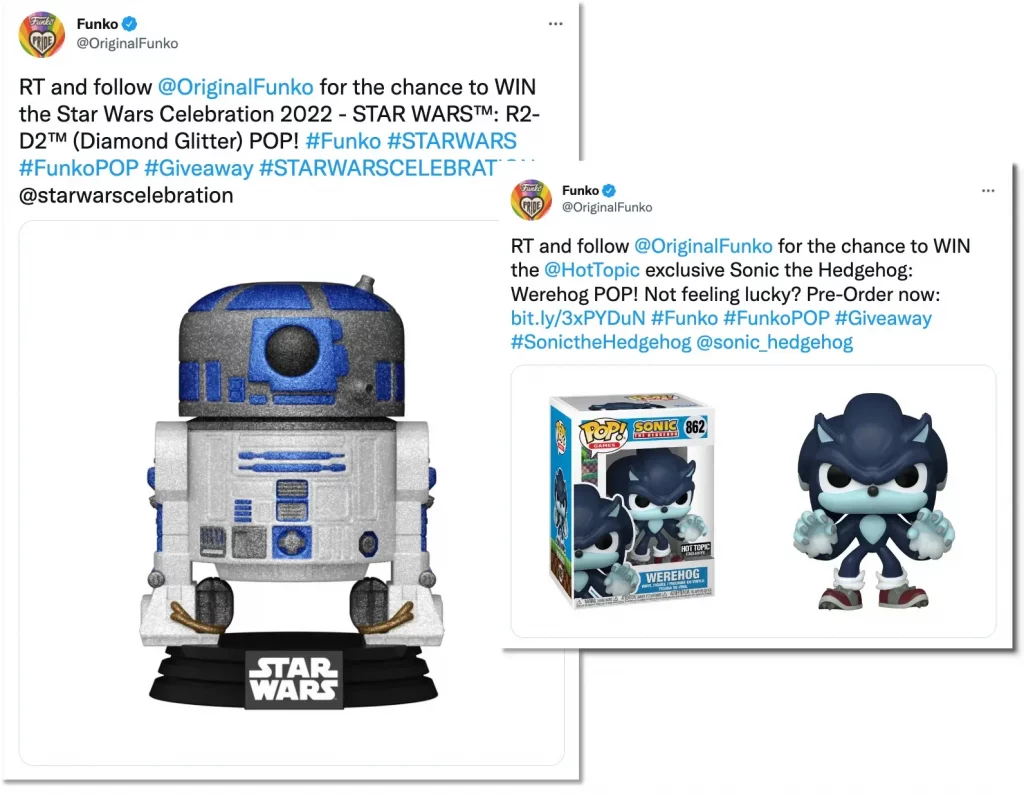 Celebrate popular events or join in the fun with retweet giveaways
Your customer base is what makes your company thrive. Your brand wouldn't exist without your clients and this is why it's so important to reward their loyalty or simply give back to the community for their ongoing support. Twitter giveaways are easy to organize and run but many marketers still think that they need a good enough reason to organize an online raffle. But the truth is that any excuse is good, even the Queen's Jubilee!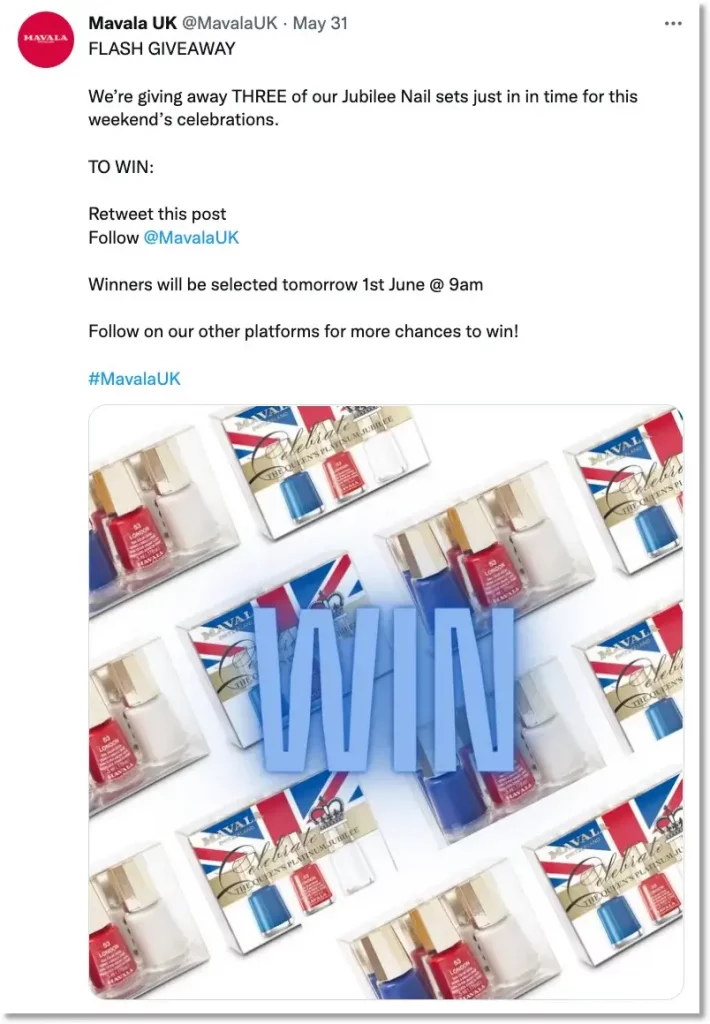 Mavala UK used the retweet picker app to choose a random winner from among the followers that retweeted the giveaway post. The nail products company gave away three Jubilee Nail sets that came in the Union Jack colors. Remember, any bank holiday, popular event, or company anniversary is a fantastic reason to give back to your community and generate engagement for your brand.
We all know that sports and physical activity have a great impact on our physical and mental well-being. And not being directly connected to sports doesn't mean that you can't encourage your audience to practice yoga – and this is what The Range UK knows very well. With the International Day of Yoga coming up, the British brand organized a Twitter giveaway in which they raffled a yoga set. They asked followers to like the giveaway post and retweet it. Then, they chose one random winner with the retweet picker app.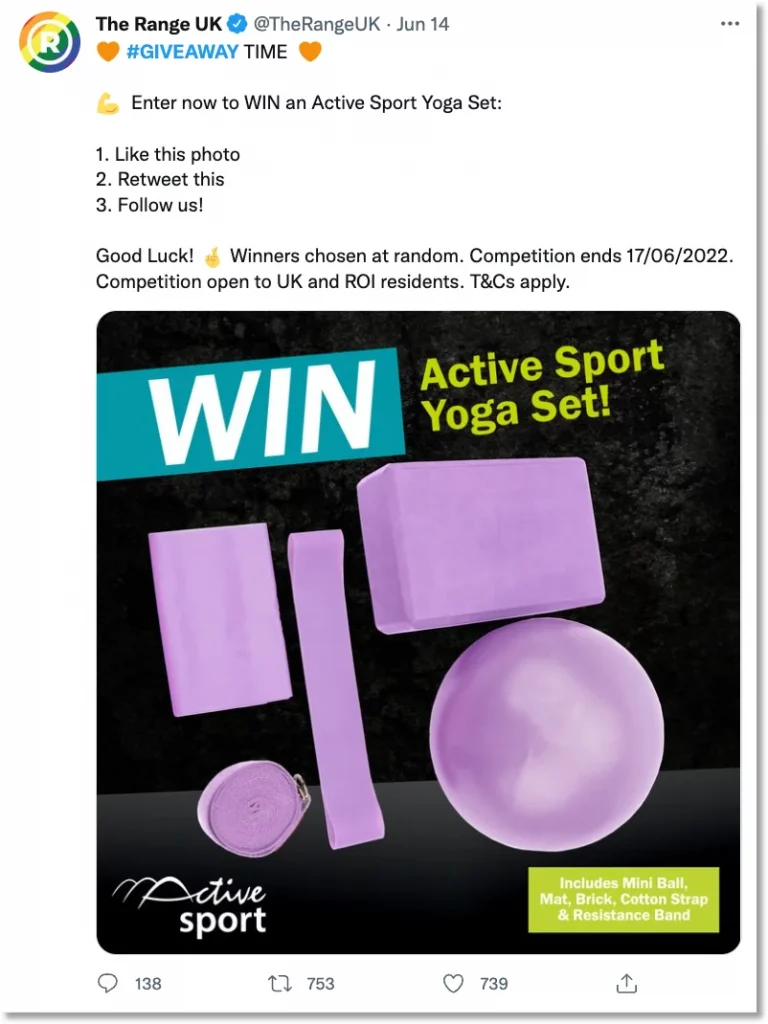 Why use the Easypromos retweet picker app
As you might have seen, there are many retweet picker tools on the market and you might be wondering which one to choose. If one of your marketing goals is to work on customer loyalty and trust, you might want to make sure that you use a reliable, transparent, and fully automatic tool so that no one can accuse you of tampering with the giveaway results. The Easypromos retweet picker is not only the most complete tool out there but it's also trustworthy.

After choosing a random winner, our retweet picker generates a certificate of validity, which proves that the prizewinner was chosen in an automatic and random way. The certificate also shows a list of alternate winners, in case the original winner cannot be contacted. This valuable piece of information can be shared with social media followers so that everyone can access the giveaway results.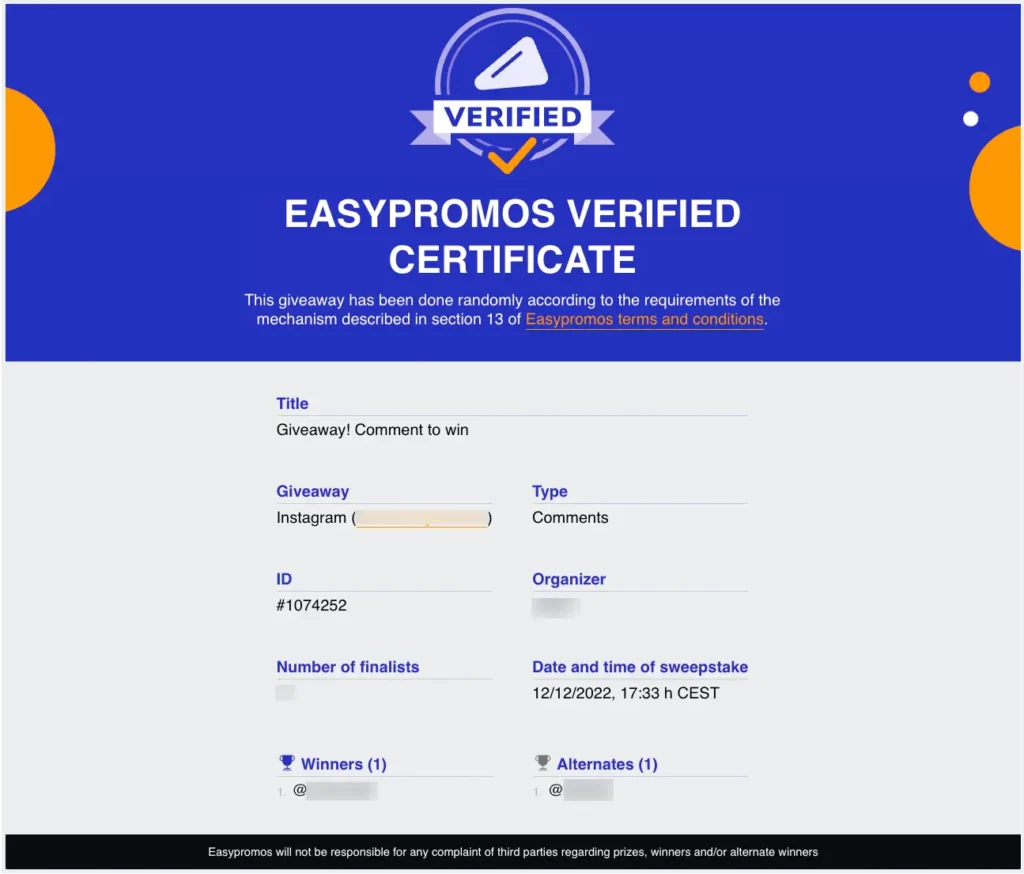 In this example, you can see that giveaway organizers chose one winner and ten alternates in case there were problems with contacting the original lucky participant.
Another important aspect of transparent Twitter giveaways is terms and conditions where you outline all the entry requirements and rules. It's especially important in giveaways that attract a lot of entrants and gain lots of visibility, like in the case of Cupra, an automobile manufacturer.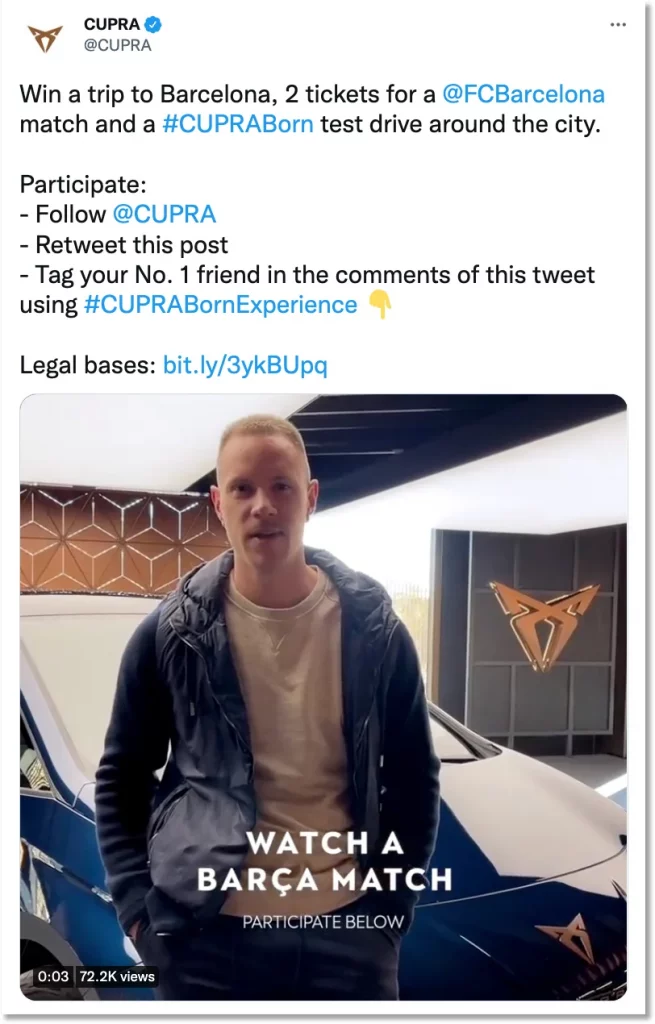 Cupra raffled a trip to Barcelona that came with two tickets to the FC Barcelona football match and a test drive around the city. To make sure that all the entry requirements were loud and clear, the brand shared a direct link to terms and conditions, which they prepared with the free Easypromos tool.
Are you now ready to use our retweet picker? Make sure you contact our customer support team in case of questions or doubts!