There are lots of different ways to celebrate Father's Day online but running a Father's Day giveaway on social media must be our favorite as it has a huge cultural impact, especially on young, affluent shoppers. It's also the choice for parenting bloggers and lifestyle influencers. If you want to reach out to young, stylish parents and users, then social media is the best place to start. In this blog post, we share some captivating Father's Day giveaway ideas – they'll boost your brand, engagement, and recall.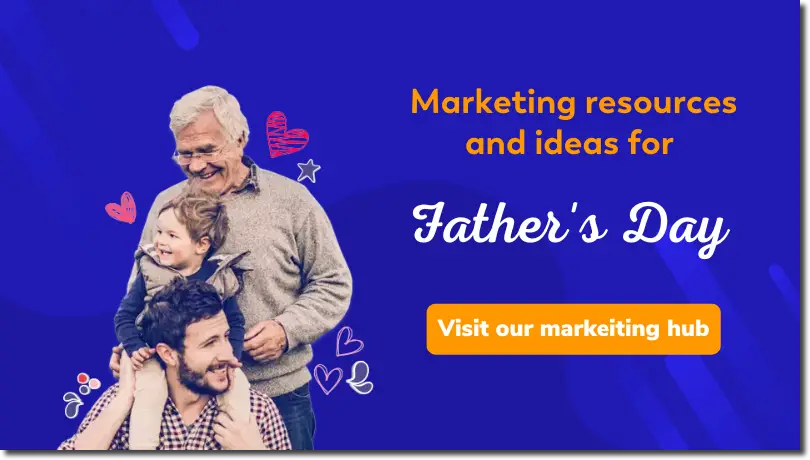 Boost engagement with a Father's Day Instagram giveaway
If you want to run a quick and easy campaign, then an Instagram comments contest is the way to go. All you have to do is publish a post on your Instagram profile, including:
a description of the prize
the rules of your giveaway, including country or age restrictions
a disclaimer stating that Instagram does not endorse, sponsor or organize your promotions
instructions for users to find terms & conditions, such as a link in bio
We loved this example from Doodle India, a stationery company. They asked users to share their favorite memories with their dads. As you can imagine, they collected a lot of heartfelt, authentic comments from their followers.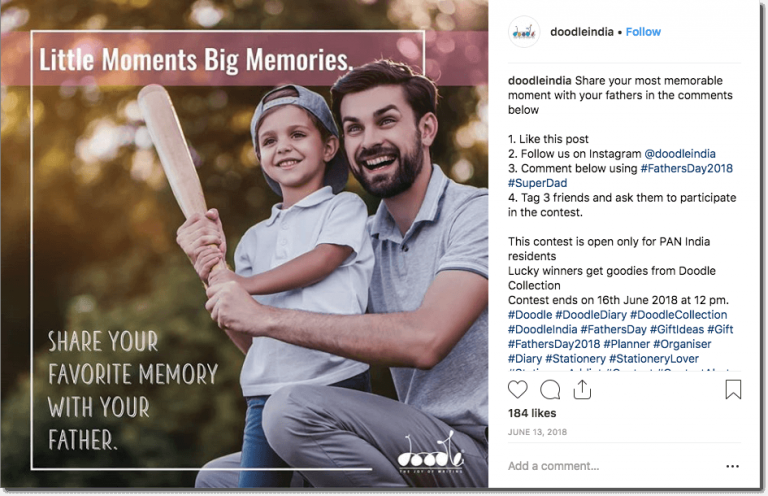 Ready to organize your Father's Day giveaway on Instagram? Download our customizable Father's Day Instagram giveaway template to save some time!
The goal of an Instagram Giveaway with comments is to start a conversation that will soar your engagement and better position your brand. So ask your followers an open question that will encourage real conversations. You can ask for your followers' opinions or favorite memories with their dads!
However, you don't have to choose a serious theme for your Father's Day giveaway on Instagram. This kids' snack brand asked people to share their best dad jokes. Or should that be the worst dad jokes? Either way, the brand got a great response online.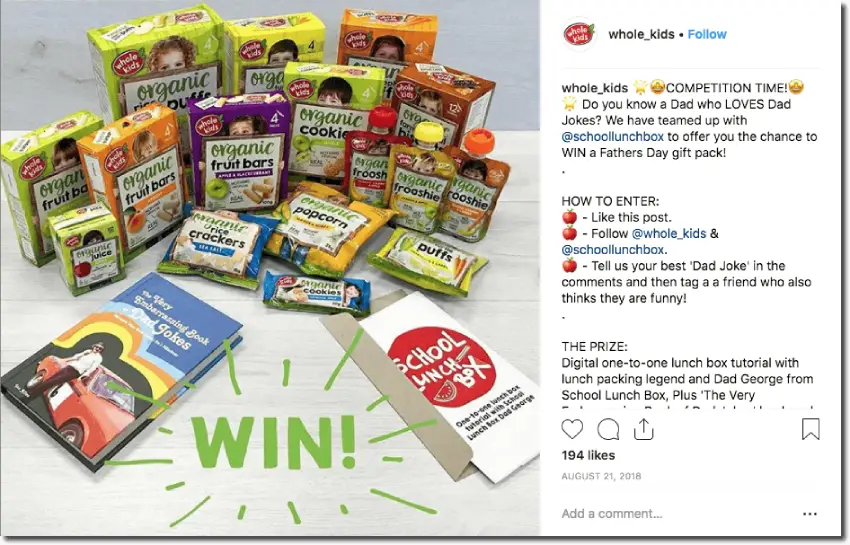 Collect leads with a Father's Day registration form on Instagram
Comment contests are a great way to boost engagement. However, if you want to benefit from your Father's Day campaign and wish to collect detailed, high-quality sales leads, then a giveaway with a registration form is the way to go.
Set up a custom registration form to collect contact details. Add extra questions for information that will help your brand – for example, clothing sizes, favorite colors, or location.
In the following example, you can see a great idea for a Father's Day Instagram giveaway… with a little twist. Instead of participating by commenting on the promotional posts, Instagram followers were encouraged to visit the organizing brand's link in bio. Dutton Books converted their Instagram followers into qualified leads with an Entry Form Giveaway. Participants filled out a registration form for a chance to win a summer reading stack for their father.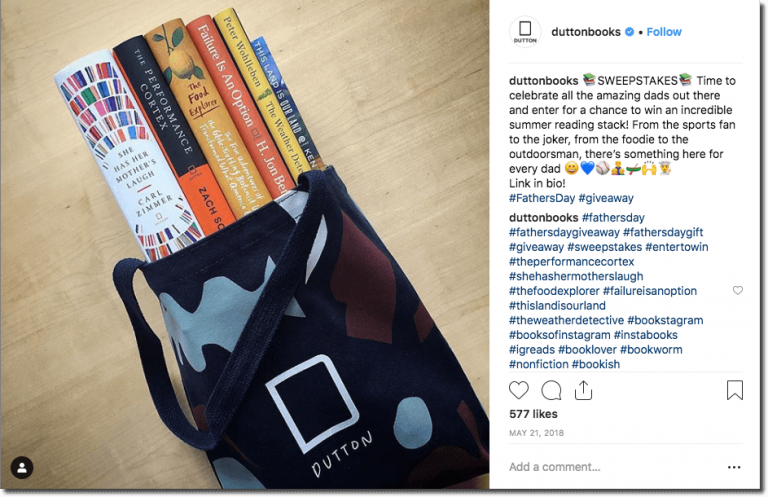 Apart from sharing the giveaway link in your link in bio, you can also add it to your Stories and sponsored posts.
Let's talk prizes. Father's Day is celebrated all over the world – but some brands may struggle to connect with the holiday.
If you're not sure how to join in the celebrations, then you could team up with another brand to run a co-branded Father's Day giveaway on Instagram. Isn't that a great idea?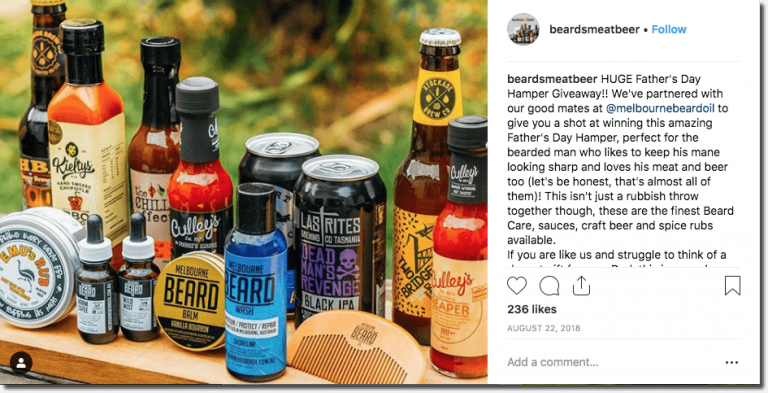 Co-branded giveaways are very popular with consumers because you can offer hampers, hauls, or prize bundles with a mix of products. We like the above example, from an Australian gourmet brand Beards Meat Beer.
They got together with Melbourne Beard Oil to create a Father's Day hamper. It was a match made in heaven: both brands share a similar customer base, so they mutually boosted their audiences on Instagram.
Do you like the idea of collaborating with another brand for your Father's Day Instagram giveaway? It's a great opportunity to reach a wider audience and grow your social media following.
Use the Invitations tool to run giveaways with collaborators. Connect your accounts quickly and securely – with no need to share passwords or create extra profiles on Easypromos.
It's celebrated all over the world – but Father's Day is still a very personal holiday. If you really want to connect with your followers, then personalized rewards or prizes will show them that you care.
Take this contest from Dot Badges. They offered a personalized mug in a Father's Day giveaway on Instagram. Whoever won the comments contest would receive a "Superdad" mug to celebrate.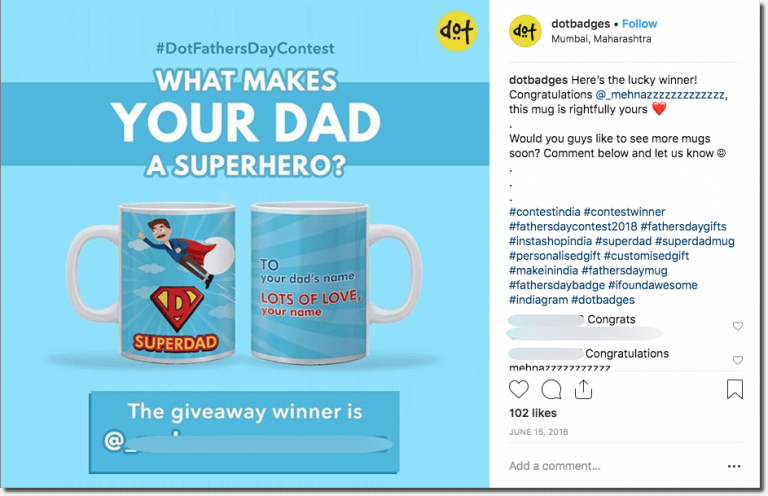 But you don't need customized products to follow this strategy. There are lots of different ways to personalize your prizes:
offer a range of gifts, and ask users to comment on their favorite to win
choose a prize that comes in a range of colors
share discount codes for specific products
give away gift cards so that customers can choose their own prize
Collect user-generated content with a Father's Day Mention + Hashtag Contest
If you have very active followers, then you can take your Father's Day giveaway on Instagram beyond comments. A meaningful holiday like this is the perfect time to collect user-generated content.
Ask your followers to share posts with your brand mention and campaign hashtag. Then you can use the Mention + Hashtag app to collect all the entries in a public gallery – and pick your favorite to win!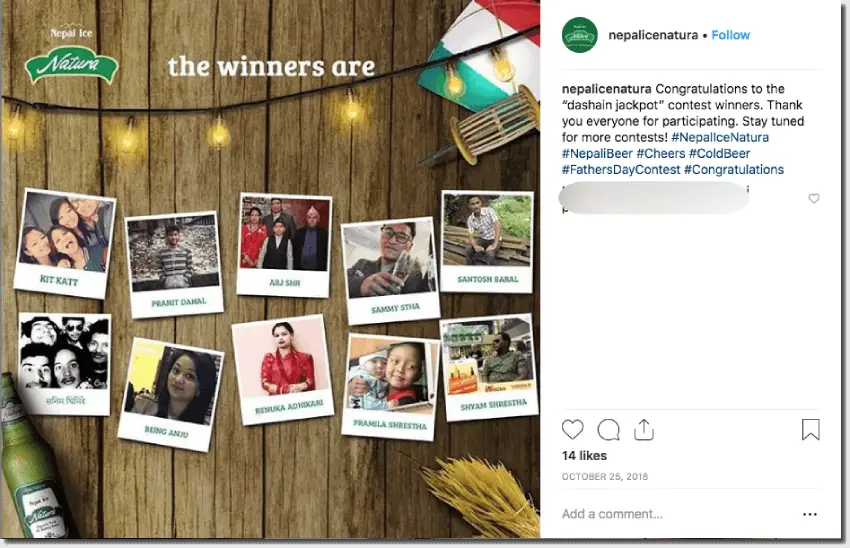 Take a look at this example from a beer brand Nepal Ice Centura. They asked followers for their Father's Day selfies. Then they re-posted the 10 finalists on their Instagram account.
Celebrate dads with a Facebook giveaway: where families stay in touch
Facebook is, of course, at the top of everyone's list. With almost 3 billion users, pretty much every brand will find an audience here. And it is a great place to start your Father's Day campaigns.
Although Facebook users skew slightly older – it's barely used by the teenagers of Generation Z – it is where families keep in touch. Use Facebook giveaways and ads to reach out to parents, and adults who want to celebrate their dads and families.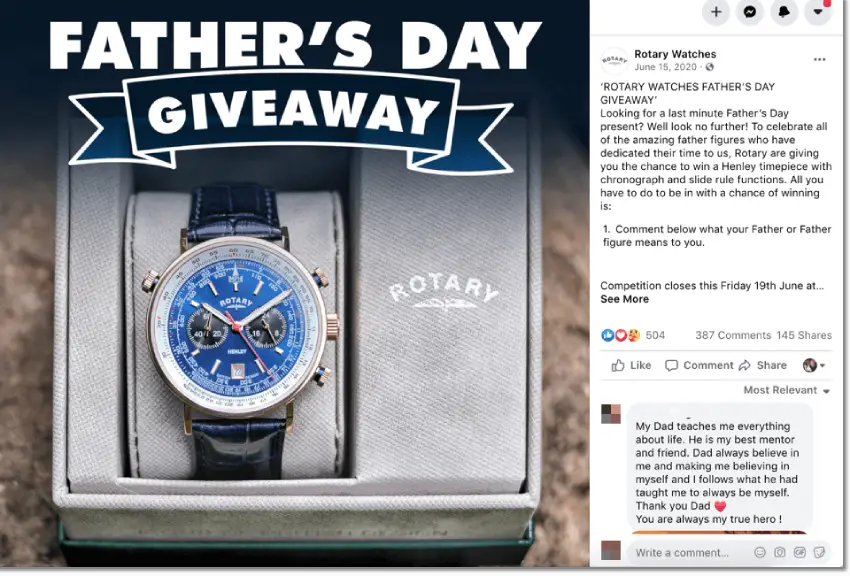 With the Mention + Hashtag app, you can collect UGC from Twitter at the same time. Consider this option if you have lots of followers on both networks.
Looking for more Father's Day Instagram giveaway ideas? Check out our Father's Day campaign hub for brands and marketers, or contact our Support Team in case of any questions!