Which prizes are the most adequate to motivate your audience?
Whenever you decide to create a new giveaway or contest, there is always the same difficult question: What should be the prize? This is why we thought it'd be helpful to analyze Valentine's Day promotions that involve an incentive. So here we go:
17.3% of the analyzed promotions offered vouchers for dinners for two. What makes it interesting is that this kind of prizes for couples is popular not only with restaurants but also with other businesses, such as shopping centers, retail shops, etc. Dinner or lunch for two is a great prize for a Valentine's Day giveaway if you believe that your own product isn't the most adequate to celebrate the day of love. This way you still promote your brand and build brand loyalty, while the lucky winner enjoys a delicious meal!
Romantic experiences (9.3%) such as short trips, weekend getaways, and hotel stays are also very popular with Valentine's Day giveaways because of their romantic nature. By giving away an experience pack, you ensure that your audience will remember you for a very long time! So offer your audience a chance to win a weekend getaway, and you ensure that they will become your loyal customers! Other popular prizes for couples are cinema or theatre tickets (5.3%).
Food products and wines (8.7%), and chocolates and pastries (4.7%) are an important type of prizes, too. These products are normally to be won in giveaways organized by their producers, who aim to promote their best selling products. This way the brand builds its brand awareness.
Other popular prizes used in Valentine's Day giveaways are personal care products, beauty products and perfumes (7.3%), jewelry and watches (7.3%), fashion and accessories (8%) and tech gadgets (6.7%).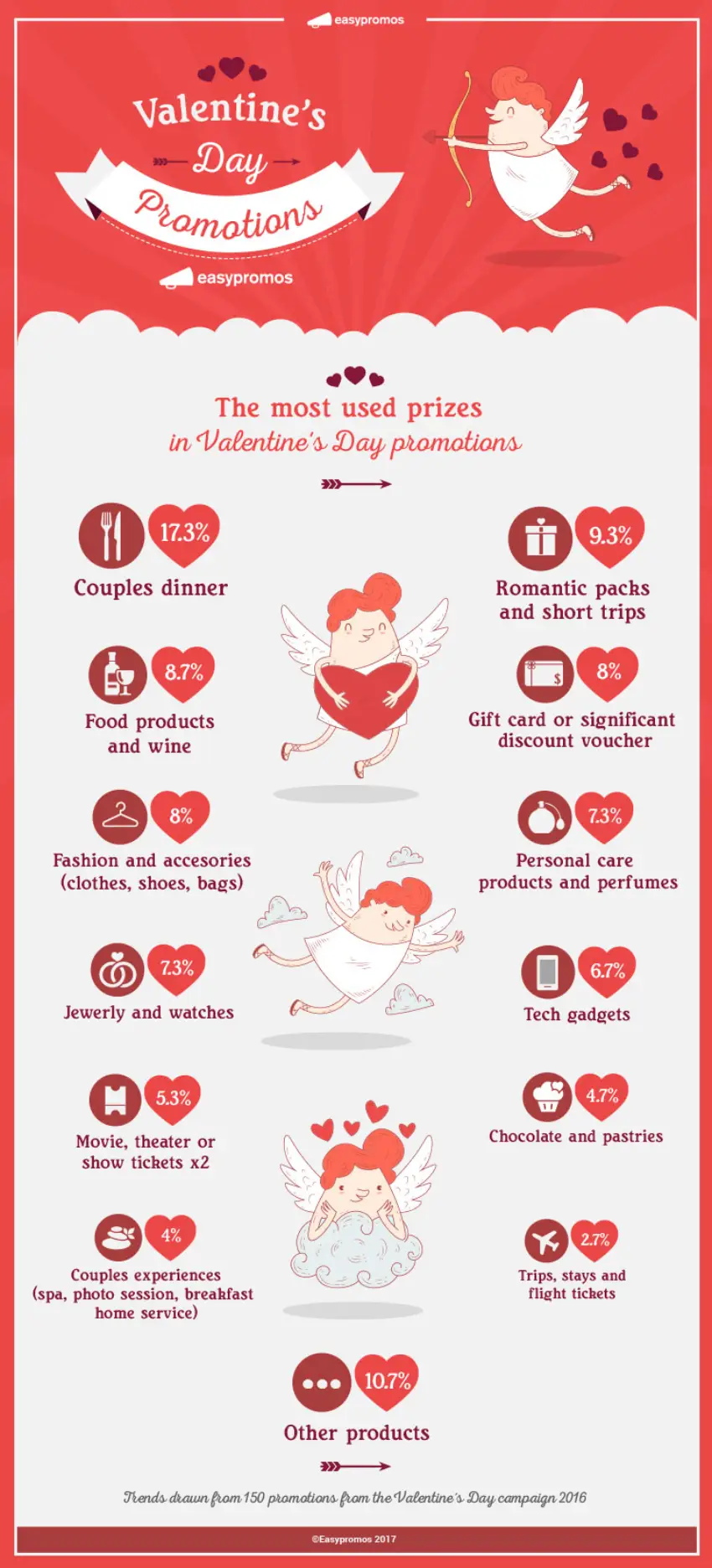 Visit our Valentine's Day Hub and you'll see more examples and resources to find the best mechanism or application for your campaign.
How to choose the perfect prize for your Valentine's Day promotion?
Using your product as a prize is one of the most popular tactics in the promotions, but it doesn't always work. Therefore before you choose the incentive for your giveaway, think about the following aspects:
Choose the incentive and target audience of your Valentine's Day promotion
Start by wondering who would be happy to win your product. Think about its universal appeal. Maybe your product or service targets a very niche audience? If that's the case, then you might have to think about the kind of Valentine's Day promotion that you want to organize. Decide whether you want to target only the local or wider audience. Think if you want to give away prizes for couples of individuals.
If you decide to distribute coupons and vouchers to redeem in-store, ensure that you can target your regional audience. However, if you have a product to give away and don't mind shipping, you can aim the Valentine's Day promotion at your customers nationwide.
Set the objectives of your Valentine's Day giveaway
If the main objective of your campaign is to promote your brand and obtain new leads, you should offer a prize that appeals to most people. This is why weekend getaways and spa retreats are so popular with Valentine's Day campaigns! They simply satisfy the majority of participants.
Physical prizes such as perfumes, cosmetic packs, tech gadgets, and food products are also great as Valentine's Day prizes. They can be easily shipped directly to the winner.
Remember that give away must accomplish some marketing objectives. Increase social media engagement, gain new followers, or build brand awareness!
Age and location restrictions of your Valentine's Day promotion
Online campaigns tend to attract people from many different locations. We always recommend introducing some location and age restrictions. This is so you can ensure that there will be no international or under-age entrants. Limit the promotion to our country or state. If the prize is a getaway or an alcohol product, ask the participants to confirm their age. Mandatory, add these requirements to the terms and conditions. If you incentive the participants with a romantic dinner, getaway, or cinema tickets, specify the location, or if there are several locations to choose from.
No prize?
And what can you do if you want to celebrate Valentine's Day but without giving anything away? Offer your audience some entertainment! Promote your brand and build brand awareness with interactive games and quizzes.
Design a branded mini-game or prepare a Personality Quiz! They generate engagement just because they're fun and interactive. You can ask the players to fill in an entry form in order to participate. This way you can still collect new leads that you can target in the future.
Why don't you try our Valentine's Day Memory game and Personality Quiz? They're fantastic engagement booster and lead generation tools that online audiences love!
Do you have more questions about Valentine's giveaway prizes? Or maybe you have an idea that you'd like to share with us? Contact our Support Team!